I can't quite explain why I love antique oval picture frames so much, but I just DO! And when I see them in thrift shops, I snap them up, no questions asked. While brainstorming for new project ideas (by tidying up my Craft Room), I realized something: Vintage oval frames look a little like Easter eggs. So I decided to upcycle a few frames into Easter mantel decorations.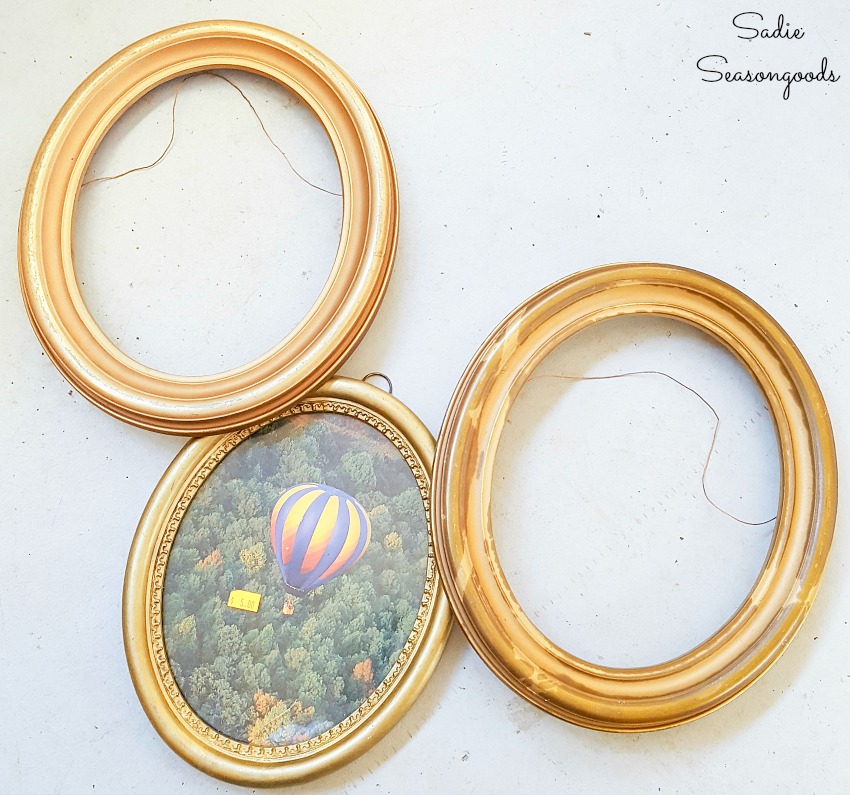 Maybe not a *perfect* egg shape…but close enough, right? Either way, it seemed like a fun Easter craft to play around with.
My plan? To transform them into something that resembled Pysanky eggs. You may not recognize the word, but Pysanky eggs are those gorgeously painted eggs that are Ukrainian in origin.
To replicate that look, I needed just a couple of craft supplies. Specifically, I needed spray paint and floral linens from my stash of vintage sheets.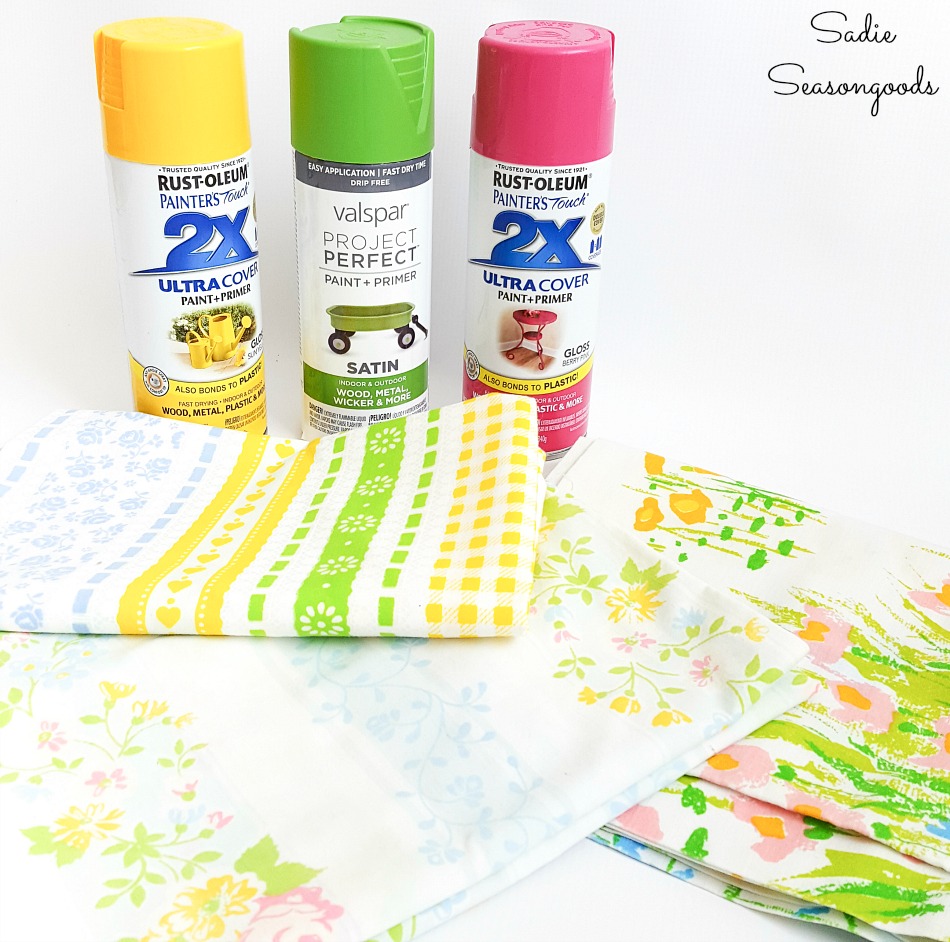 This post contains affiliate links for your crafting convenience. As an Amazon Affiliate, I earn from qualifying purchases. All blue, bold, and underlined text is a clickable link, either to a product or to a related post.
Antique Oval Picture Frames as Pysanky Eggs for Easter
First, I removed the hanging hardware and wiped down my set of vintage oval frames. Then, I gave them a couple of coats of spray paint.
They were already starting to look a lot more Easter-y!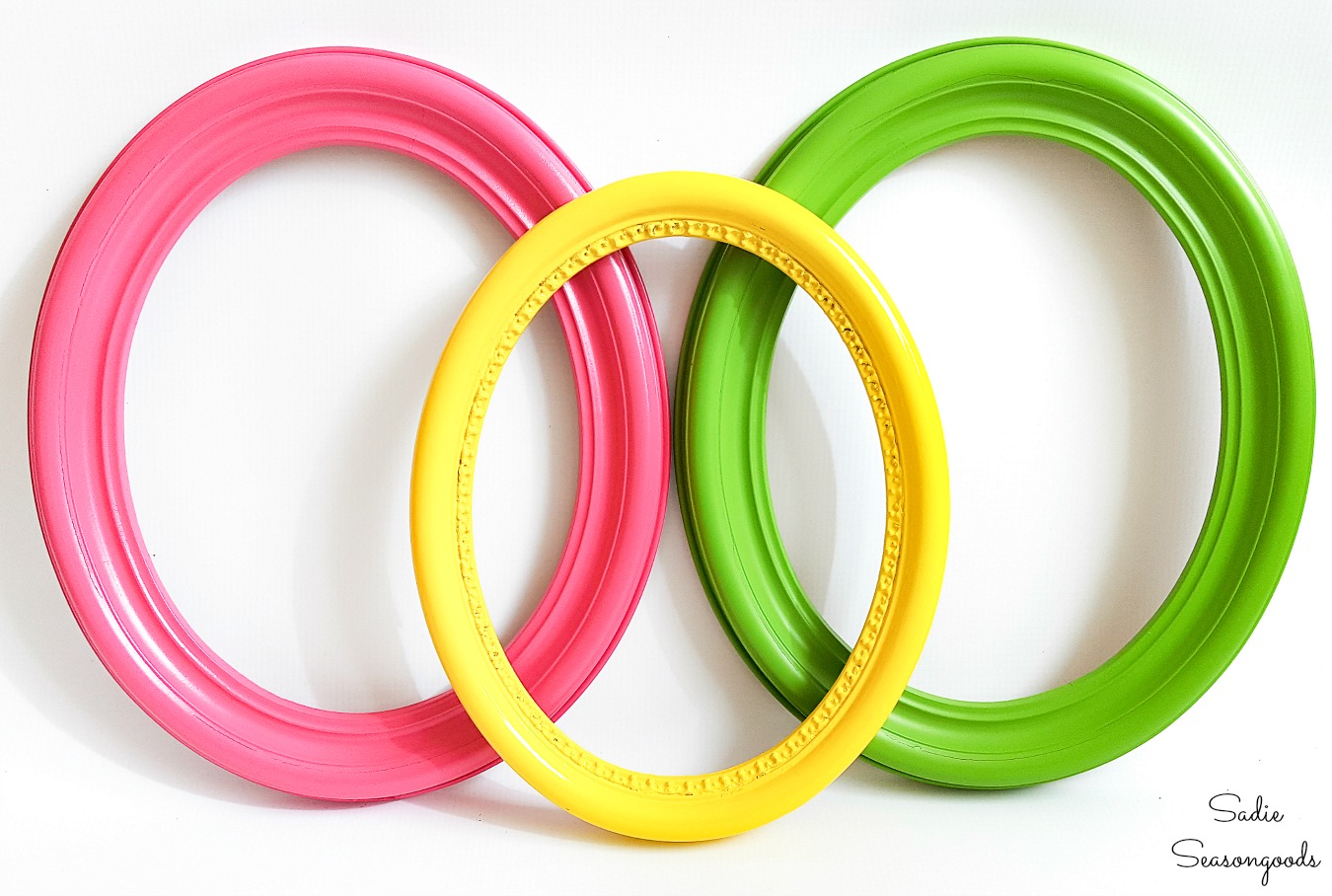 After the paint dried, I paired each oval frame with one of the floral bed sheets. Using my fabric scissors, I cut out a large panel of fabric and arranged my picture frame on top to figure out the design I wanted to showcase.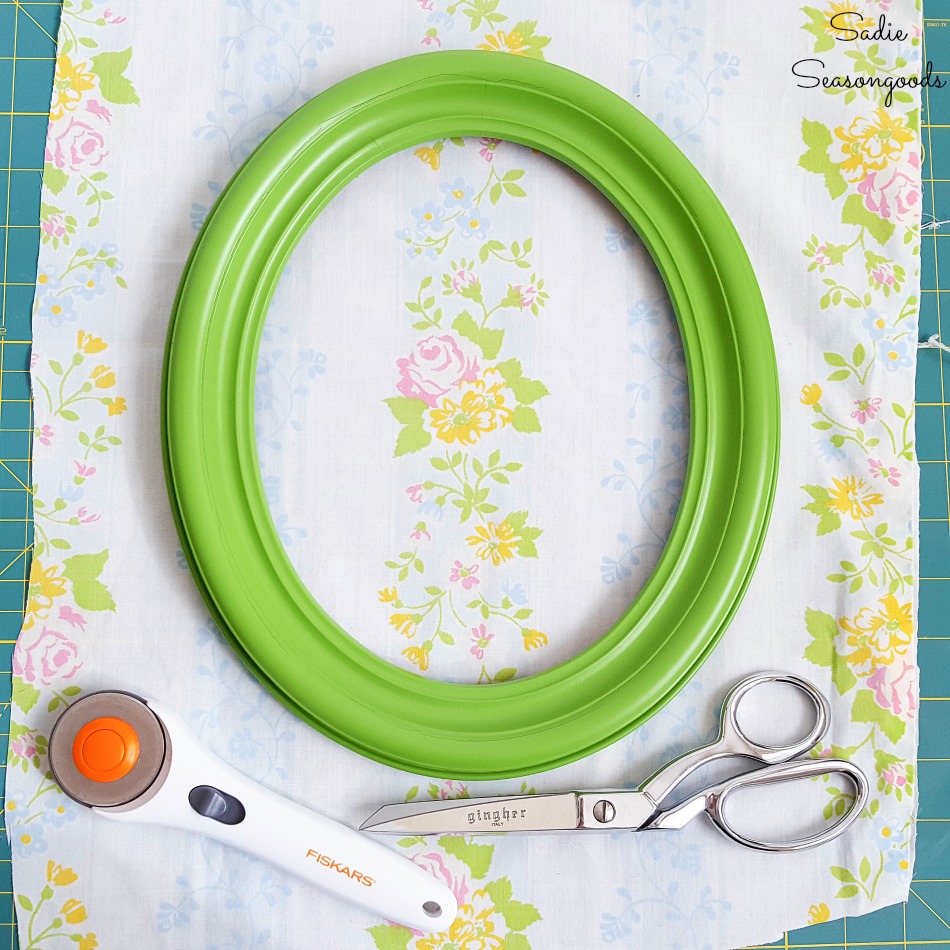 Next, I trimmed the floral sheet to fit inside the vintage oval frame.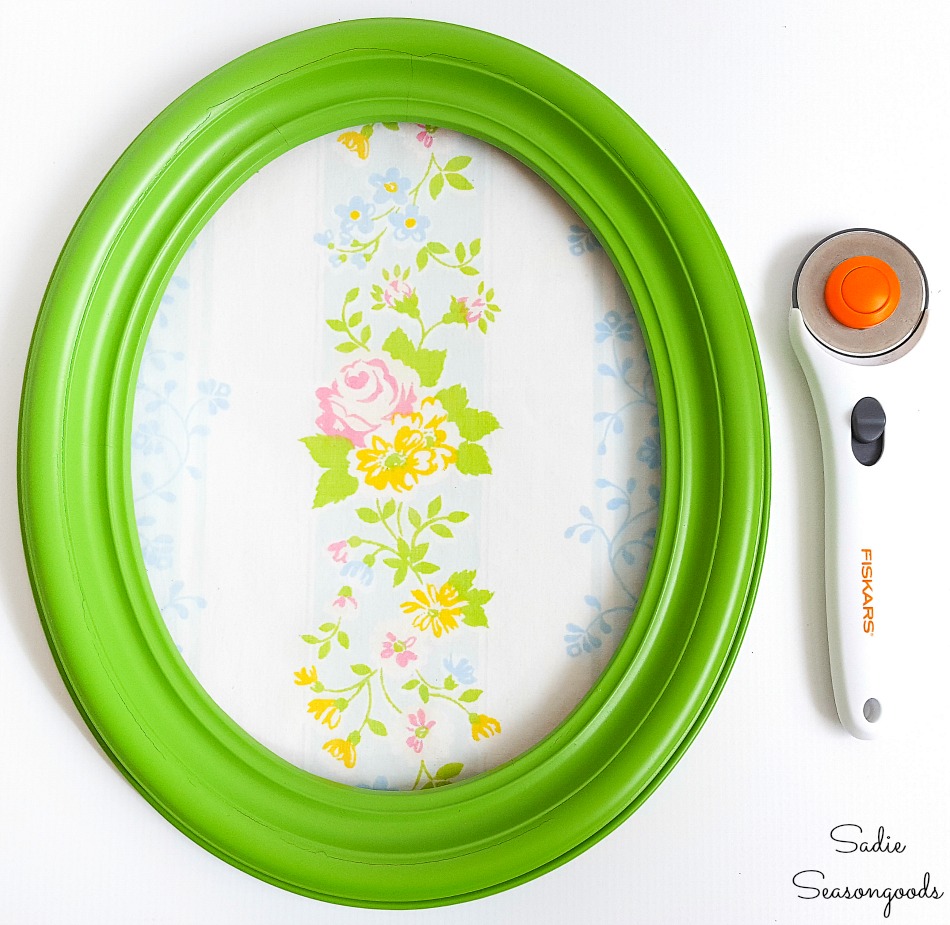 Following that, I traced the interior of my frame on a piece of white foam board.
Why not use scrap cardboard? Because the floral fabric is light and a little sheer…and I didn't want the brown-ness of cardboard showing through and muting/altering the colors!
So, white foam board to the rescue.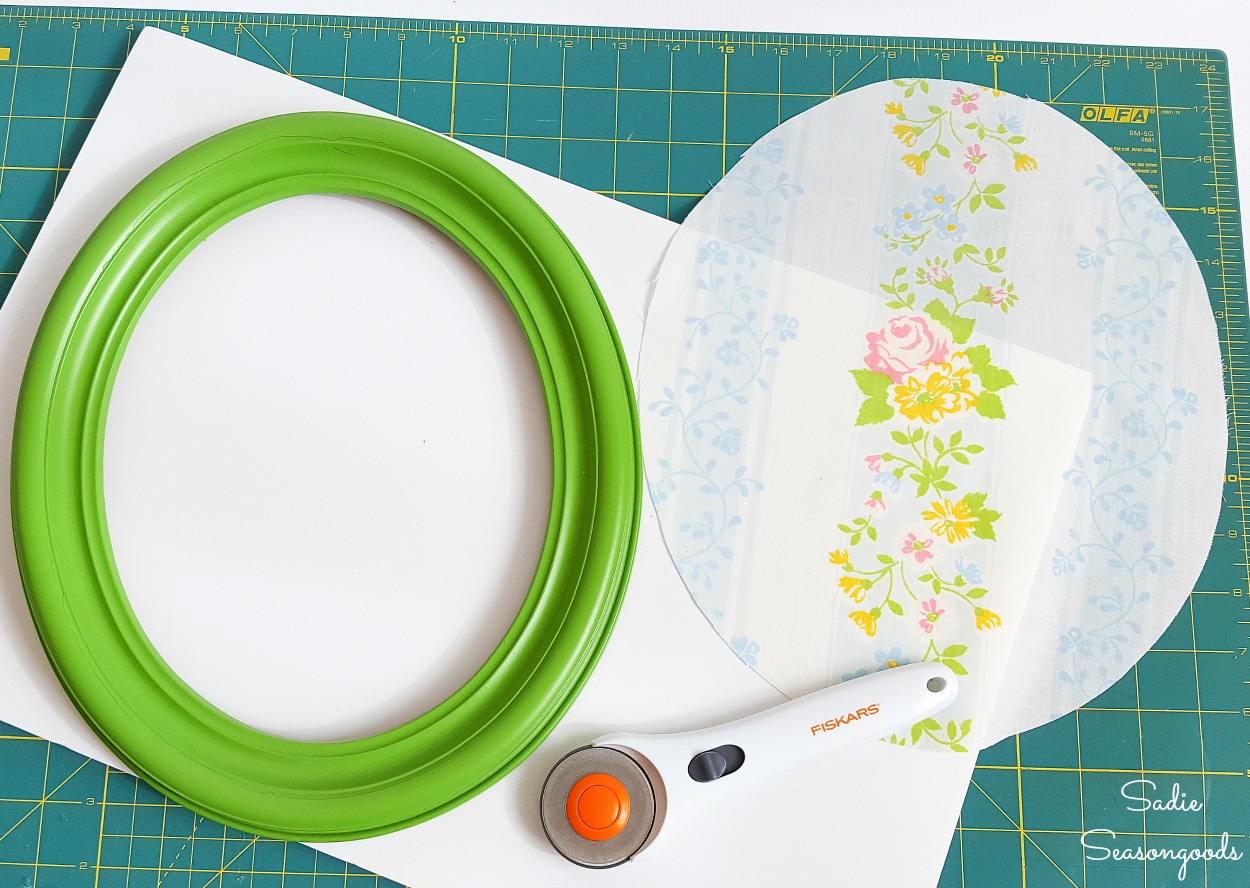 Finally, it was time to assemble them. With my oval frame upside-down on my craft mat, I layered on my pillowcase fabric and then the oval foamboard.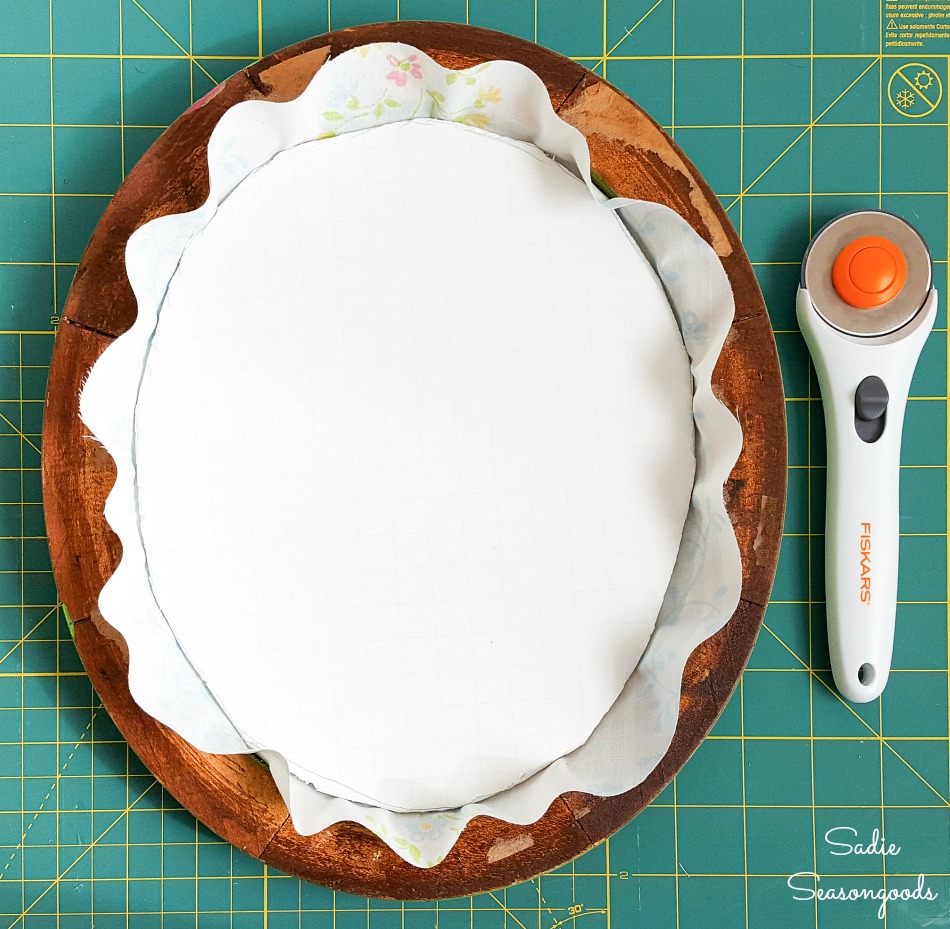 I checked the straightness of fabric, tugged it here and there to smooth out wrinkles, and then secured it my Easter egg panel with finishing nails.
I did the same thing to the other vintage oval frames. Ready to see how the Easter mantel decorations turned out?
DIY Easter Egg Decor from Vintage Oval Frames
And there they are- unusual Easter eggs for sure. Maybe even abstract Easter eggs. But they are bright and fresh and will look perfectly Spring-y on our fireplace mantel.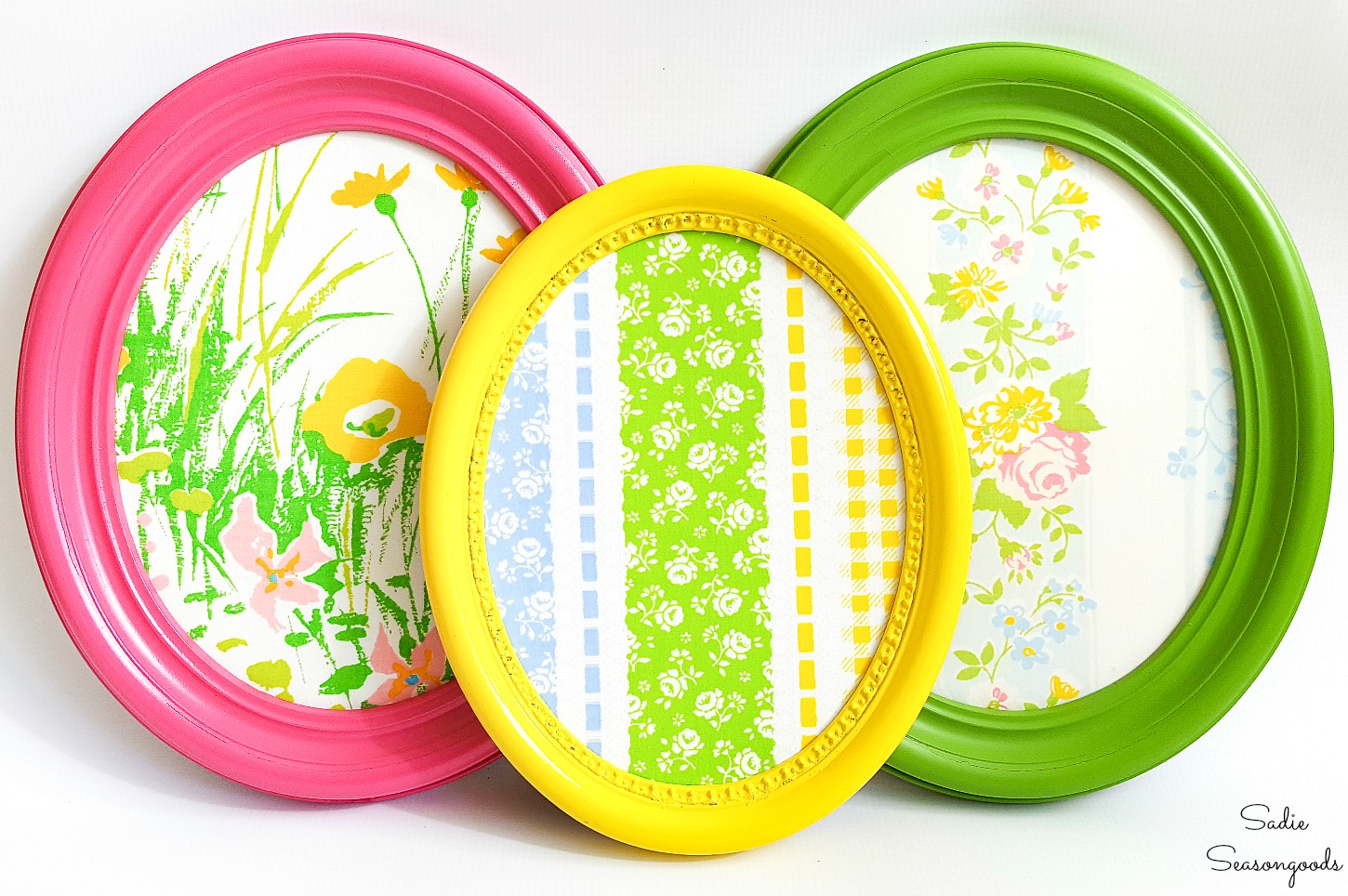 The best part is that you could totally do this with the plastic oval picture frames that are more common in thrift stores (and cheaper than wood ones). So, don't pass those up next time you're out junkin'!
No one will know the difference.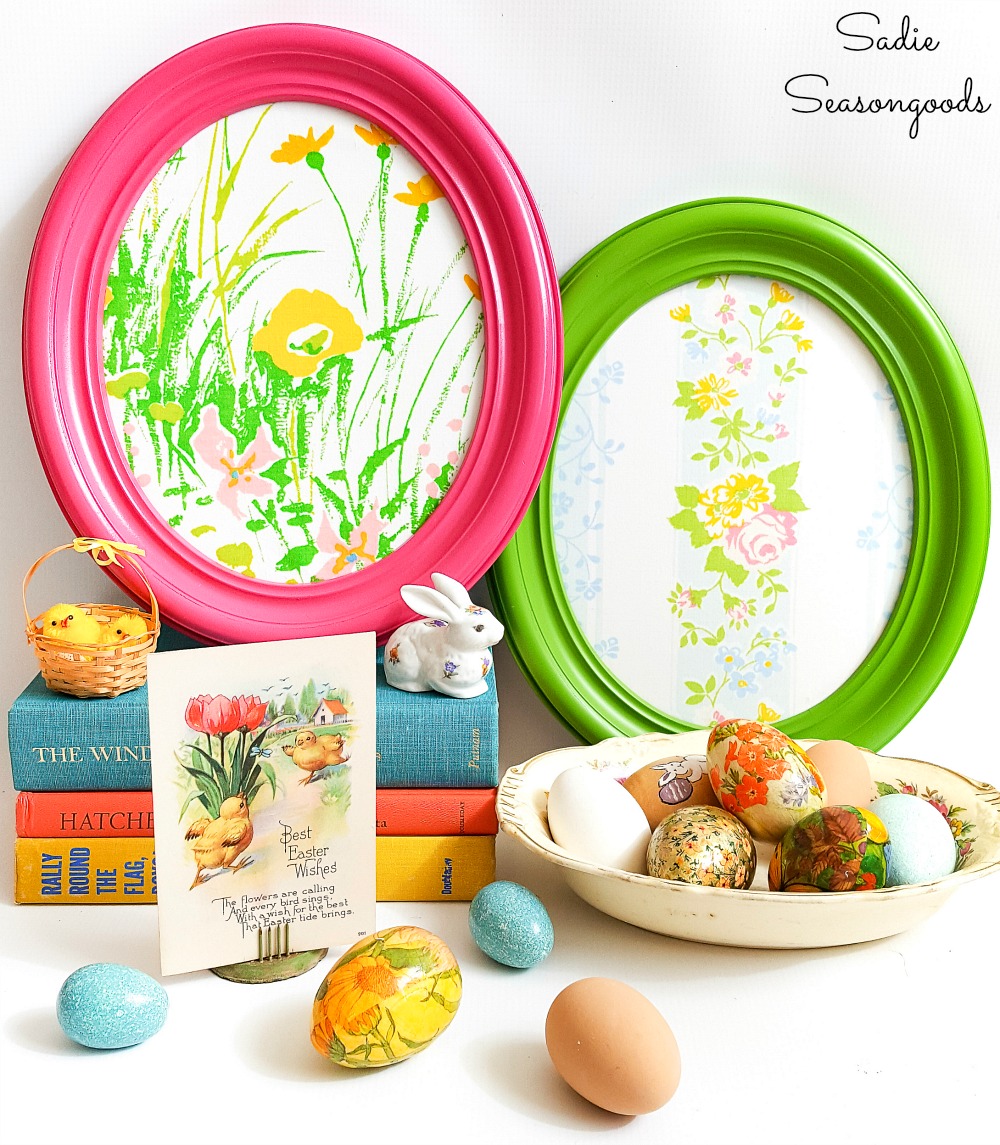 Even Cottonball approves of my Pysanky eggs from antique oval picture frames!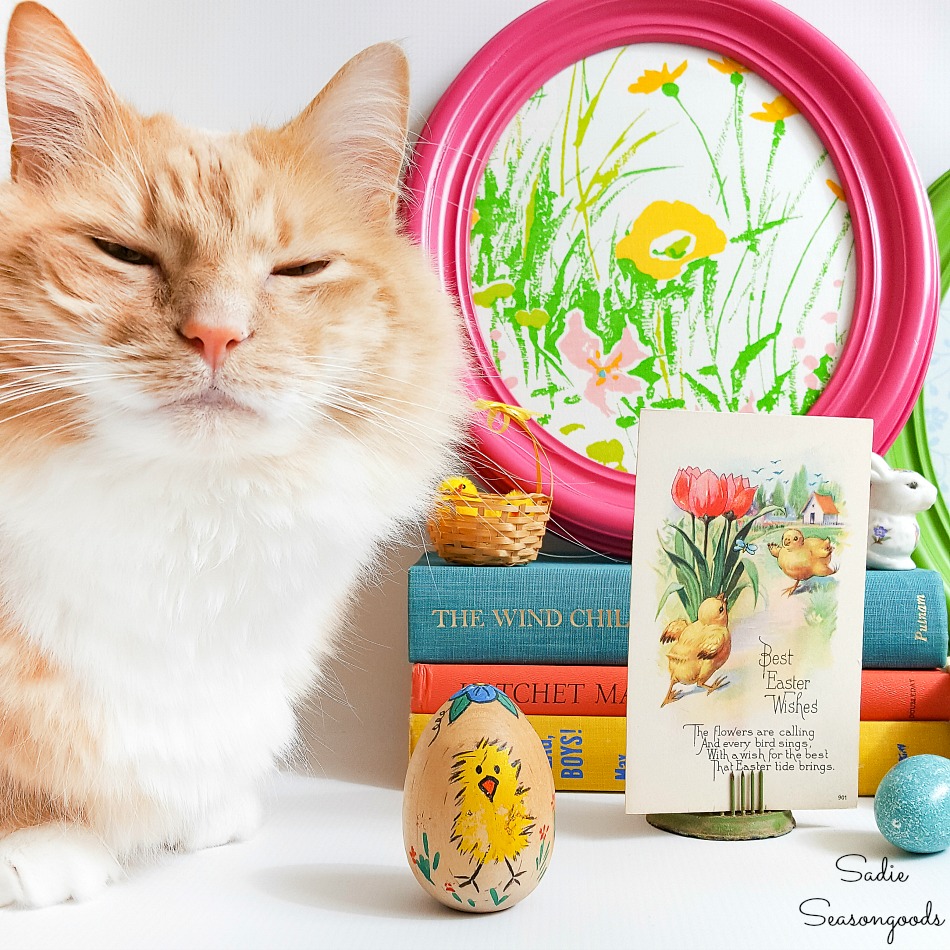 If you loved this project, then you might also enjoy my Easter wreath that I made with an upcycled basket!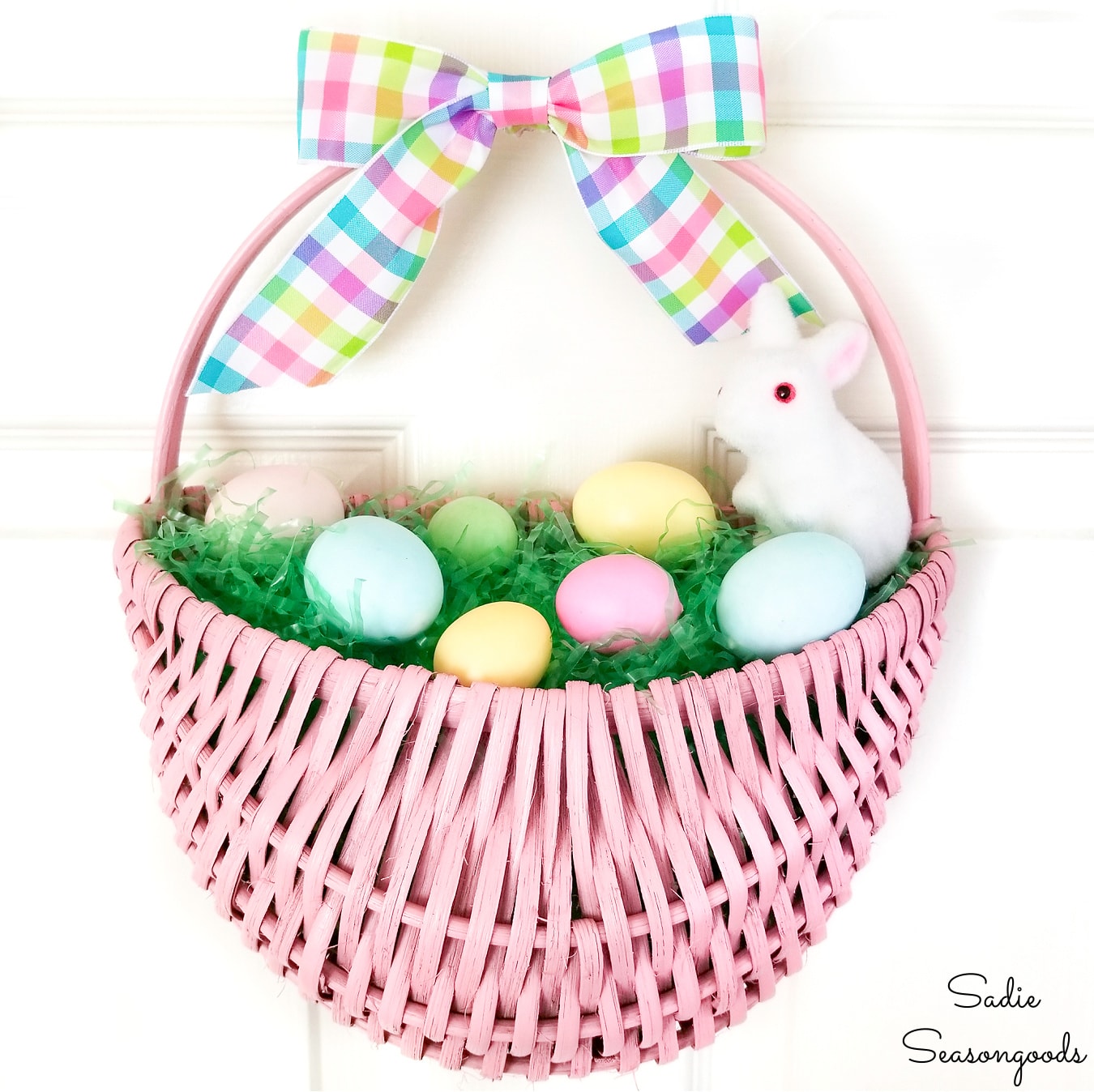 AND I'm so excited to announce that my first book is now available! If you love working with flannel or fabric crafts in general (sewing and non-sewing), then you will LOVE "Crafting with Flannel"!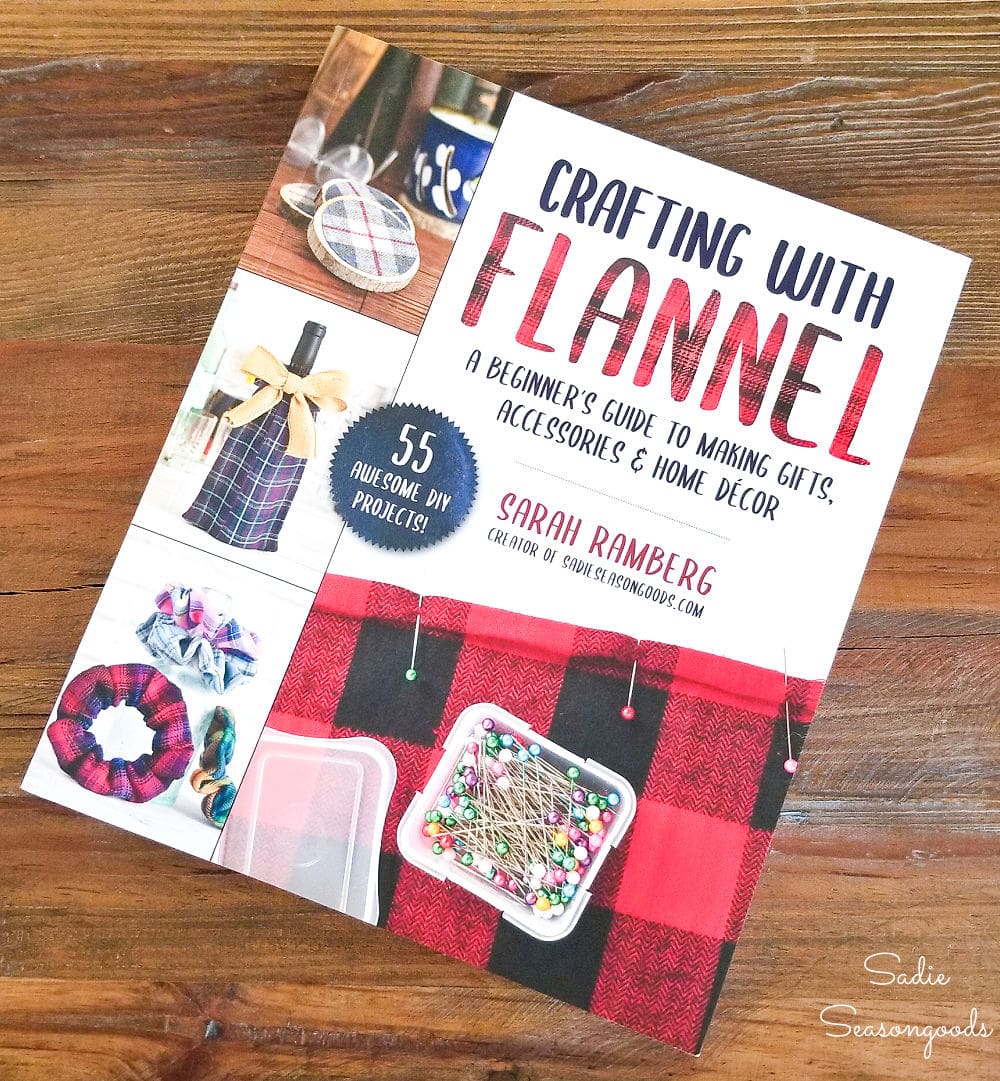 Craft on!
S
Join me on Social Media:

PIN ME!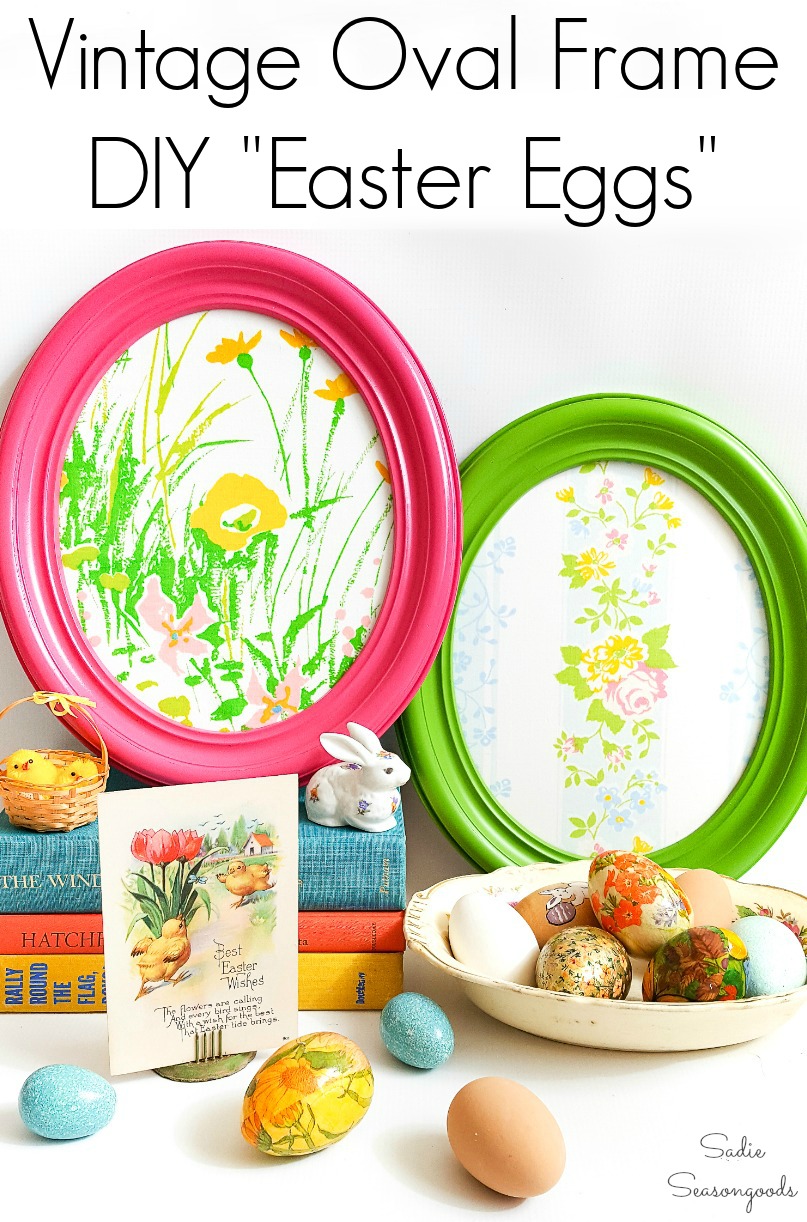 Sarah Ramberg is the owner of Sadie Seasongoods, a website that celebrates all things secondhand. From upcycling ideas and thrifted decor to vintage-centric travel itineraries, Sadie Seasongoods is a one-stop shop for anyone who loves thrifting and approachable repurposing ideas. Sarah is also the author of "Crafting with Flannel" and has been featured in numerous media outlets and magazines.