Boy, it's hard to find an affordable vintage toy truck nowadays. Maybe it's always been difficult, but it's especially hard these days when everyone wants some red truck decor in their Christmas decorations. So, when I finally found one I could afford, I accepted that it was broken/incomplete and knew I could fix it up into the Christmas truck decor of my dreams.
You see, the vintage red truck that I found was missing its back half. I don't know if it was a dump truck or what, but it was affordable and begging for a little help.
And let's face it, that's what I live for!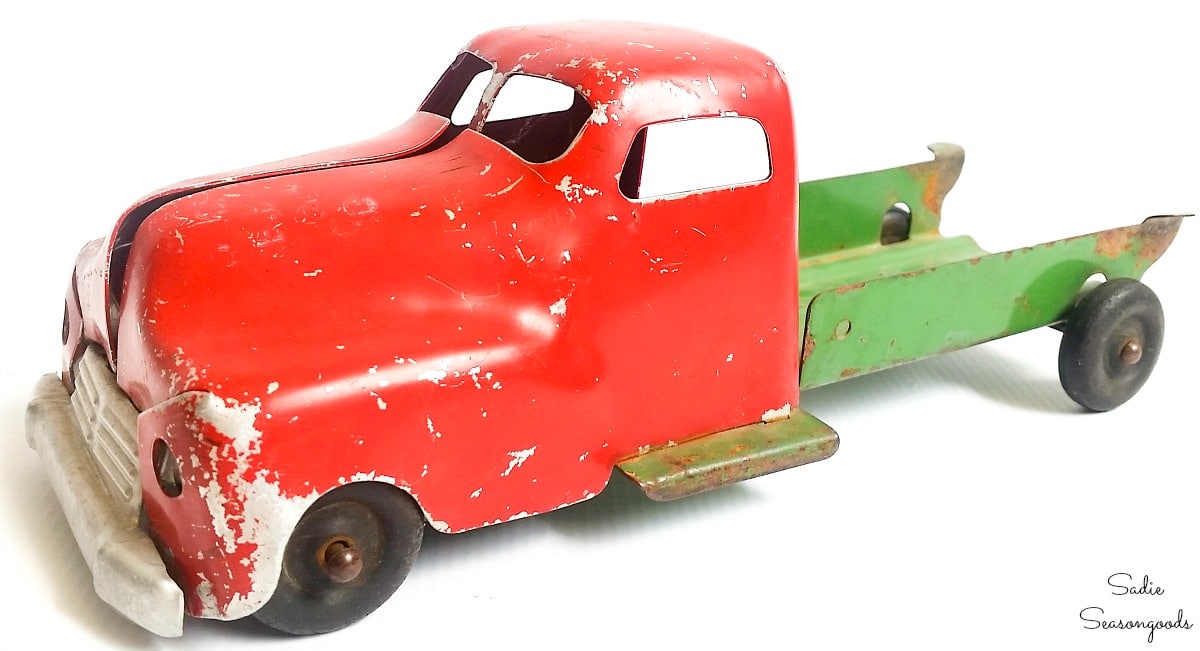 I had a plan in mind for him, and it involved a craft supply staple that I rarely use: Popsicle sticks!
This post contains affiliate links for your crafting convenience. As an Amazon Affiliate, I earn from qualifying purchases. All blue, bold, and underlined text is a clickable link, either to a product or to a related post.
Building the Side Rails for Christmas Truck Decor
I immediately imagined an old-timey pickup truck with truck side rails- you know what I'm talking about? Adding that element would really be perfect for Christmas truck decor.
I decided to build my own version of it using popsicle sticks (large ones and small ones) and my hot glue gun. I so rarely use popsicle sticks in my projects, but they really seemed ideal for this.
First, I "aged" the Popsicle sticks using a wood stain in my favorite vintage-y color.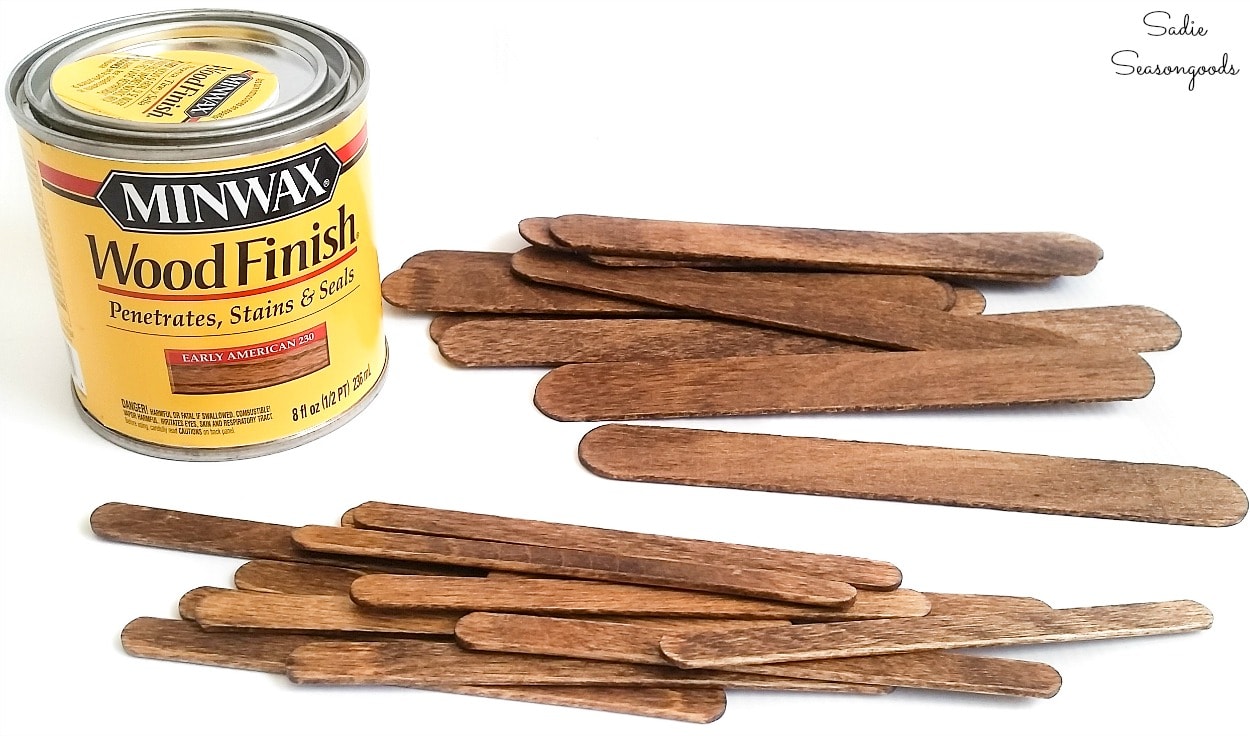 Next, I used my special craft scissors to cut the round ends off the sticks, and glued together two side rails- mirror images of each other.
I was, admittedly, lucky that the Popsicle sticks were close to the perfect length I needed for my Christmas truck decor.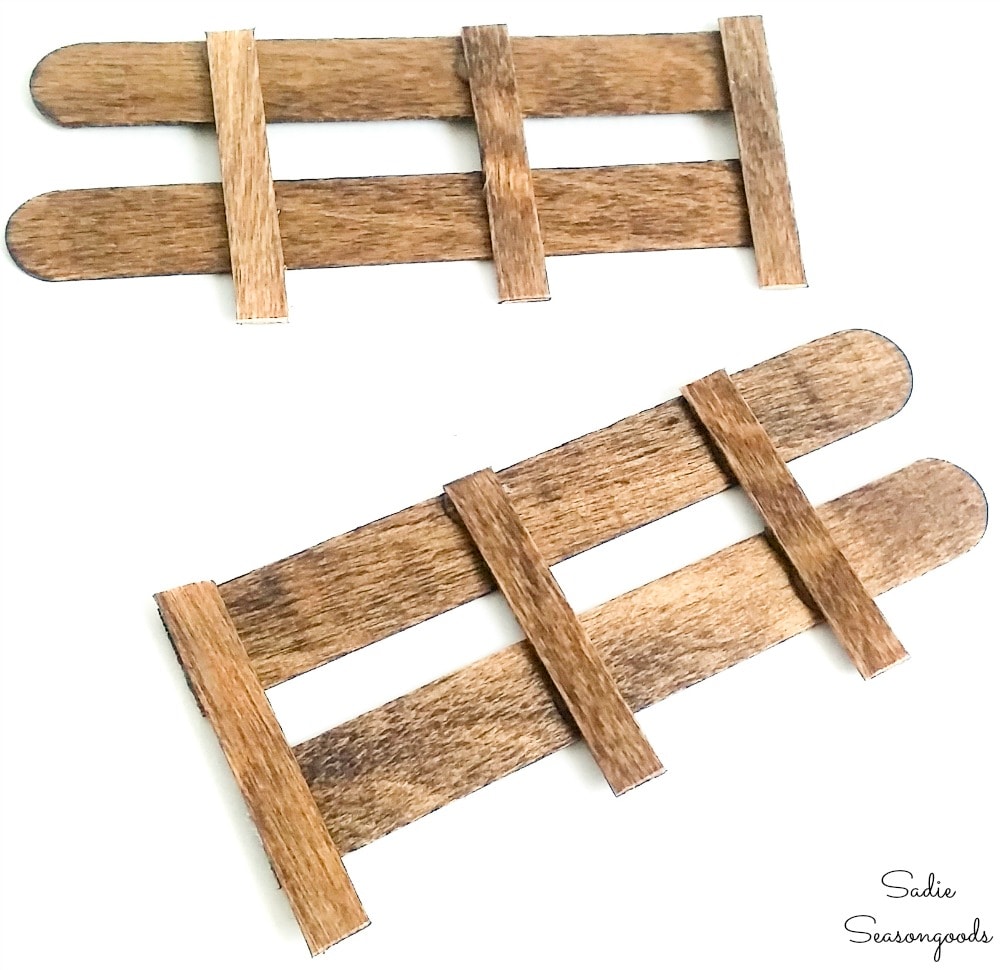 After that, I closed up the back with two more tongue-depressor sized Popsicle sticks.
Now I had the perfect bed crate for my Christmas truck decor!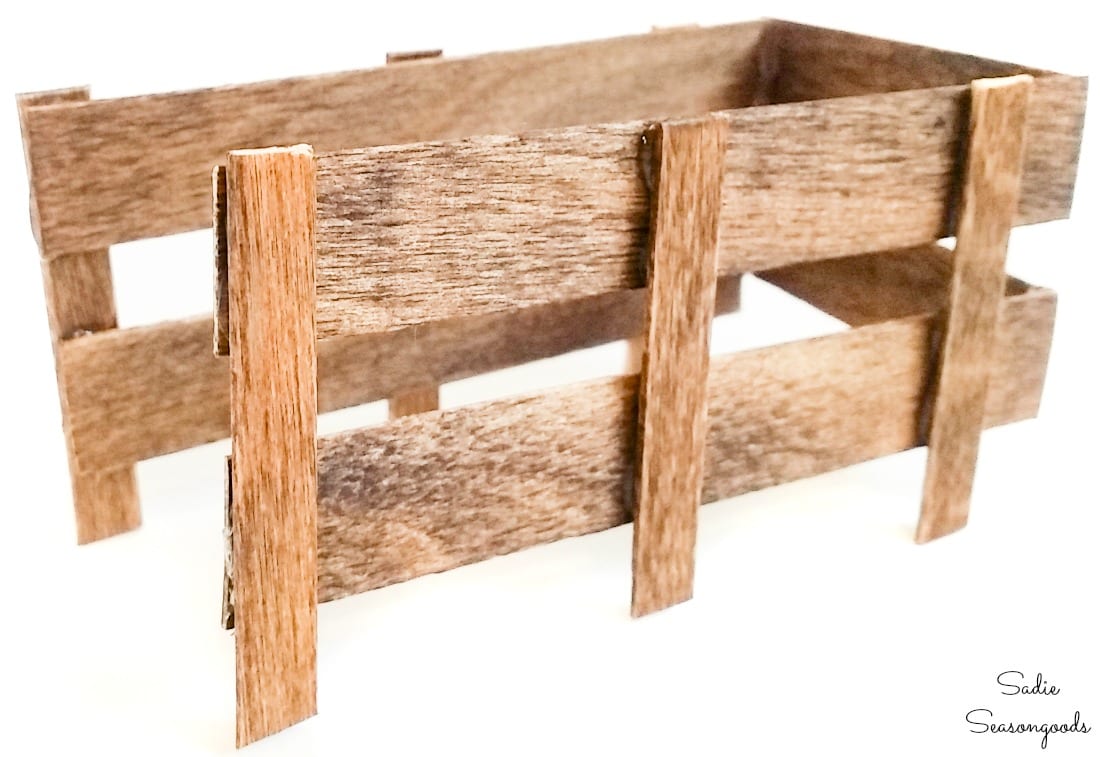 It sat perfectly in the Christmas truck, but the best part is that the truck isn't altered at all! I didn't glue down the wooden side rails or anything like that.
Now that it had a crate in the back, I could continue transforming it into a red Christmas truck!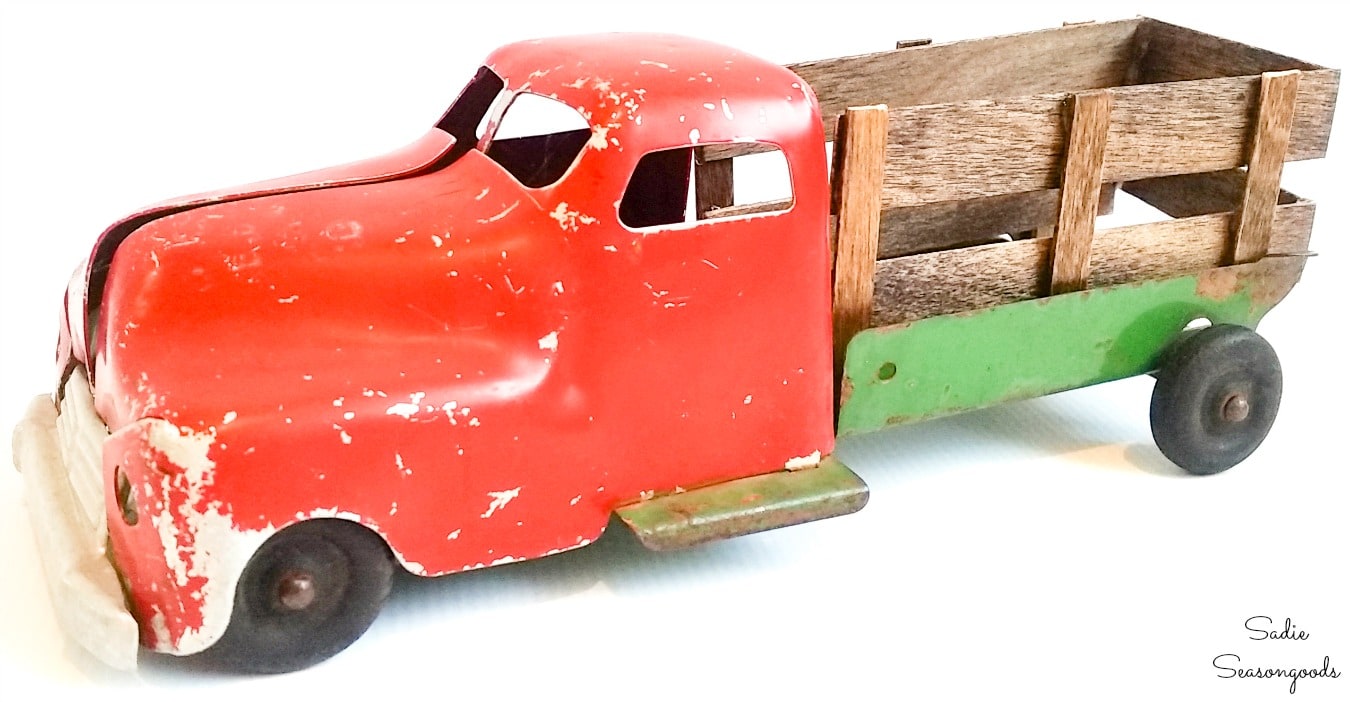 Red Truck with Christmas Trees
Next, I went through my collection of bottlebrush Christmas trees (all vintage, of course) and added a few to the back of my Christmas truck.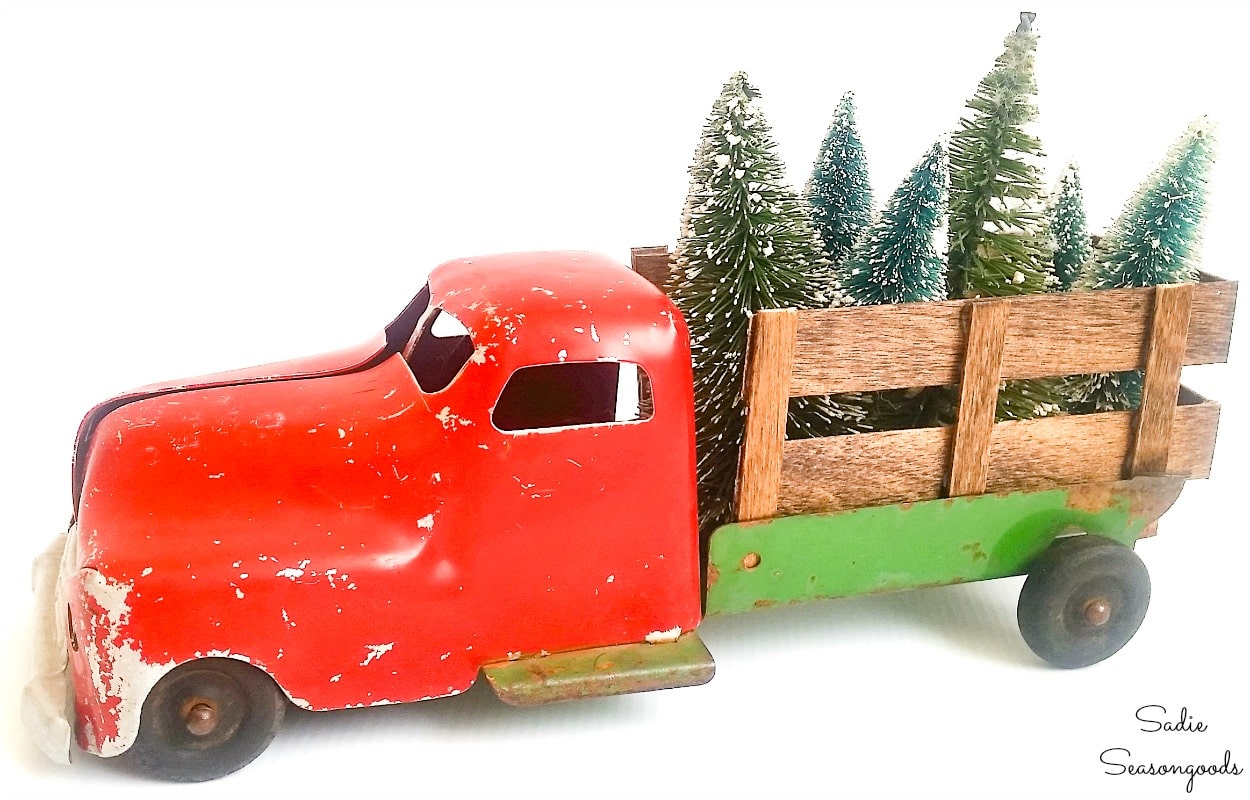 But something was missing. My Christmas truck decor needed one more thing!
Lastly, I made a little sign using a couple of the smaller Popsicle sticks. And I stamped on a greeting with alphabet stamps with a play off my blog's name.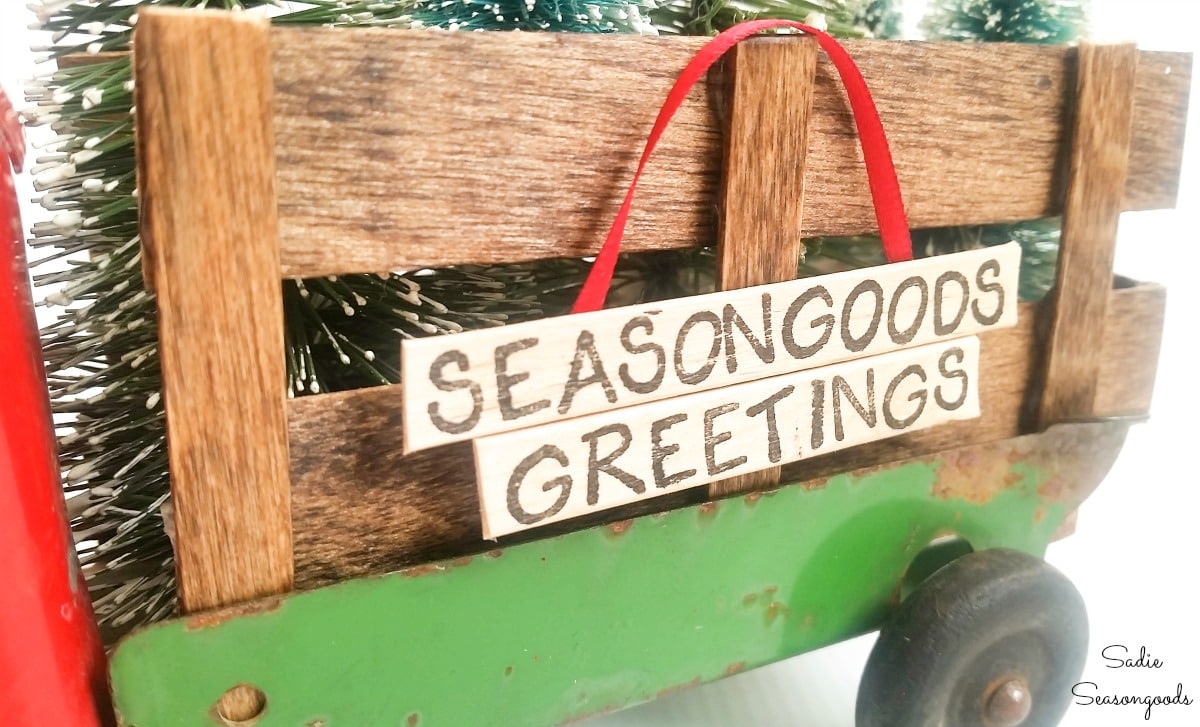 NOW it was done, and I had the most darling red truck with Christmas trees ever.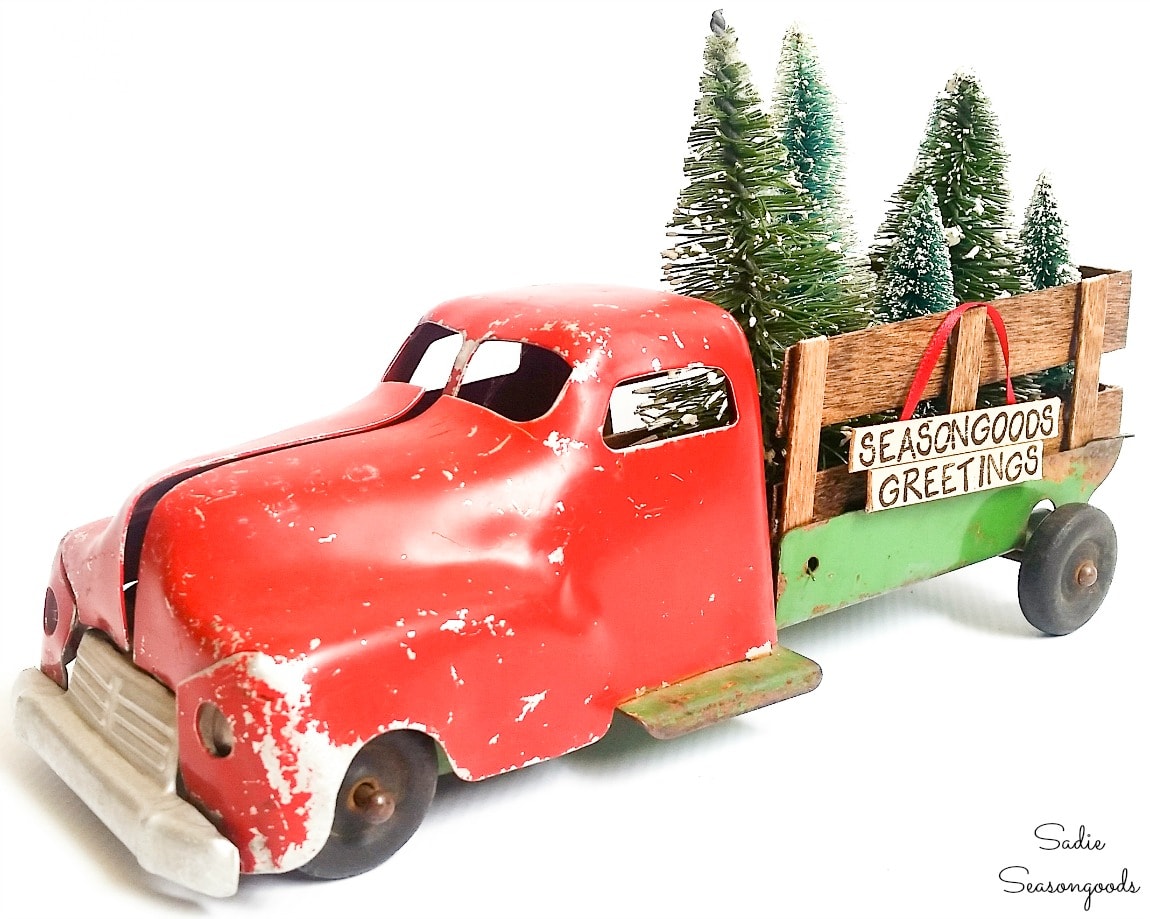 Christmas Truck Decor
If there's a cuter vintage red truck with Christmas trees out there, I'd love to see it. I'm just completely smitten with mine- would it be weird to leave it out year-round?
And since my vintage aqua truck didn't want to be left out of the holiday fun, he decided to head into the peppermint forest and haul some lumber.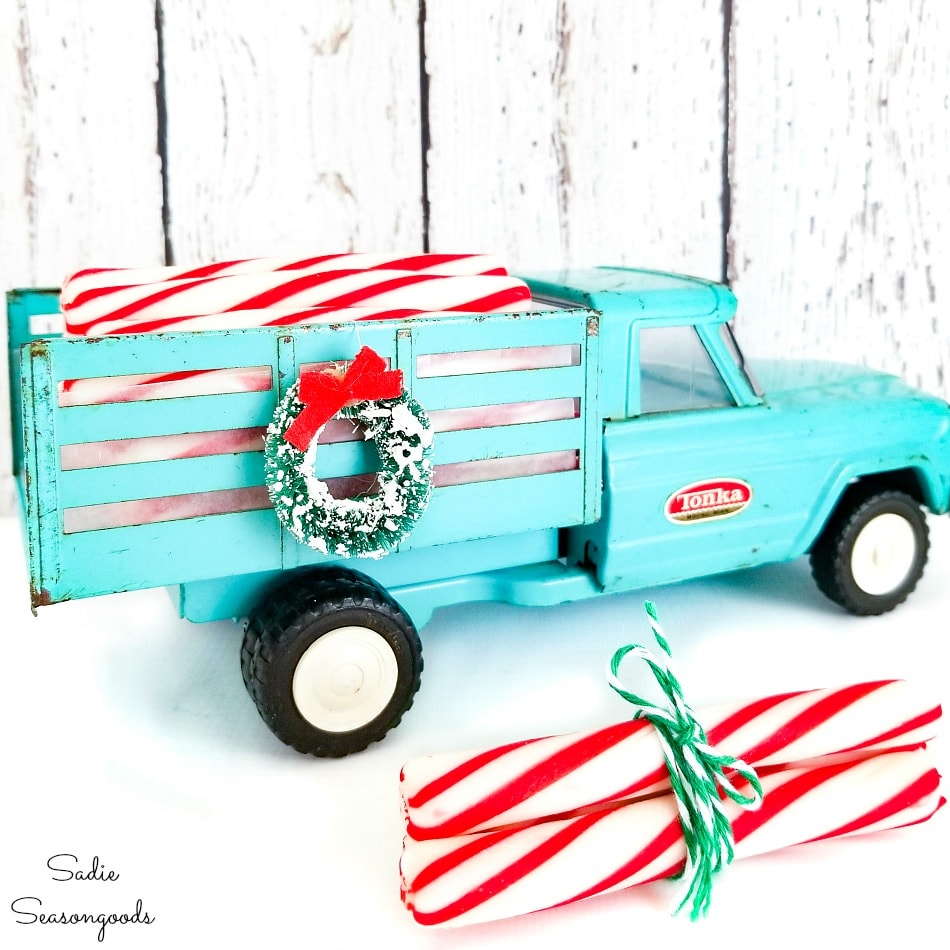 And for fall? My vintage toy truck filled with felted wool pumpkins! I made them as part of this Halloween project, actually.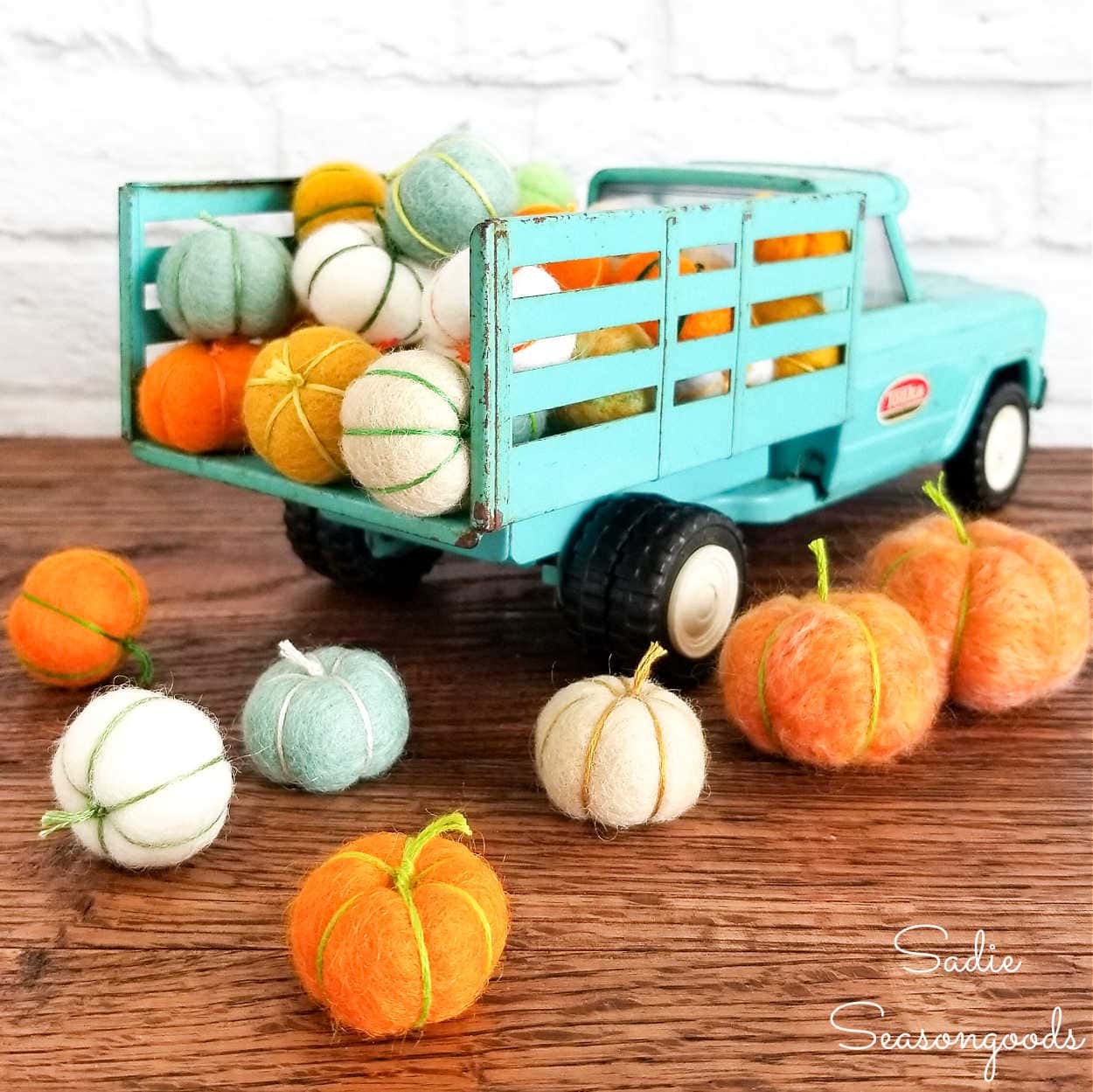 If you enjoyed this upcycling idea for Christmas truck decor and vintage Christmas decorations, then you'll love these Christmas snowglobes in vintage mason jars!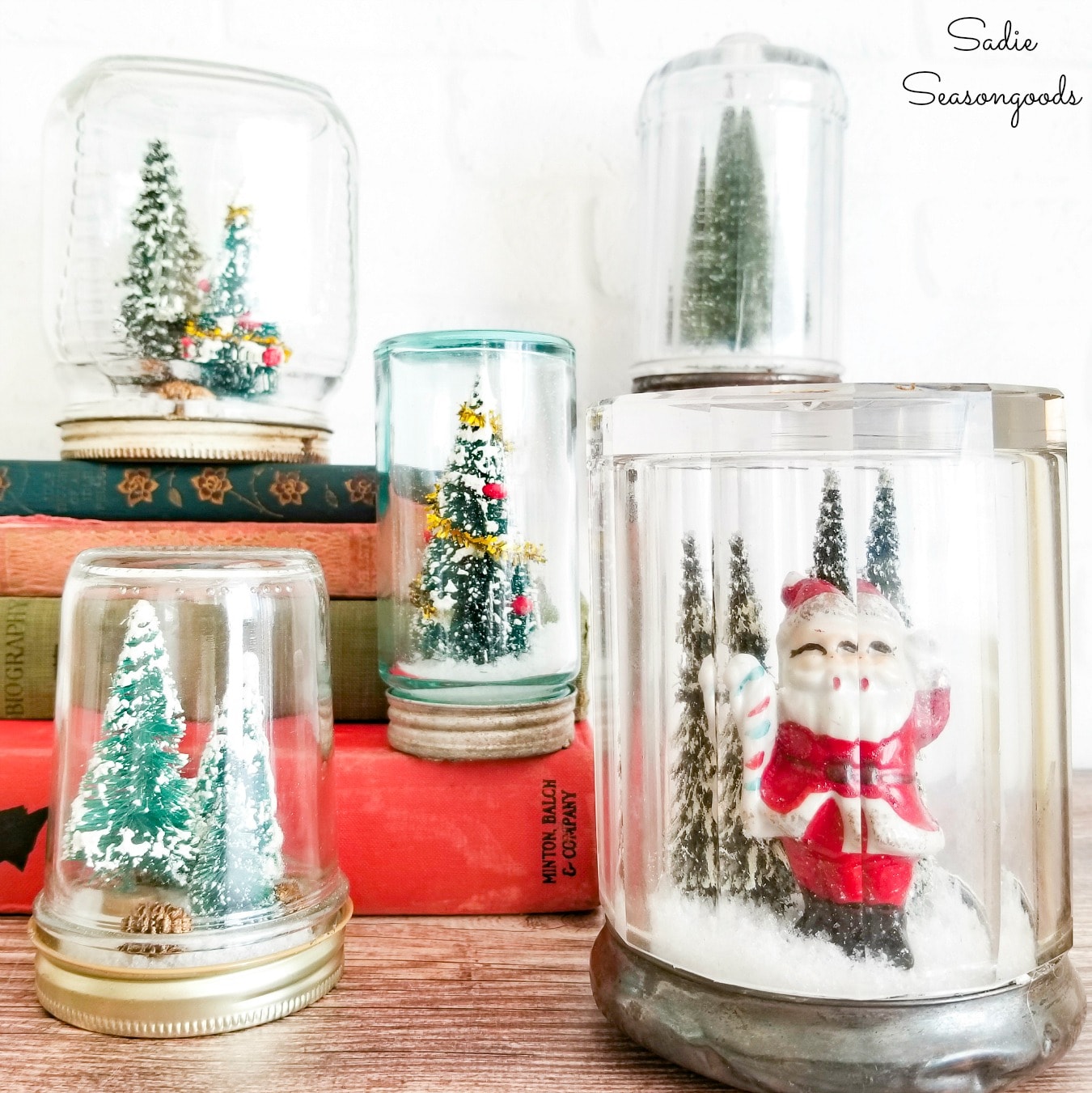 And did you know that my book, "Crafting with Flannel", has an entire chapter dedicated to Christmas crafts? It's available to purchase online from Amazon, Target, Barnes & Noble, and Walmart!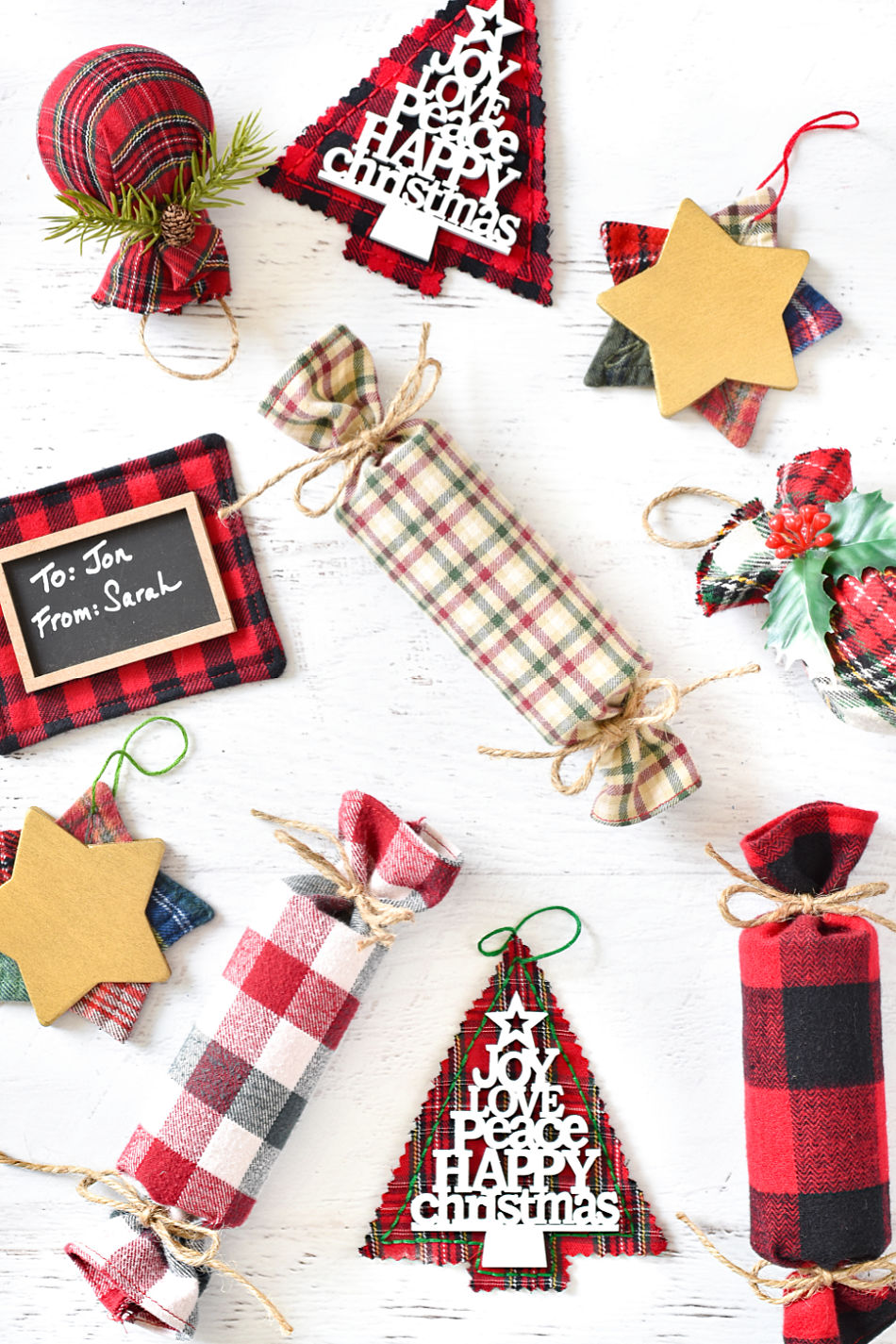 Craft on!
S
Join me on Social Media:

PIN ME!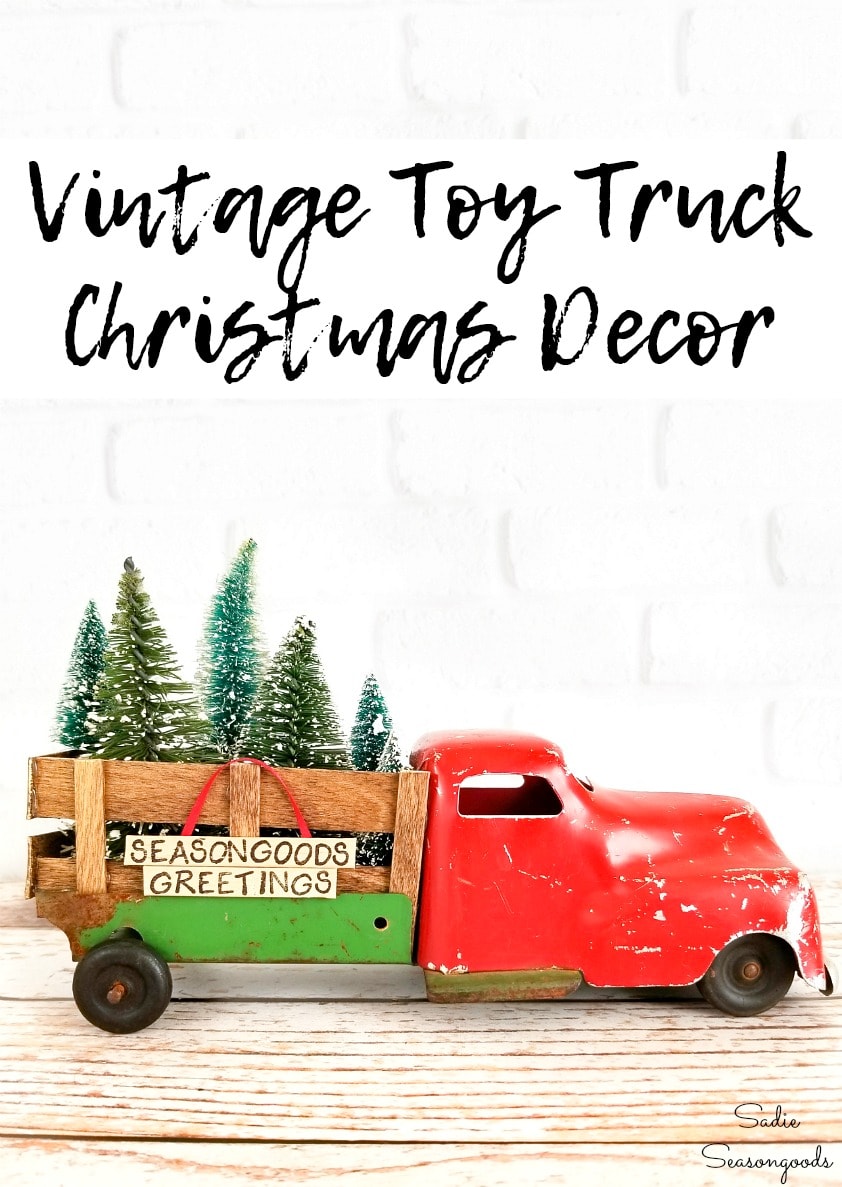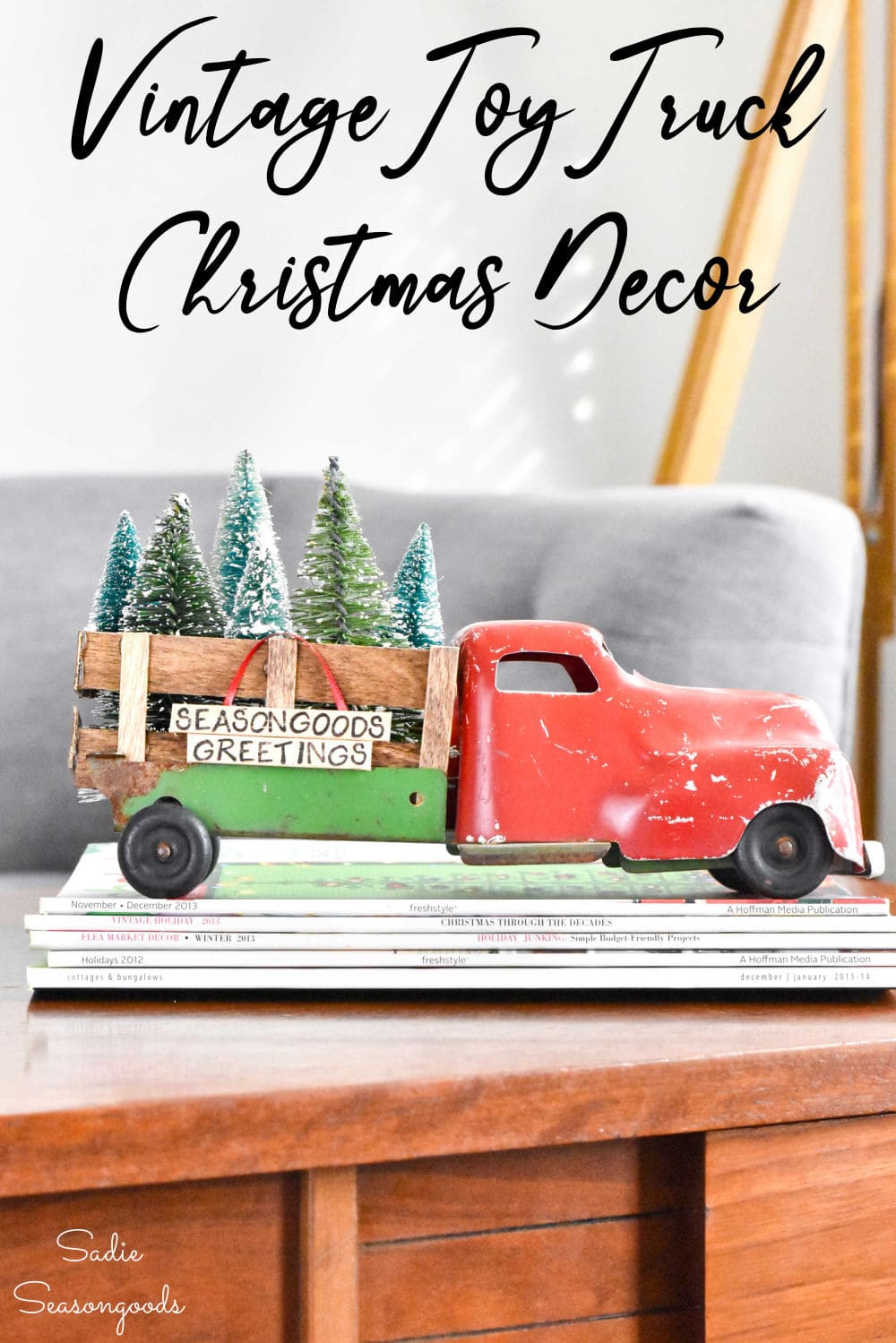 Sarah Ramberg is the owner of Sadie Seasongoods, a website that celebrates all things secondhand. From upcycling ideas and thrifted decor to vintage-centric travel itineraries, Sadie Seasongoods is a one-stop shop for anyone who loves thrifting and approachable repurposing ideas. Sarah is also the author of "Crafting with Flannel" and has been featured in numerous media outlets and magazines.