While putting together a collection of Upcycled Fall Decor projects for a blog post, I ran across this oversized acorn decor project that I just fell in love with. It's not my originally idea (important for me to point out), BUT I wanted to create my own version of acorn decorations. Of course, not just any fabric would do, though. I wanted to make them with a tweed sport coat.
After all, I still had remainders from tweed sport coats from making these tweed-y projects!
I also knew this project was meant to be when I was recently thrifting in Asheville, NC and found the perfect wooden salad bowls that I could use as acorn caps.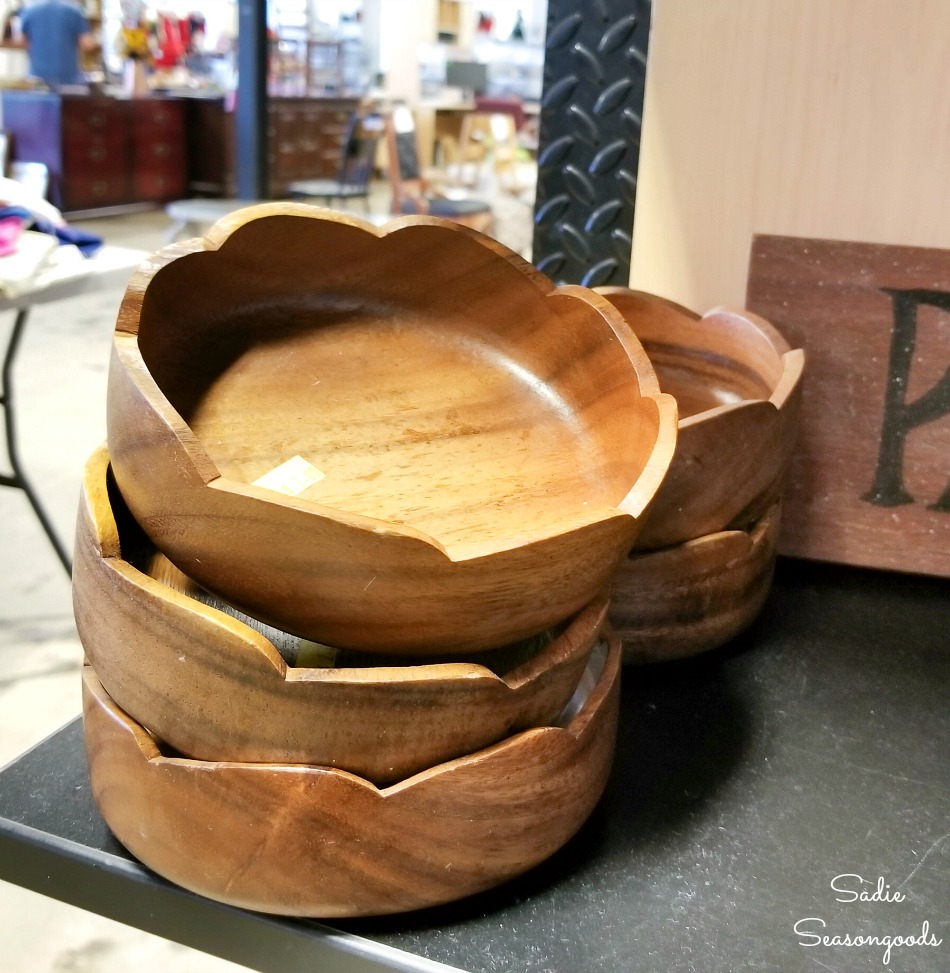 See? Won't they perfect as caps for some acorn decorations?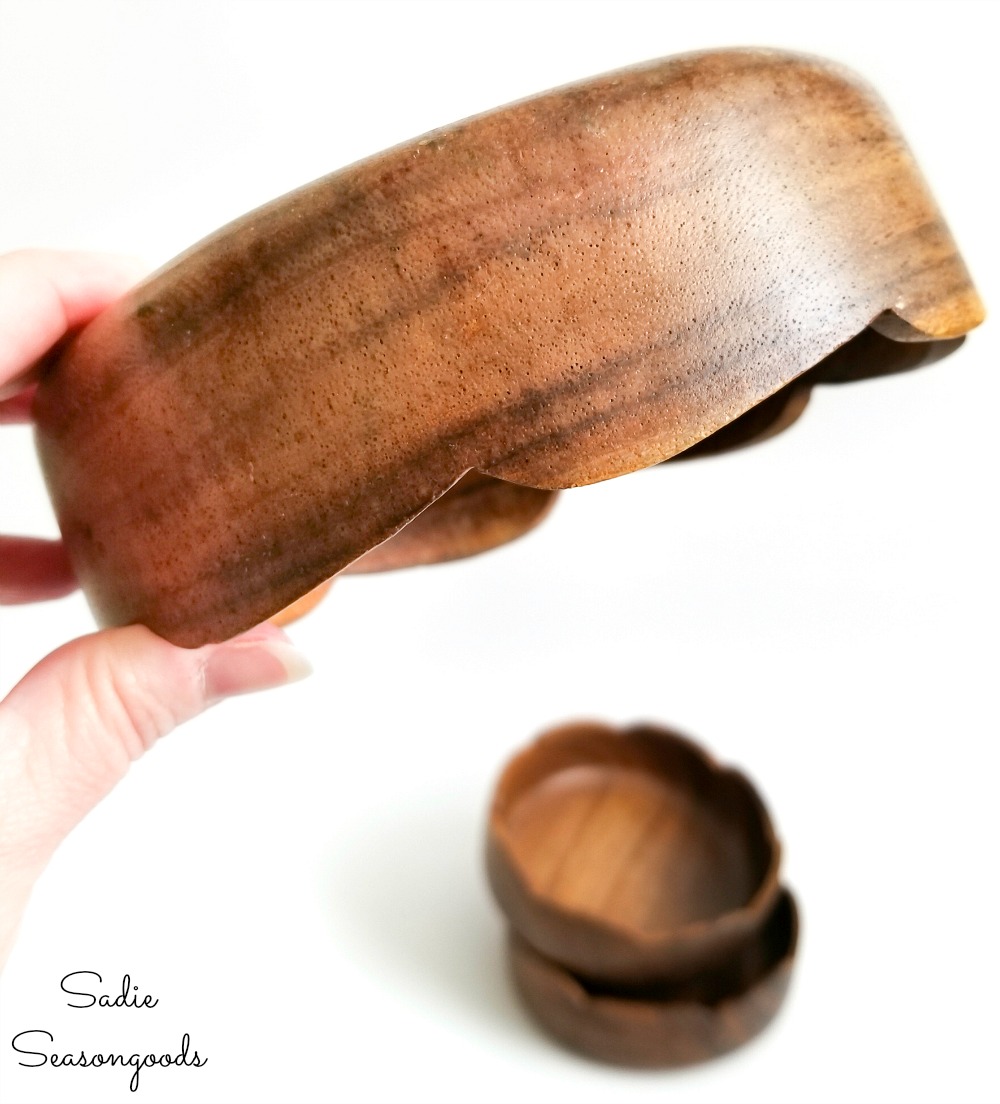 So, as far as my tweed sport coats were concerned, I had ample fabric left. But my eyes immediately honed in the sleeves. Why? Because real-life acorns taper to a point, right? And sleeves are naturally tapered.
Plus, I hadn't touched the sleeves in my previous tweed projects (such as these DIY brooches, below)s, so I had plenty of options in case the idea didn't work out.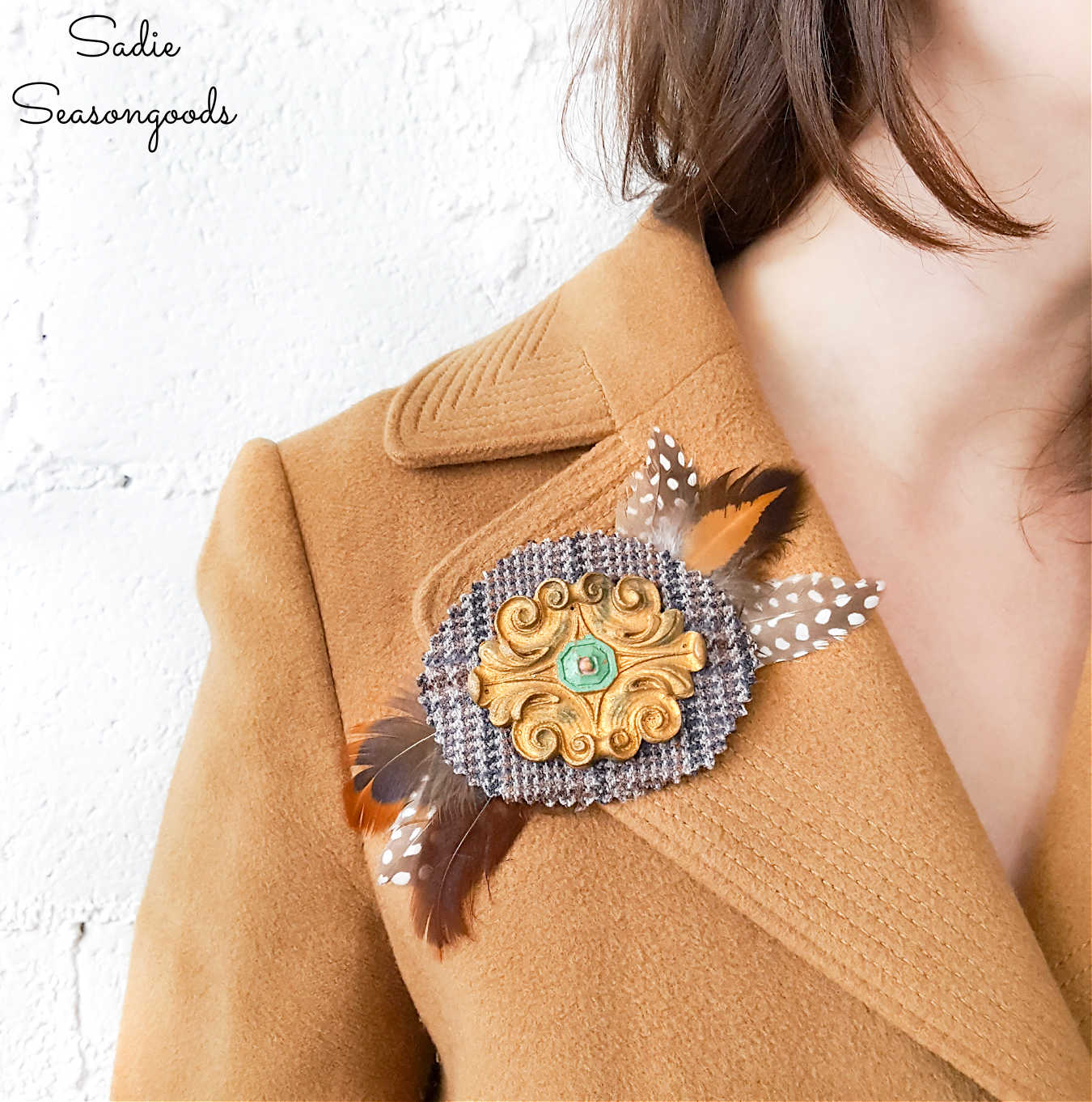 Anyway, I gathered my main elements (tweed sport coats and the wooden salad bowls) and got to work. With Cottonball at my side, of course.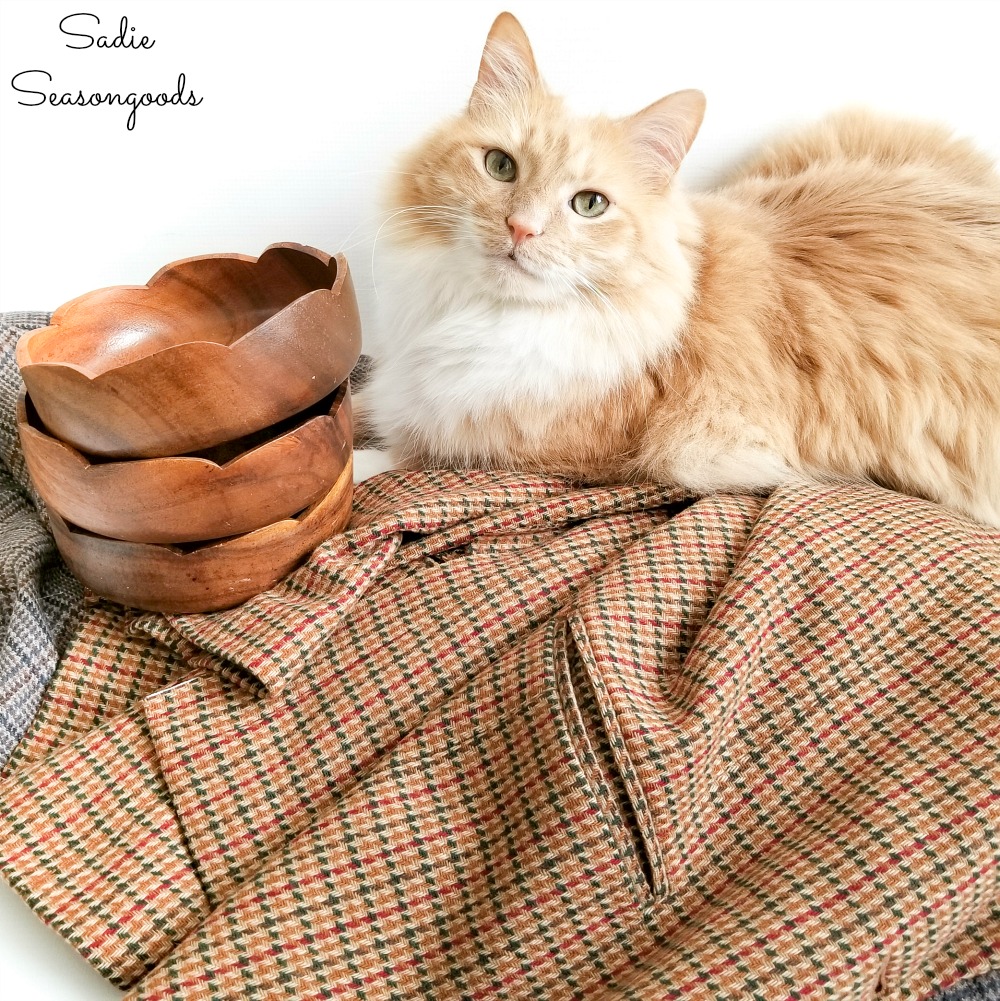 This post contains affiliate links for your crafting convenience. As an Amazon Affiliate, I earn from qualifying purchases. All blue, bold, and underlined text is a clickable link, either to a product or to a related post.
Upcycling a Tweed Sport Coat for Fall Home Decor
First, I needed to isolate a sleeve from a tweed jacket for the project. So, I cut it off at the arm pit, straight and perpendicular to the sleeve itself.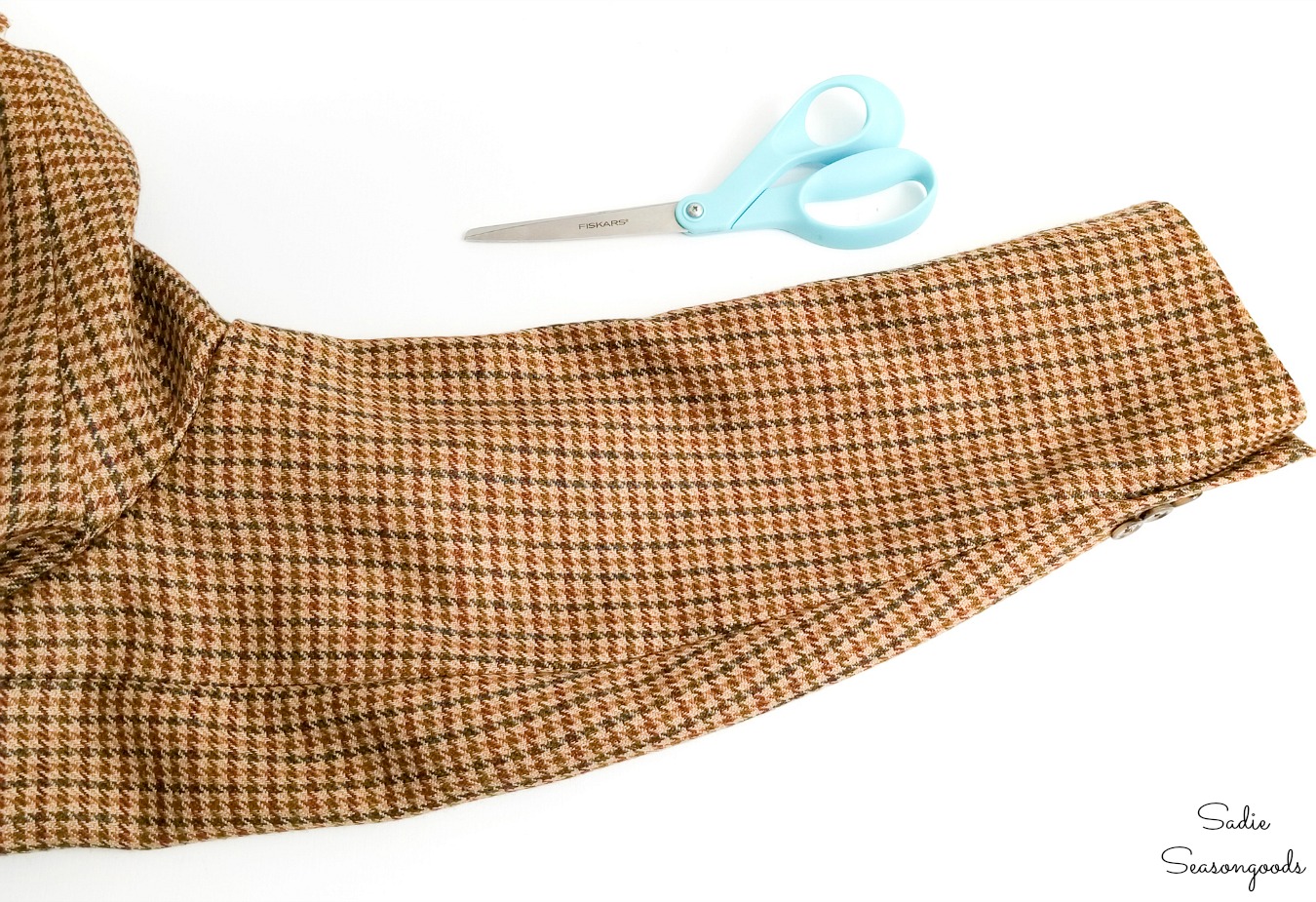 Then, I turned the sleeve inside out, and sewed a loose running stitch about 1/3 of the way up from the cuff.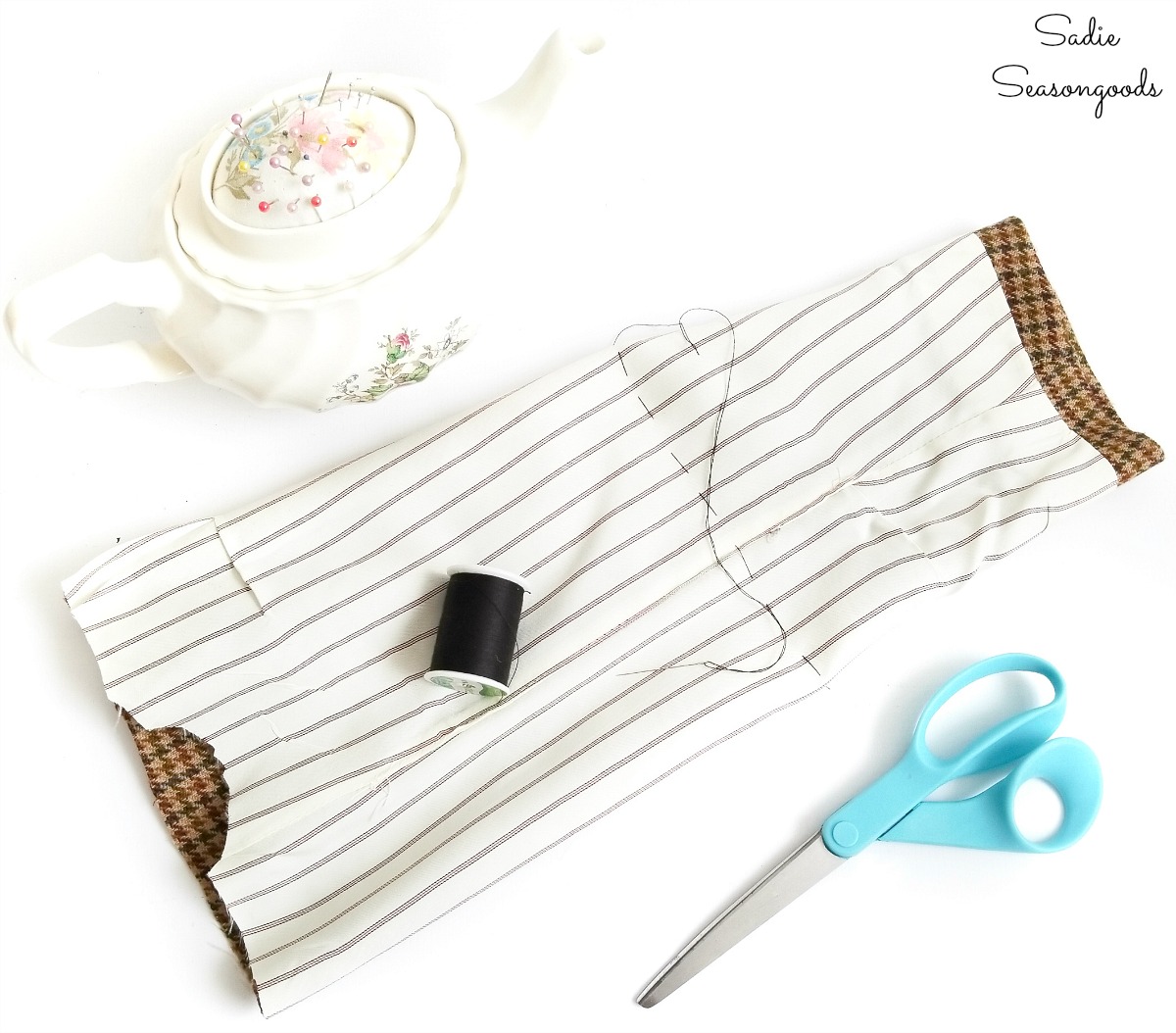 I used a contrasting thread color here so that you could see my running stitch. But since no one will ever SEE any of my sewing, the thread color doesn't matter in the end.
Next, I gently tugged the needle-end of my thread and gathered the sleeve from the tweed coat.
I ran my needle through the gathered fabric (a thimble helps here), before knotting it off securely.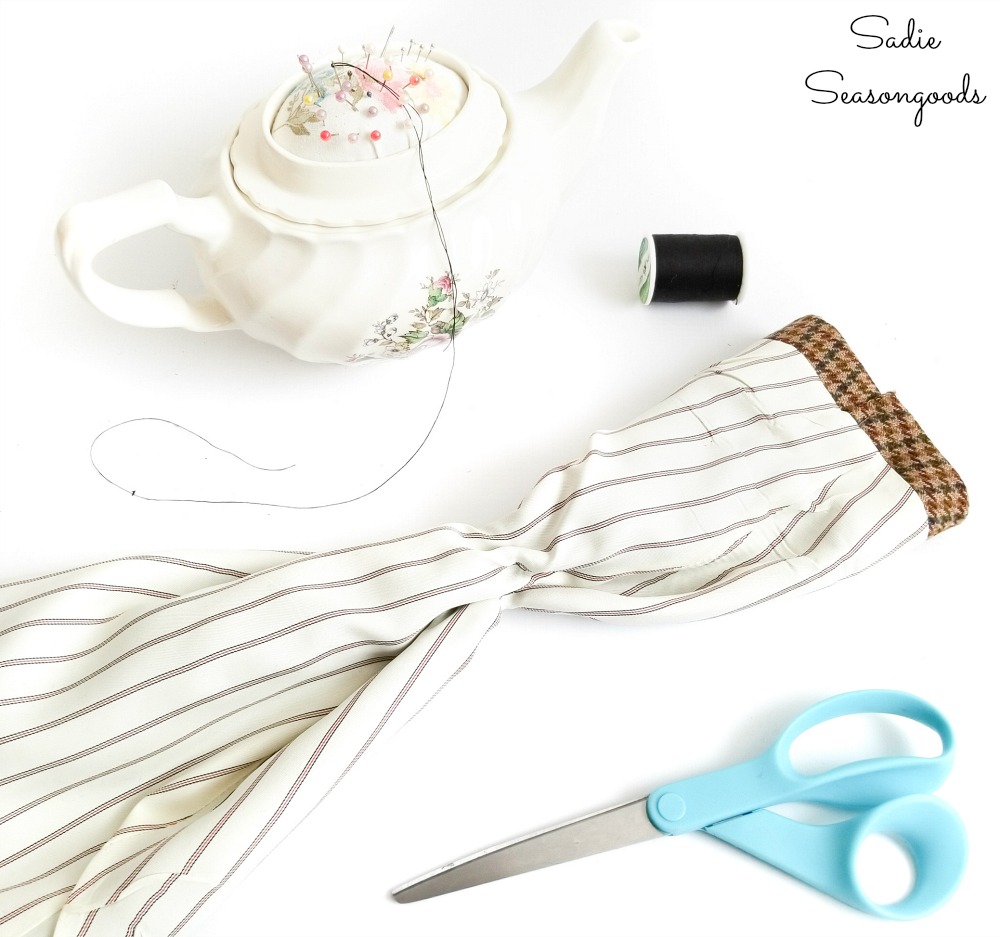 Then, I turned my "sleeve bag" right-side-out. Before stuffing my acorn decor, I took one additional step: adding some river rocks to the bottom of my acorn-to-be.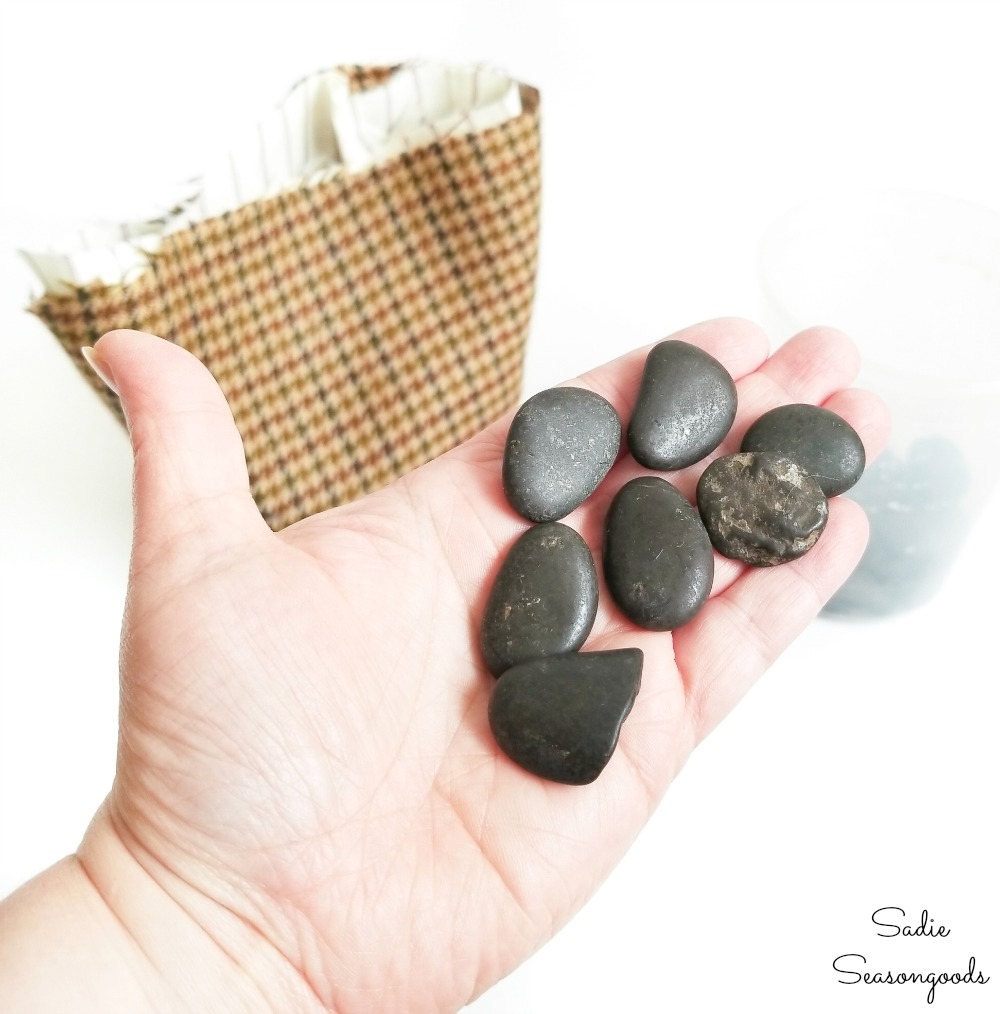 Why? To give the acorn decor some weight at the bottom! Once I add the wooden salad bowls, they'll be quite top heavy. So, a few stones in the base will offset that and help them stand more easily.
Wood Salad Bowls as Caps for Acorn Decorations
NOW it was time to stuff my decorative acorns! And I was *not shy* about the amount of fiber fill I used.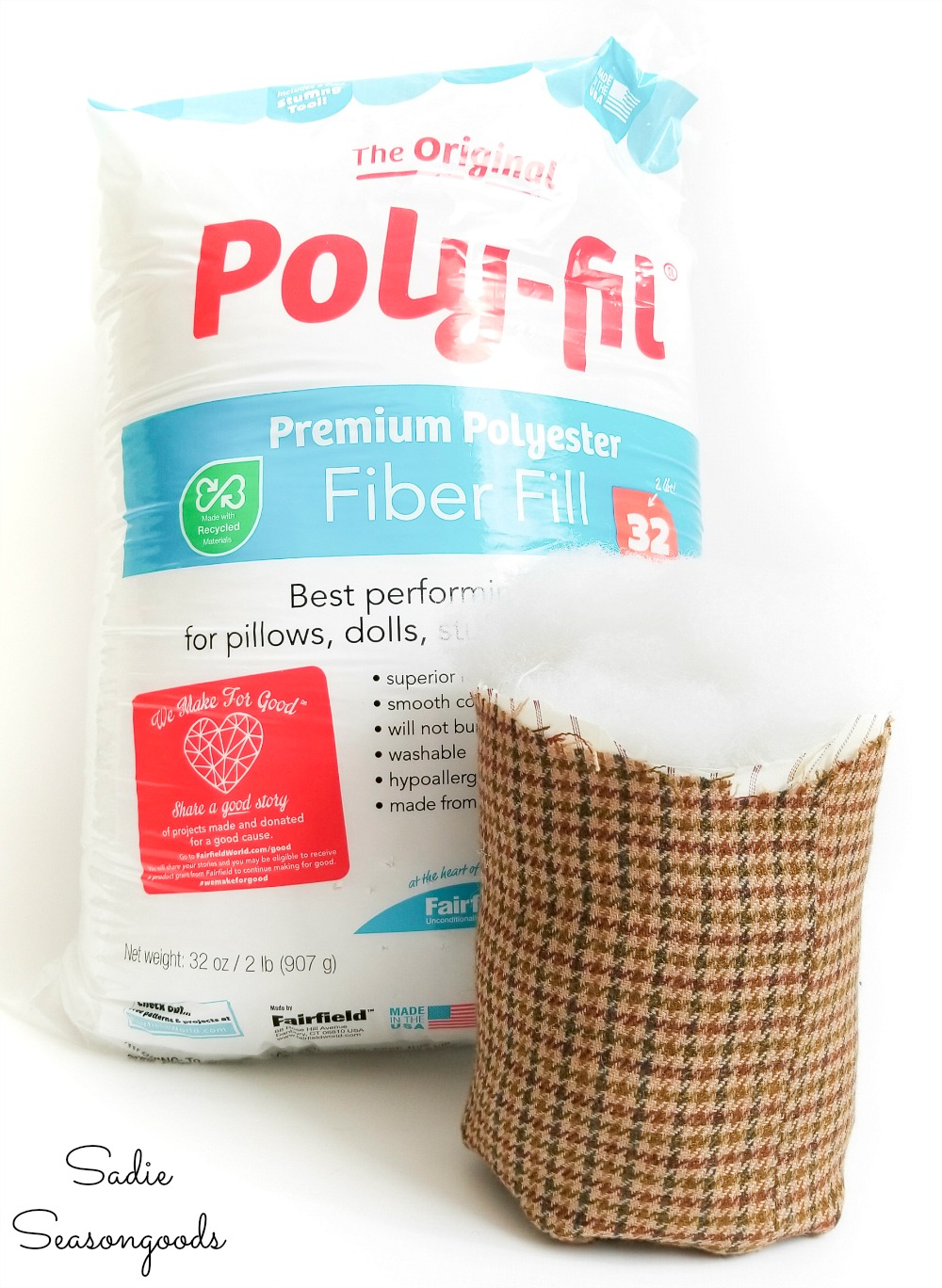 I used a needle and thread again to sew another running stitch along the top of the tweed fabric and again gathered it a touch before knotting off.
You don't need to tug it all the way closed- just gathered enough so that your wooden salad bowl fits on top.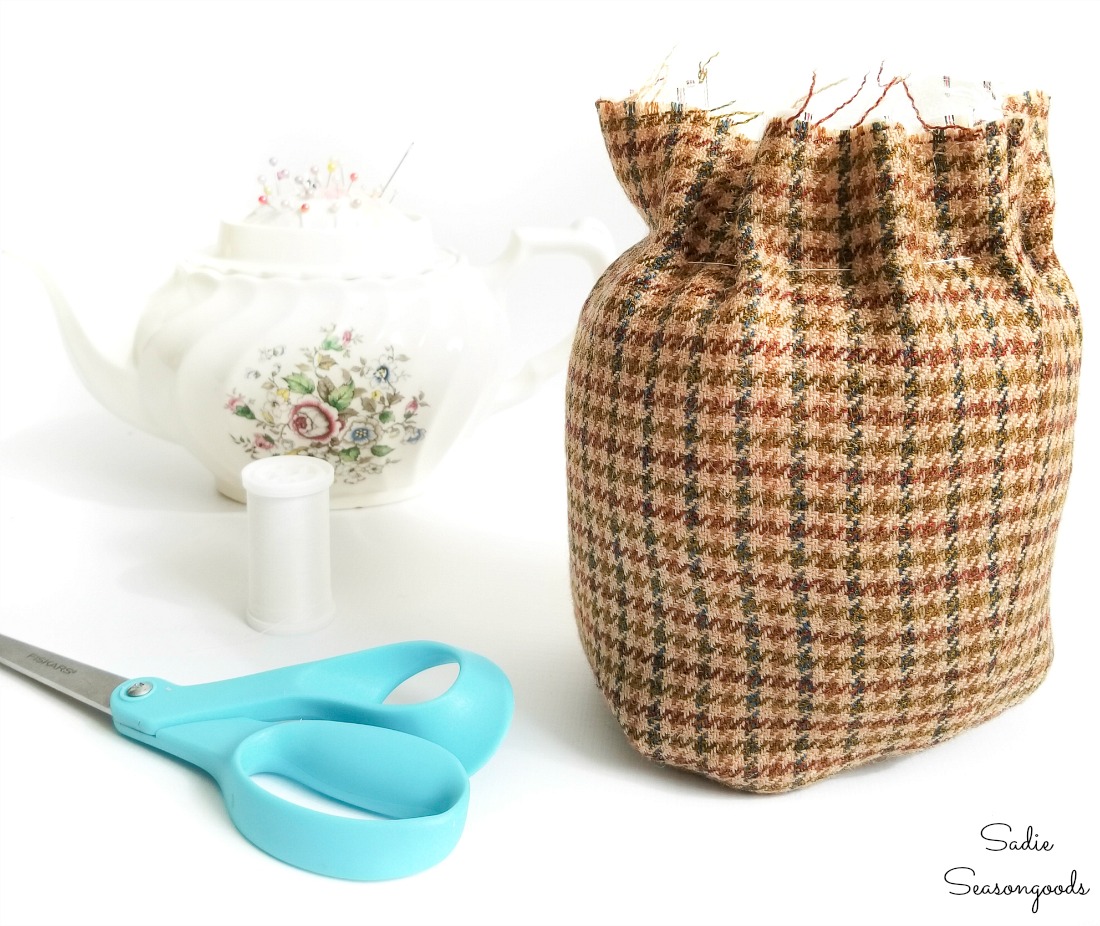 Using my favorite basic craft glue, I then secured the wooden bowl on top of my tweed acorn!
And while the glue dried, I added a small weight (like a can of tuna or cat food) on top of the bowl to keep it flat and even.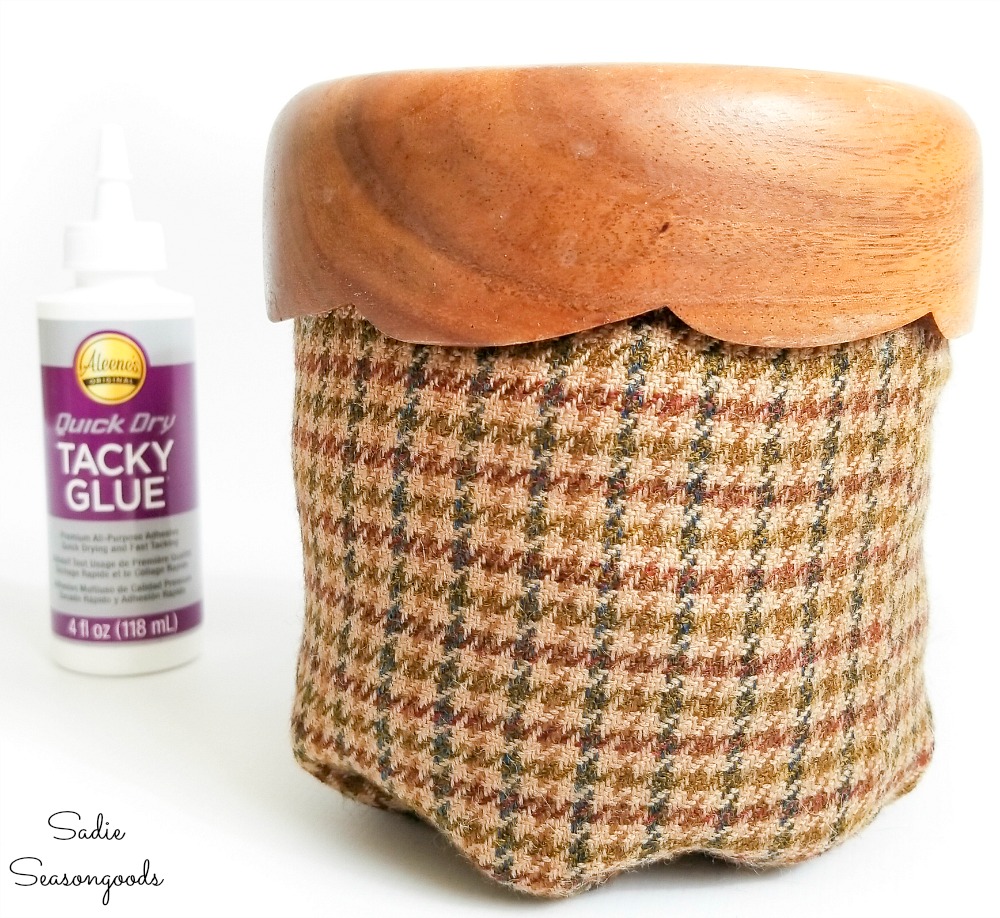 For "stems" on the acorn caps, I upcycled some old wooden knobs and drawer pulls! I think those longer skinnier ones will be perfect, don't you?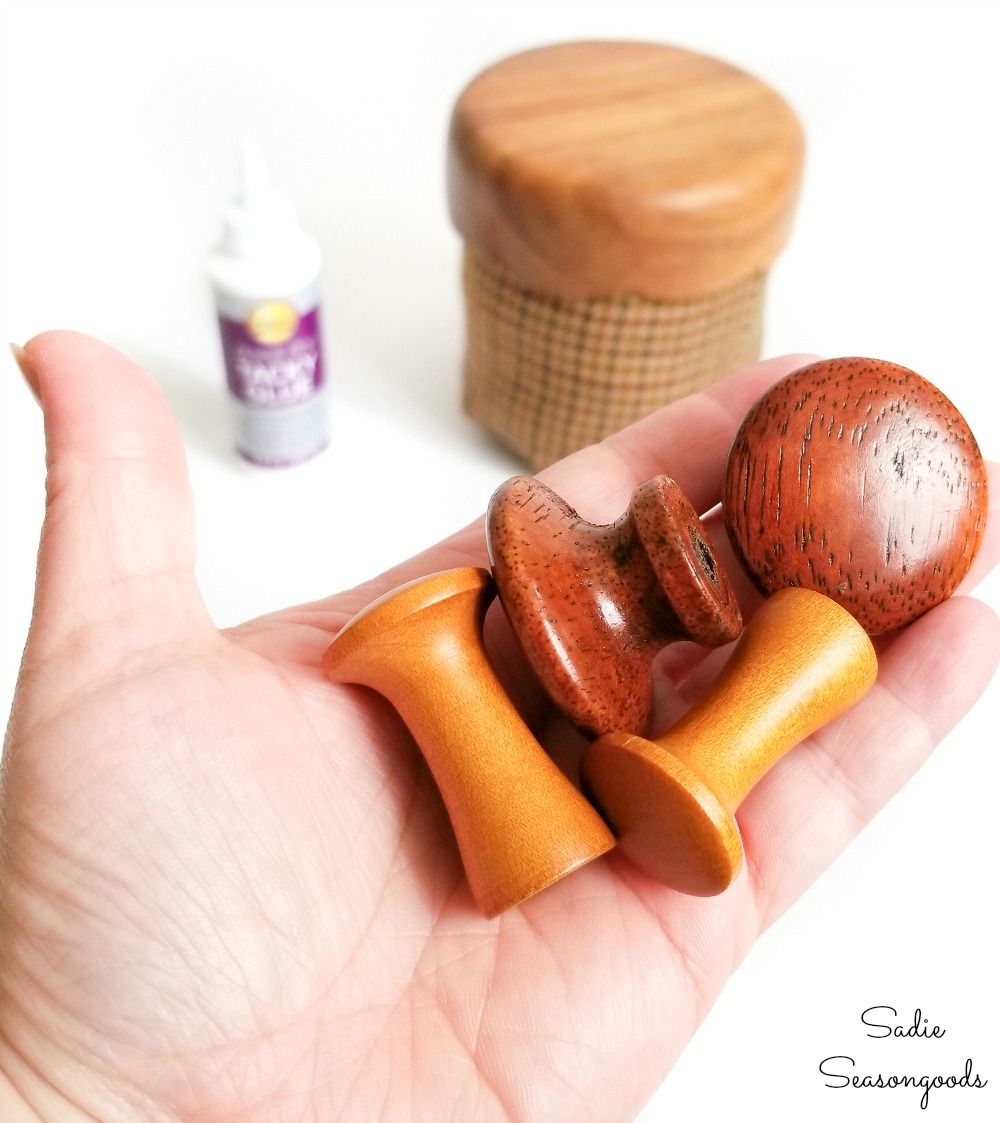 Finally, I simply glued a drawer pull to the top of one of my acorns.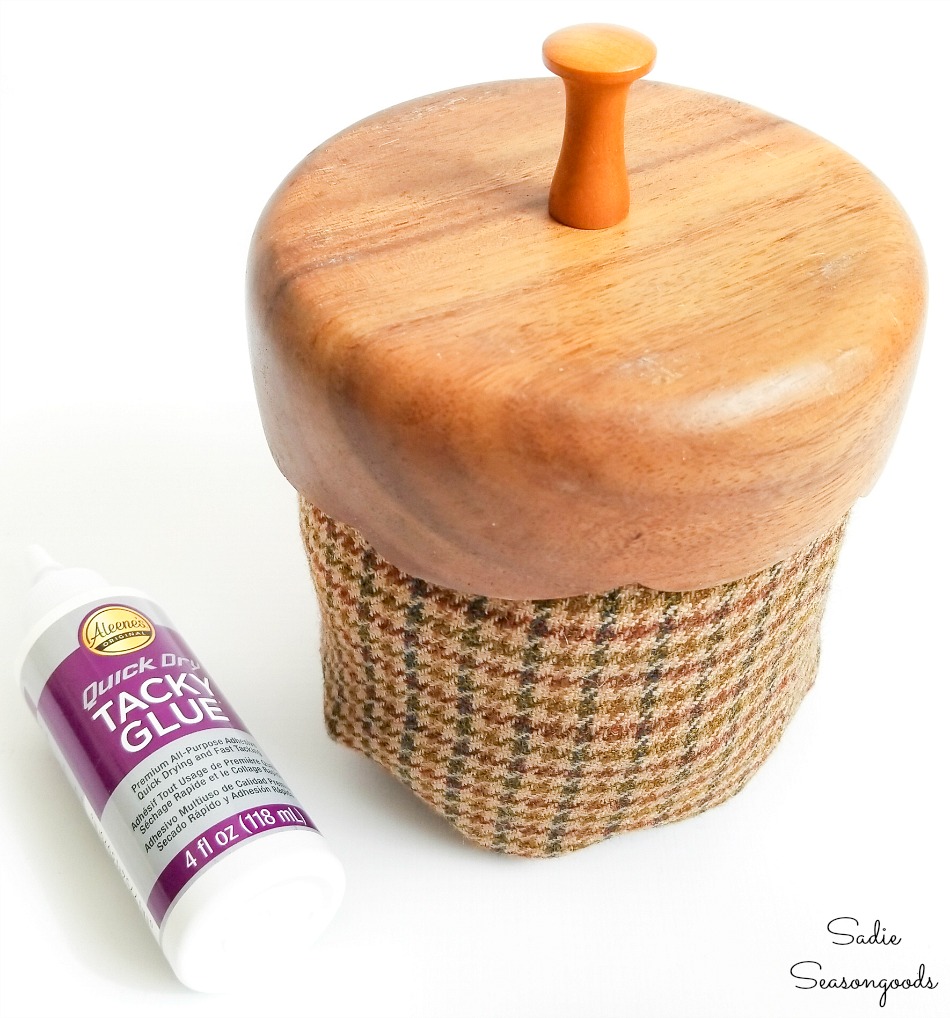 Acorn Decorations from Tweed Jackets
And just like that, my plush acorns were done! Tell me that's not the most adorable autumn craft project you've ever seen…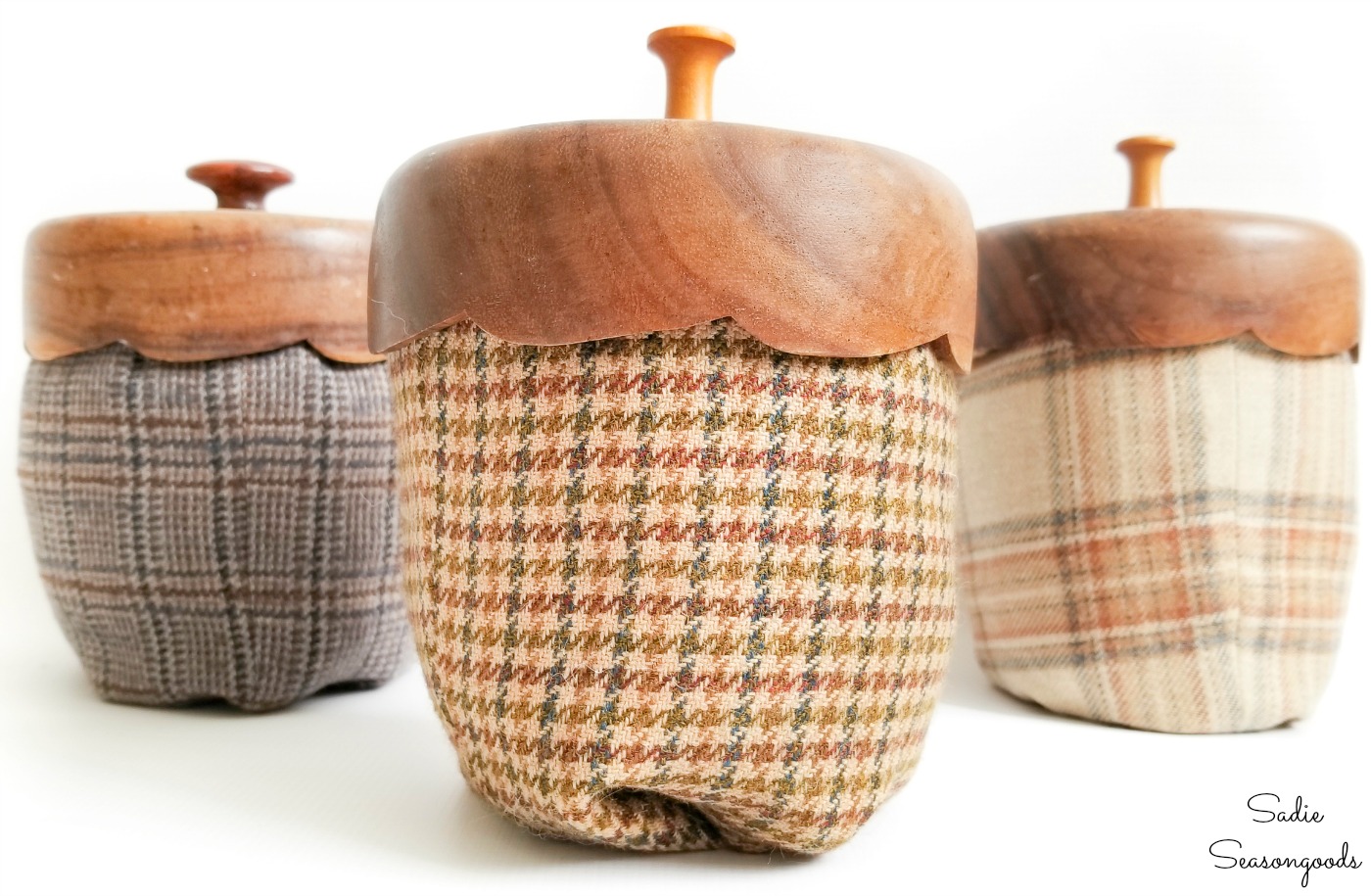 Perhaps the funniest thing now is opening the coat closet to see a bunch of sleeveless tweed coats hanging there!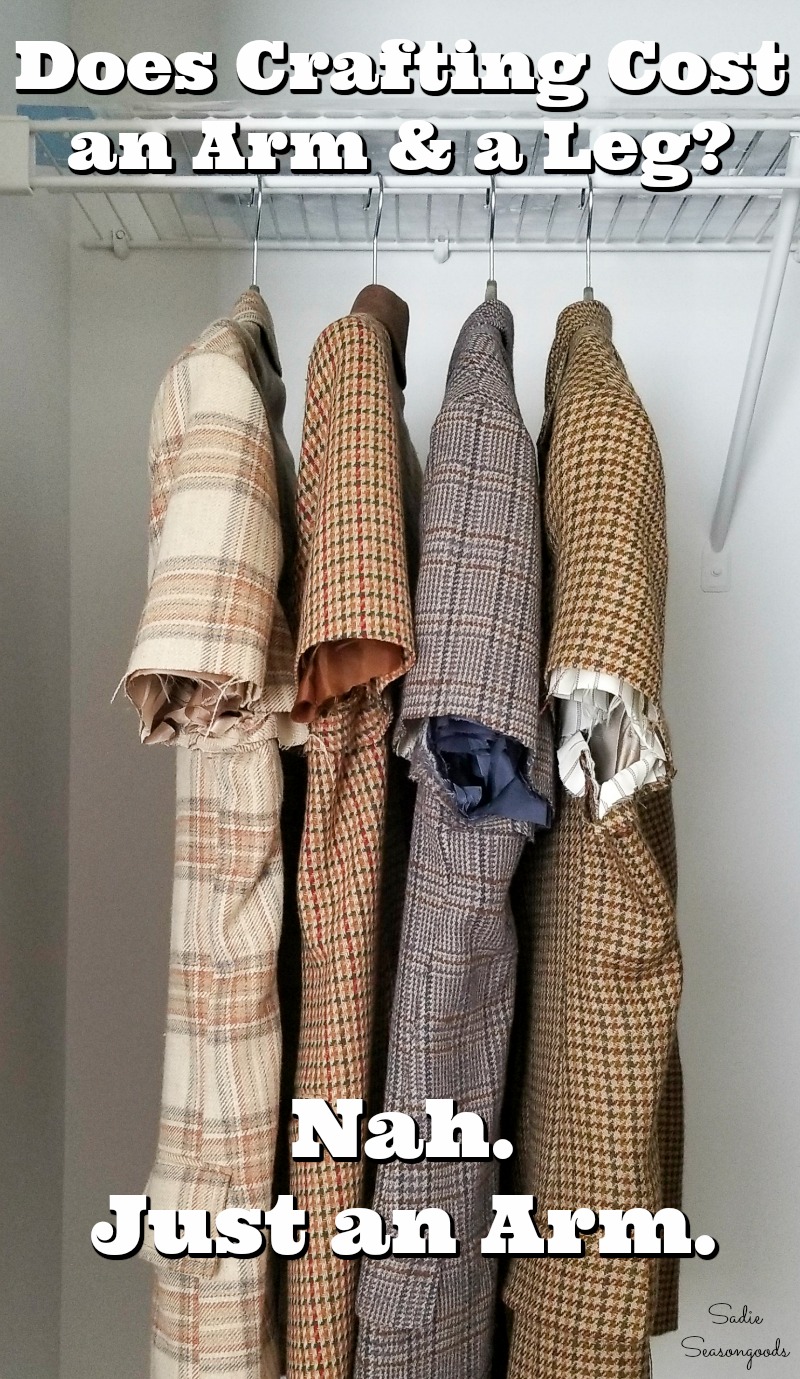 But, I've now gotten three repurposed projects from the same tweed coats- gotta love that use of resources!
I just want to make a dozen more of these acorn decorations to use as Fall home decor!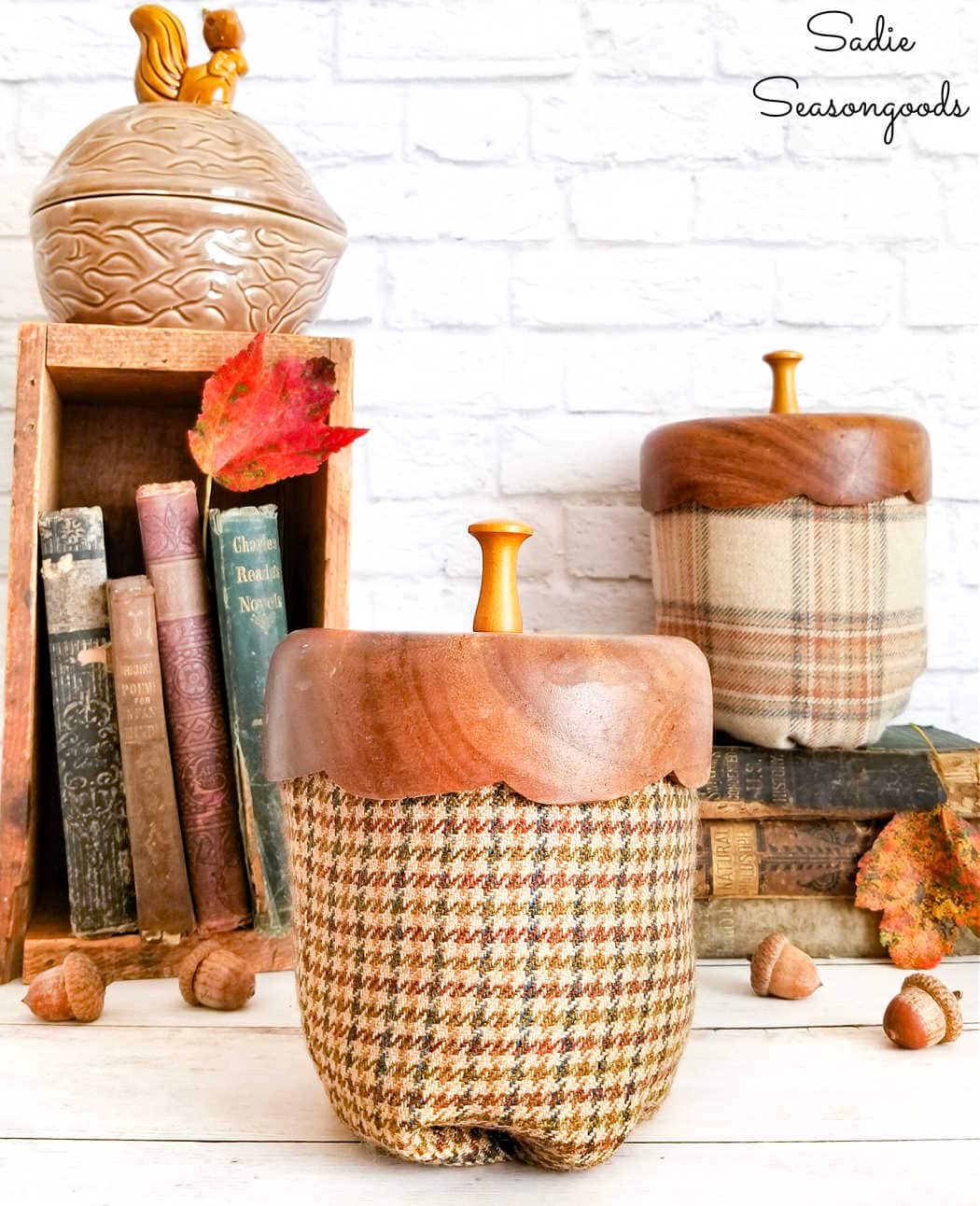 I'm also excited to announce that my first book is now available! If you enjoy upcycling clothing and simple sewing projects, then you will love my book on flannel crafts!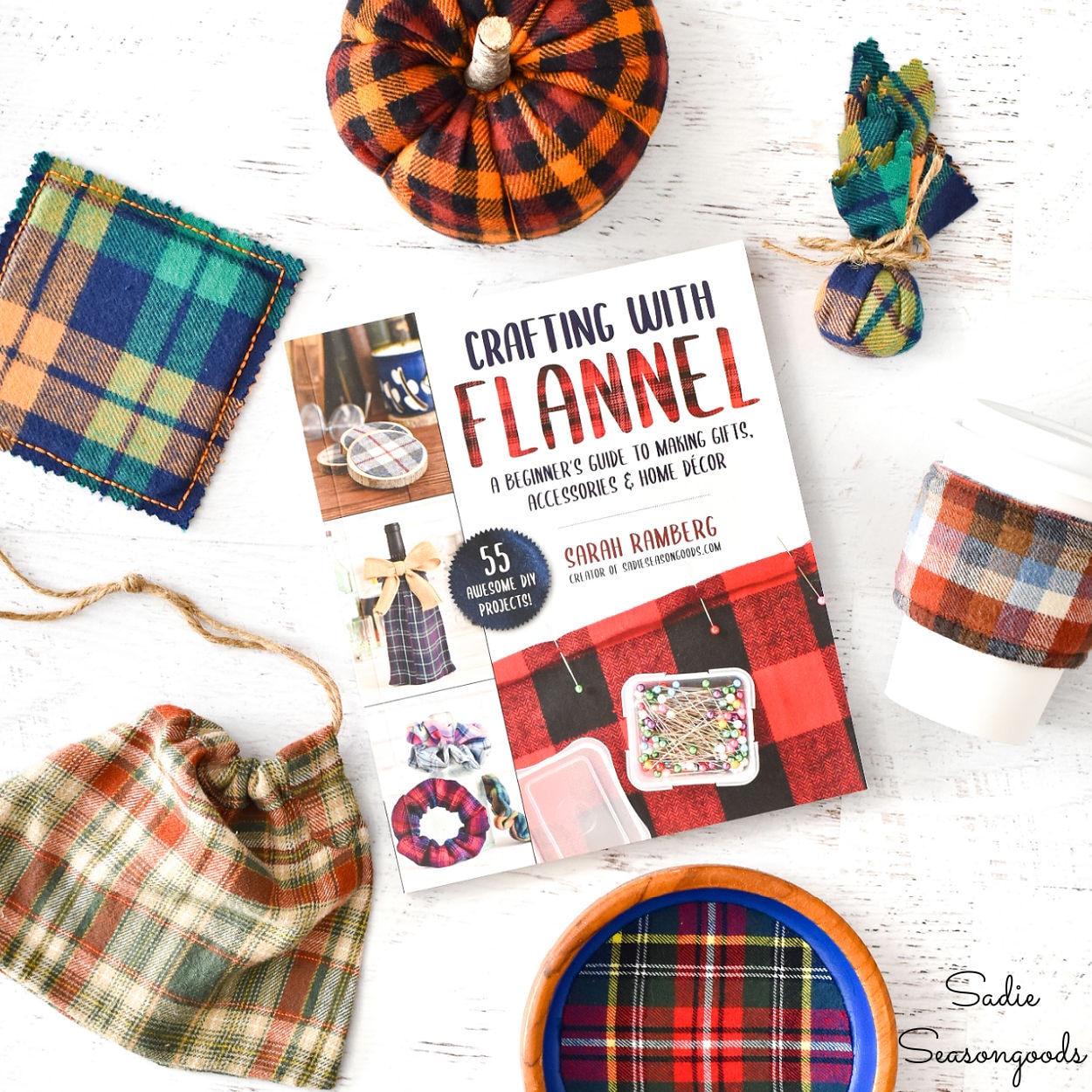 If you enjoyed this upcycling idea for Fall home decor, then you'll also love these glass pumpkins that look like stained glass!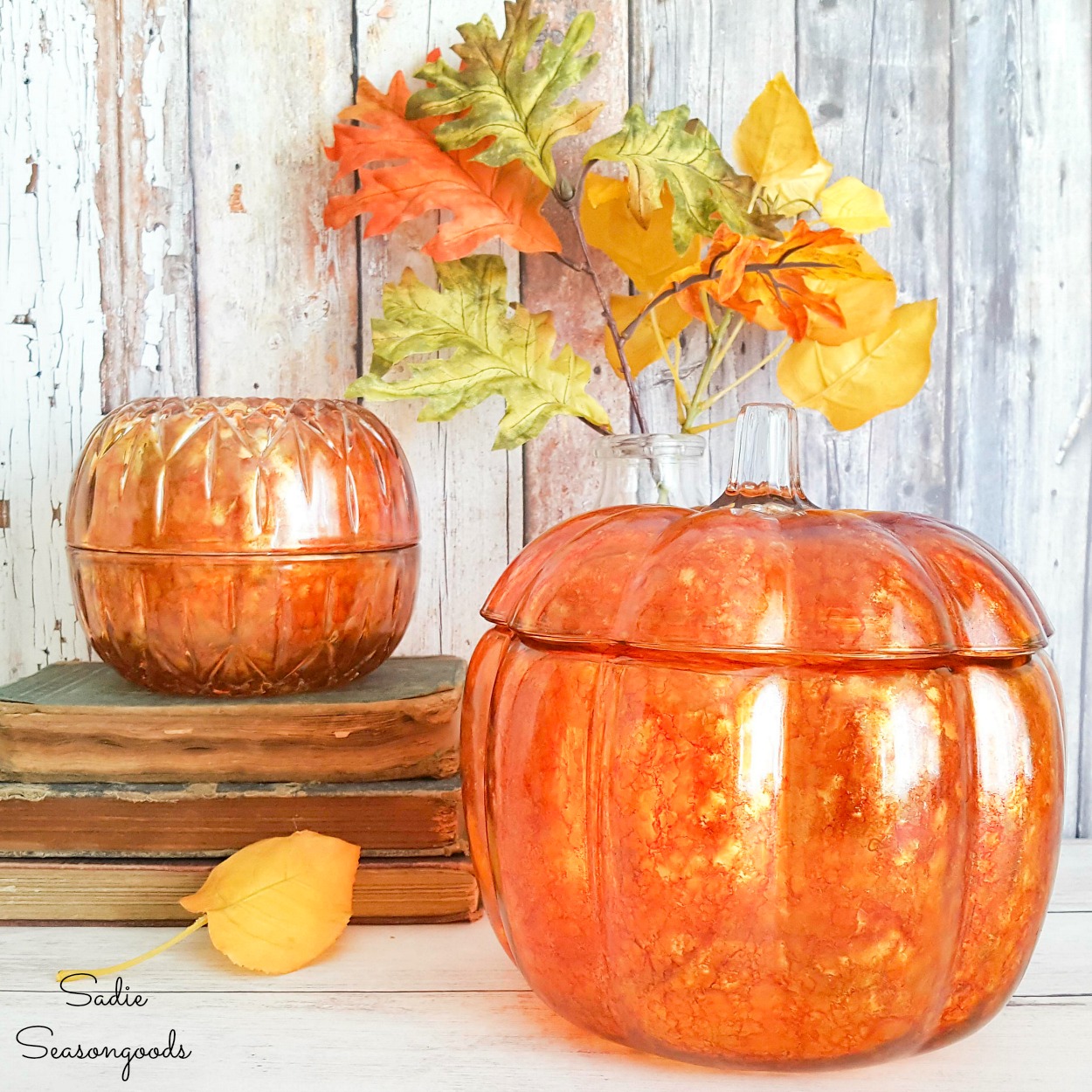 Craft on!
S
Want to be notified when I publish my next upcycling project tutorial?
Subscribe to Blog via Email
Join me on Social Media:

PIN ME!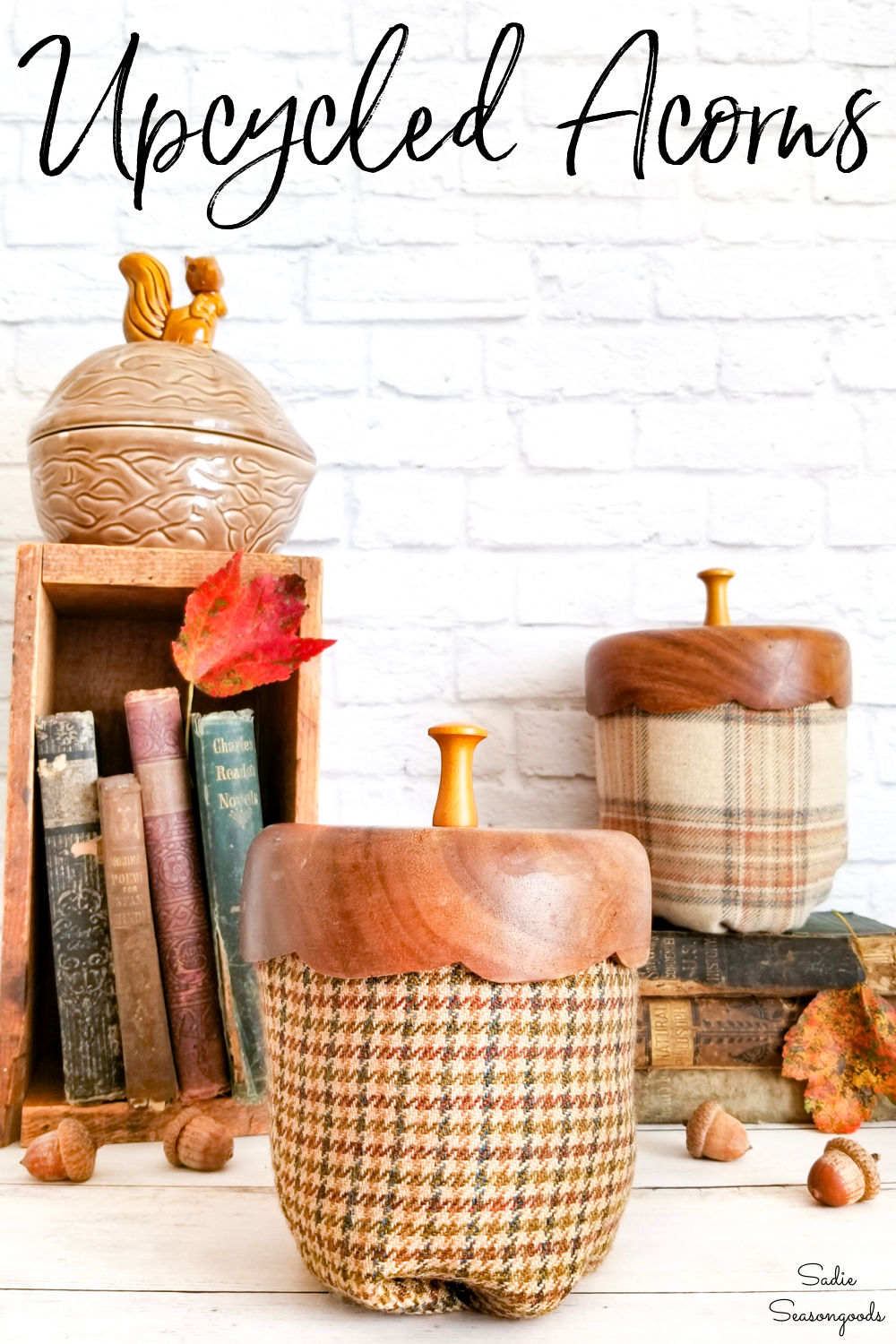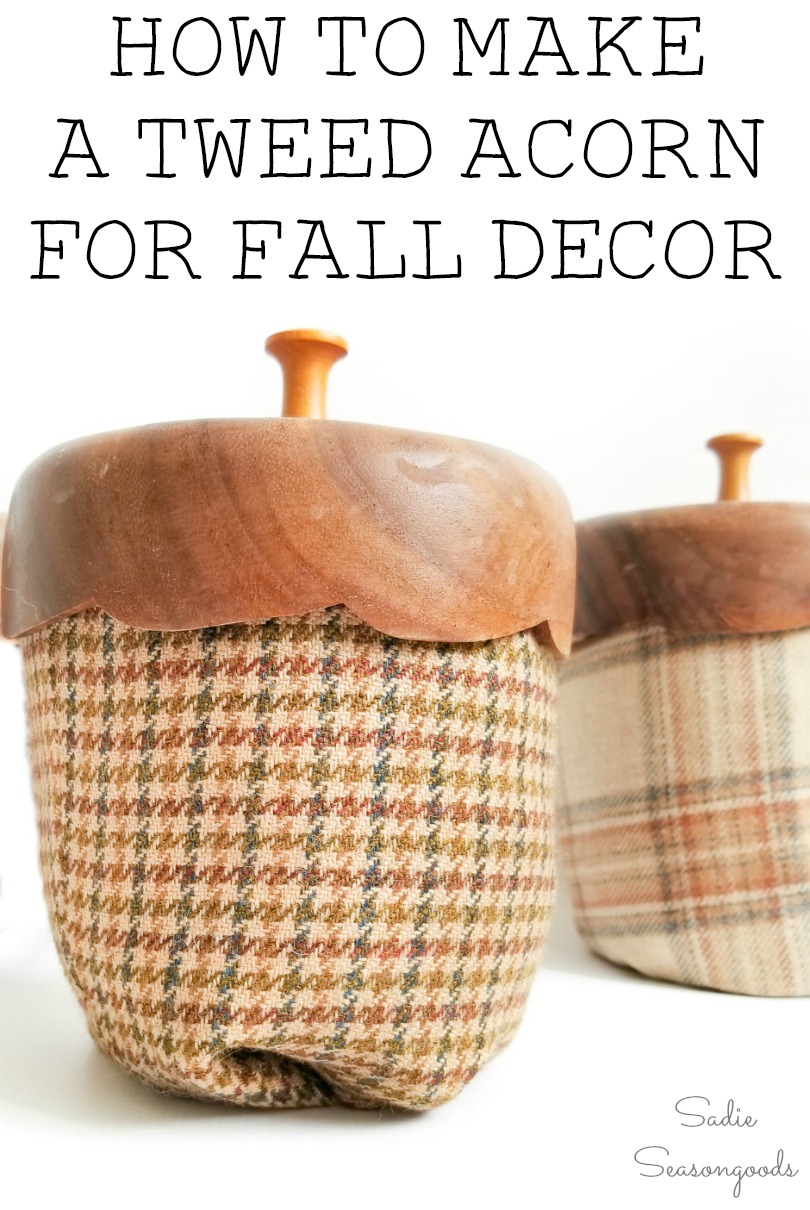 Sarah Ramberg is the owner of Sadie Seasongoods, a website that celebrates all things secondhand. From upcycling ideas and thrifted decor to vintage-centric travel itineraries, Sadie Seasongoods is a one-stop shop for anyone who loves thrifting and approachable repurposing ideas. Sarah is also the author of "Crafting with Flannel" and has been featured in numerous media outlets and magazines.