Alright, I have to confess- this project is SOOOO simple that it probably doesn't warrant a full blog post. But I put one together anyway- I hope you don't mind! Who knows, maybe it'll come in handy for you anyway. I decided that I wanted to make a belt organizer or belt hanger. And to do so, I would upcycle a vintage wooden hanger!
Anyway.
Some of you may already know this, but I used to make upcycled leather cuffs and sell them in my now-closed Etsy shop.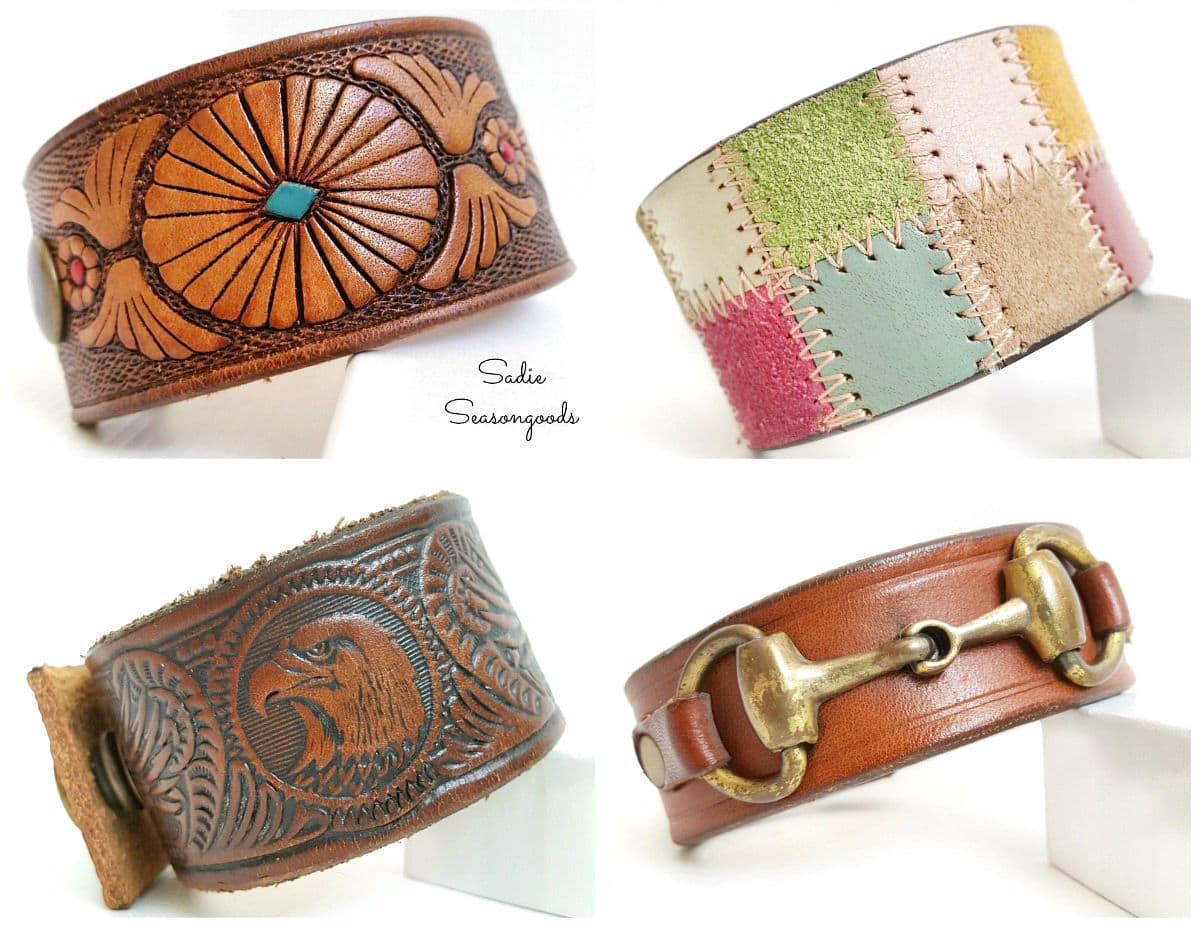 That meant that I always had an inordinate number of belts in my craft room and it would get a little out of control! I decided I needed to do something about it- and here we are with this blog post.
Years ago, I bought a dedicated belt hanger for Mr. Seasongoods. And after studying it, I realized how simple it would be to make my own knock-off version.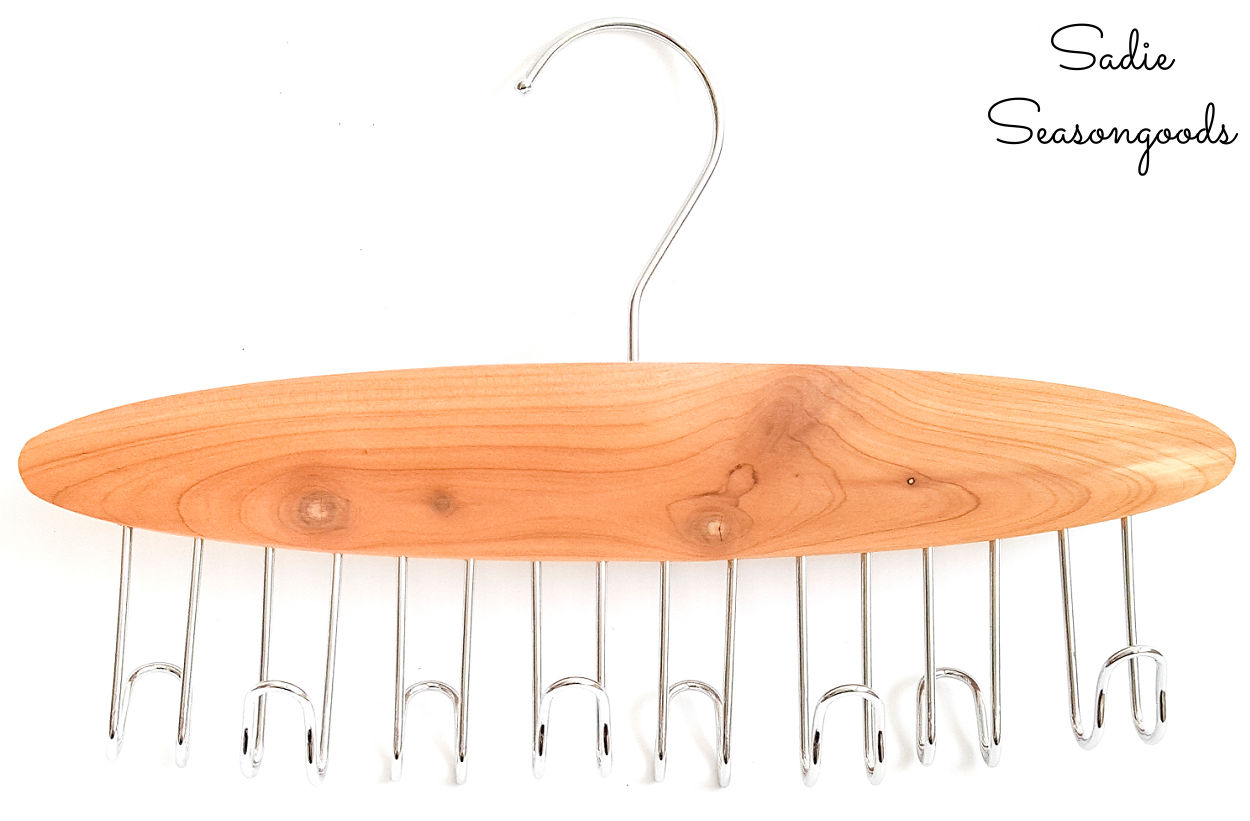 It's not exactly a complicated design and I knew right away what I would use.
I've yet to repurpose a vintage wooden hanger, but it dawned on me that this would be the perfect way to upcycle one of those pants hangers.
You know the kind I'm talking about, right? The kind with short wooden slats that clamp close (and clothes). And just like that, I had a project plan to put into motion!
This post contains affiliate links for your crafting convenience. As an Amazon Affiliate, I earn from qualifying purchases. All blue, bold, and underlined text is a clickable link, either to a product or to a related post.
Upcycling a Vintage Wooden Hanger
Luckily for me, Carla Sue Vintage (previously known as Kate DiNatale Vintage) let me reach into her closet and snag a couple of vintage hangers for this project.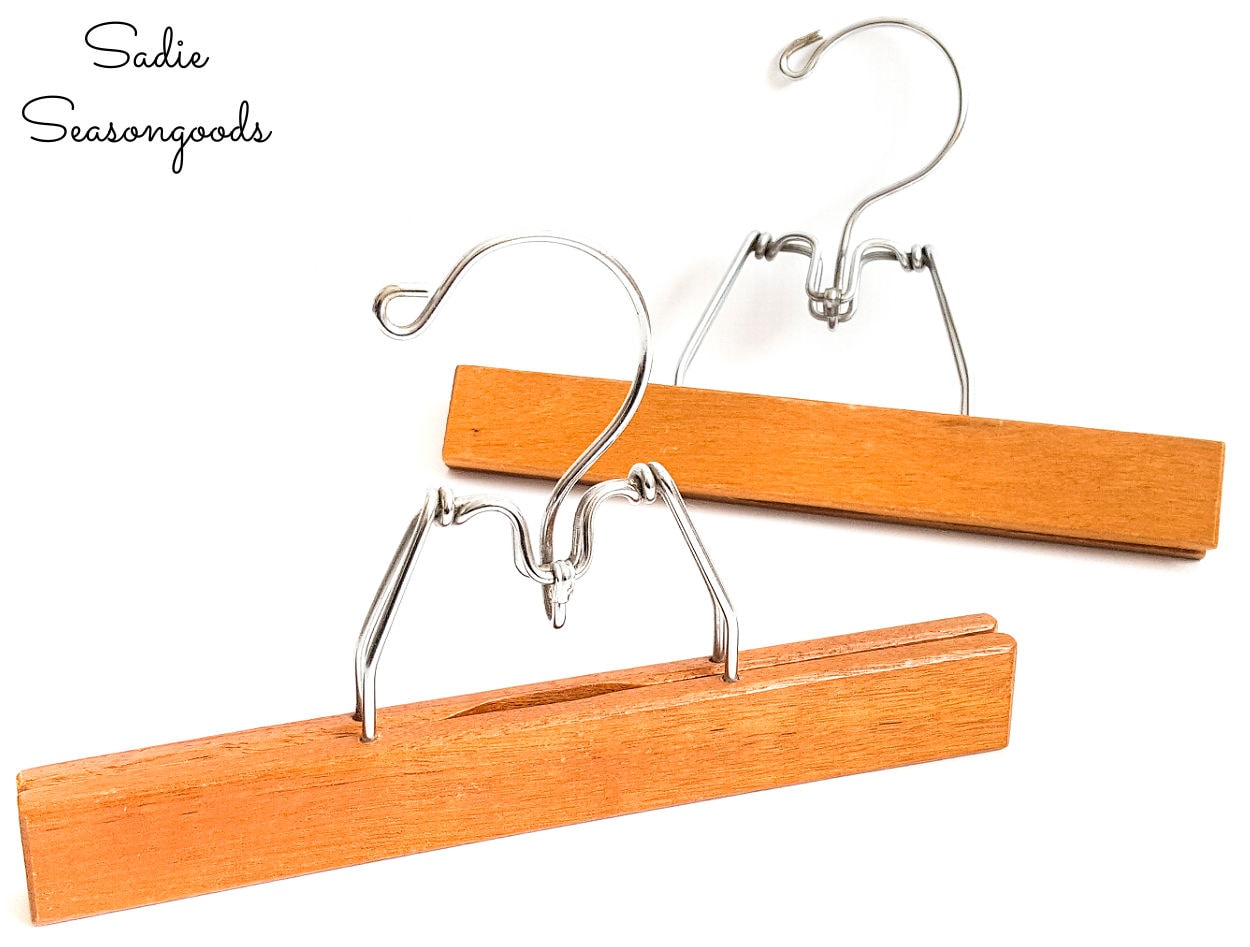 And now, my friends- the super complicated (I kid, I kid) tutorial!
First, I bought some robe hooks- some in black, and some in antiqued brass.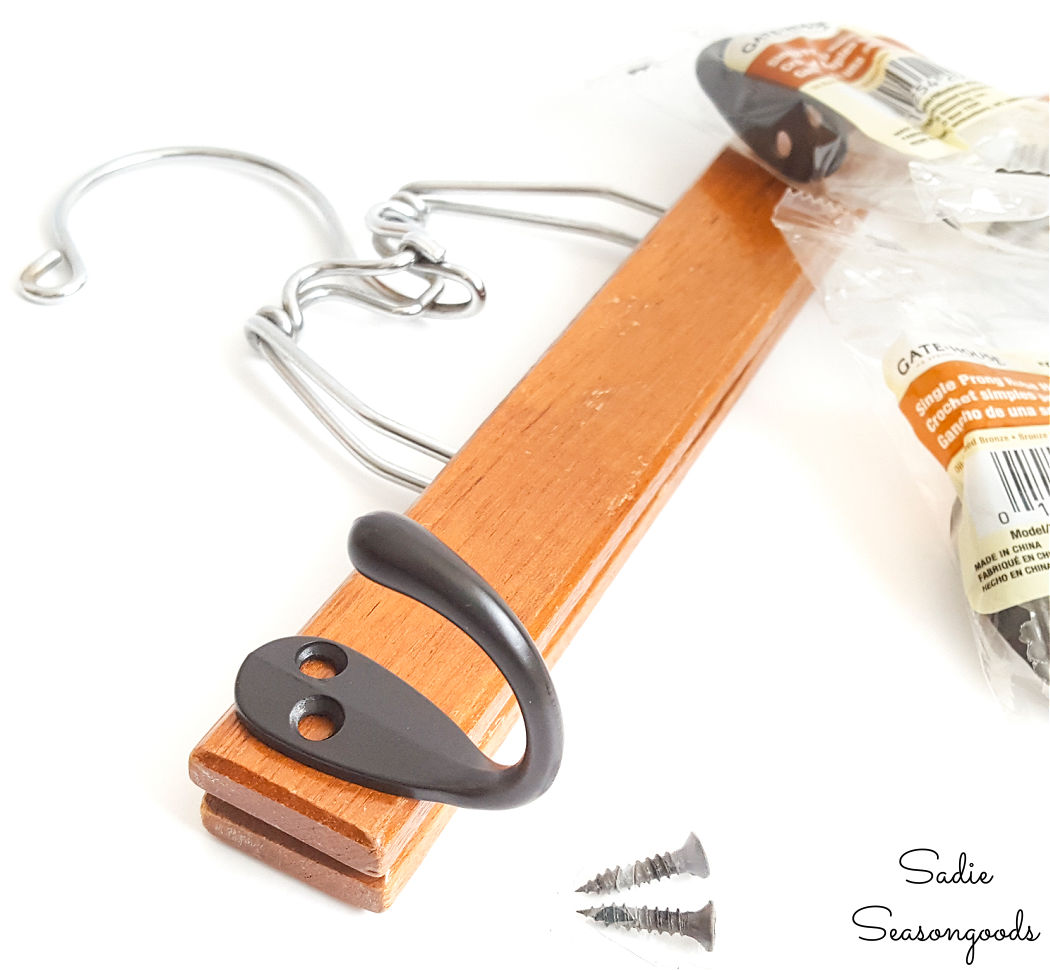 On my particular hangers, four hooks per side was perfect for a belt organizer. But different vintage wooden hangers may hold more (or less) hooks.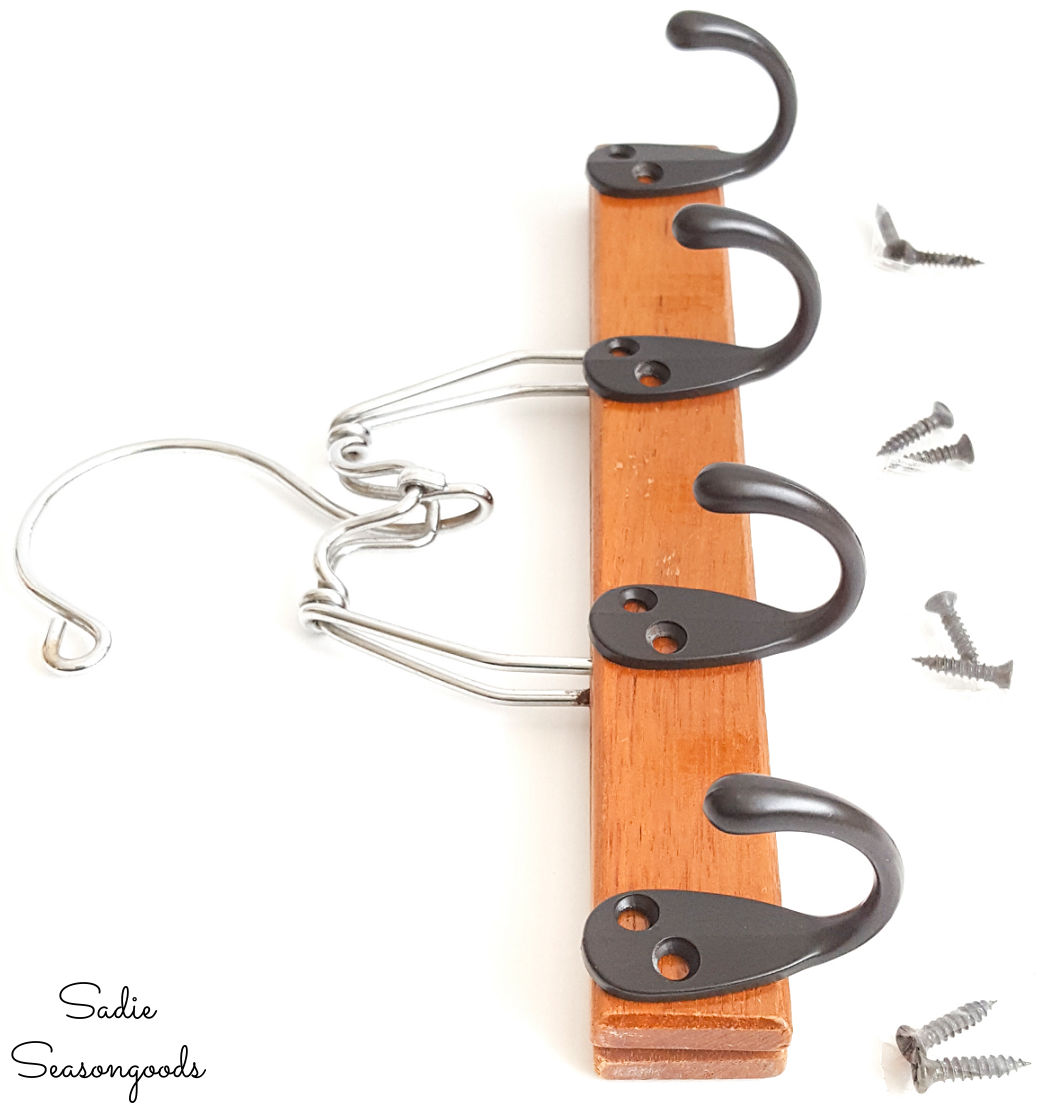 Now I just needed to attach the hooks. Easy peasy, right?
Making a Belt Organizer
Using masking tape, I taped each hook to the pants hanger so I could mark the spots for the screws. Or so I thought…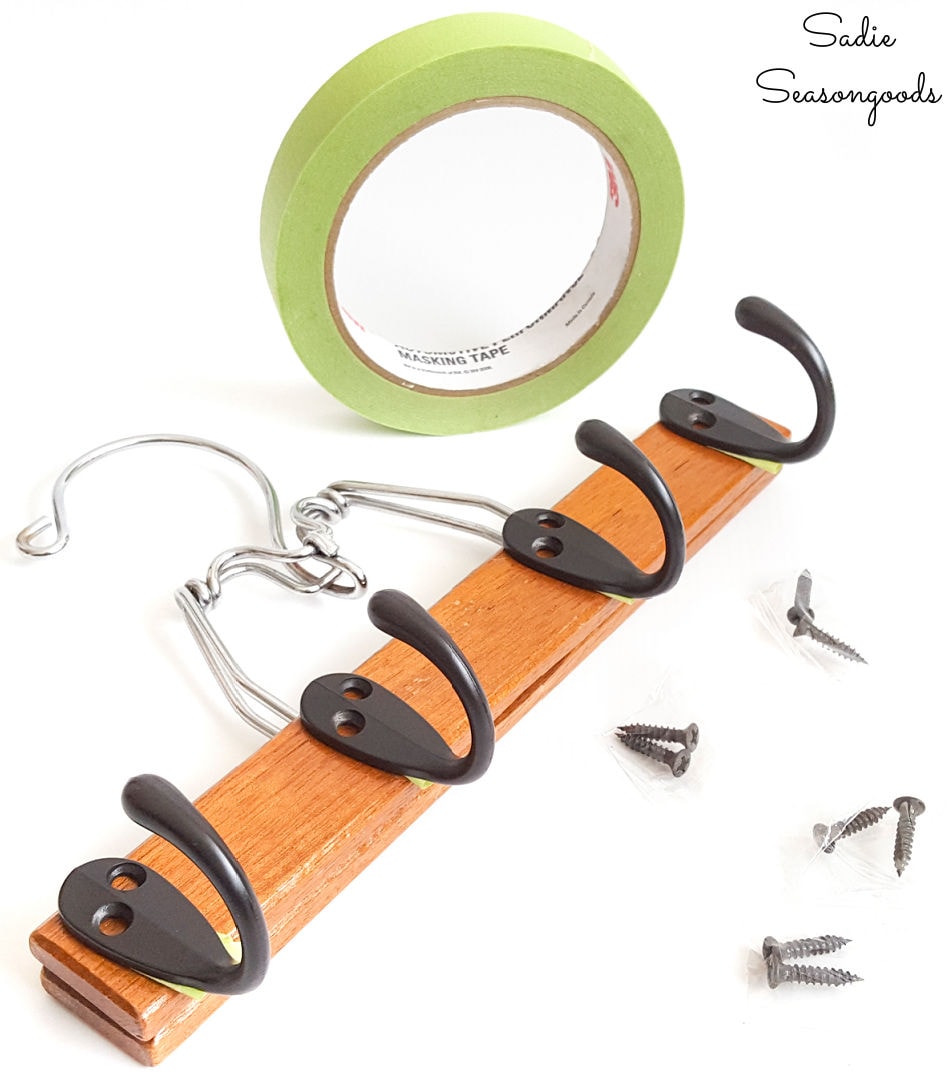 Once we started screwing in the hardware, however, the tender old wood of my pants hangers started to crack! Even trying to drill pilot holes didn't help; the wood still cracked.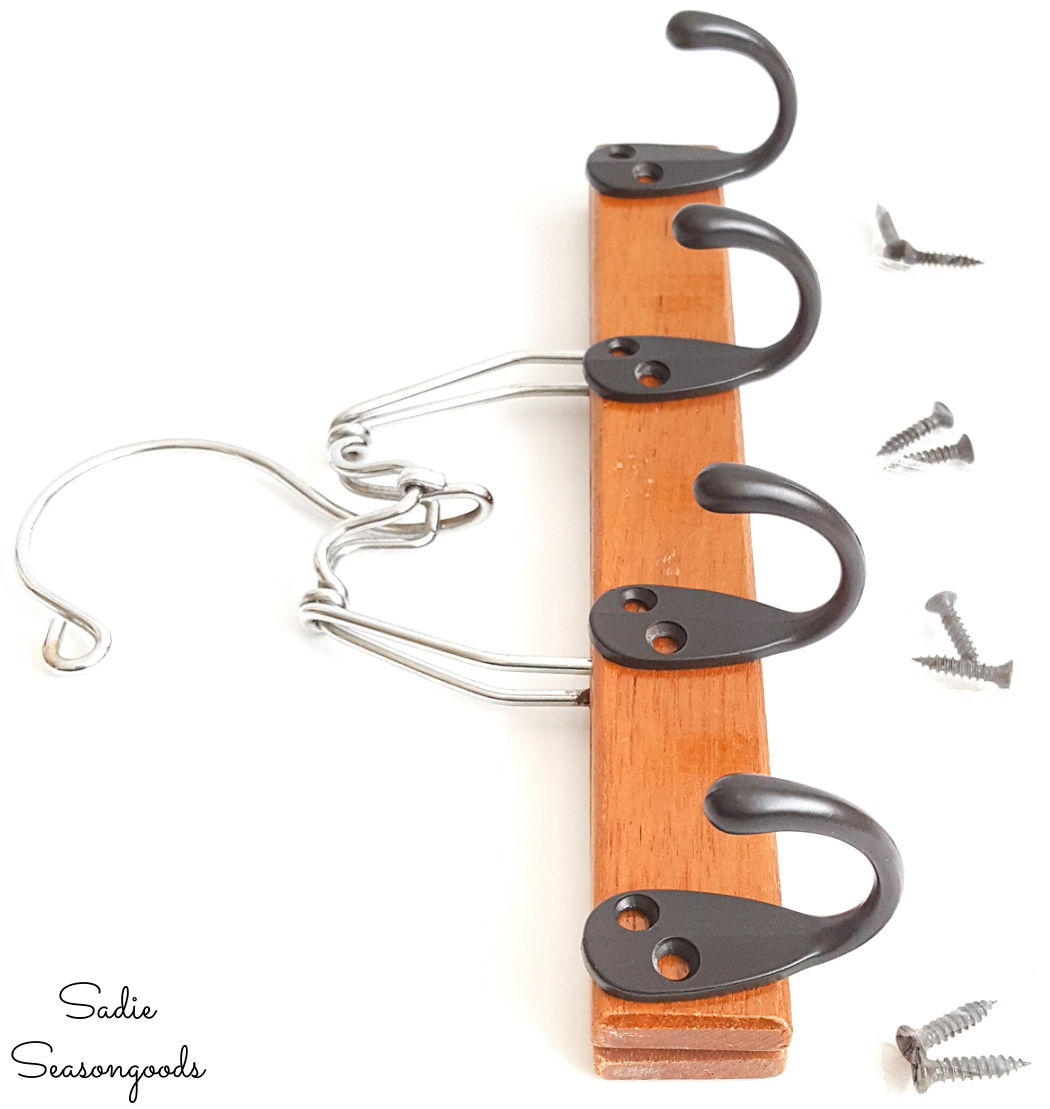 So, I decided to simply glue the hooks to the pants hangers.
As an experiment, I used my favorite epoxy on one and a super strong glue on the other. The latter ended up being far easier to apply, FYI.
Finally, I let them dry overnight, and boom! A pair of belt organizers or belt hangers for my craft room and closet.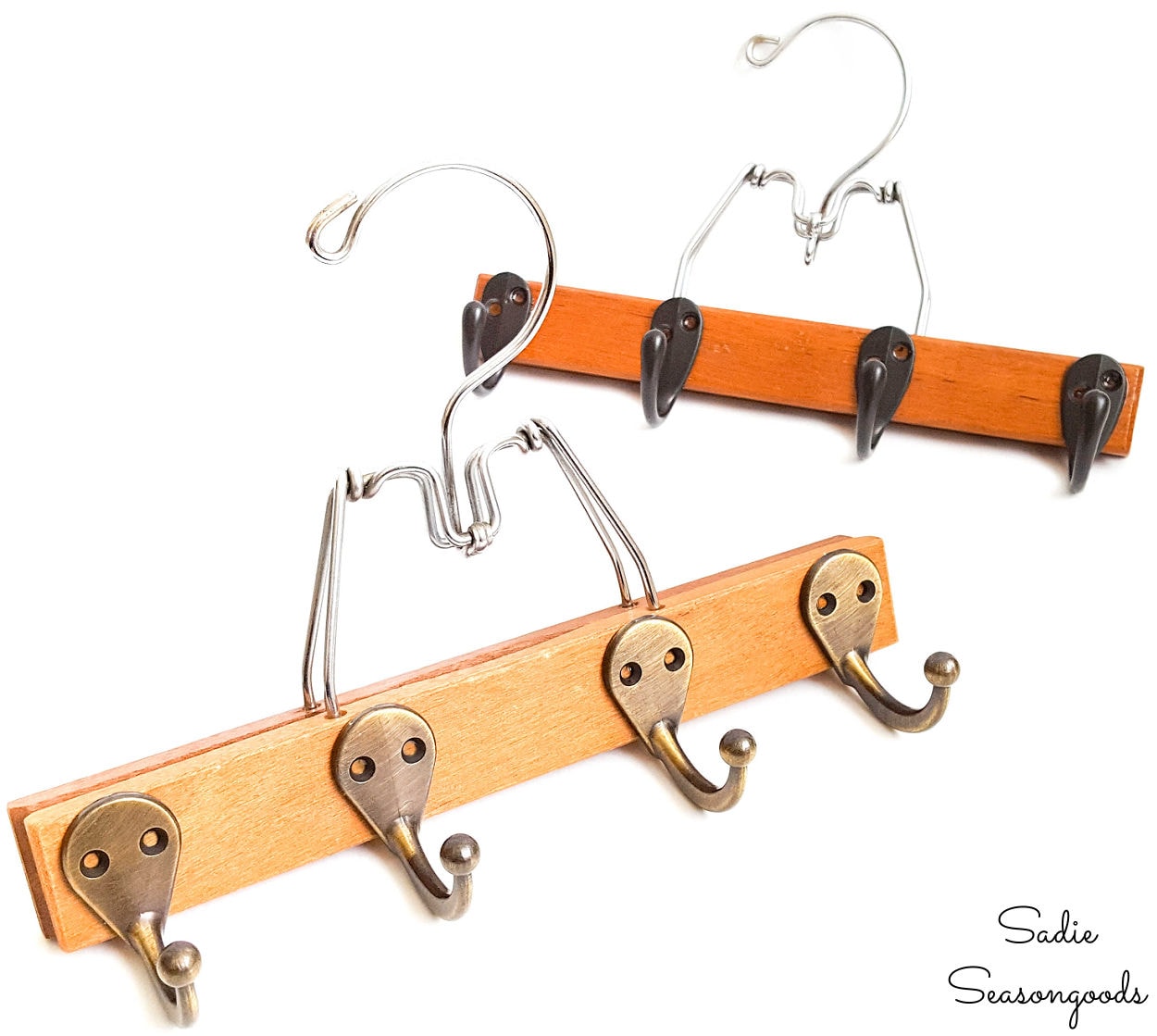 Belt Organizer from a Vintage Wooden Hanger
And there you go- it works perfectly as a belt hanger or belt organizer! I'll probably be hanging these belt hangers on a wall so that my belts are all visible.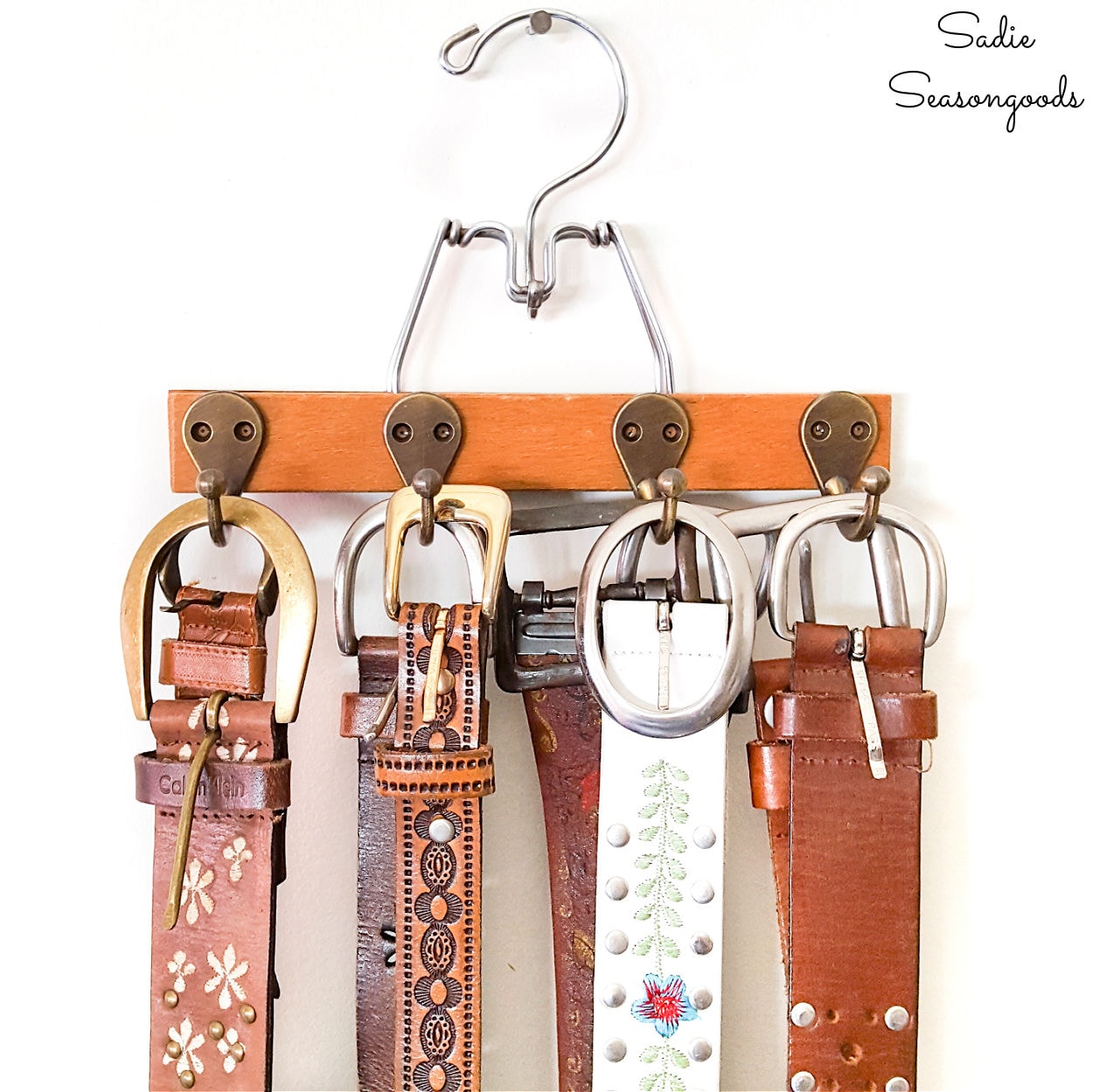 But if you plan on hanging them in a closet, you could definitely add another row of hooks to the other side.
Wouldn't these be perfect as gifts for men? Simple to make and old pants hangers are easy to find at thrift stores.
Valentine's Day gifts for him, Best Man gifts, Father's Day gifts. So many possibilities with this project idea for a belt organizer.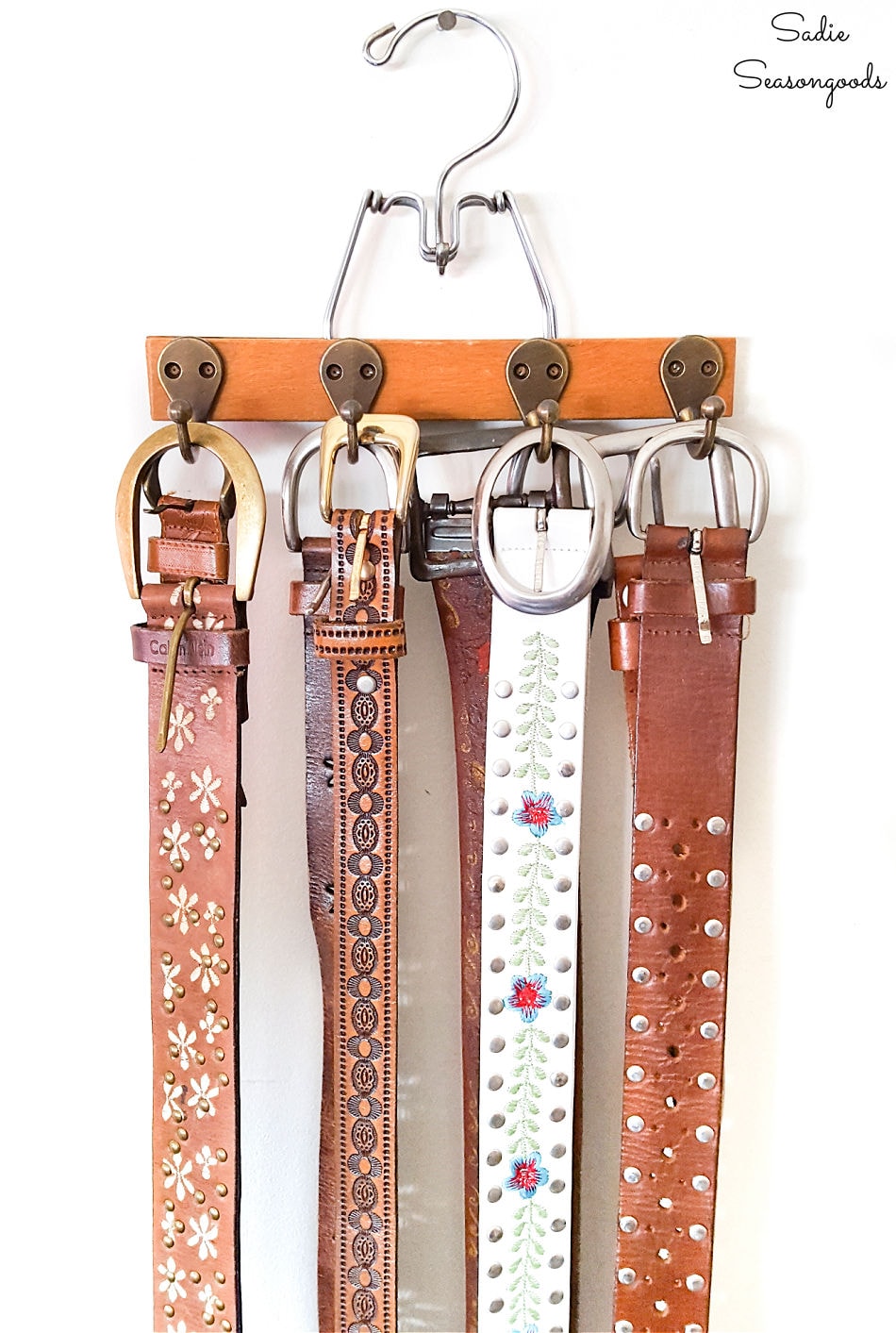 See, I told you it was ridiculously simple. But I'm also ridiculously happy to have them made! Closet organization or closet solutions are always a good idea, especially when they're this easy to make.
And don't forget, my first book, "Crafting with Flannel", has an entire chapter to organization and storage projects! Even more upcycling projects, all with flannel.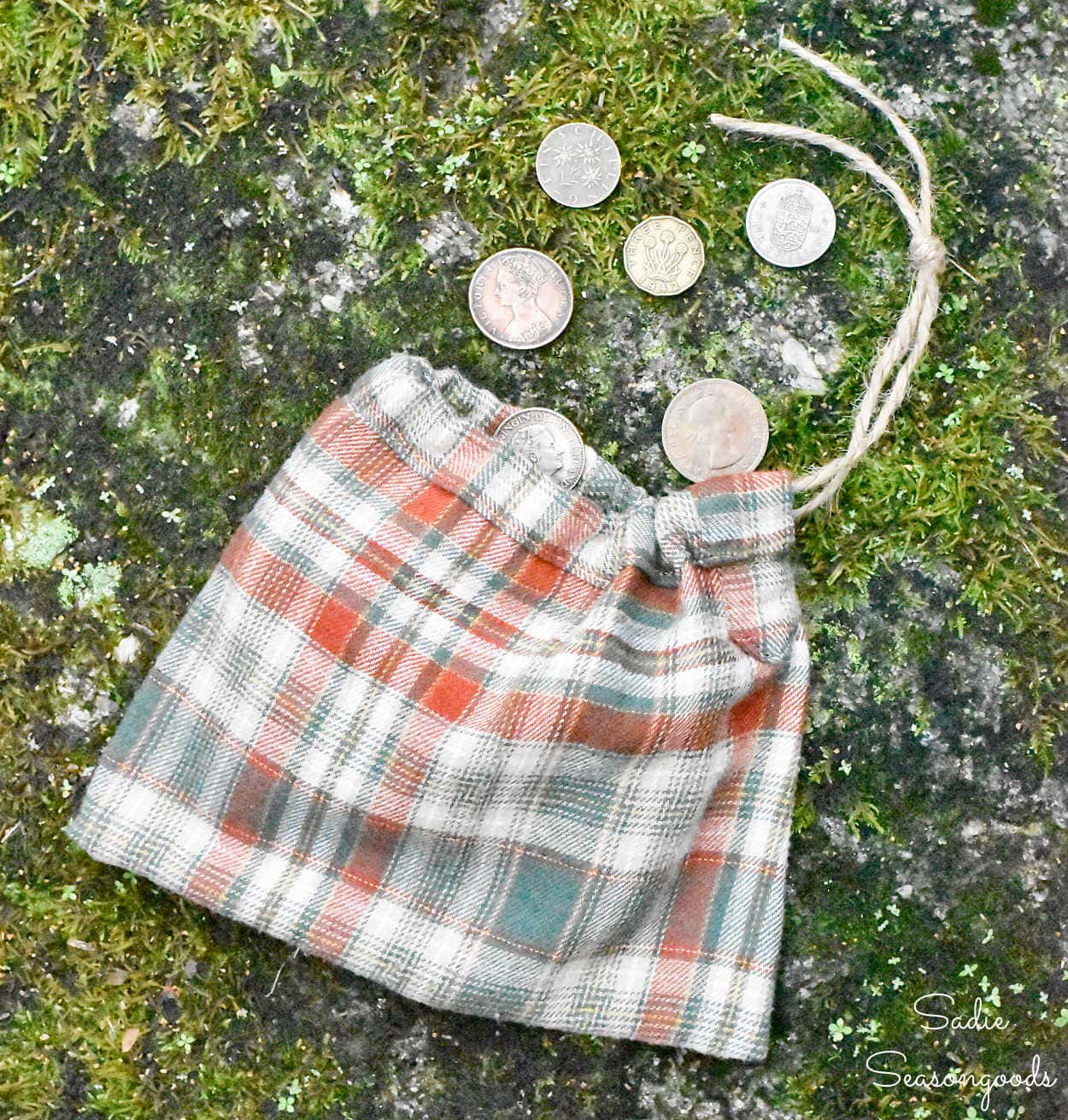 If you enjoyed this upcycling idea for a belt hanger, then you'll love this ring holder that I made from a cigar box!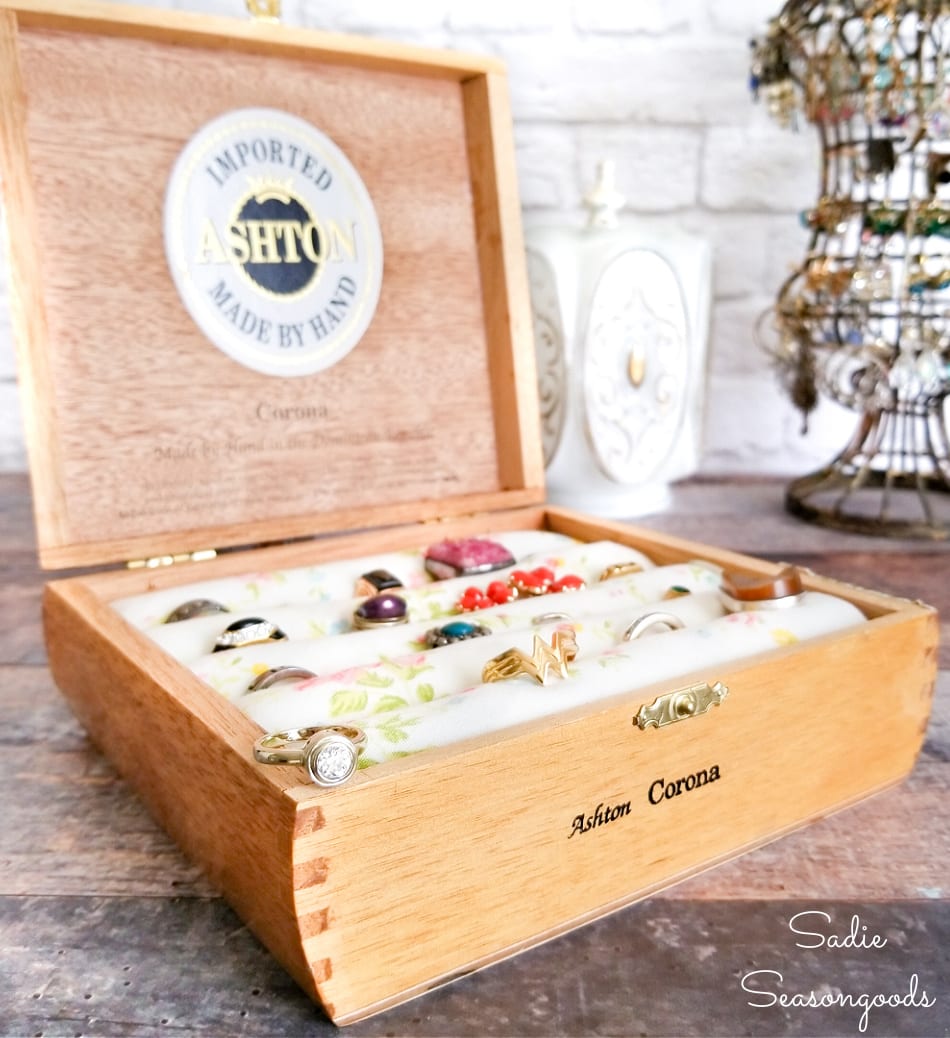 Craft on!
S
Join me on Social Media:

PIN ME!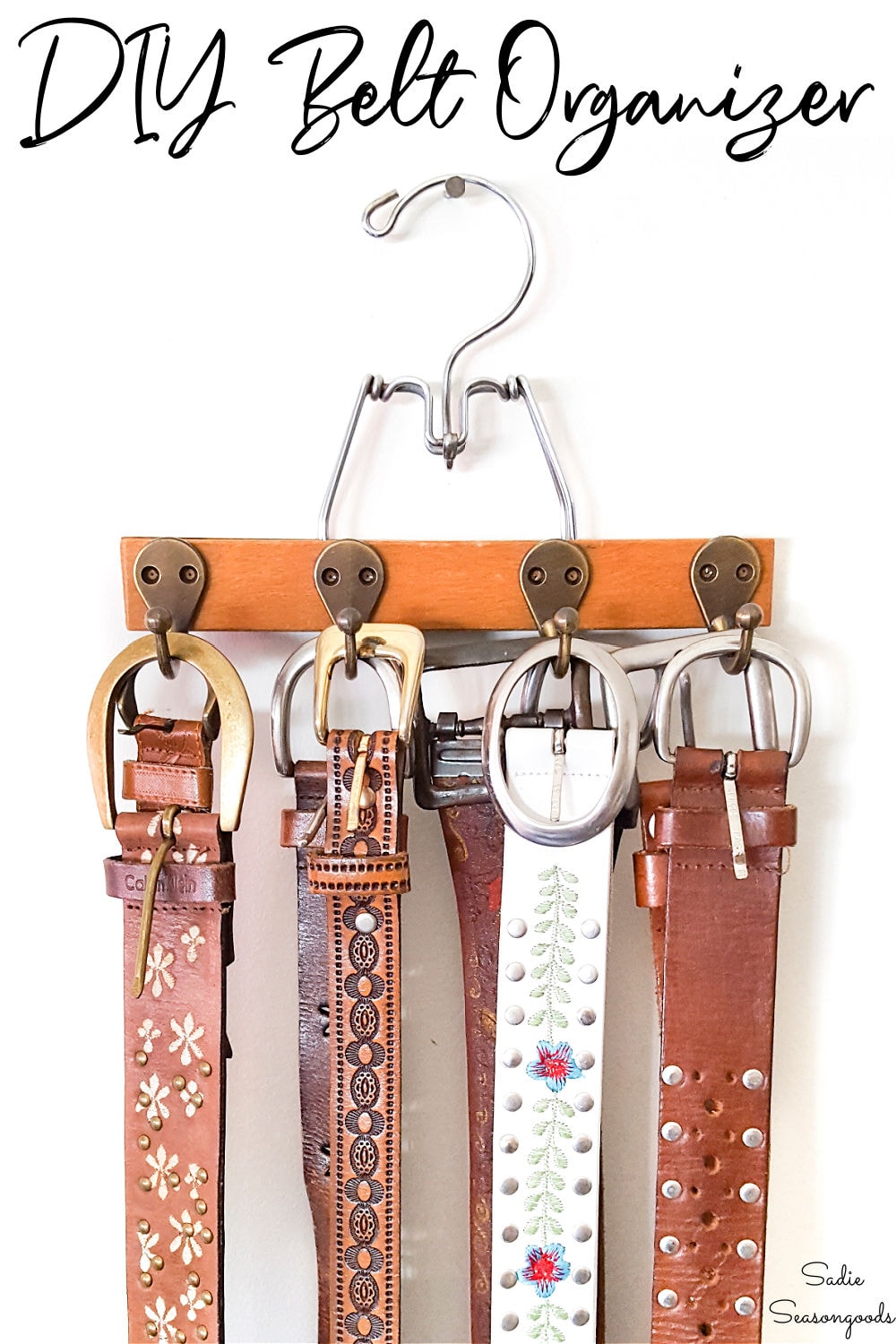 Sarah Ramberg is the owner of Sadie Seasongoods, a website that celebrates all things secondhand. From upcycling ideas and thrifted decor to vintage-centric travel itineraries, Sadie Seasongoods is a one-stop shop for anyone who loves thrifting and approachable repurposing ideas. Sarah is also the author of "Crafting with Flannel" and has been featured in numerous media outlets and magazines.