I do a lot of cooking at home but I'm not a prolific gardener. I'm limited my own lack of gardening interest, but also by space. That being said, though, I do like to grow my own kitchen herbs in pots as much as possible. You may recall how I upcycled a muffin tin as a propagation tray for growing some herb plants from seed? Well, it's time to transplant them and I'll be upcycling a stand up shower caddy to create an herb plant stand!
A quick refresher on the muffin pan I used as a seedling tray…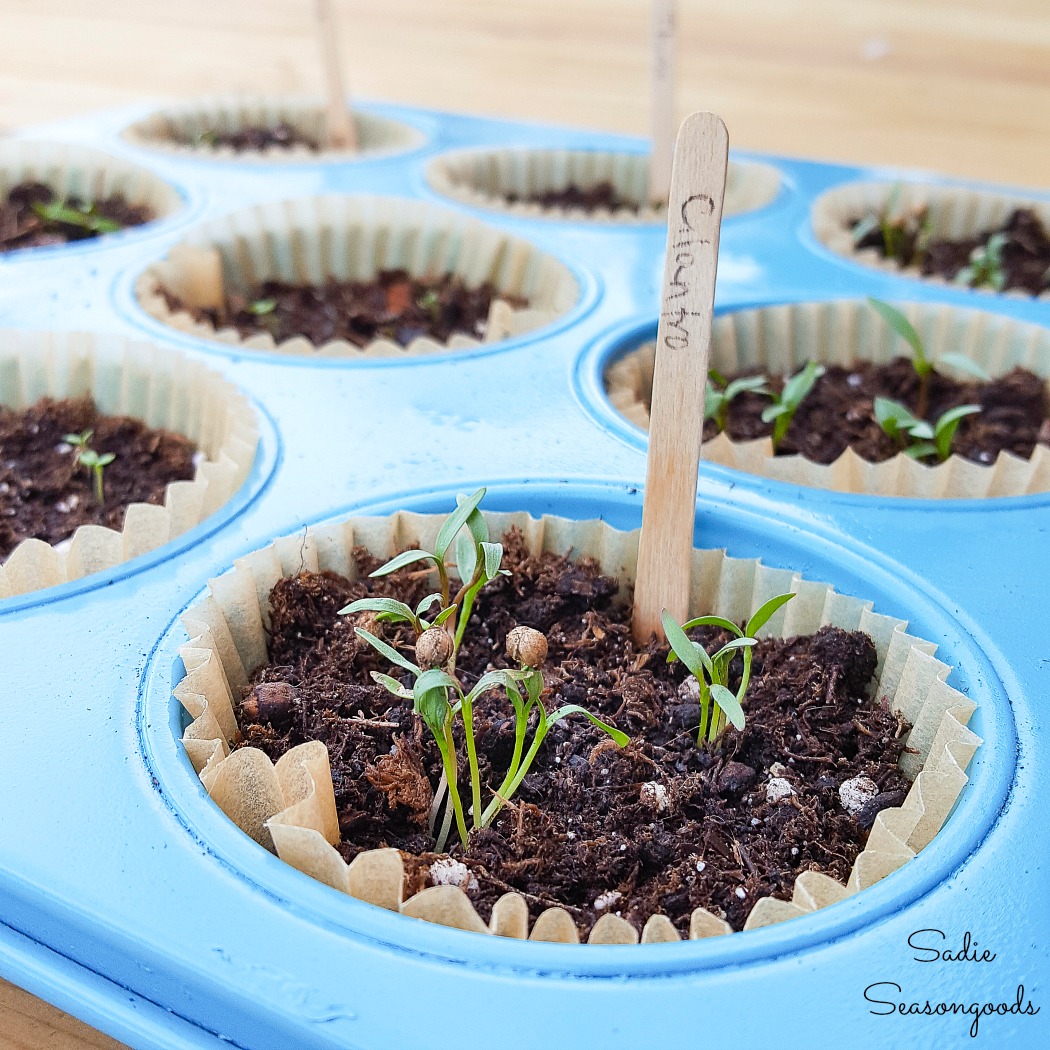 I had been looking at what I could use as a vertical plant stand for my herb pots, and this shower rack seemed meant for the job.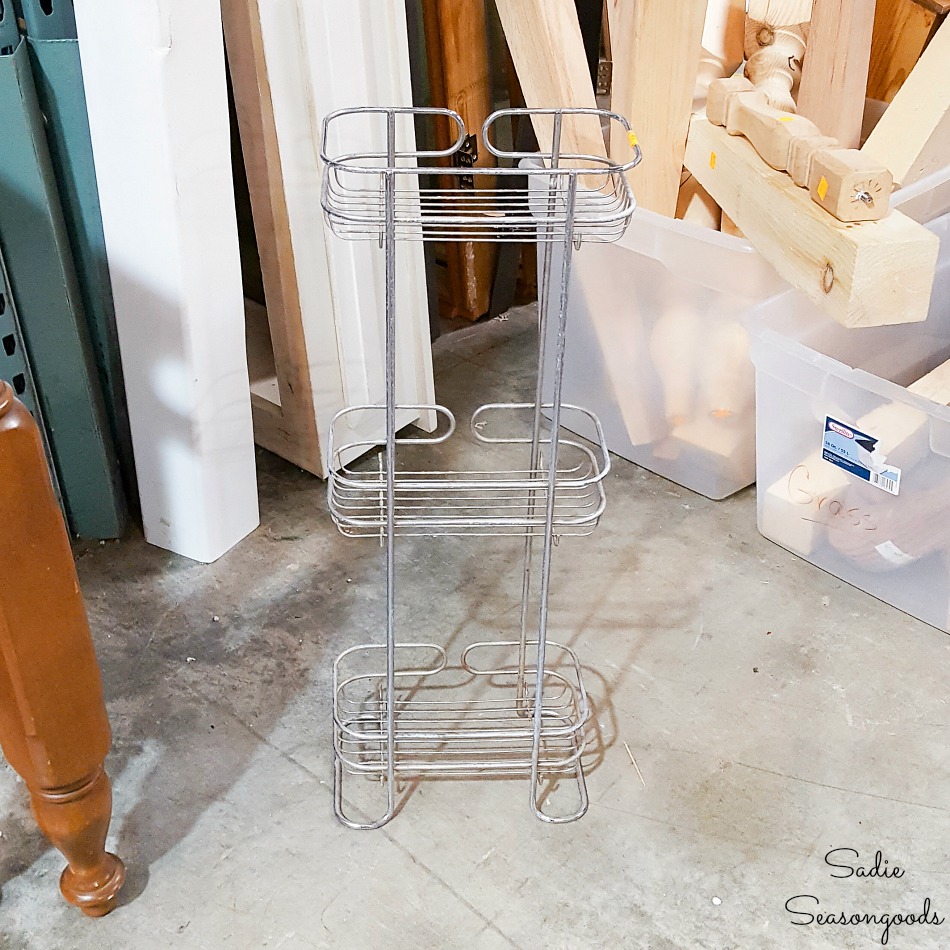 Our front porch isn't tiny, but a linear herb garden wasn't ideal- so, like big city architecture, I needed to go up, not out! So, a standing shower caddy like this was positively perfect and would suit my needs swimmingly.
This post contains affiliate links for your crafting convenience. As an Amazon Affiliate, I earn from qualifying purchases. All blue, bold, and underlined text is a clickable link, either to a product or to a related post.
Cleaning and Painting a Stand Up Shower Caddy
Now, I know what you're probably thinking- eww, gross, a secondhand shower caddy. And I get that, I really do!
But that's what gloves, a good cleaning, and spray paint are for, right? Plus, I really need to put my money where my mouth is when it comes to buying secondhand.
First, I needed to clean it as much as possible. Using a scrubby metal wire brush, I was able to remove a lot of the grossness. I wore gloves and did it outside, so it really wasn't all that bad- I swear!
And canned air (an unsung hero in my crafty, cleaning world) blew away the scatter from my brush.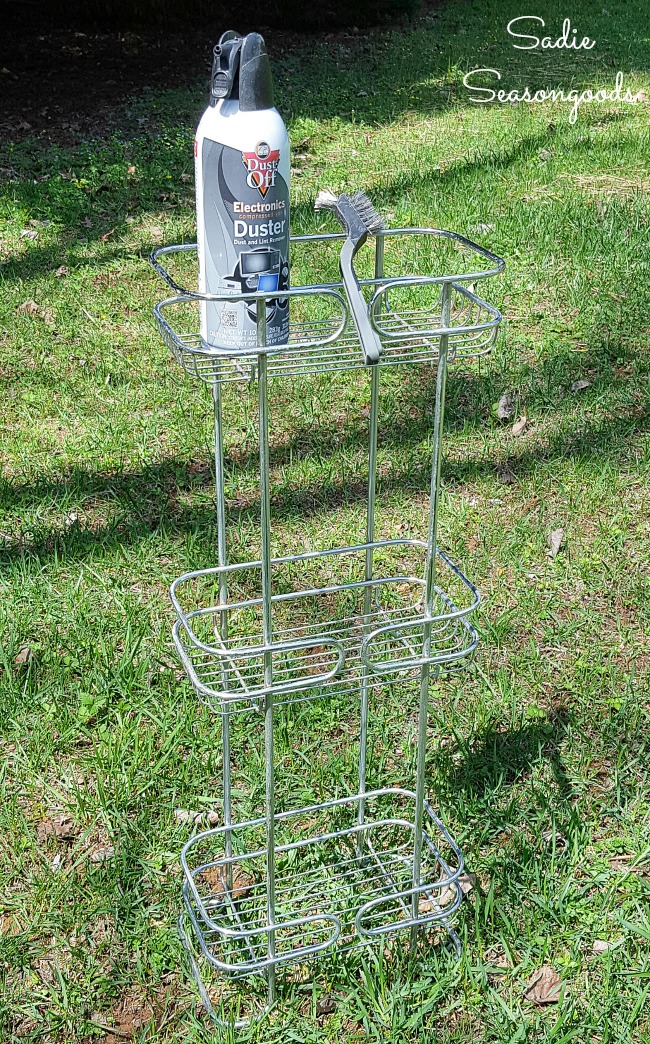 Once it was relatively clean, I got ready to spray paint the standing shower caddy. I used a dark bronze paint to give it a fresh, but vintage-y appearance.
Of course, this is a completely optional step. But, I'm not a huge fan of chrome and wanted something darker for my herb plant stand since it'll be living on our front porch.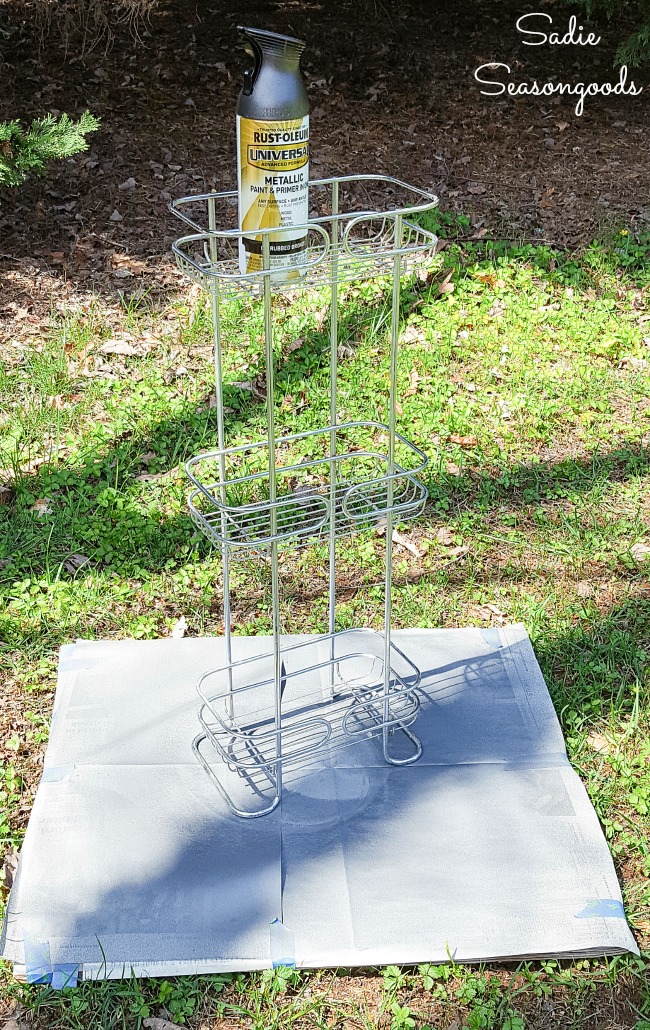 And you know what? It made a HUGE difference on the shower rack. It's amazing what a little bit of paint can do…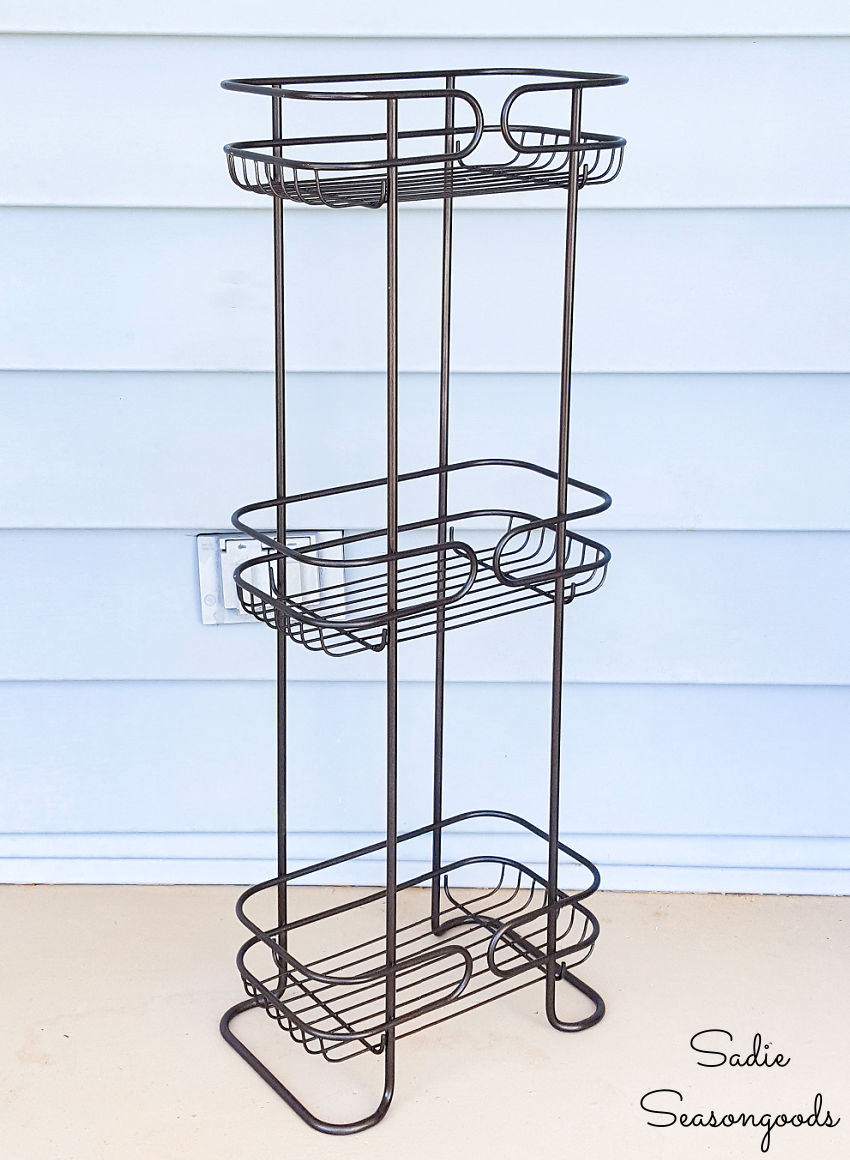 That was it! The standing shower caddy was ready to be used as a standing herb planter.
Next, I transplanted the herb seedlings from the muffin pan into herb pots that would fit in the standing shower caddy.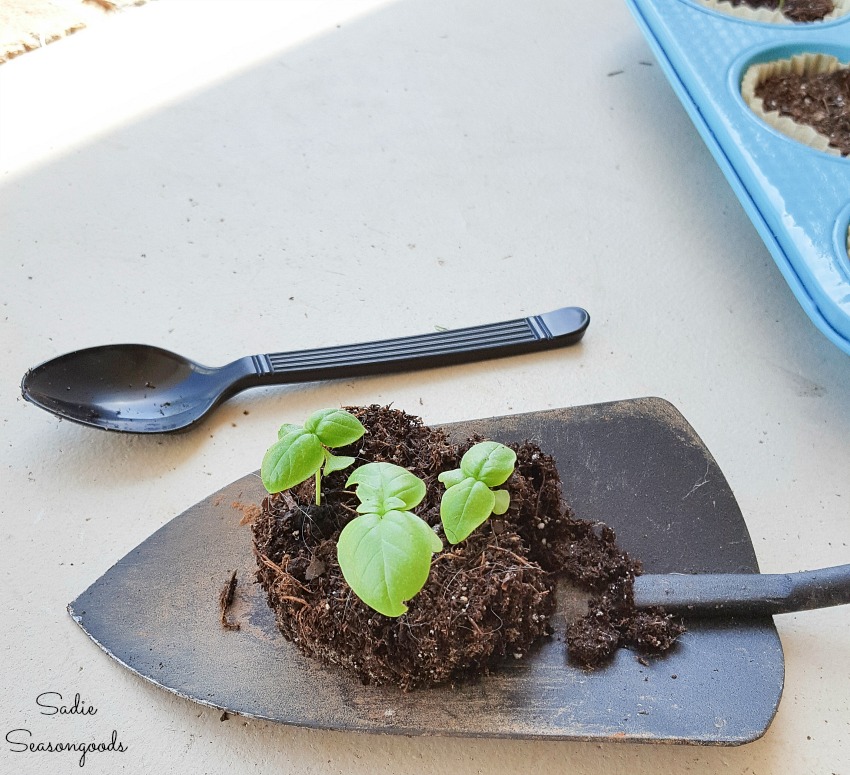 I used 5" jiffy pots for my plants because they fit my caddy the best. See? My little seedlings are ready to flourish (and can be separated and repotted again later, as needed).
And yes, I know the jiffy pots are only temporary- which is fine! I've got raised garden beds in the backyard that I can transplant these into later on when the plants are bigger! But for now, these will work just fine.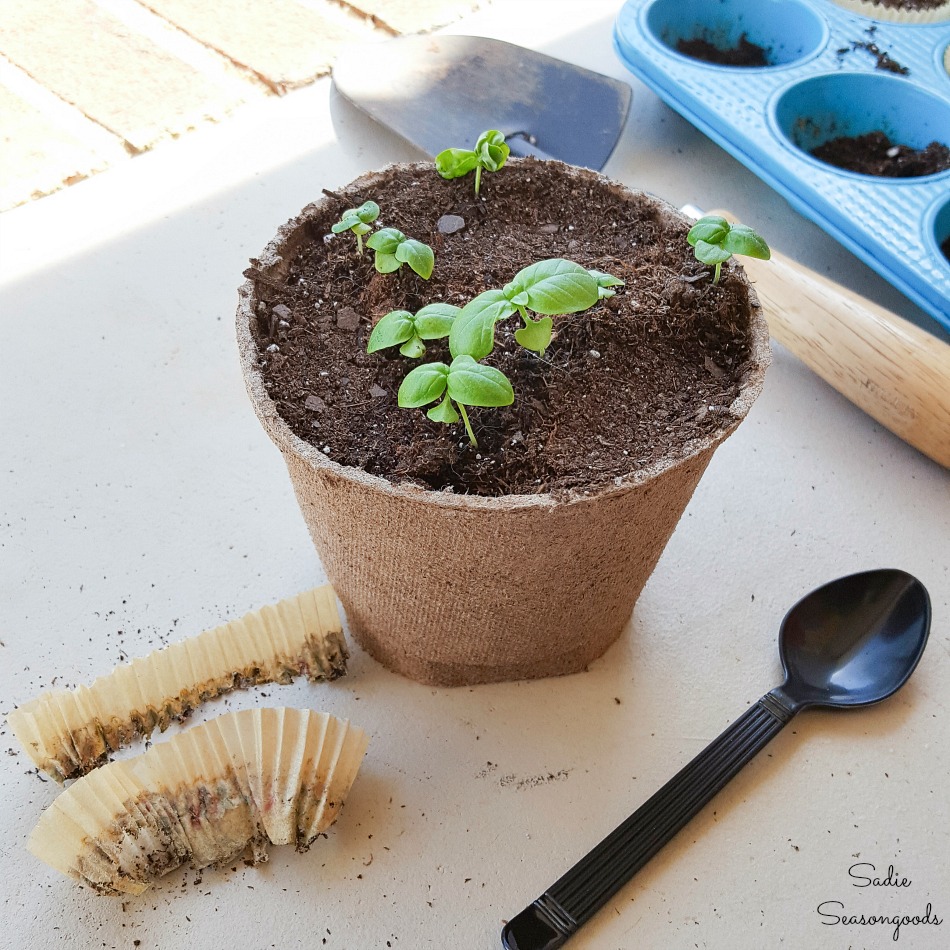 Herb Plant Stand from a Stand Up Shower Caddy
The herb seedlings thrived on my porch, thanks to my vertical plant stand from a shower rack! And the whole thing works as front porch decor for Spring, too.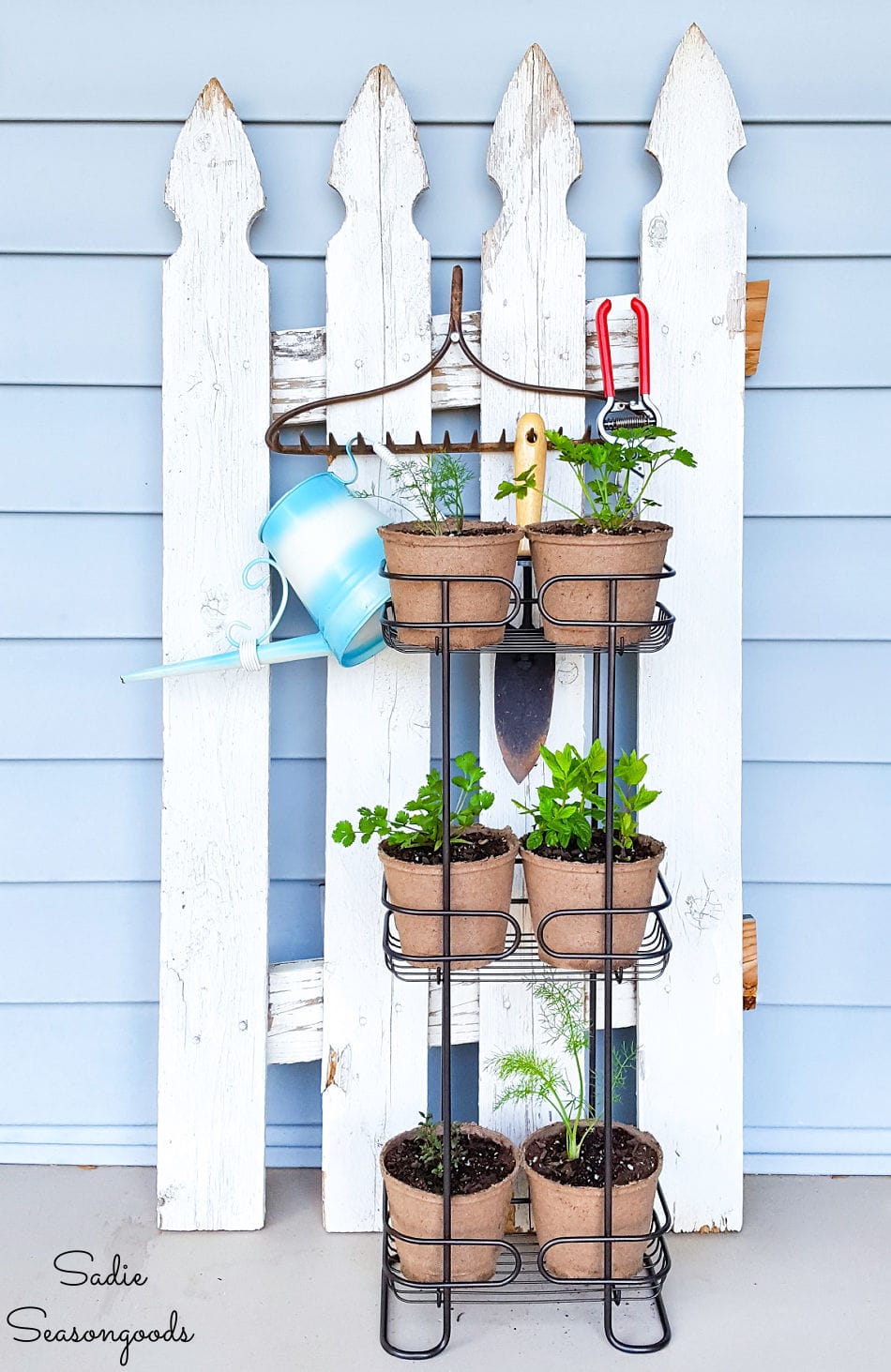 I don't use this chunk of picket fence in my photos enough, do I? It's so pretty against the blue of our house.
Either way, now I can run out and snip some fresh herbs as needed when I'm cooking!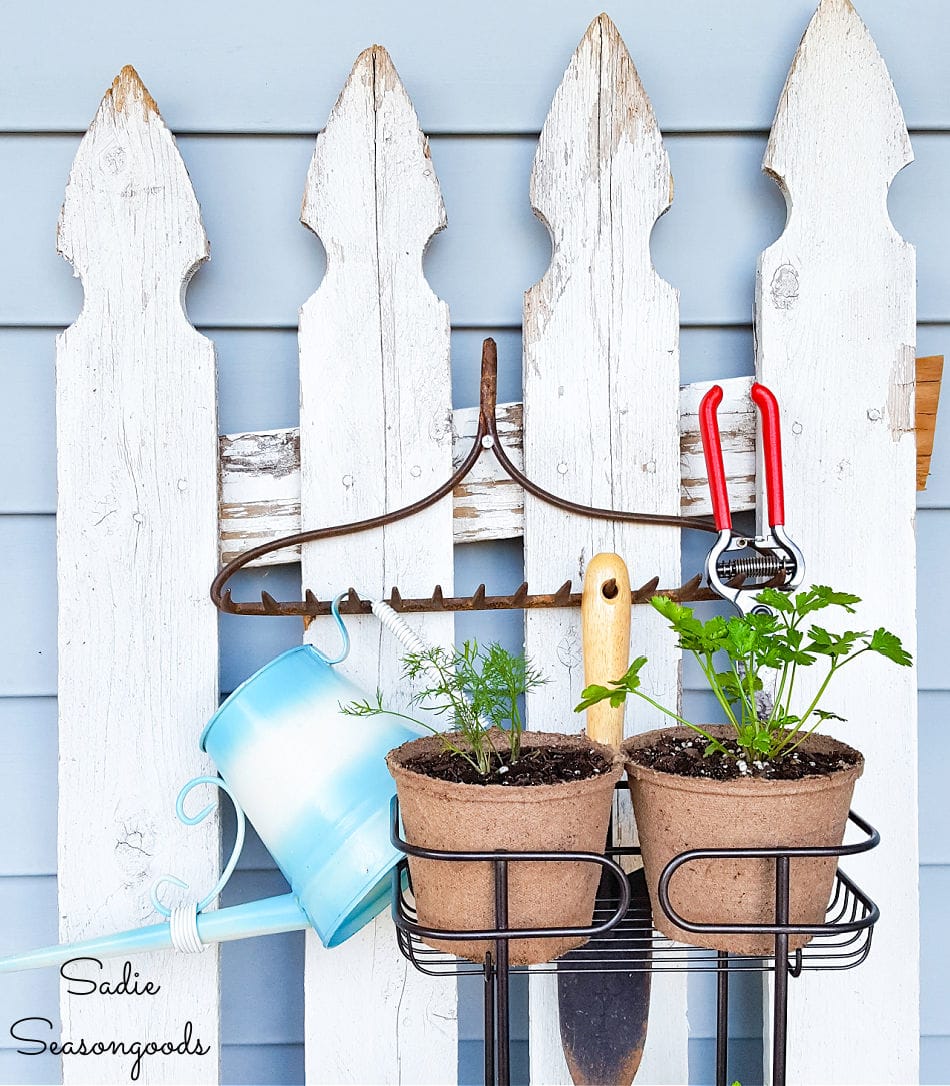 And make sure you check out the third and final installment of my upcycling series on herb gardening here!
If you enjoyed this upcycling idea for a vertical plant stand, then you'll love this idea for a hanging herb garden, as well!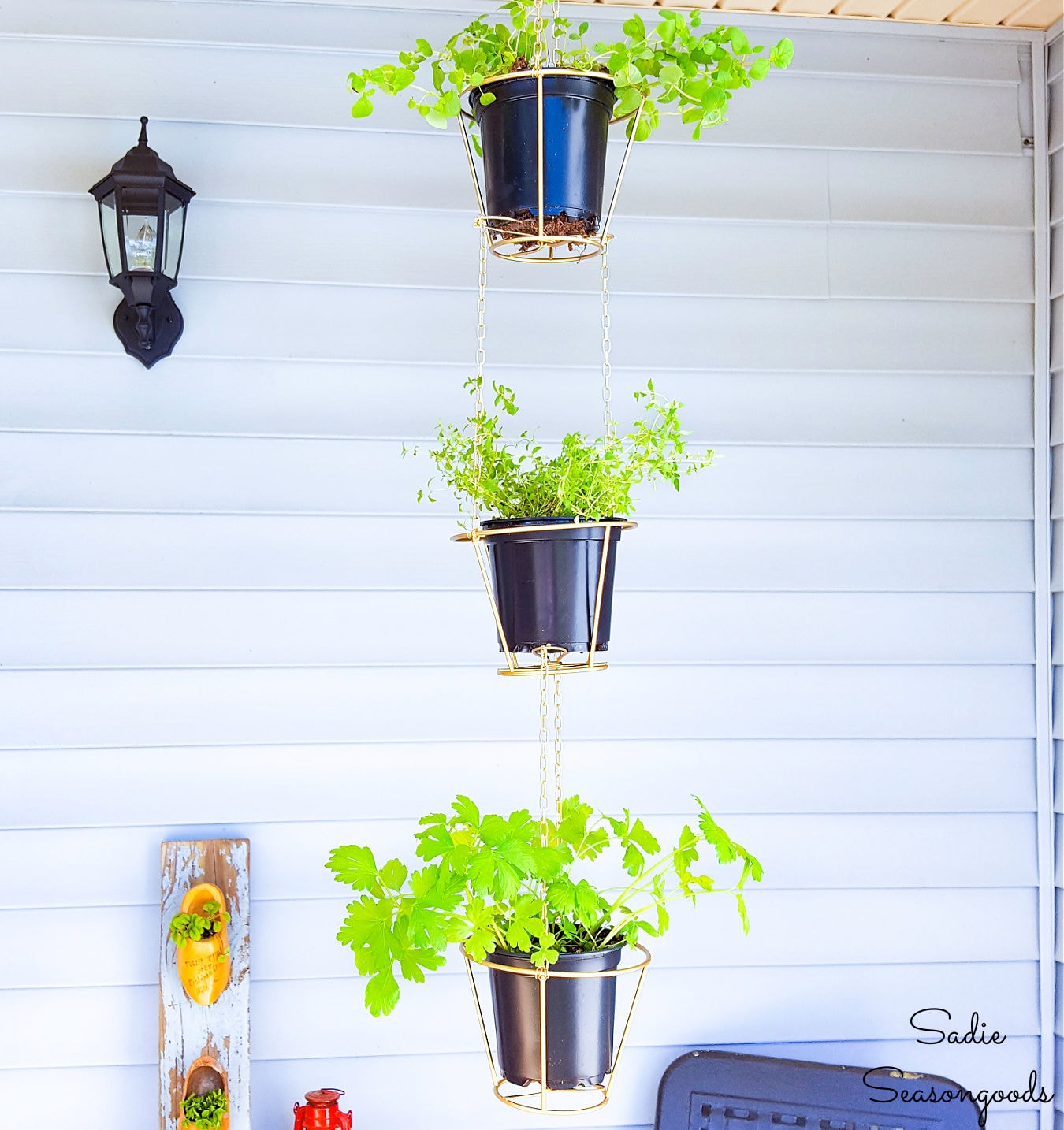 Craft on!
S
Want to be notified when I publish my next upcycling project tutorial?
Subscribe to Blog via Email
Join me on Social Media:

PIN ME!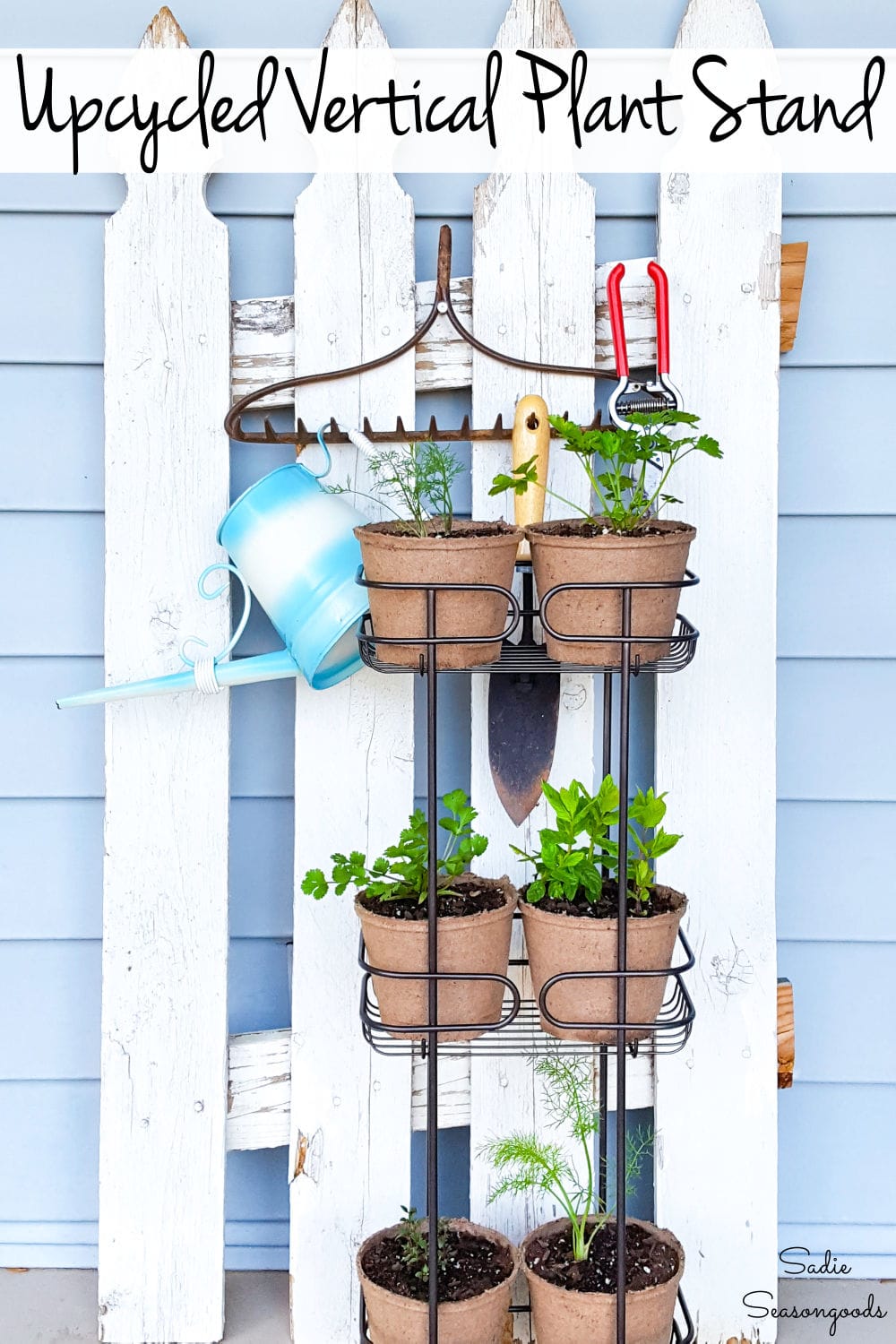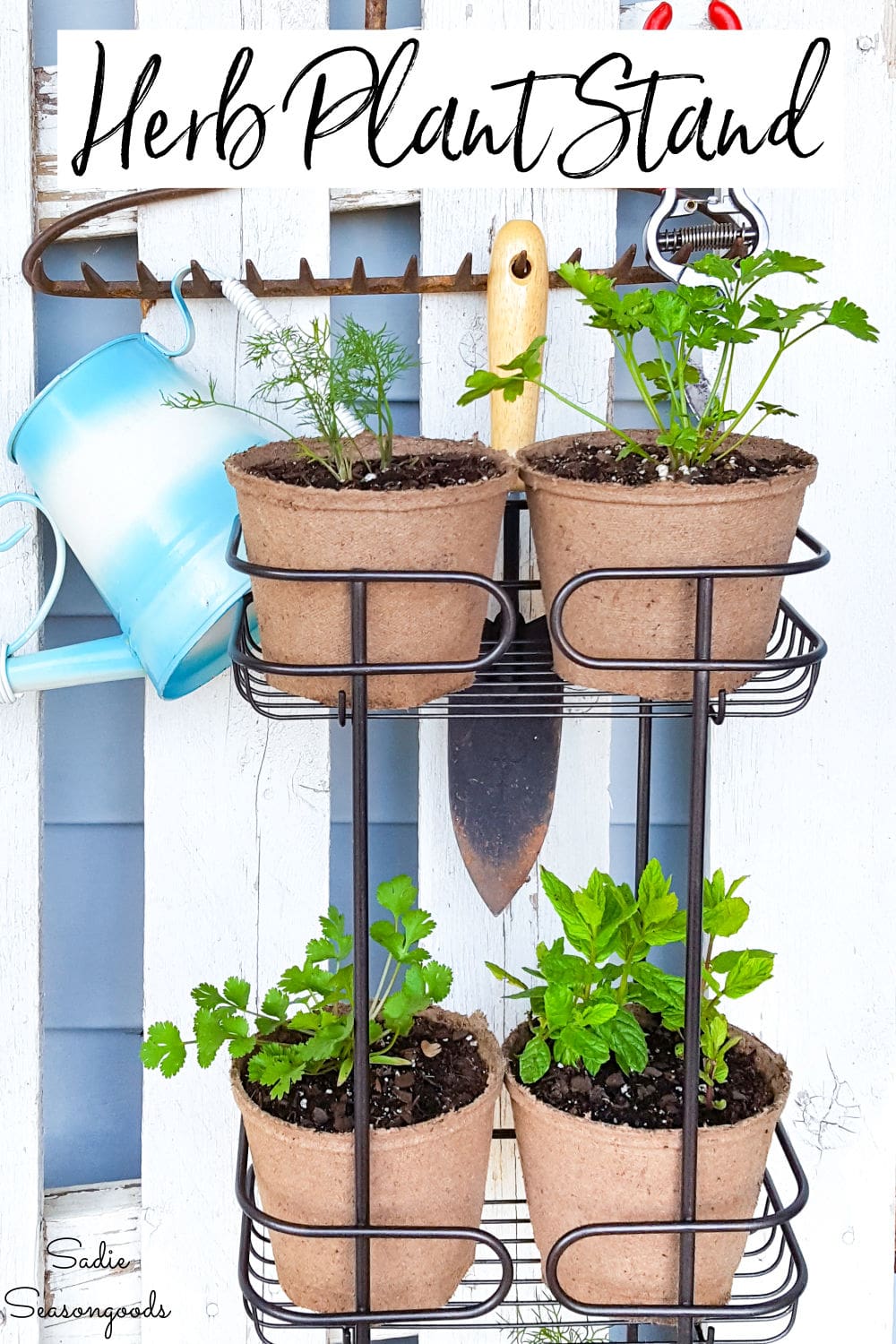 Sarah Ramberg is the owner of Sadie Seasongoods, a website that celebrates all things secondhand. From upcycling ideas and thrifted decor to vintage-centric travel itineraries, Sadie Seasongoods is a one-stop shop for anyone who loves thrifting and approachable repurposing ideas. Sarah is also the author of "Crafting with Flannel" and has been featured in numerous media outlets and magazines.