Last month, I introduced my three-part upcycled herb garden series with Part 1- by sowing herb seeds in rusty, thrifted muffin tins / pans as starter pots! But several weeks have since passed and it's time to bring you Part 2, which involves another repurposed thrift store find: A standing shower caddy.
I had been wanting a way to create a vertical herb garden for our front porch in order to maximize space. Our front porch isn't tiny, but a linear herb garden wasn't ideal- so, like big city architecture, I needed to go up, not out! And an upright, standing shower caddy was an excellent option for holding potted herbs. This post contains affiliate links for your crafting convenience.
Upcycling a Standing Shower Caddy for Potted Herbs
Now, I know what you're probably thinking- eww, gross, a secondhand shower caddy. And I get that, I really do! But that's what gloves, a good cleaning, and spray paint are for, right? Plus, I really need to put my money where my mouth is when it comes to buying secondhand…as much as possible.
So, let's get to it! First order of business was cleaning it as much as possible. Using a scrubby metal wire brush, I was able to remove a lot of the grossness. I wore gloves and did it outside, so it really wasn't all that bad- I swear! And canned air (an unsung hero in my crafty, cleaning world) blew away the scatter from my brush.
Now relatively clean, I got ready to spray paint the standing shower caddy. I used a dark bronze paint to give it a fresh, but vintage-y appearance. Of course, this is a completely optional step. But, I'm not a huge fan of chrome and wanted something darker for my vertical herb garden since it'll be living on our front porch.
And you know what? It made a HUGE difference on the standing shower caddy. It's amazing what a little bit of paint can do…
Ok- that's it! The standing shower caddy is ready for plants…but they still need to be transplanted. I gathered my muffin tins to transplant the surviving seedlings. Why do I say surviving? Well…a certain fluffy kitty (ahem, Cottonball) slept on them in the window…and "cooked" a few of them…
ANYWAY, let's focus on the surviving seedlings! I easily tore off the top portion of each muffin paper and used a plastic spoon to scoop out my potted seedling! So, it worked really, really well- making it super easy to transplant into a larger pot.
I used 5" jiffy pots for my plants because they fit my caddy the best. See? My little seedlings are ready to flourish (and can be separated and repotted again later, as needed).
And yes, I know the jiffy pots are only temporary- which is fine! I've got raised garden beds in the backyard that I can transplant these into later on when the plants are bigger! But for now, these potted herbs are exactly what I need.
A Vertical Herb Garden with a Standing Shower Caddy
After repotting everything (including herb plants purchased from a local organic farm…to subsidize my garden, thanks to Cottonball!), I placed them in my standing shower caddy.
Of course, I couldn't leave well-enough alone and created a Spring porch vignette with my salvaged picket fence. An antique rake head hangs on the fence and holds some garden tools and my vintage watering can for easy access. Plus, it just looks cute and cheery!
What a perfect vertical herb garden for a small space like a front porch or balcony. And a great way to upcycle a standing shower caddy, if I do say so myself!
If you like this upcycling idea, then you may be interested in even more inspiration for upcycled garden planters with this post!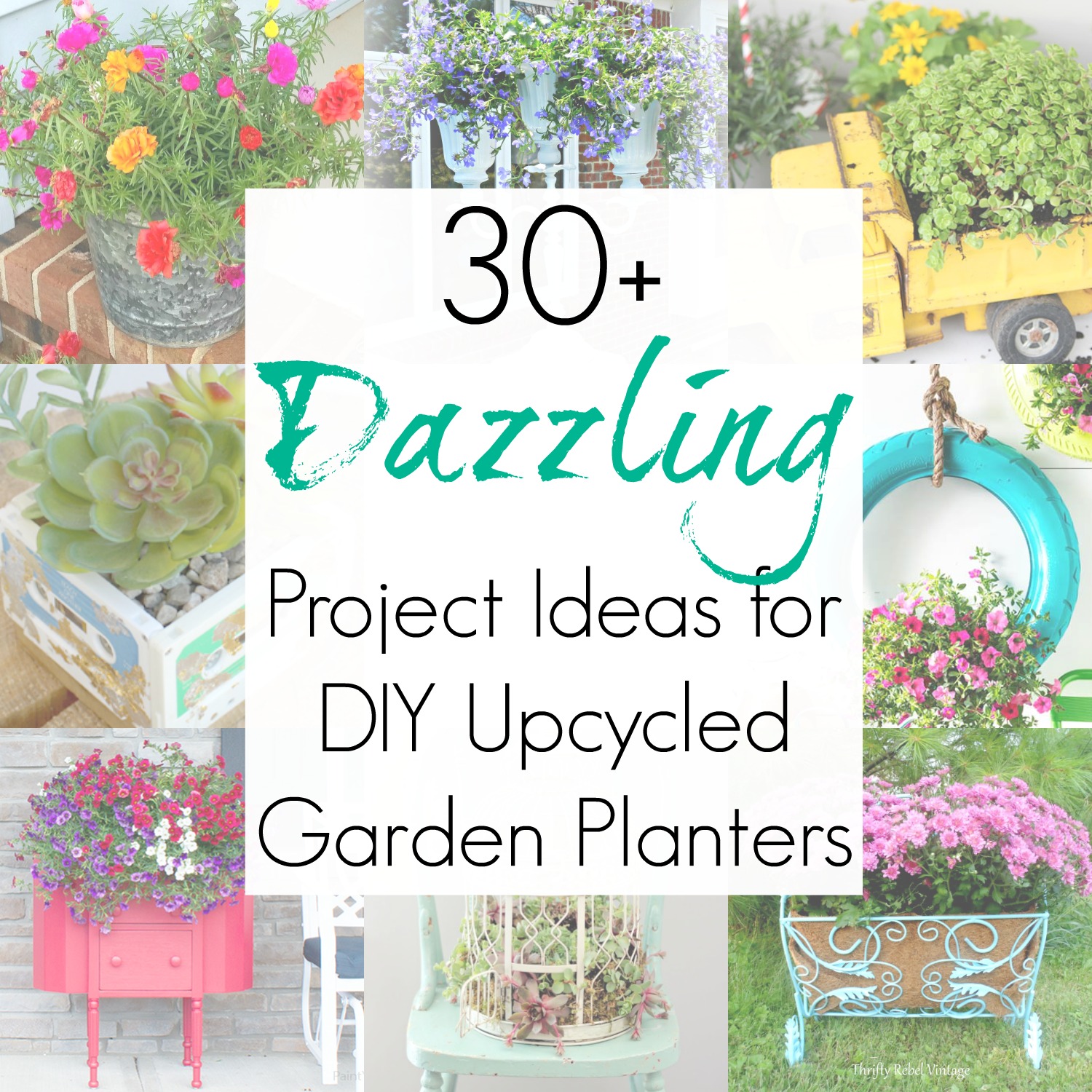 Craft on!
S
Want to be notified when I publish my next upcycling project tutorial?
Subscribe to Blog via Email
Join me on Social Media: