After successfully sowing herb seeds in thrifted muffin tins and then transplanting the seedlings into larger pots displayed on a vertical shower caddy, I'm wrapping up my three-part Upcycled Herb Garden series today! And what, pray tell, could my third part be about? Plant markers that double as mushroom garden decor, as well!
You see, I started collecting some vintage shoe trees on my junkin' journey to Richmond, VA. At the time, I simply thought they looked interesting and perfect for an upcycling project. I just didn't know what that project was at the time!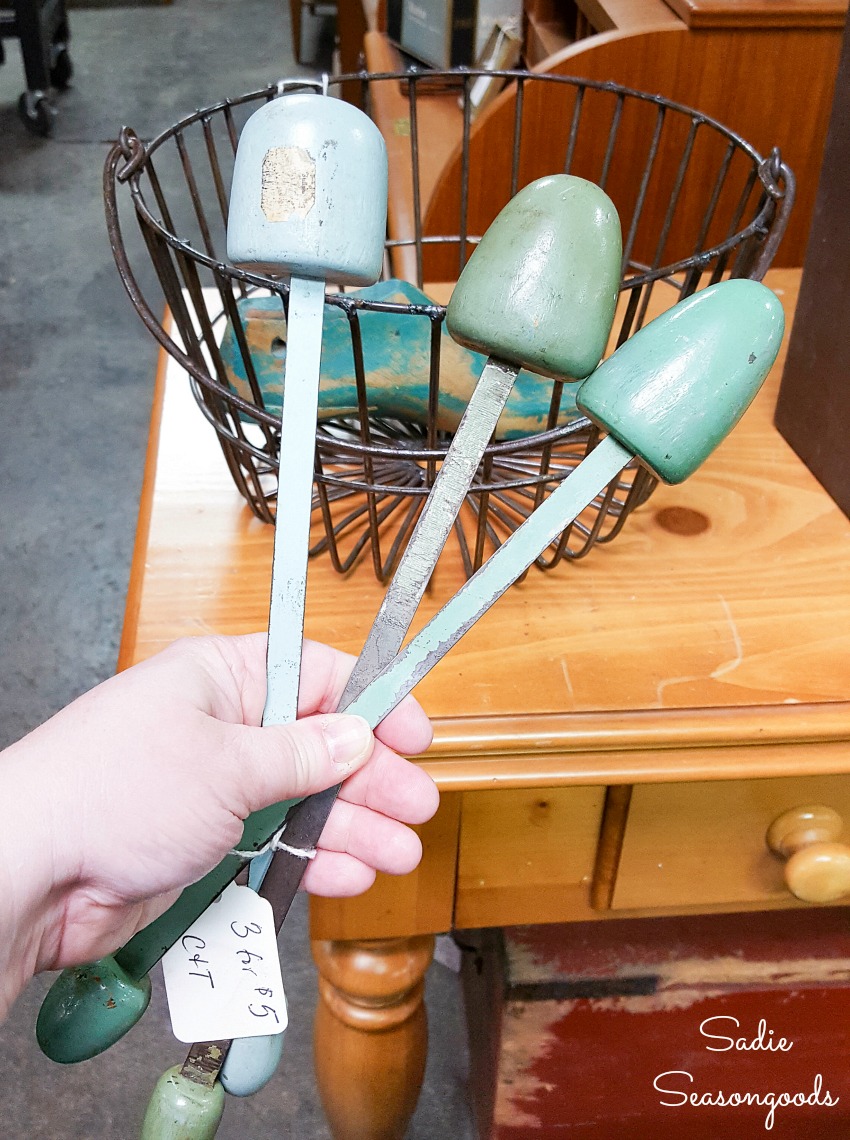 But then my good friend, Pink Dogwood Jewelry, also gifted me some wooden shoe trees a while ago. She asked if I could do anything with them, and that's when it hit me.
The fat end of each wooden shoe stretcher looked just like a toadstool mushroom!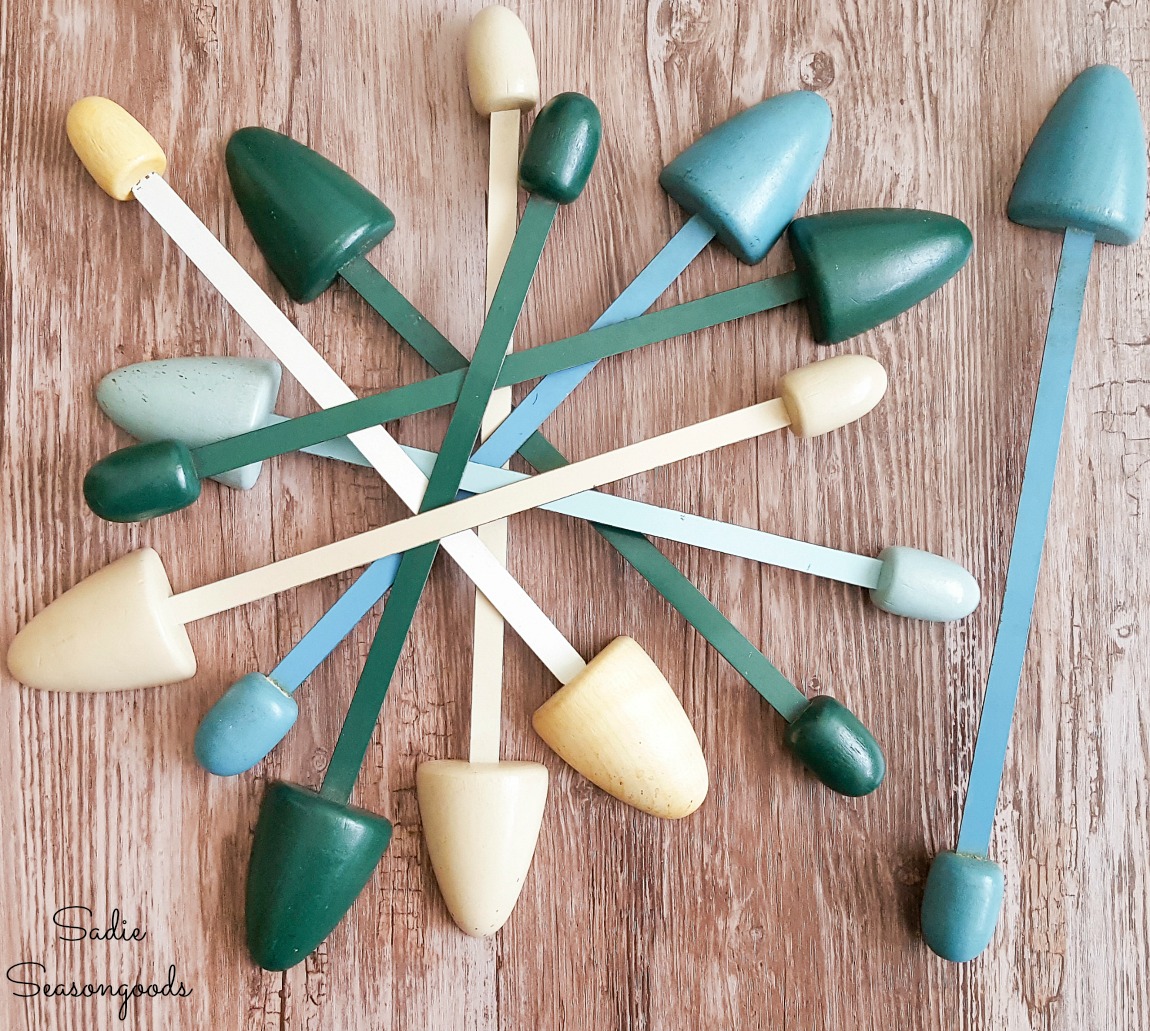 That's when I decided to create some plant markers from the wooden shoe trees! And believe it or not, THIS is the project that inspired the three-part series; I just had to work backwards first before putting it all together.
Now…I certainly don't *need* to label my herbs- I know which one is which. But there's just something fun about making little signs for your herb (or vegetable) garden…and the shoe stretchers seemed awfully perfect for it.
This post contains affiliate links for your crafting convenience. As an Amazon Affiliate, I earn from qualifying purchases.
Transforming the Wooden Shoe Stretchers into Toadstool Mushrooms
First, I needed to cut off the blunt wooden end of each wooden shoe stretcher so that it could be plunged in potting soil. After considering my options, I ended up using bolt cutters to do the deed.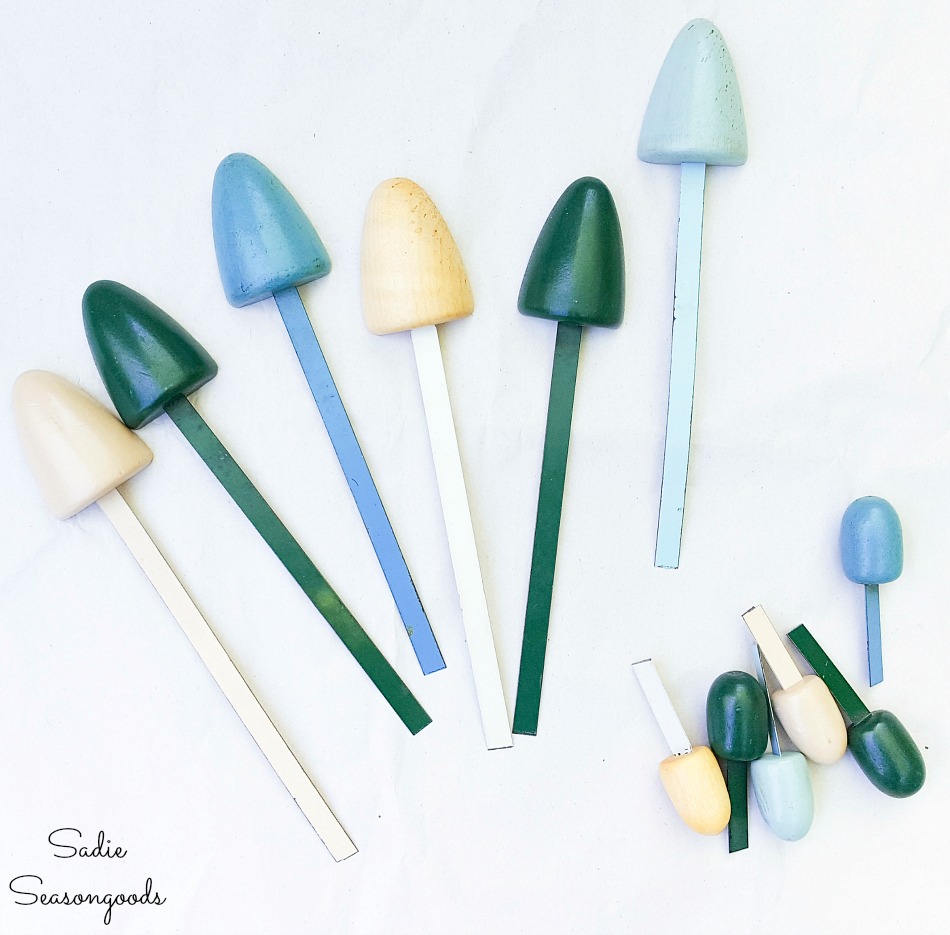 Next, it was time to spray paint the antique shoe stretchers. I taped off a good portion of each one before painting.
I don't actually know if spray paint can leach into soils, but better safe than sorry, right?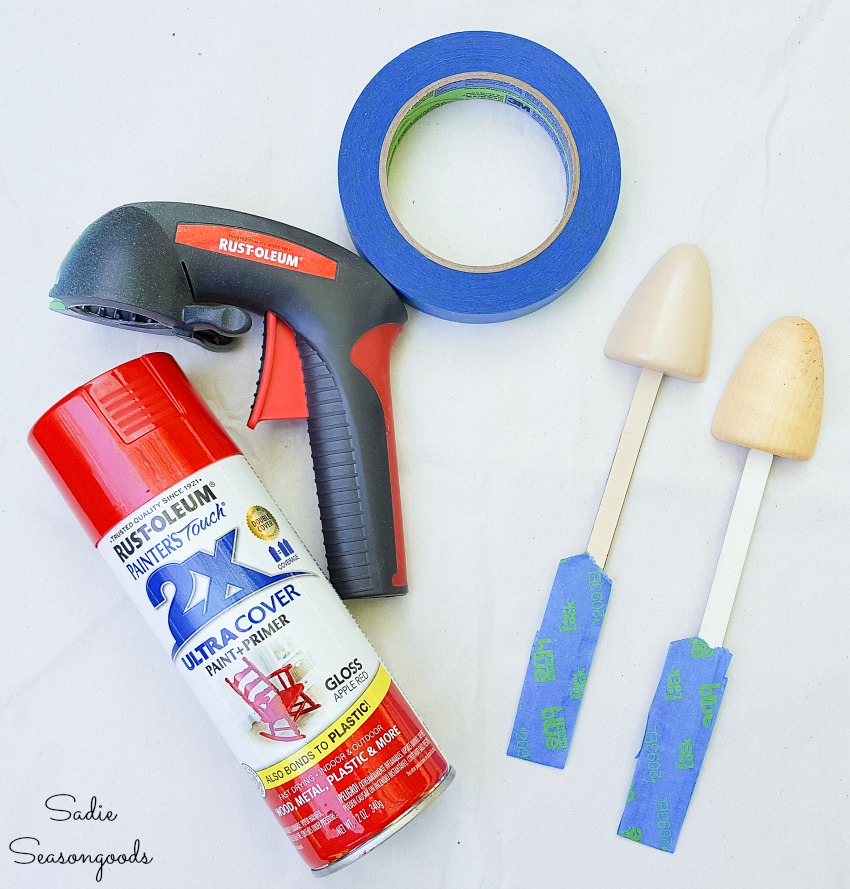 When all was said and done, I painted two of the vintage shoe trees with red paint, two in bright green, and left two of the shoe stretchers that were blue as-is. These seemed like fun toadstool colors to me.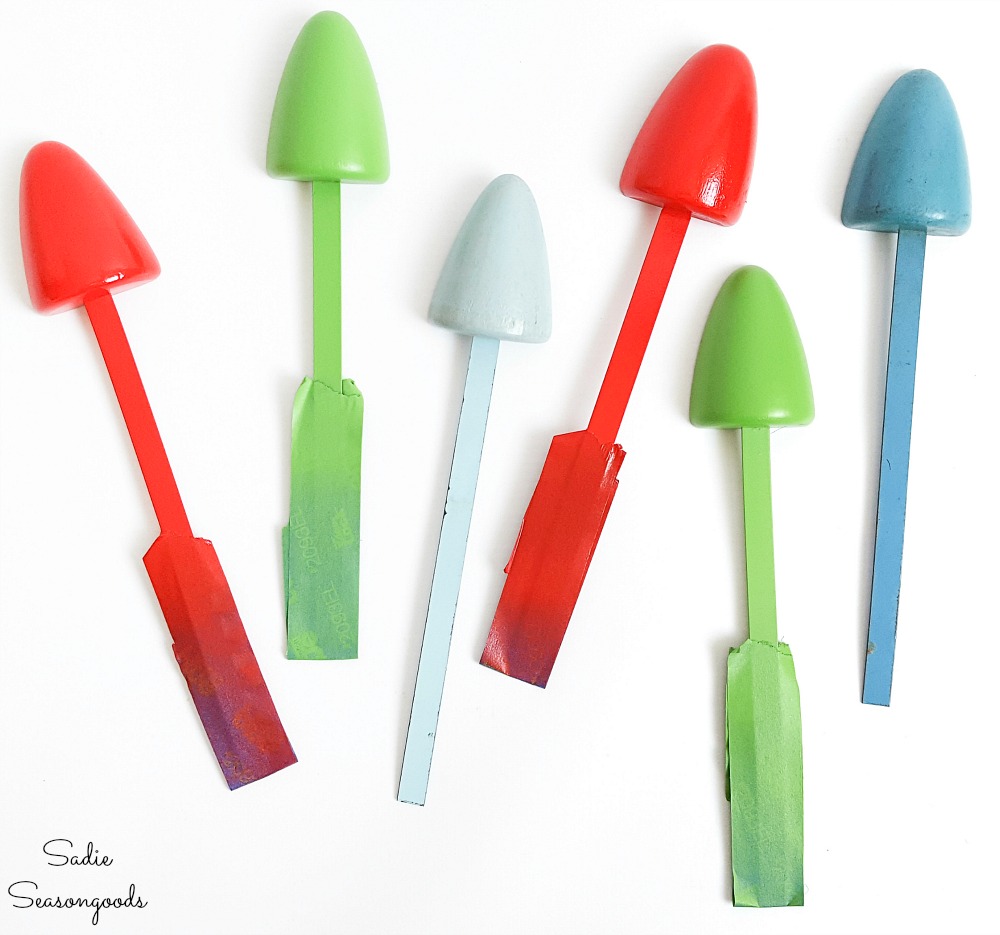 But of course, these aren't just going to be mushroom garden decor! I needed to still upcycle them as plant markers, so that's what I focused on next.
Plant Markers from Wooden Shoe Trees
Now, to make the plant labels reusable each season, I used chalkboard paint for the actual label. That way, I can reuse them year after year, swapping out herbs as I go.
First, I applied a few coats of chalkboard paint to each one, stopping where my painter's tape had ended before.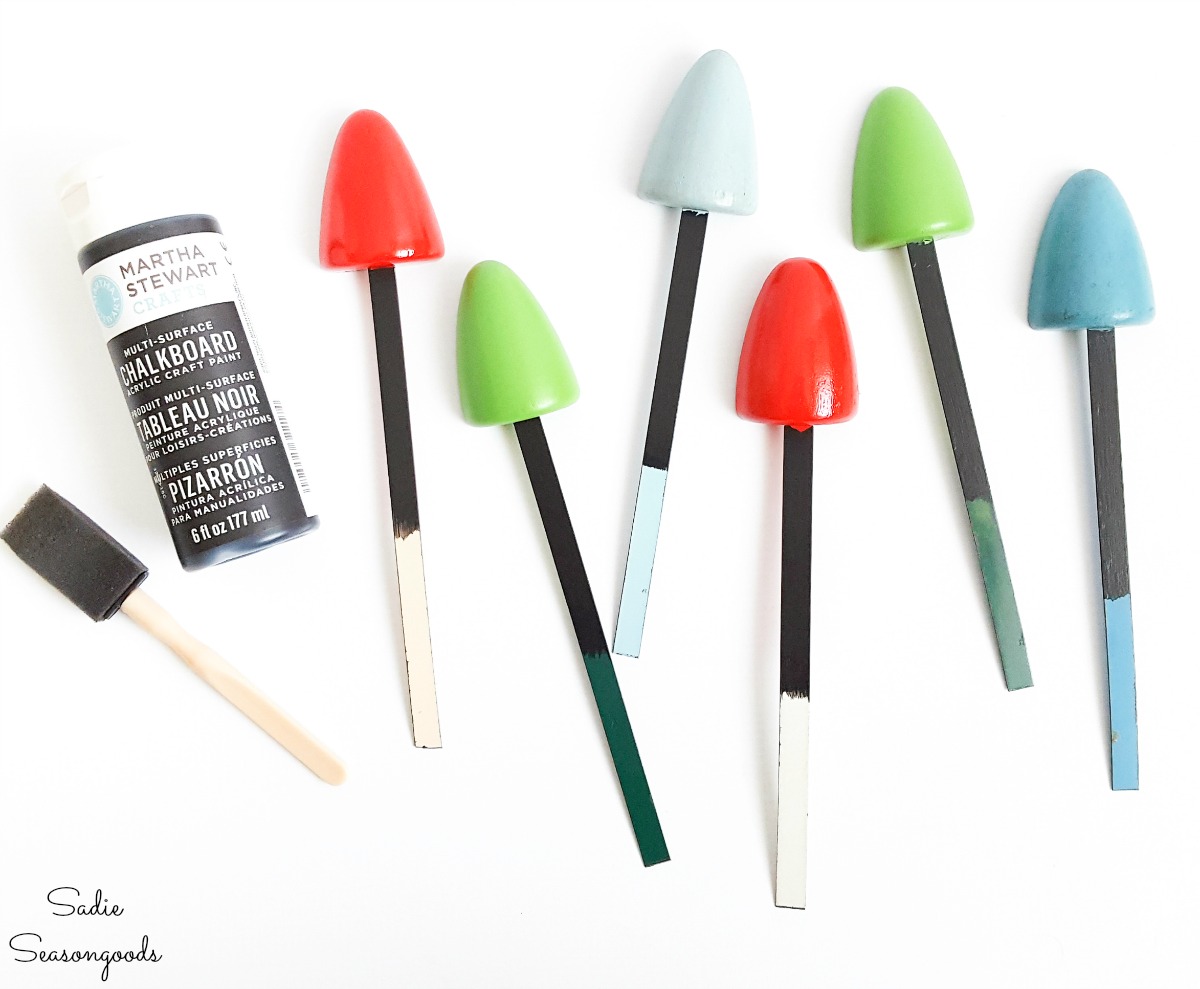 And since little white spots are quintessential to toadstool mushrooms, I added dainty spots of white paint to each one.
I found small sponge daubers that were the perfect size, but a pencil eraser might work, as well.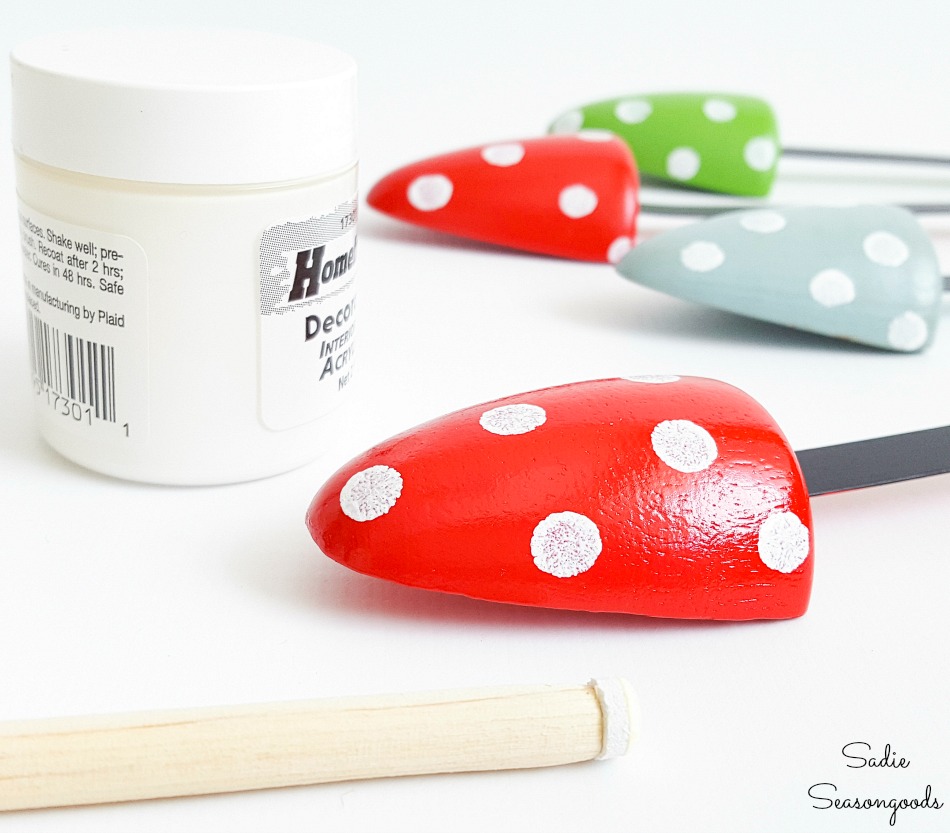 Can you handle the cuteness? My plant markers looked JUST LIKE toadstools to me.
Now all I needed to do was label them and they would be ready to be added to my potted herbs.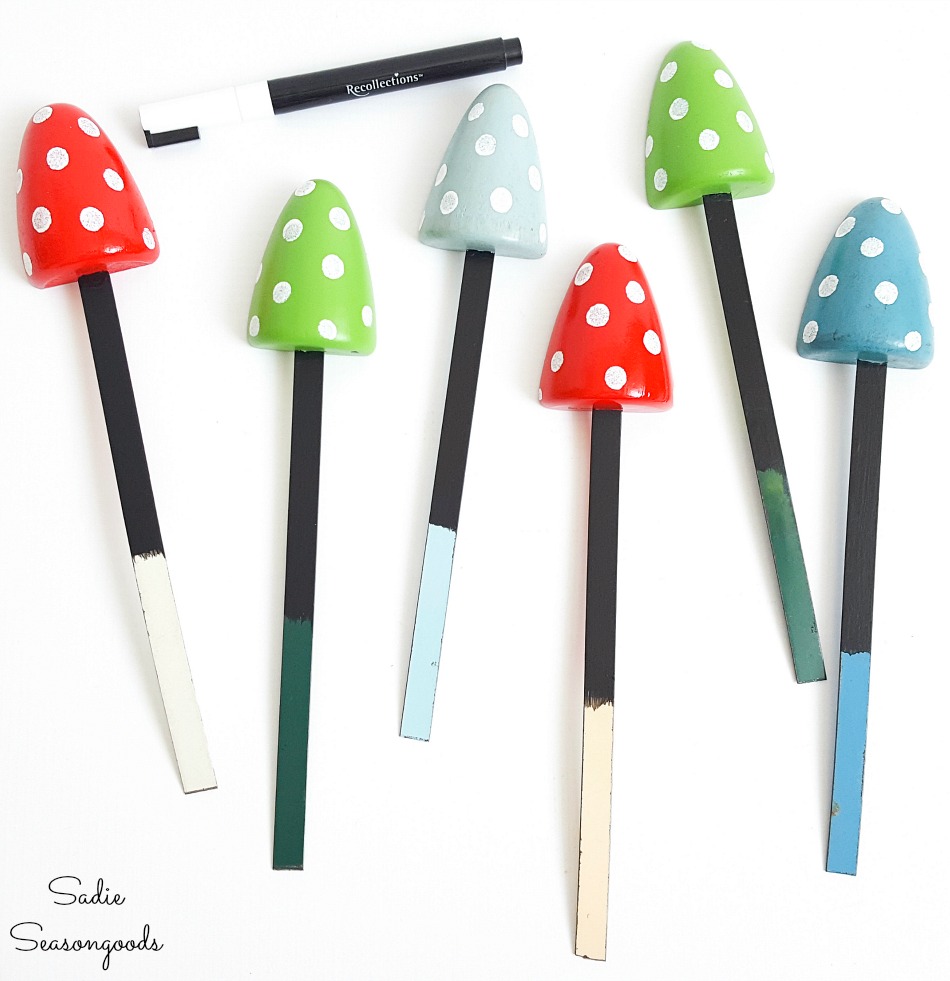 I swear, my penmanship worsens when I try to be extra neat…but at least you know I'm not faking it with photo editing software, right?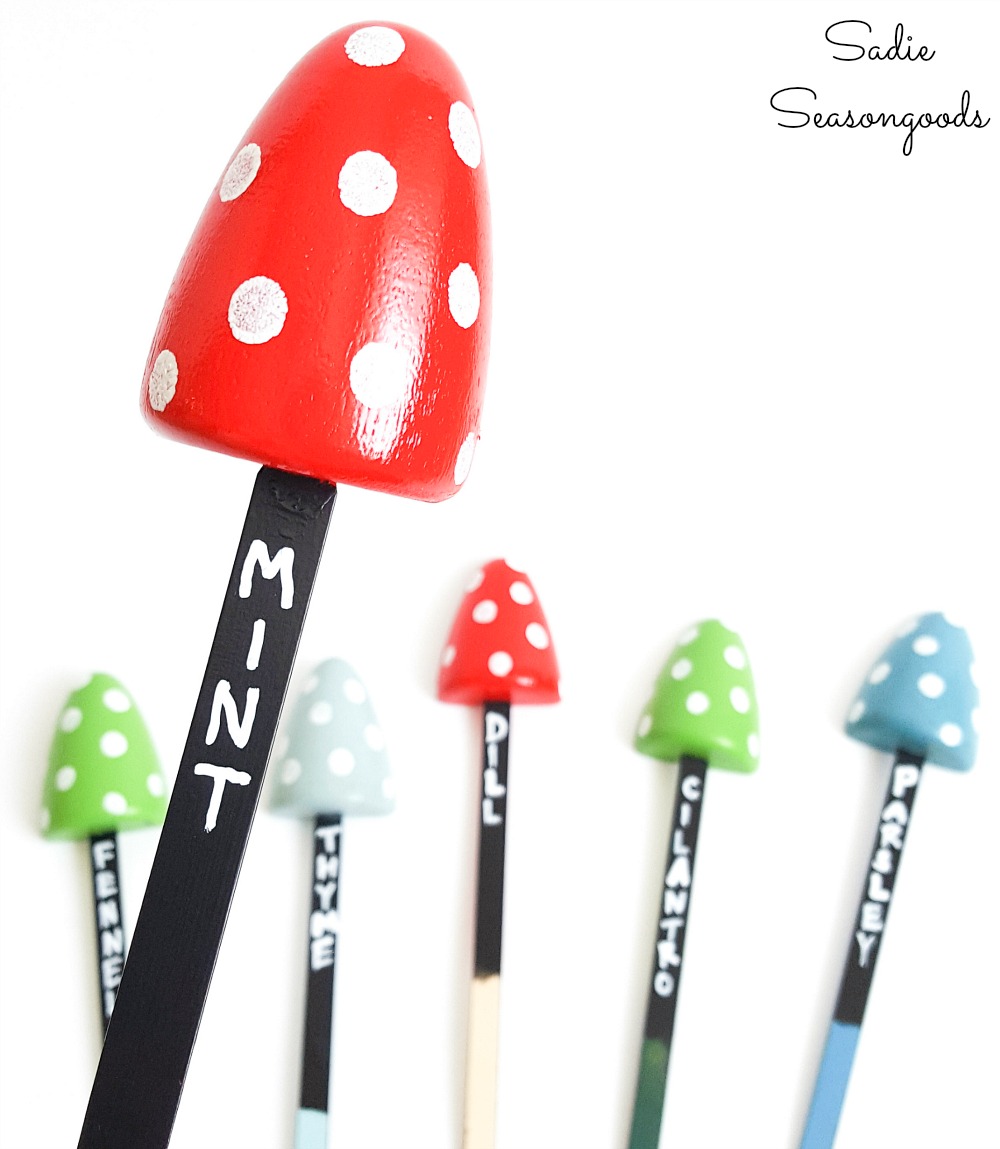 But anyway, if you plan on planting the same herbs or vegetables each year, you could certainly use an oil-based paint pen for this step, as well. The choice is most definitely yours, depending on your gardening habits!
Upcycling Some Wooden Shoe Trees as Plant Markers and Mushroom Garden Decor
Ta-da! Seriously, these are the cutest plant labels or plant markers ever. I mean, really, those wooden shoe trees were completely, 100% perfect for this!
Aren't they the perfect little mushroom garden decor or mushroom garden ornaments? Talk about adding whimsy to your potted plants or herb garden!
But see what I mean? No one *needs* to label their herbs. But when the plant markers are this adorable, well…why not?
I hope you enjoyed my three part upcycling series on herb gardening!
And if you enjoyed this post and want more upcycling ideas for garden markers or plant labels, then you'll really love this collection of ideas!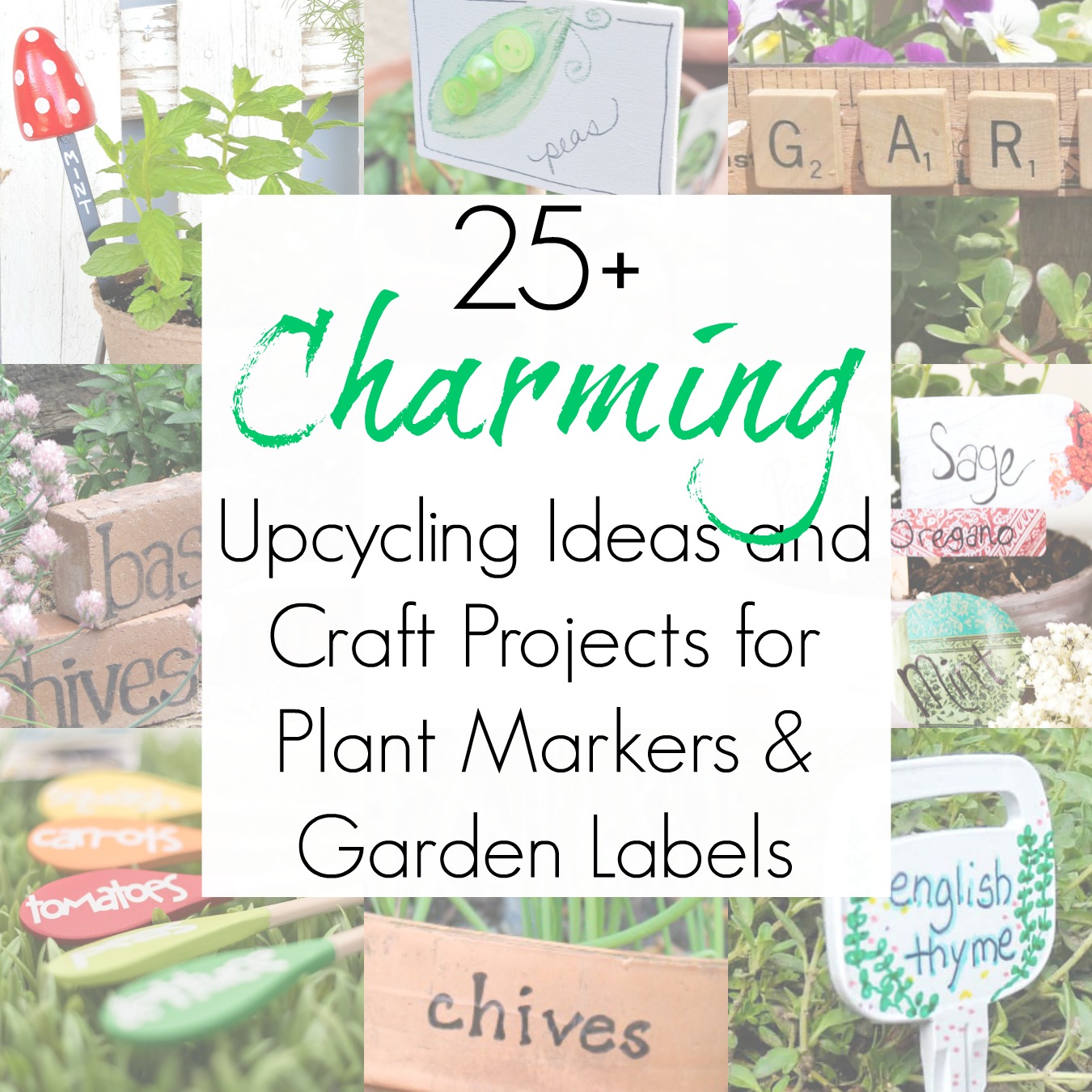 Craft on!
S
Want to be notified when I publish my next upcycling project tutorial?
Subscribe to Blog via Email
Join me on Social Media: