Sometimes I am flush with project ideas, but then there are the scary droughts. And you guys, I was in a drought recently- all sorts of self-doubt crept in, my thrifting luck dried up, and I just needed to step back for a bit. But, thankfully I felt the gears in my head start to turn again when I stepped back into a thrift store and found this memo board. I knew right away that it would be easily transformed into a jewelry hanger, perfect for a teen or tween's room, a dorm room, or any small space, like an apartment.
Want a peek into my mind at work? This is quite literally what was happening in my head as the upcycle synapses were firing!
So, all I needed to do was remove a few things from the memo board, give the entire thing a makeover, and re-awaken it as a jewelry hanger in just a few steps. This post contains affiliate links for your crafting convenience.
Transforming a Memo Board into a Jewelry Hanger
First things first, I removed the existing hardware and "Home Sweet Home" sticker from the front of the memo board.
Once the bolts and wingnuts were removed (probably to hold a narrow pad of paper?), I was left with two pencil-eraser sized holes to deal with.
So, I used some wood filler to fill up the holes, and when that was dry, I sanded down the excess. Then, I sanded down the entire memo board. I didn't do a thorough every-nook-and-cranny sanding. Just enough to remove some of the old finish which would allow my paint to adhere better.
When the memo board was sanded down to my liking, I chose a lilac spray paint to give it a thorough makeover.
I gave it a couple of coats of my lilac purple spray paint and then lightly sanded it for a mildly distressed vintage look.
Jewelry Hanger / Wall Jewelry Organizer – The Final Steps
NOW I could really transform this into a jewelry hanger! First, I measured out an even line for three large cup hooks, and pre-drilled pilot holes to make screwing them in a breeze.
For my mirror, I didn't want to deal with actual glass…for fear of breaking or making the jewelry hanger extra heavy. So, I purchased an inexpensive set of acrylic mirrors (from Walmart.com, of all places) that I could glue onto the jewelry hanger.
And that was it- a complete transformation from memo board to jewelry hanger / wall jewelry organizer!
Ready to see the jewelry hanger in action and doing it's new duty well?
Utilizing the wall space is a great space-saver for dorm storage or storage in a small apartment, as well.
If you enjoyed this upcycling idea for a jewelry hanger, then you may also be interested in this ring holder made from a cigar box, as well!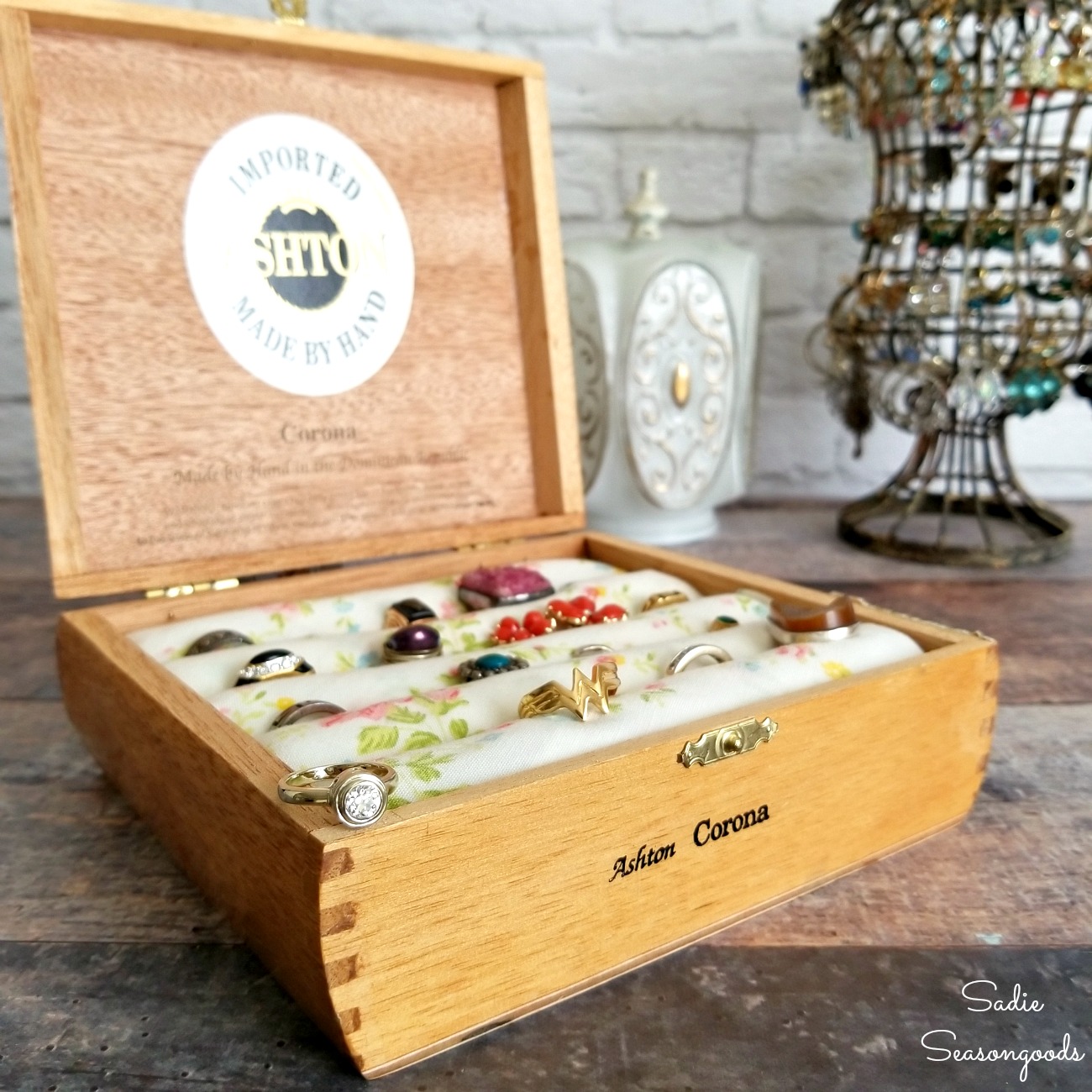 Craft on!
S
Want to be notified when I publish my next upcycling project tutorial?
Subscribe to Blog via Email
Join me on Social Media: