I'll be honest with you – paper plate holders were not something I grew up with. Paper plates, yes, but designated wooden holders for them? Nope, not at all. There wasn't much primitive country decor in my childhood home, so that's probably why. Fast forward to my days as an upcycling blogger, though, and I couldn't snap this one up fast enough! Because I had an upcycling idea to transform it into a pumpkin sign or pumpkin patch sign for Fall.
I knew my idea was meant to be when a SECOND one crossed my path just a few days later. I mean, WHAT ARE THE CHANCES?
You may be wondering how on Earth I connected pumpkin decorations for Fall from these paper plate holders. And if you bear with me for just a moment, it'll become very, very clear. This post contains affiliate links for your crafting convenience.
Upcycling Paper Plate Holders into Pumpkin Patch Signs
THIS was the view of the paper plate holder when I first saw it. In fact, I didn't even know there was a makeshift basket / holder on the other side. And with summer in my rear view mirror, all I could see was pumpkin, pumpkin, pumpkin!
So, I gave it a pumpkin makeover, starting with orange chalk paint.
It's the same color I used last year for my pumpkin tray project that turned out so well.
Next, I gathered a leafy green and a caramel brown craft paint for the stems.
As you can see, I cut off the top of the "stem" from the second paper plate holder before painting, as well.
All of a sudden, the paper plate holders were looking much more pumpkin-esque, post makeover…
Now that my pumpkin decorations for Fall and future pumpkin patch signs were painted, I wanted to put the actual holders (other side) to use! My plan was to add a brick of wet floral foam in the holder from which leafy stems could be inserted. This would give my pumpkins a more still-on-the-vine pumpkin patch look.
I purchased two bricks of floral wet foam– even though I wasn't going to use it for real flowers, I like the "moldability" of wet foam, knowing that I could crunch and press (i.e., mold) it to fit each paper plate holder.
First, however, I took one additional step that is totally optional. After I molded the foam bricks to fit each wooden paper plate holder, I wrapped them in brown paper bags.
I thought it would look a little neater, and keep that dreaded "floral foam dust" from getting everywhere.
Now to give it a pumpkin patch look! I used these green maple leaves from Michaels as my greenery, cutting them to size with my wire cutters. Doesn't that look cute?
Pumpkin Patch Sign / Pumpkin Sign for Primitive Fall Decor
Even though I liked how it looked just as it was, I knew a little stenciling would put it over the top. And let's face it, what's cuter than a pumpkin sign this time of year?
I gathered up my stenciling supplies – vinyl stencil, painter's tape, craft paint in multiple colors, etc.
(Note- the paper bag-wrapped foam block and leaves slides in and out with ease, making it easy to stencil even after I had cut all the greenery!)
After I carefully stippled and swirled on my paint, I lightly sanded the entire thing to "rough it up" a bit, aging the lettering and the wooden edges.
I buffed on some clear wax to seal it and make the colors a little richer and that was it! I replaced the floral foam bag and greenery and my pumpkin sign / pumpkin patch sign was done. Perfect pumpkin decorations for Fall that had a primitive country decor feel.
Isn't that wild? I love how my pumpkin sign turned out and the best part is, it could still be a paper plate holder year-round!
And if you enjoyed this upcycling idea for fall pumpkins, then you'll love these decorative pumpkins I made from my recycling bin, as well!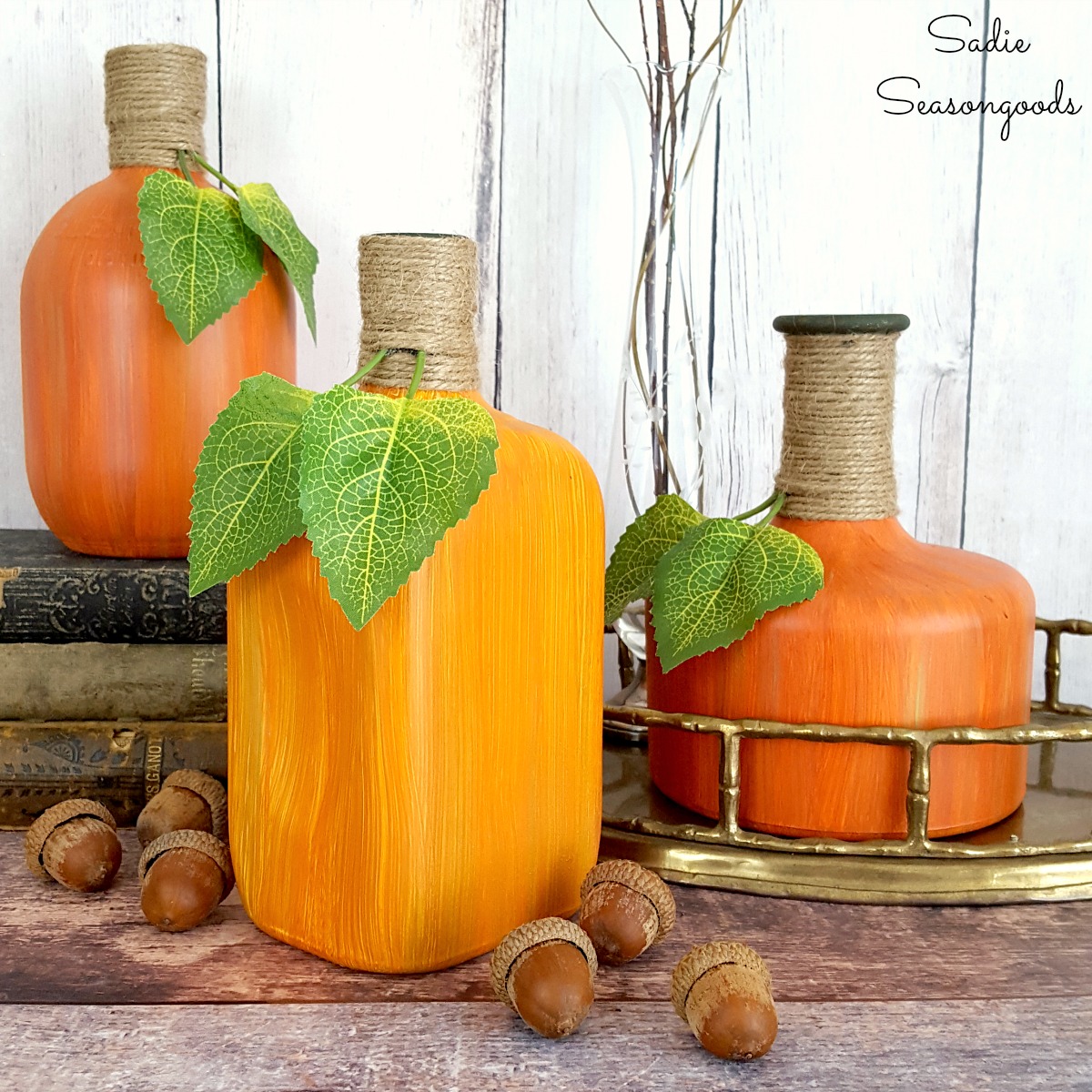 Craft on!
S
Want to be notified when I publish my next upcycling project tutorial?
Subscribe to Blog via Email
Follow me on Social Media: