I don't buy much thrift store furniture for upcycling projects, simply because I usually repurpose small items from the housewares section. But I couldn't pass up this small footstool that I saw the other day. Its rush seat was unraveling, but I could tell it had good bones and was a nice piece of primitive furniture. So, I decided to try my hand at repurposing it.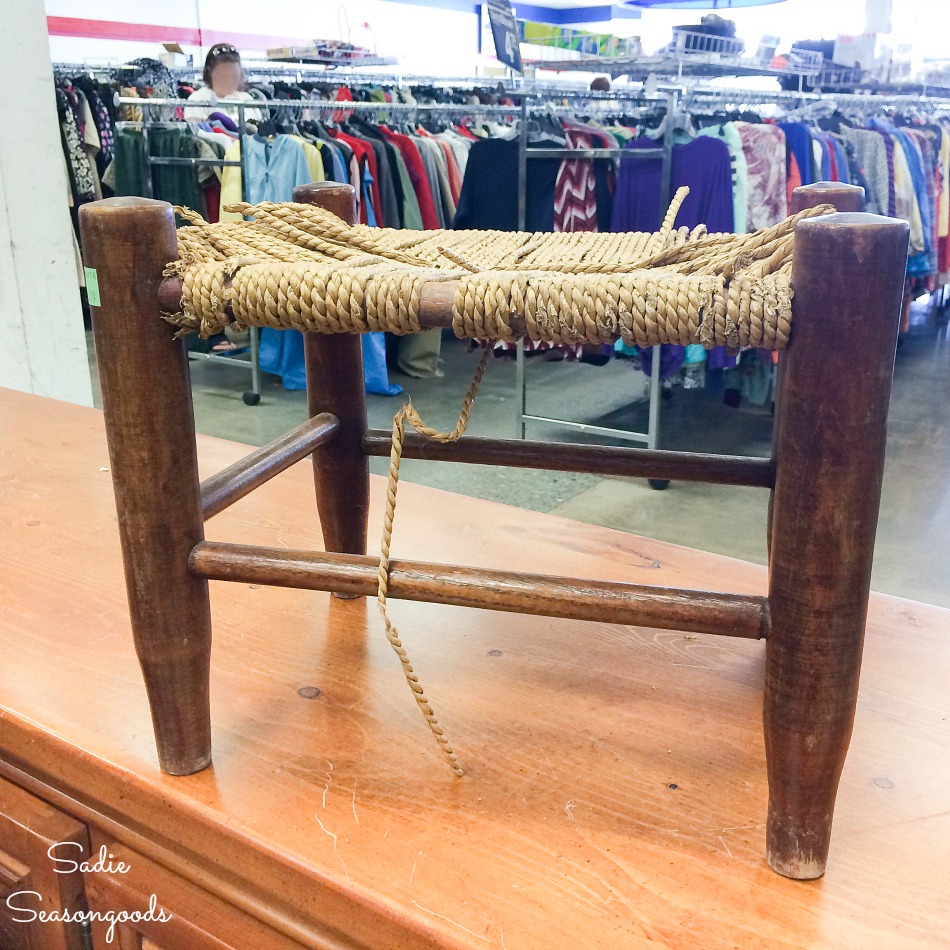 It was short, squat, and sturdy- just like me! So I felt an immediate kinship to it, ha-ha.
Even though its rush seat was unraveling and falling out in clumps, the rest of it was perfectly fine, if not a little scuffed up. Since it was heavy and had good bones, I just needed to refurbish it a little.
My plan was to restore it as a farmhouse footstool to match our painted bedroom set that was inspired by this window frame decor project: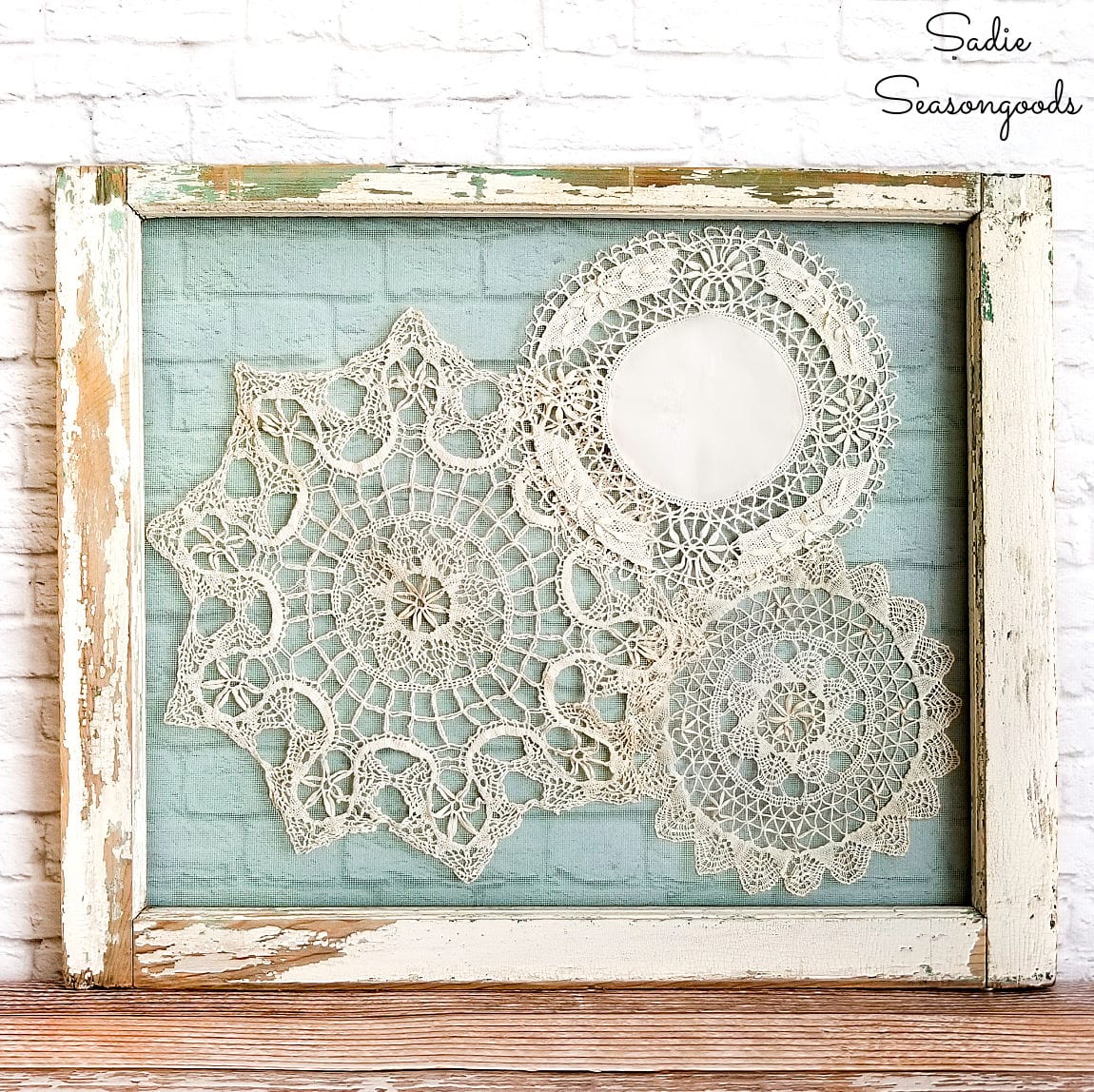 This post contains affiliate links for your crafting convenience. As an Amazon Affiliate, I earn from qualifying purchases. All blue, bold, and underlined text is a clickable link, either to a product or to a related post.
Removing the Rush Seat on a Small Footstool
First, I needed to just plain undo the rush seat. It was crumbling in my fingertips, so I knew it was going to be a messy job.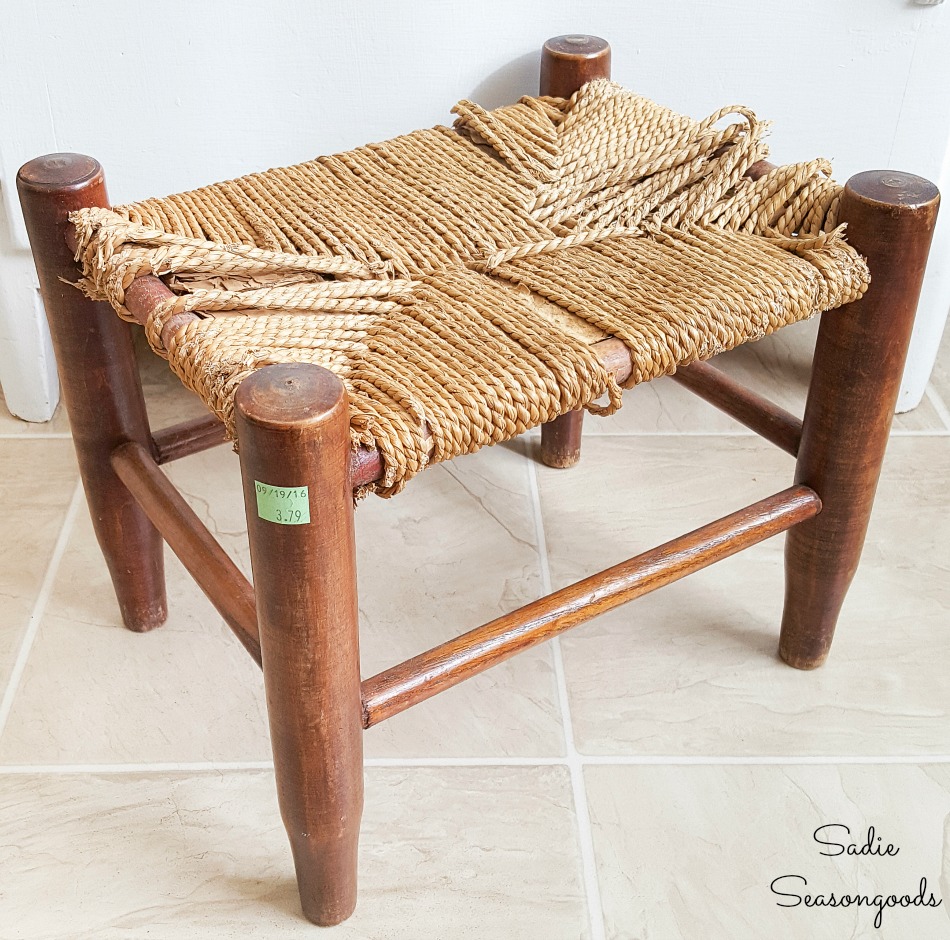 So, I grabbed some packing paper I had saved, my heavy duty craft scissors, and started to remove the rush seat.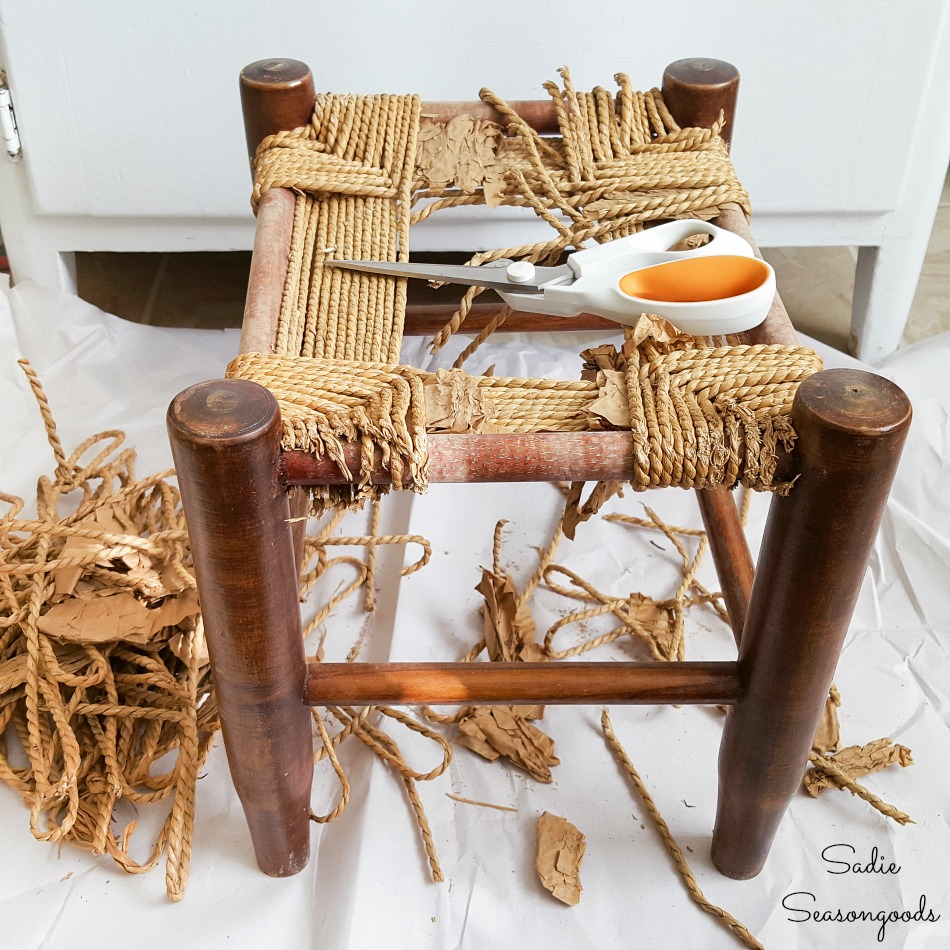 When the rush seat had been completely removed from the small foot stool, I was left with a perfectly good base. Now it was ready for a complete transformation!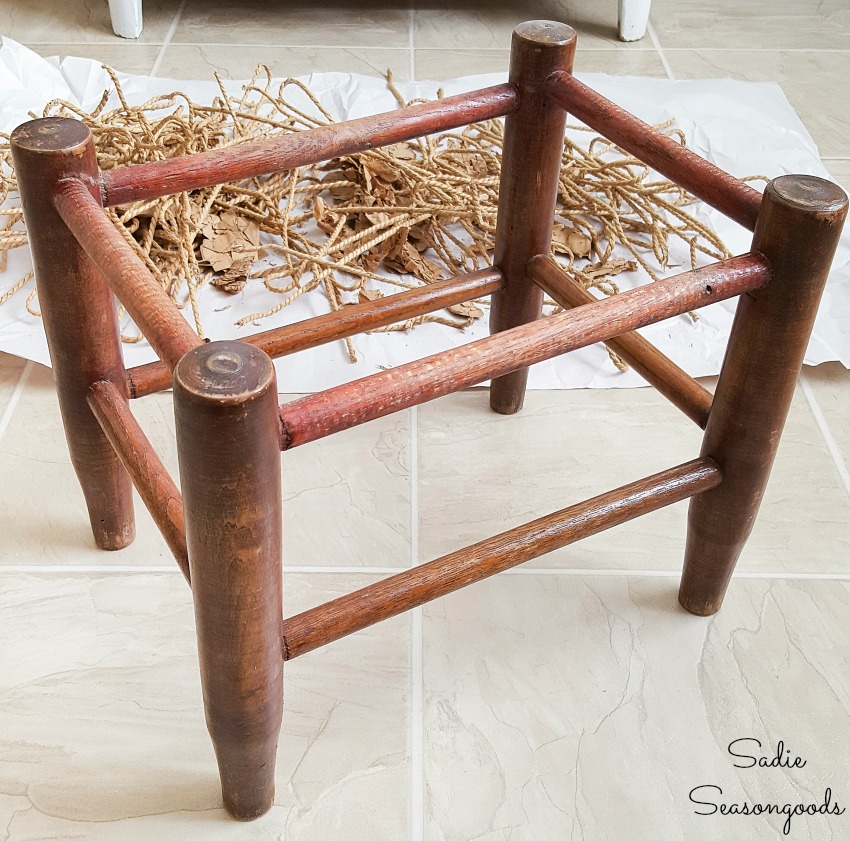 Next, Mr. Seasonoods took off a sliver from each leg, creating a flat and universally even surface on the tops. Then, I gave the small footstool a farmhouse makeover with some chalky spray paint (specifically, thus one).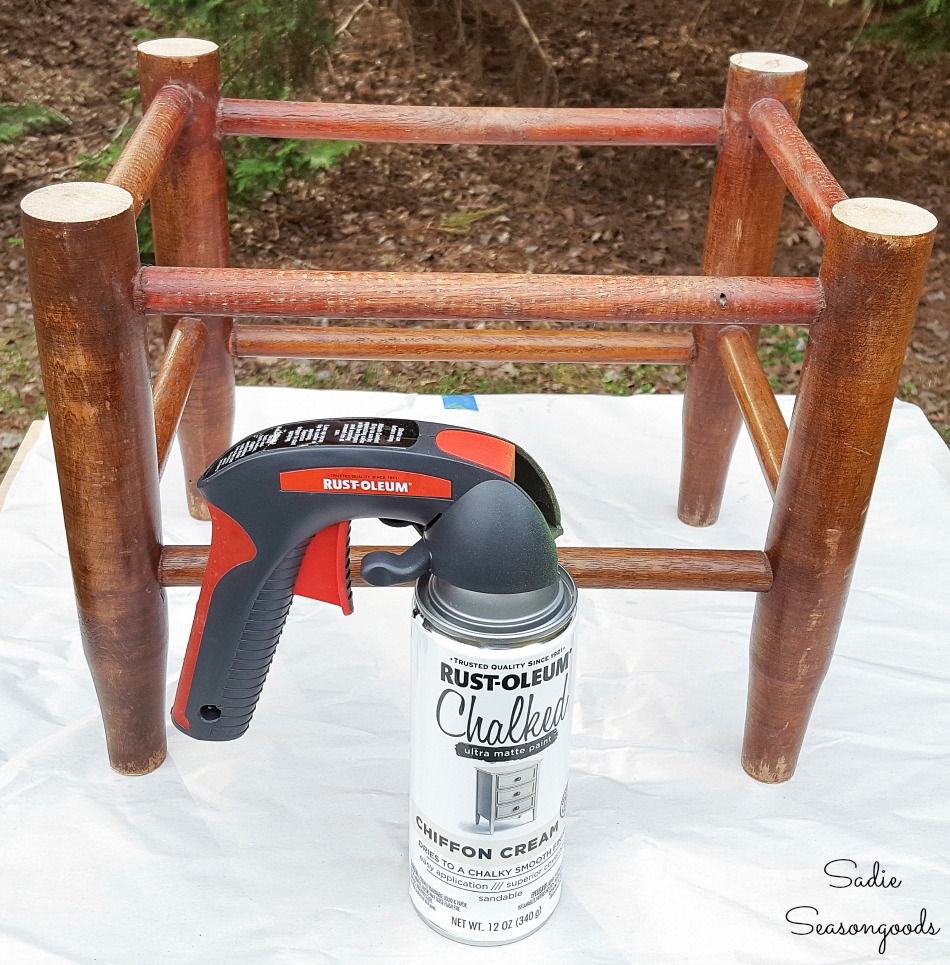 After the spray paint had dried, it was time to add a new top to the small footstool.
Using a Wooden Cutting Board to Restore a Vintage Footstool
Enter…an old cutting board from my stash of thrift store boards. You KNOW I can't pass up a good cutting board while thrifting!
And this one was just the right size to sit on top of the small footstool. I had already sanded it down before taking this photo. Trust me, it didn't look that good at first!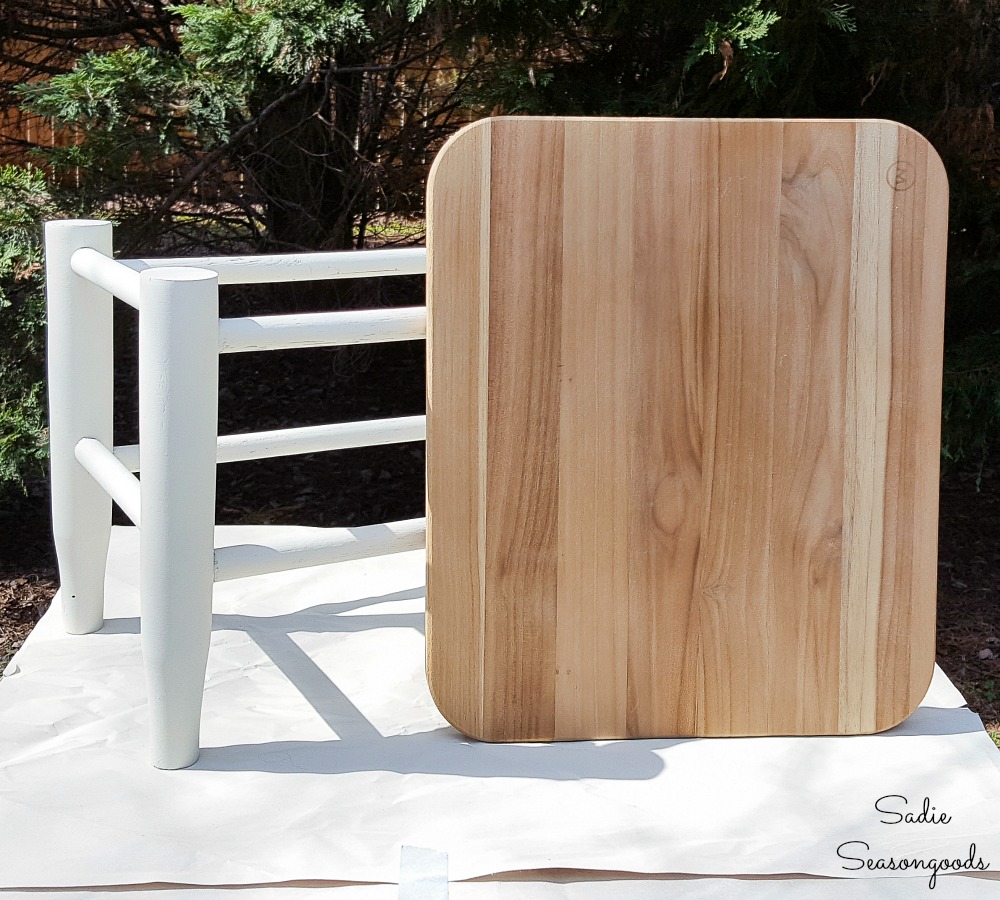 See how awesome the cutting board works on top, though? It's nearly a perfect fit- it hangs off each edge just enough to make it look like it was custom made.
But it's been sitting in my garage for nearly a year!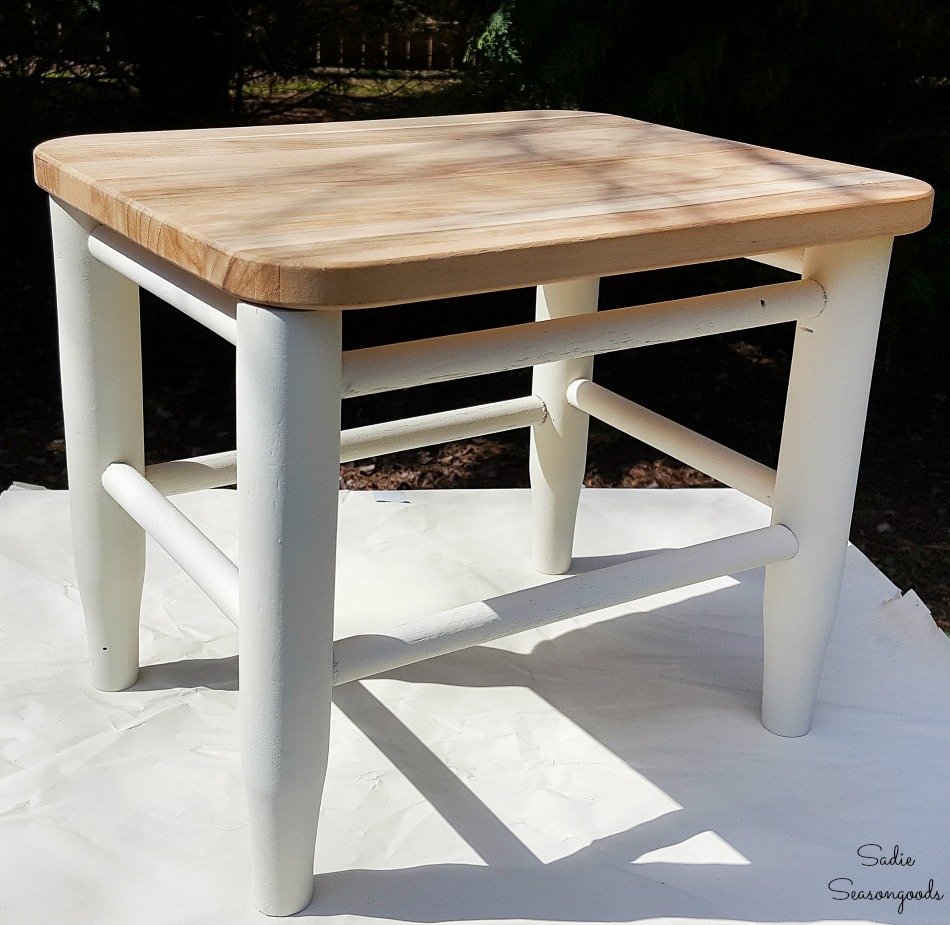 In order to coordinate with our bedroom furniture, I needed to stain the cutting board.
I used a stain dark enough to contrast the base of vintage footstool, but not dark enough to lose the wood grain. I used this wood stain to do so, as I already had on hand.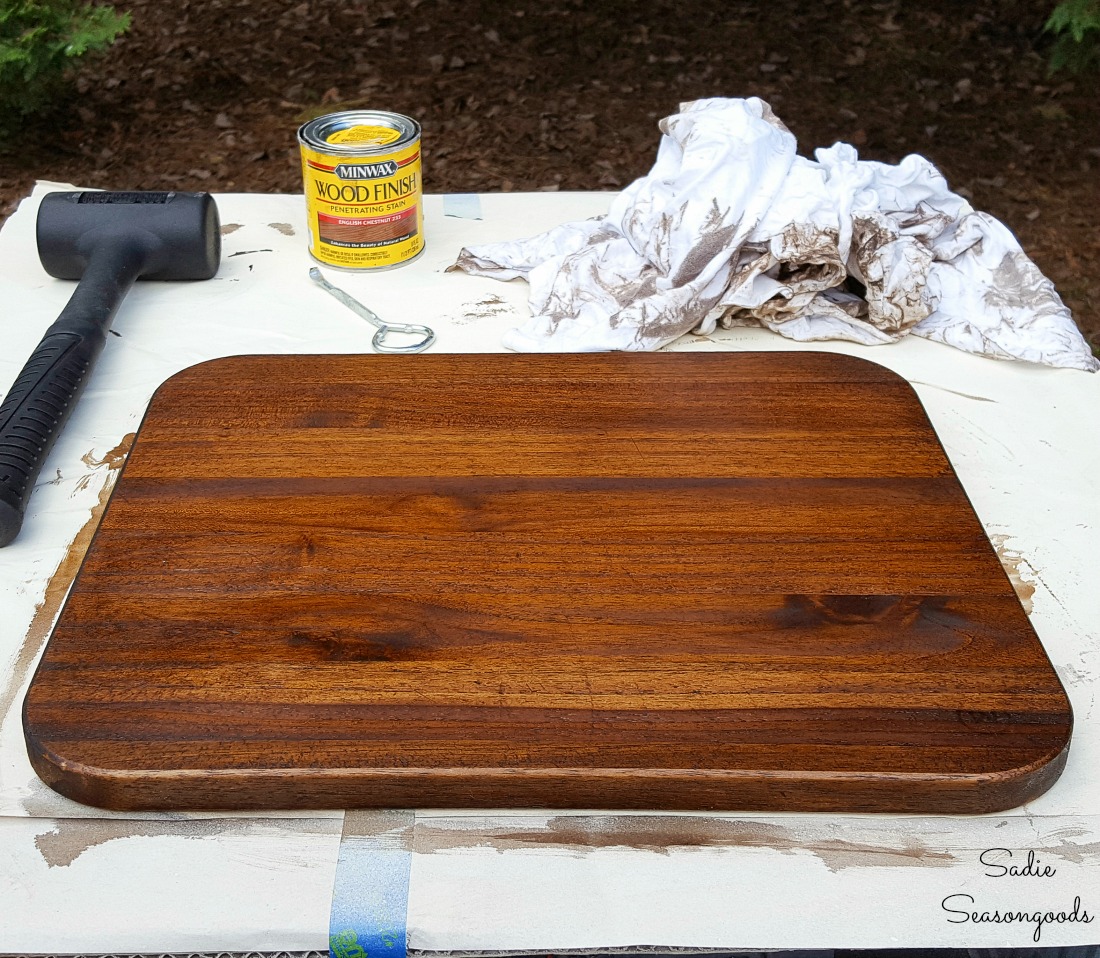 And yes, I stained both sides of the wooden cutting board and allowed the stain to cure.
Next, I lightly distressed the small footstool and then gave it and my cutting board top a buffing of clear furniture wax. To attach the board to the small footstool, I used wood glue before driving in some finishing nails to keep it firmly in place.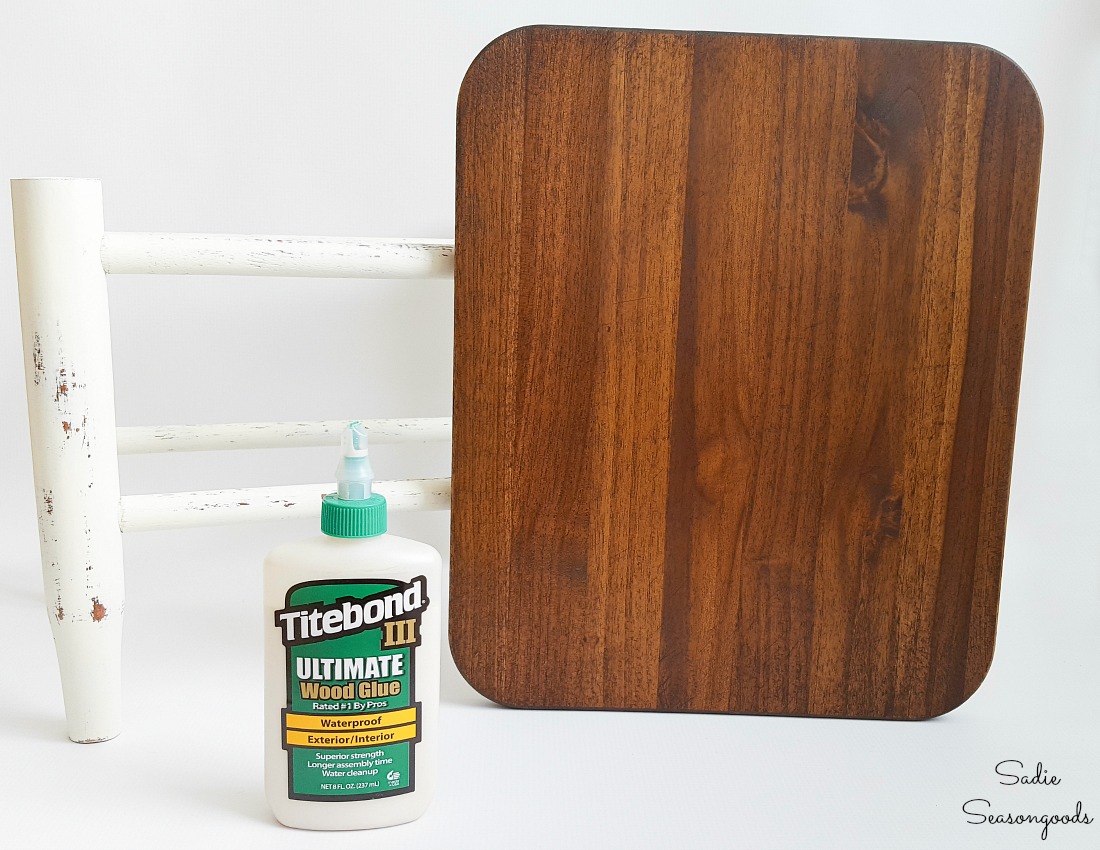 Restoring a Small Footstool with a Wooden Cutting Board
And just like that, my small footstool looked like a brand new piece of farmhouse furniture!
It's perfectly coordinated with out farmhouse bedroom and will be a cute addition to the set.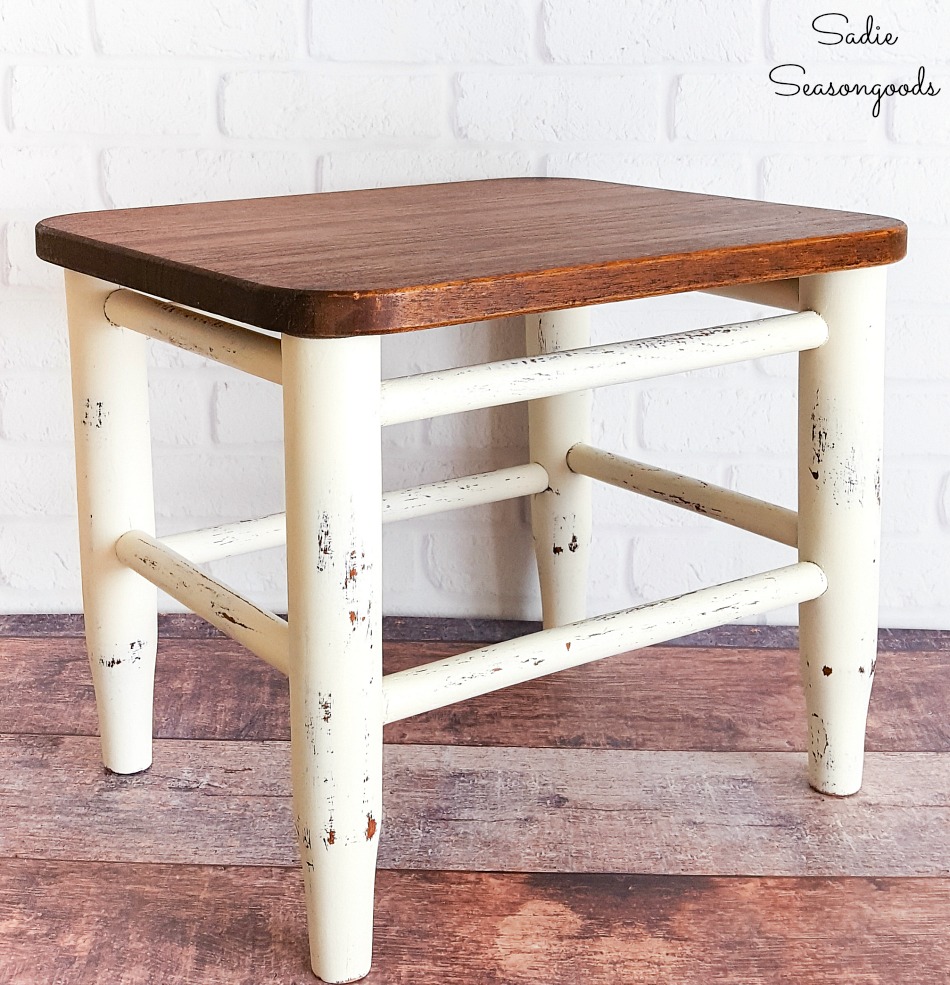 I'll probably use our small footstool to hold a stack of magazines or books. But I'm just so thrilled at how it turned out!
From a couple of thrift store misfits to this! Makes me want to check out thrift store furniture more often…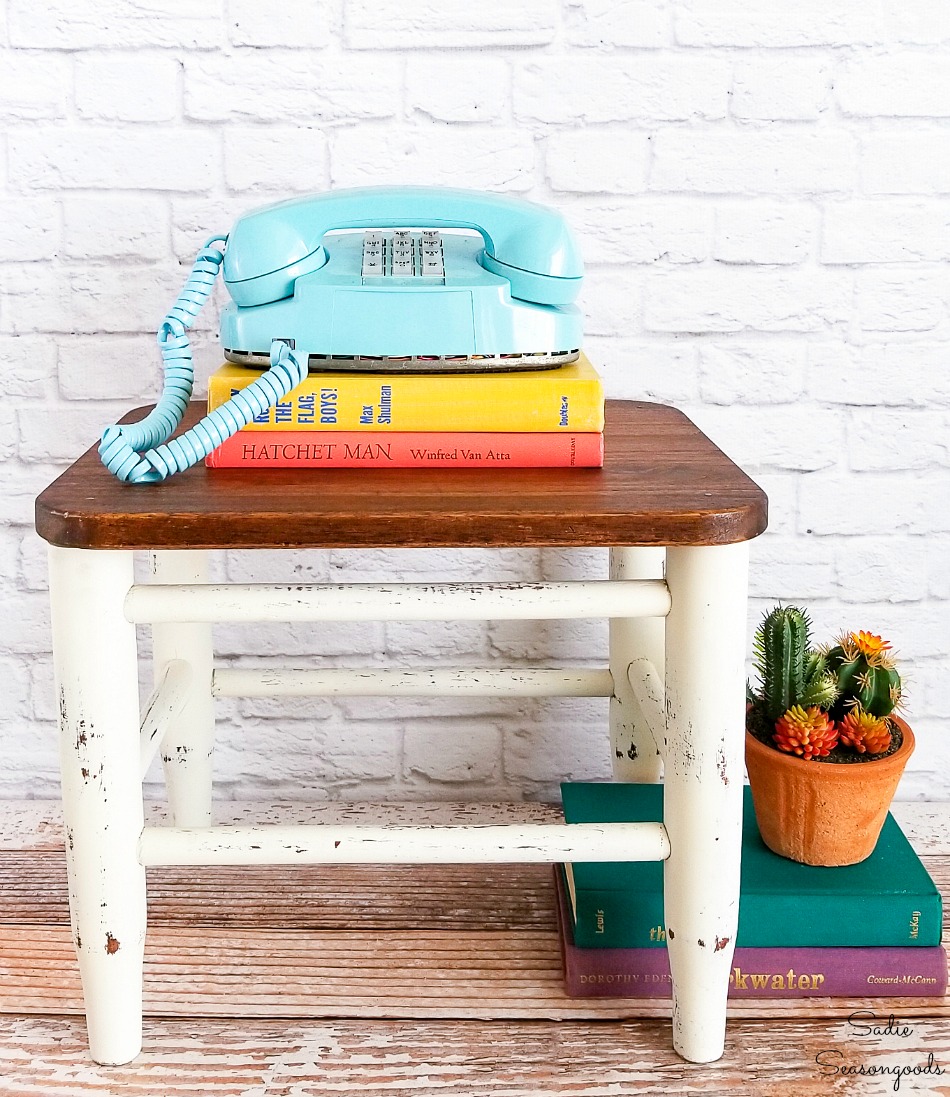 And if you enjoyed this upcycling idea for farmhouse furniture, then you'll love this windmill decor that I made from ceiling fan blades!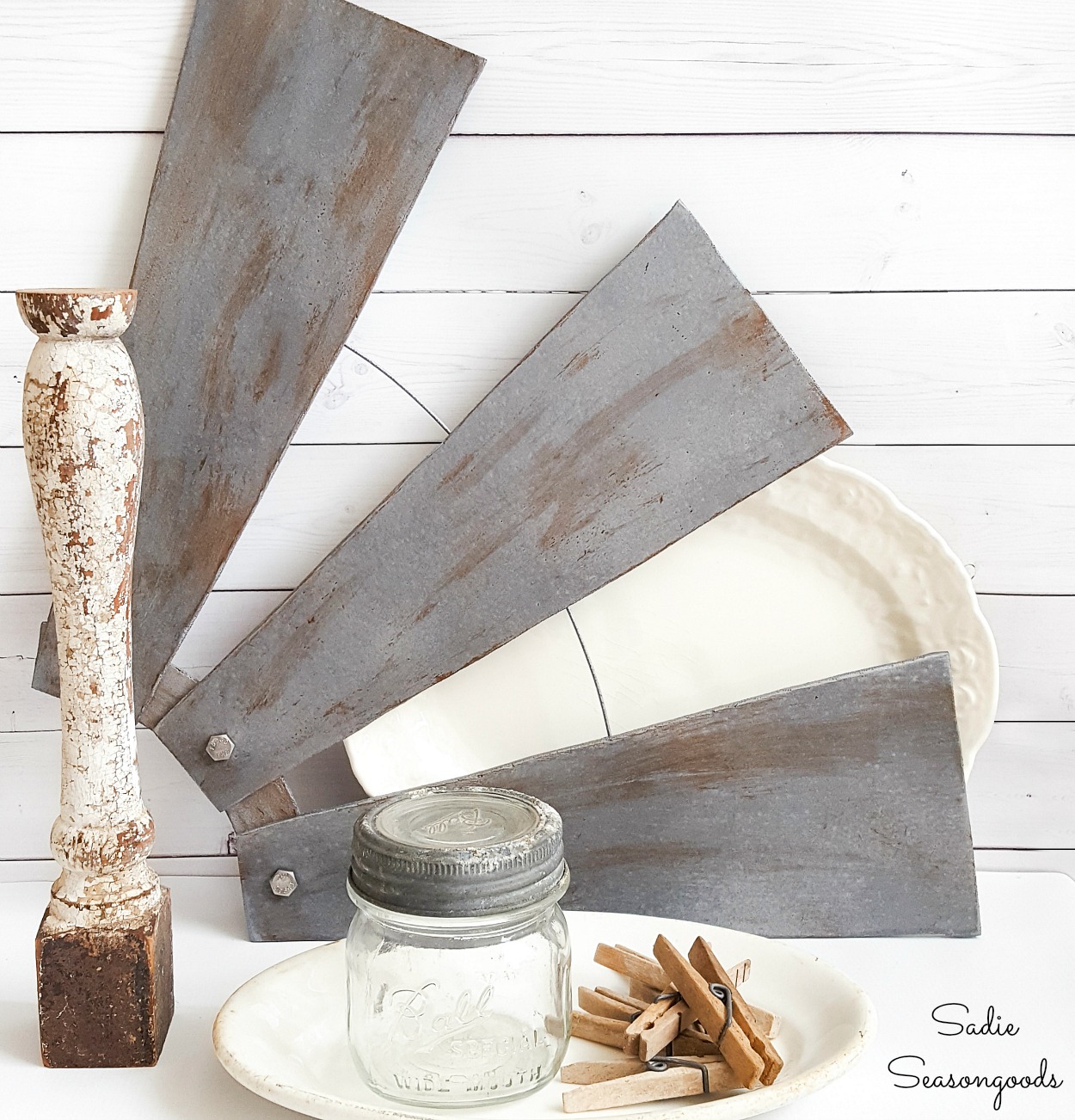 And for more upcycling ideas for cutting boards, this collection of projects will DEFINITELY inspire you!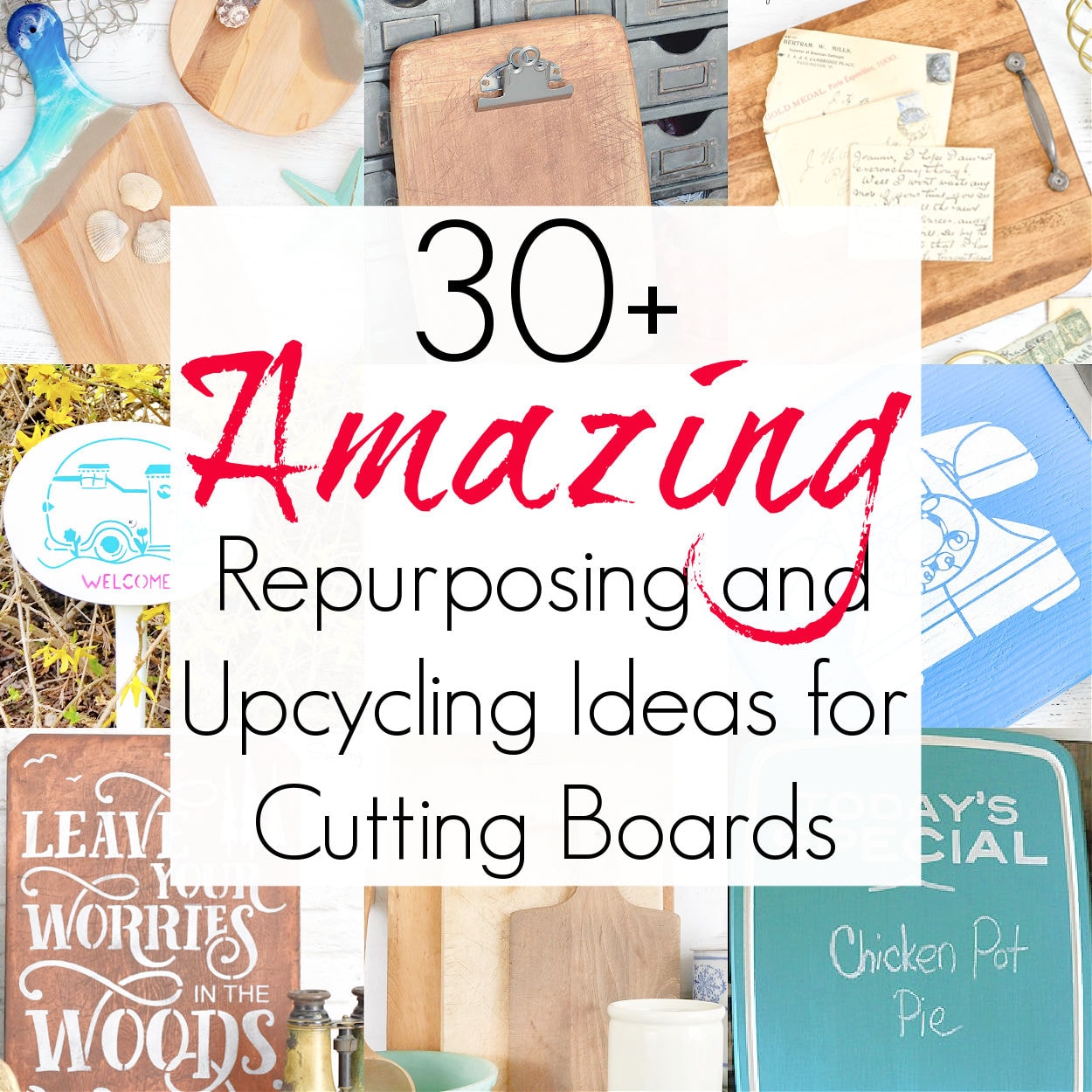 Craft on!
S
Join me on Social Media:

PIN ME!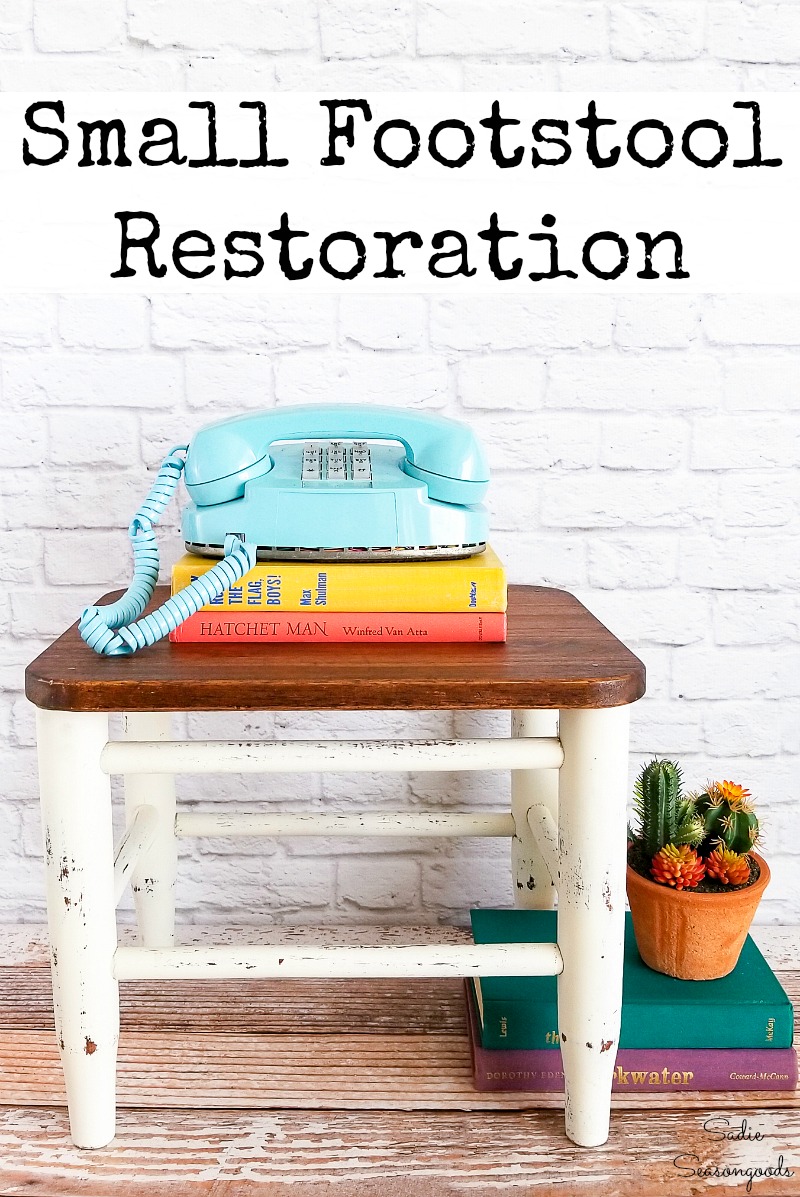 Sarah Ramberg is the owner of Sadie Seasongoods, a website that celebrates all things secondhand. From upcycling ideas and thrifted decor to vintage-centric travel itineraries, Sadie Seasongoods is a one-stop shop for anyone who loves thrifting and approachable repurposing ideas. Sarah is also the author of "Crafting with Flannel" and has been featured in numerous media outlets and magazines.