For years and years, I have stored our collection of gift wrap rolls in the box from our vacuum cleaner. No really, I have! But, the box is starting to fall apart, so I decided that I needed something else as wrapping paper storage. More specifically, vertical wrapping paper storage.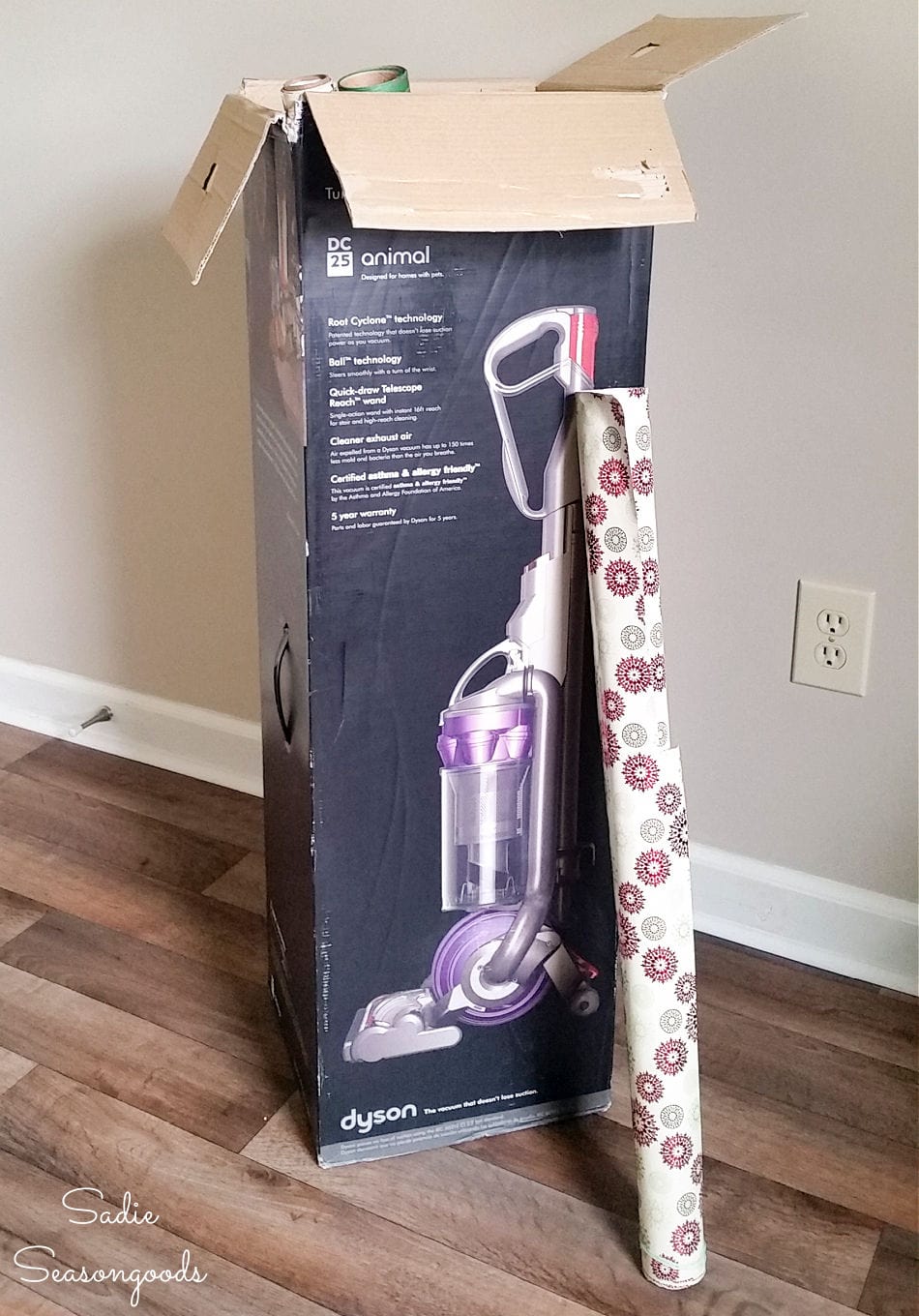 Plus, I've always had one complaint- I can't see my gift wrap choices unless I dump it all out! Besides, I had upcycled several things to store my craft ribbon which I also use for gift wrapping.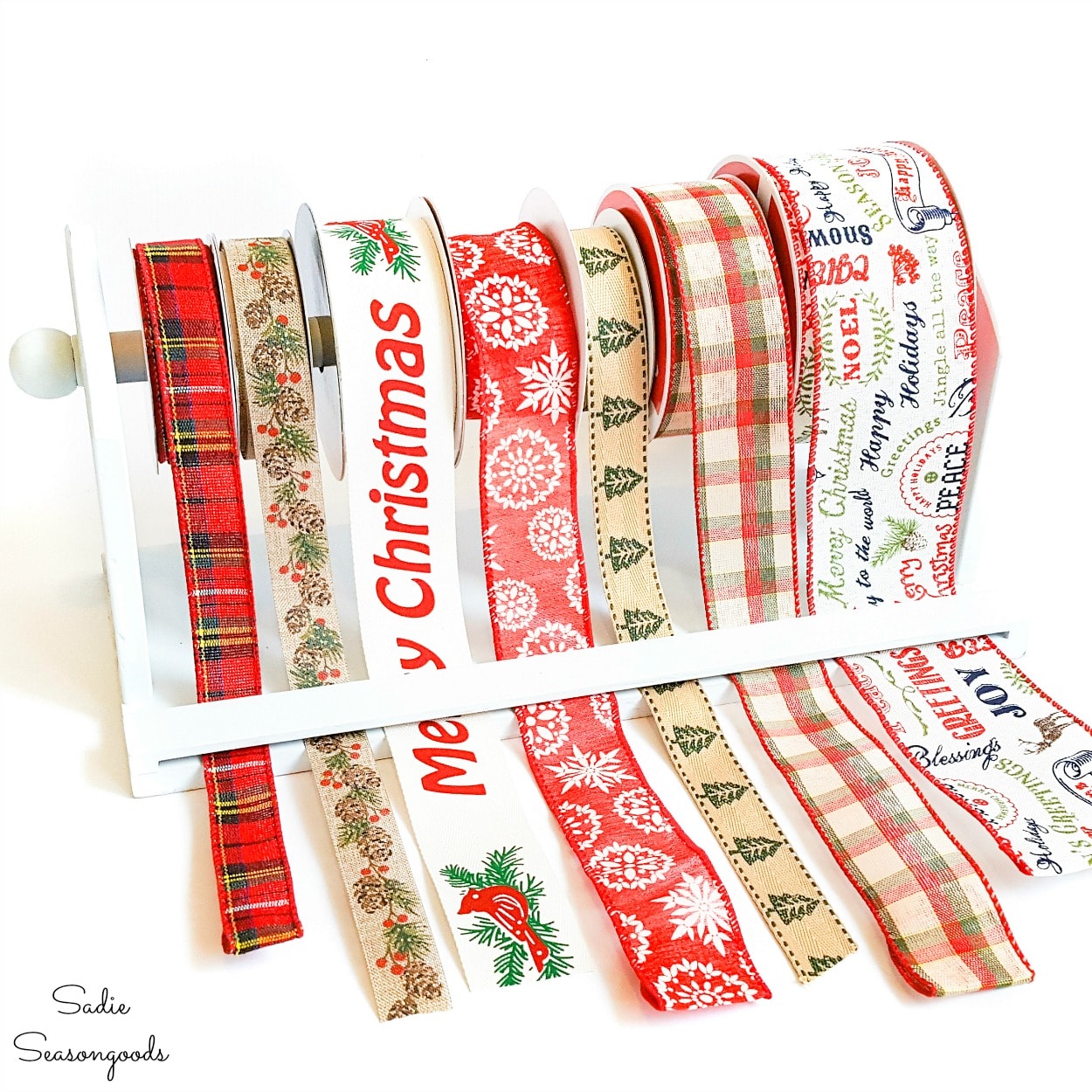 Anyway, I hit the thrift stores and found the perfect thing to upcycle for wrapping paper storage: a natural wood counter stool.
Even better? Part of the seat had broken off which made it uncomfortable to sit on. So, a complete repurpose was DEFINITELY in order.
This post contains affiliate links for your crafting convenience. As an Amazon Affiliate, I earn from qualifying purchases. All blue, bold, and underlined text is a clickable link, either to a product or to a related post.
Creating Some Vertical Wrapping Paper Storage
The first time I saw this upcycling idea for vertical wrapping paper storage was a spread in Flea Market Style Magazine. As blogged about by 2 Little Hooligans. it was completely GENIUS and I had to try my version of it.
I found the perfect wooden counter stool at my local Habitat ReStore. Plain, blonde, and partially broken- which made it a primo candidate for an upcycling project.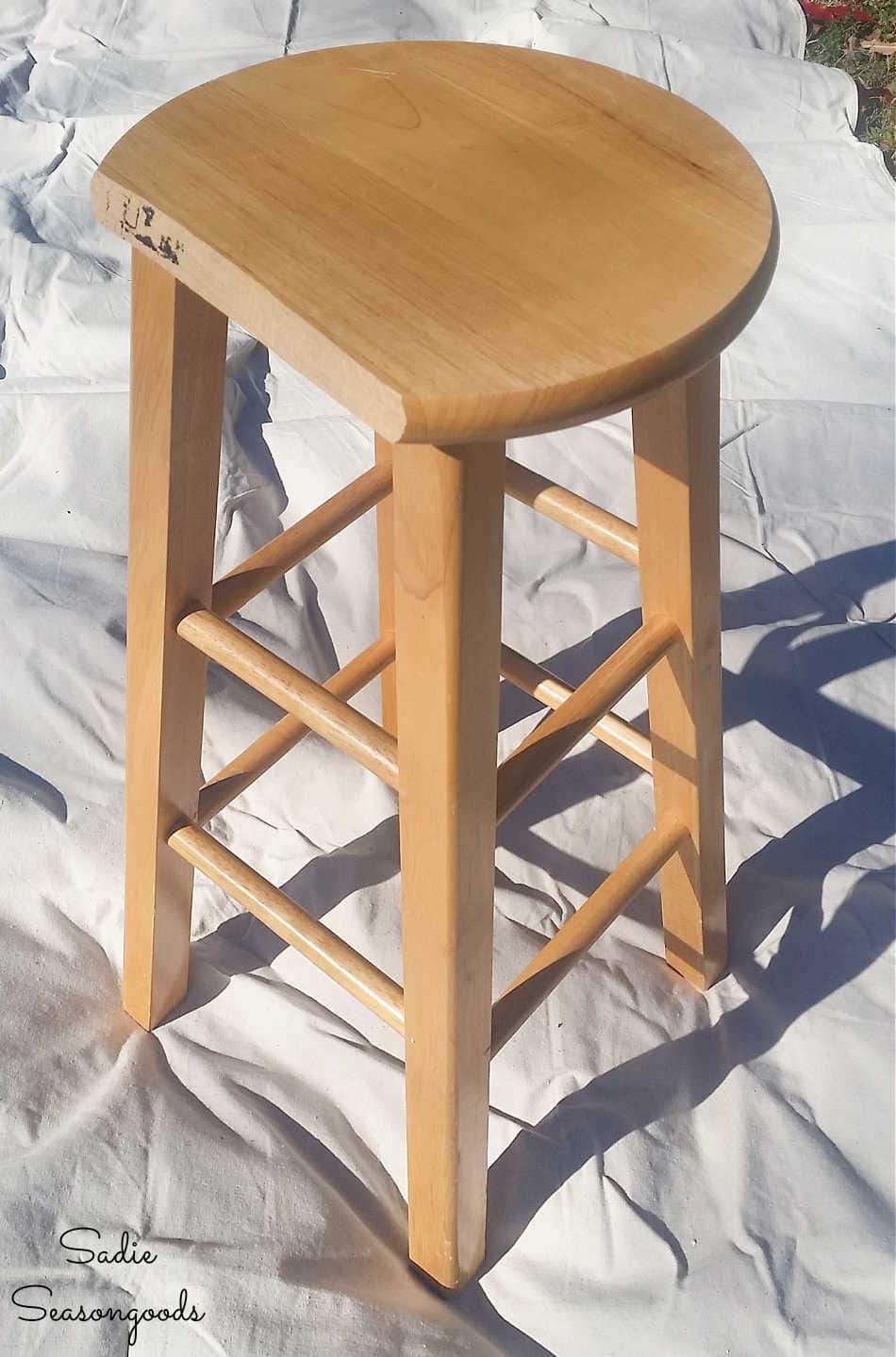 The missing chunk of seat (how does that happen anyway?) didn't phase me. And in true Sadie style, I painted it to seal out its old life AND make it pop with color.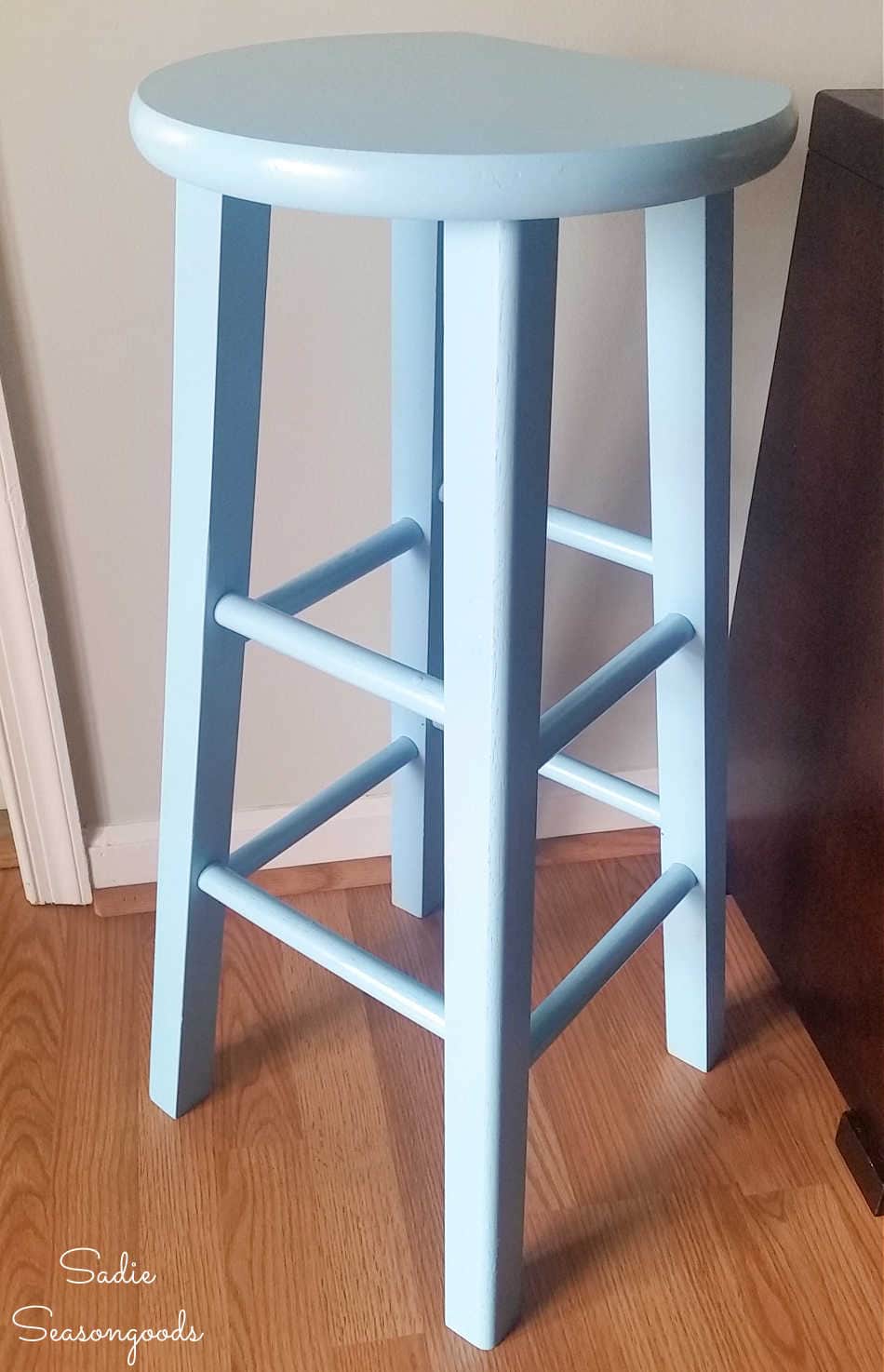 A splashy turquoise worked wonders! Don't look too closely, though- I barely had enough paint to finish the job.
Then, to the top of the seat, I drilled in four casters. But, this is totally optional.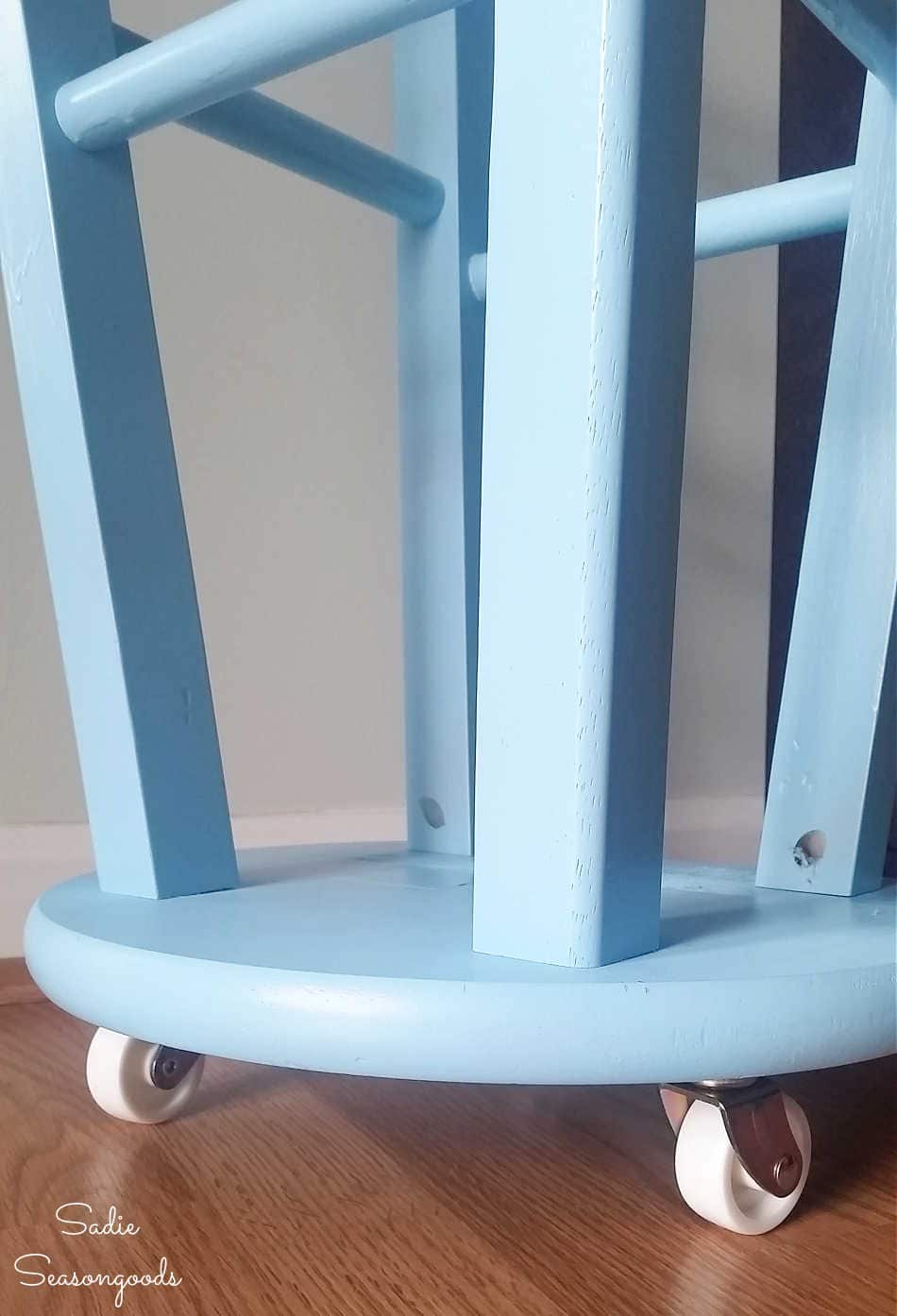 I just wanted to make it easy to move around during one of my wrapping frenzies.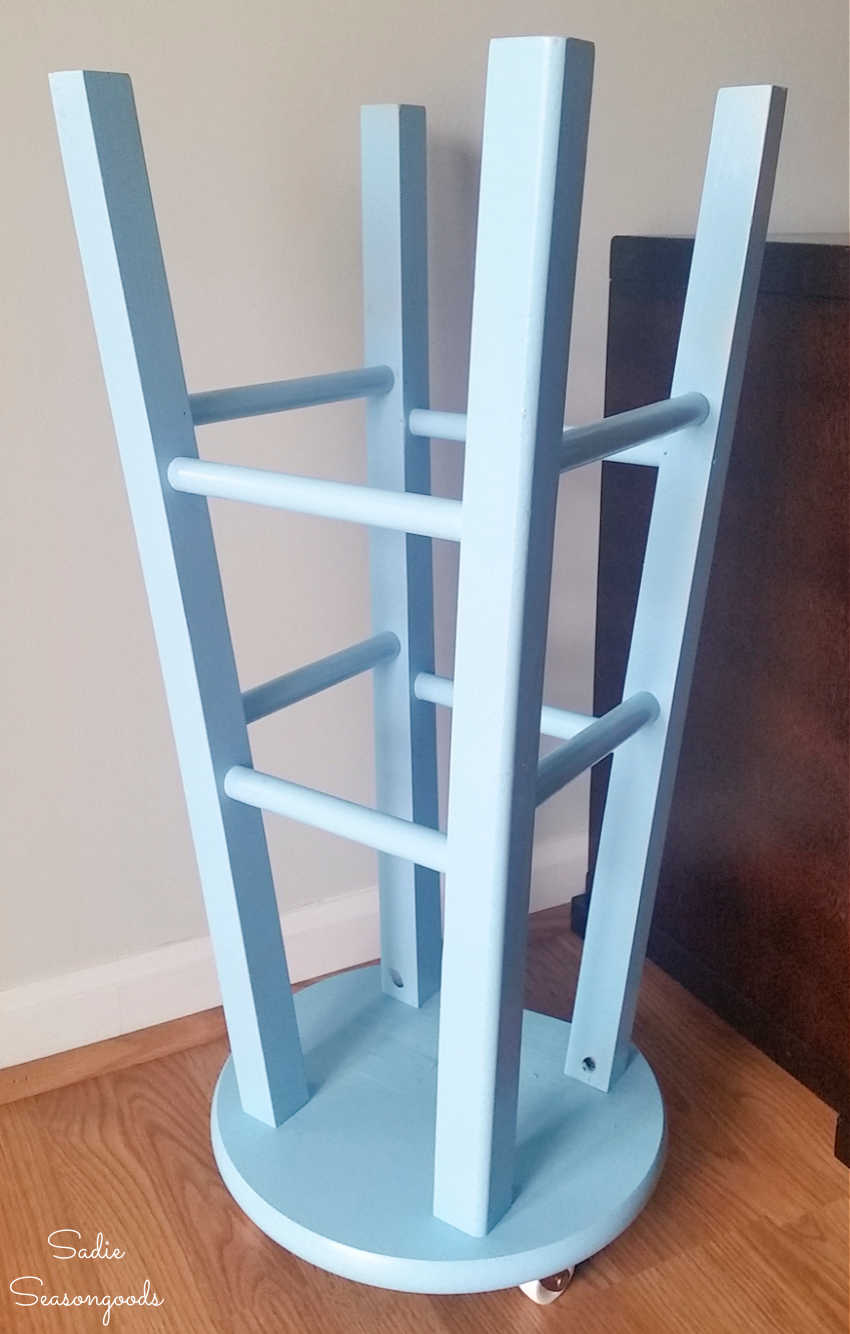 Now, I could have stopped there, I suppose. But I also wanted to make some storage bags for my vertical wrapping paper storage project!
Storage Bags from a Vintage Pillowcase
Santa brought me a sewing machine for Christmas– hurray! So I was able to whip up a few little bags for my gift wrap organizer cart. My sewing machine skills are just a hair above "no skills", so I kept it basic-basic-basic.
I used a couple of cheery pillowcases that I had in my stash of linens to create various sizes of storage bags to hang on the rungs of my stool.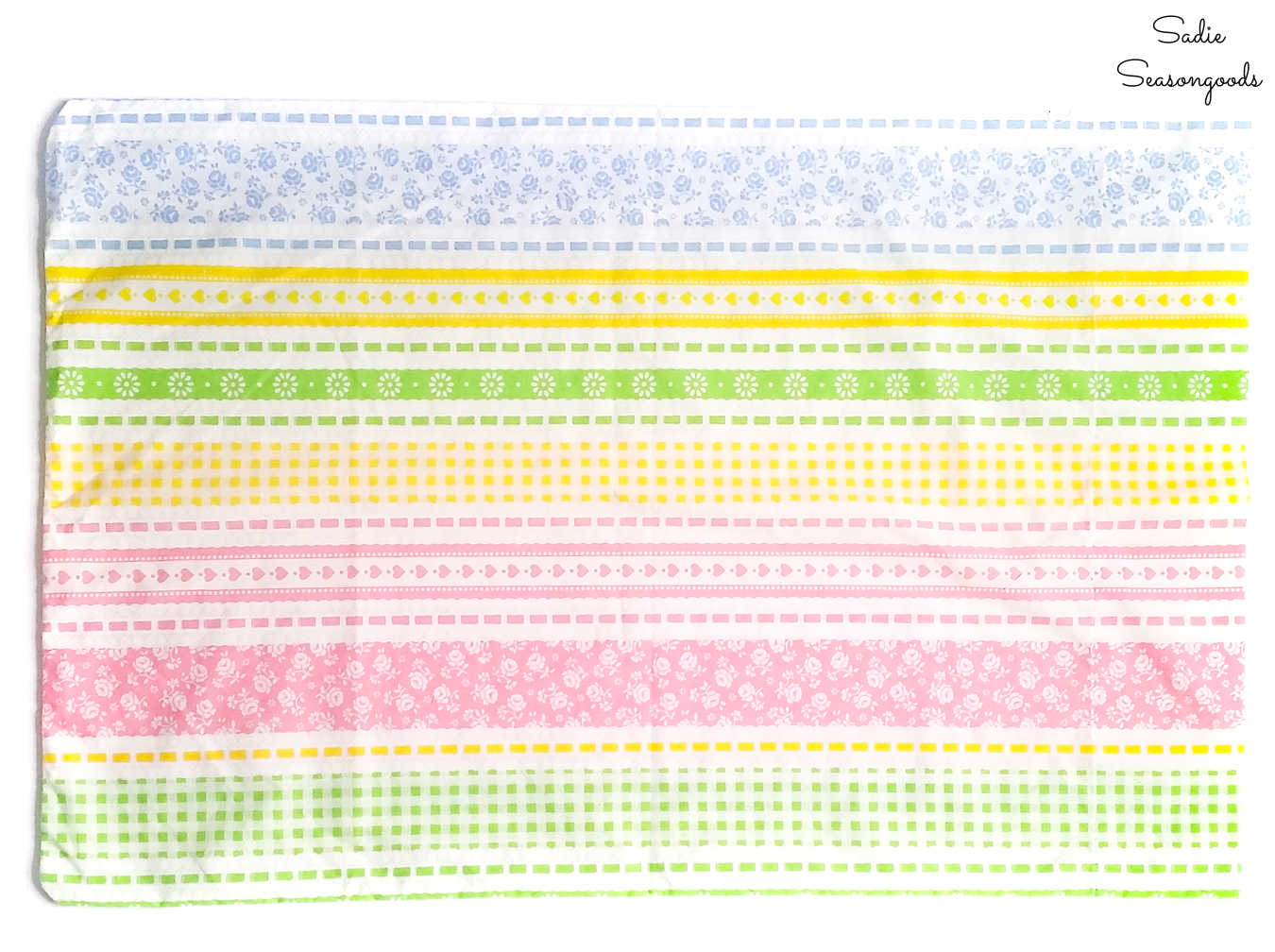 First, I turned the vintage pillowcase inside out and cut down the middle of it, lengthwise. Then I straight stitched the cut sides closed and turned them right-side out.
Talk about simple sewing, eh?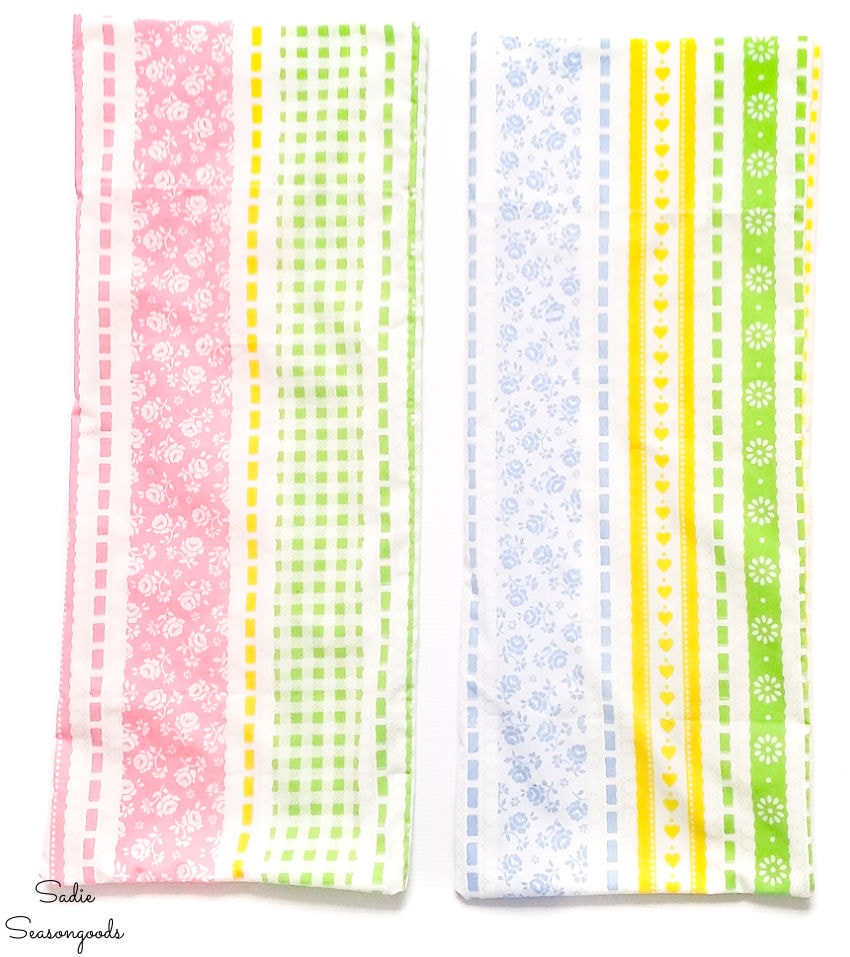 Once the bags were made, I stitched on some double-sided Velcro for easy rung-hanging.
I made long bags- perfect for tissue paper, spools of ribbon, bows, and smaller gift bags.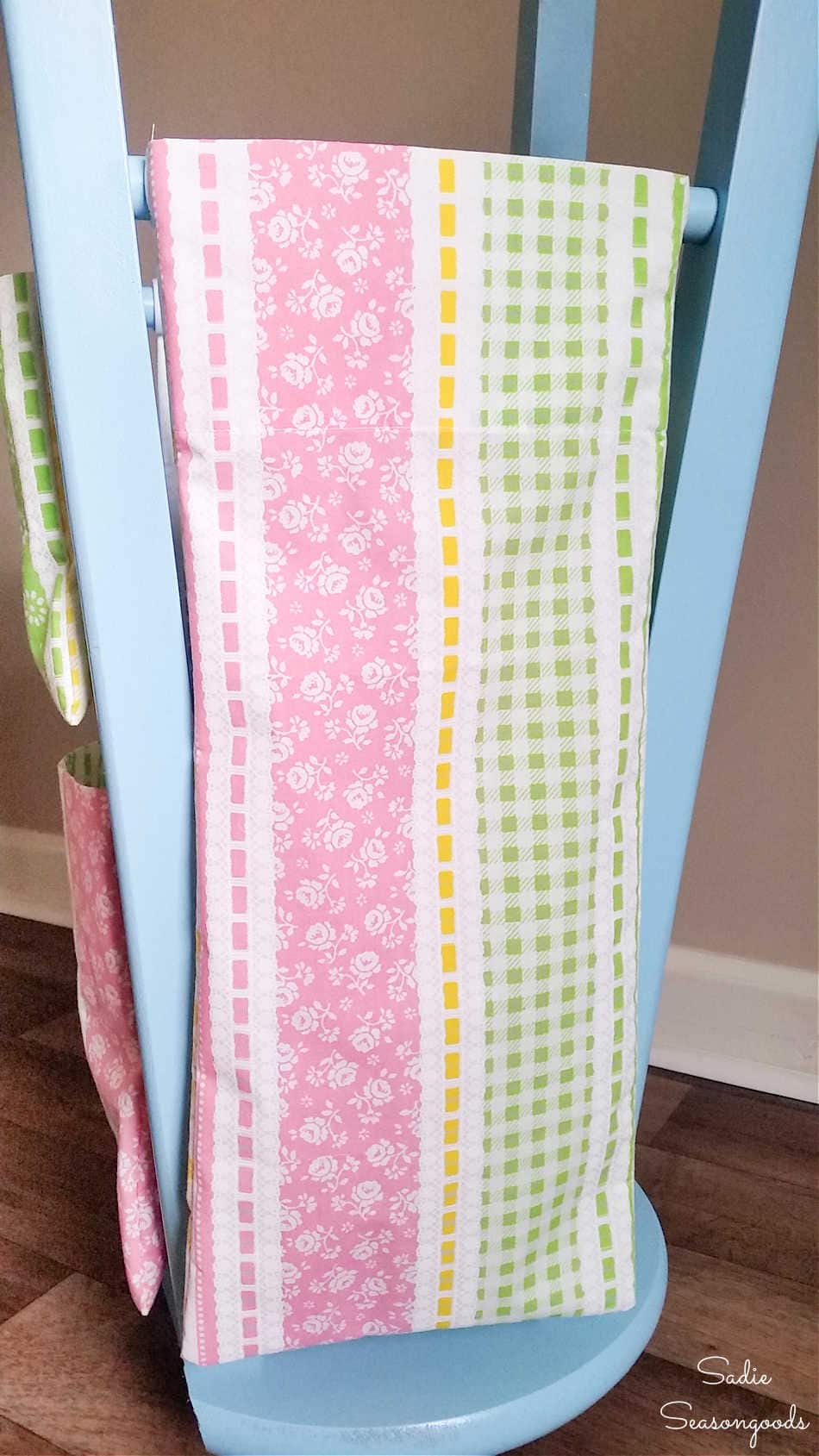 And from the other vintage pillowcase, I made shorter bags to hold gift tags, pens, tape, etc.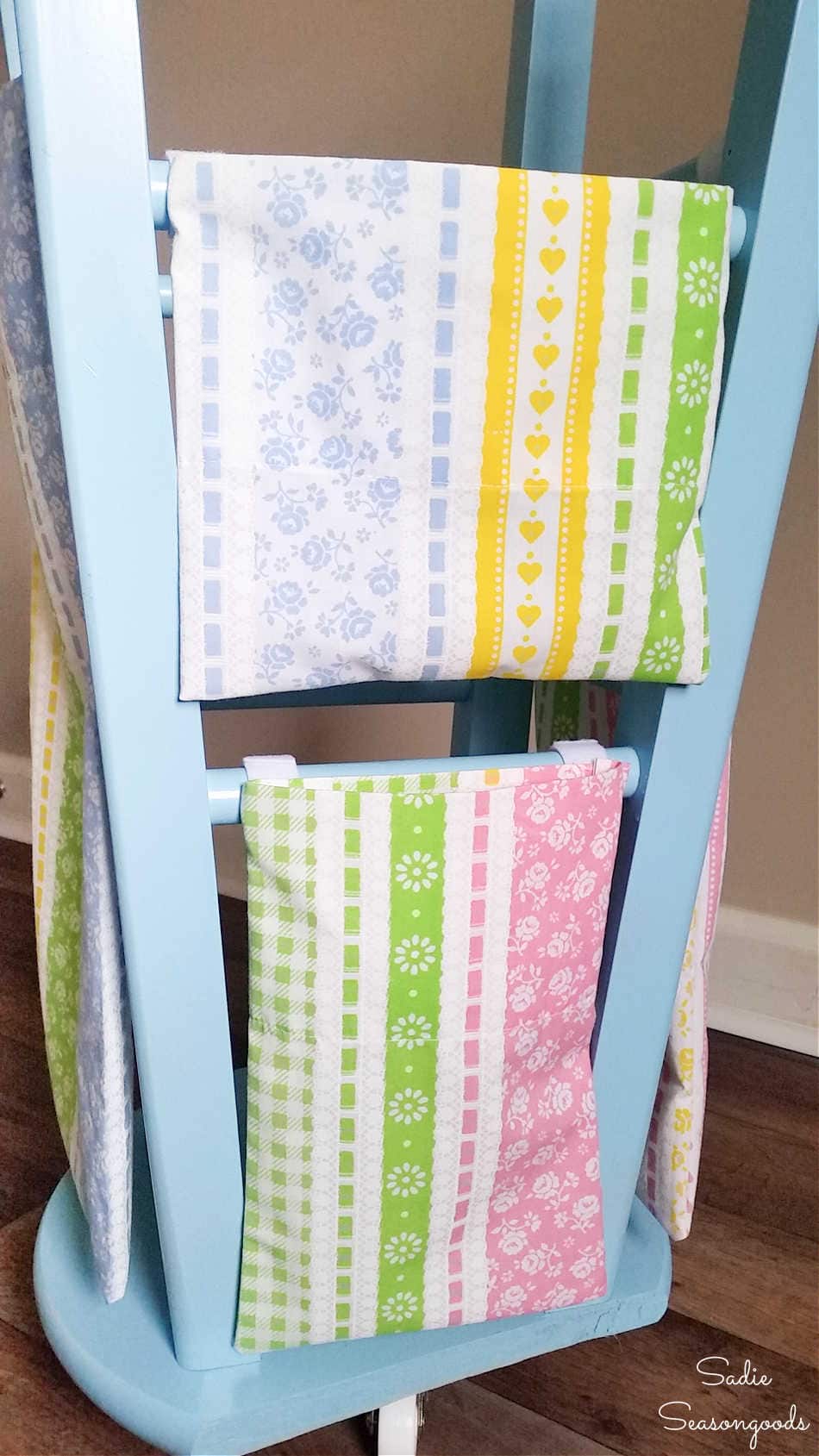 Vertical Wrapping Paper Storage from a Wooden Counter Stool
And that was it! Vertical wrapping paper storage from a broken piece of thrift store furniture. How fantastic is that?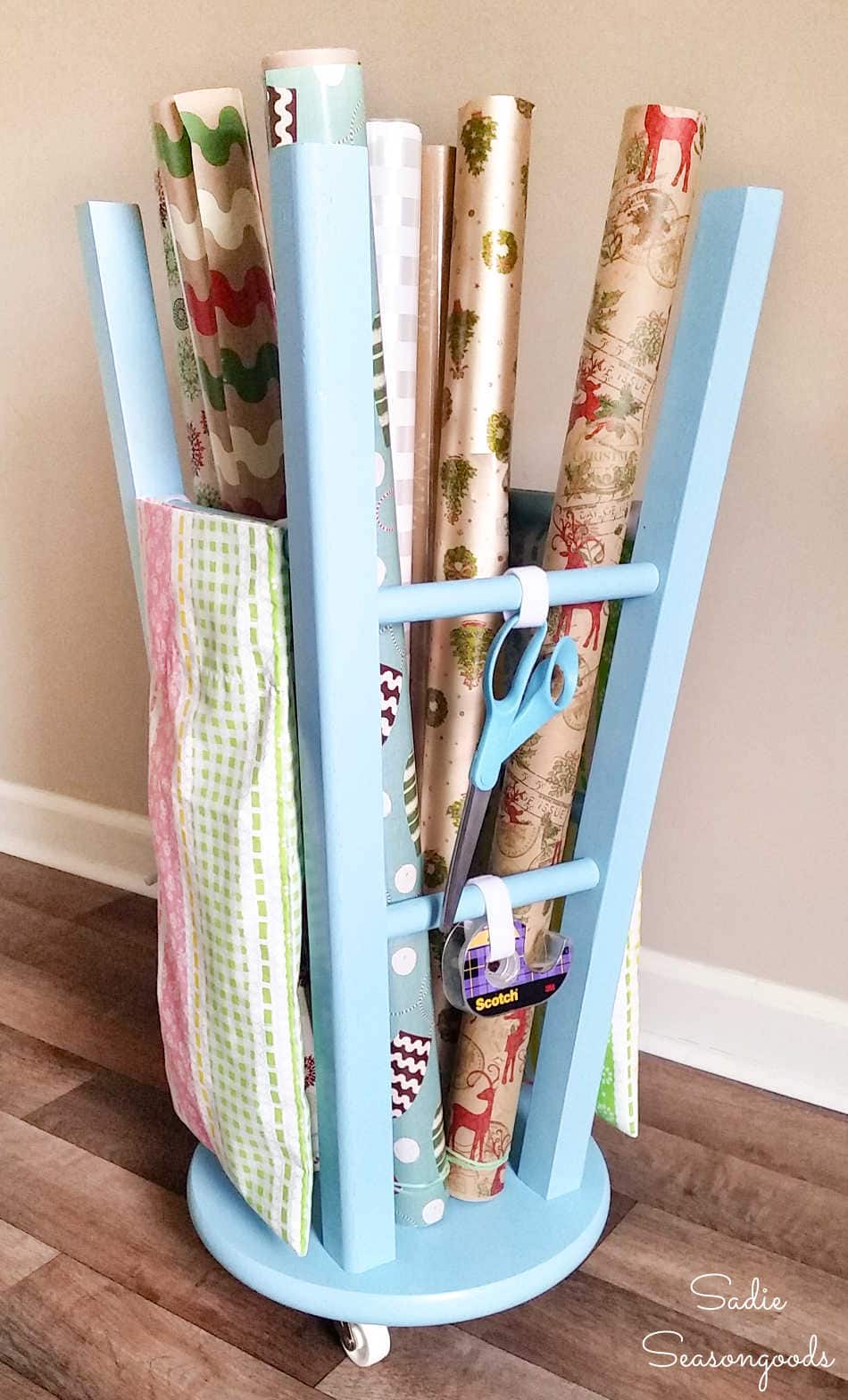 Does it hold everything? No, I still have a bin to hold leftover supplies.
But it DOES allow me to recycle that 6-year-old Dyson box…AND I can see my wrapping paper without a flashlight or a mess!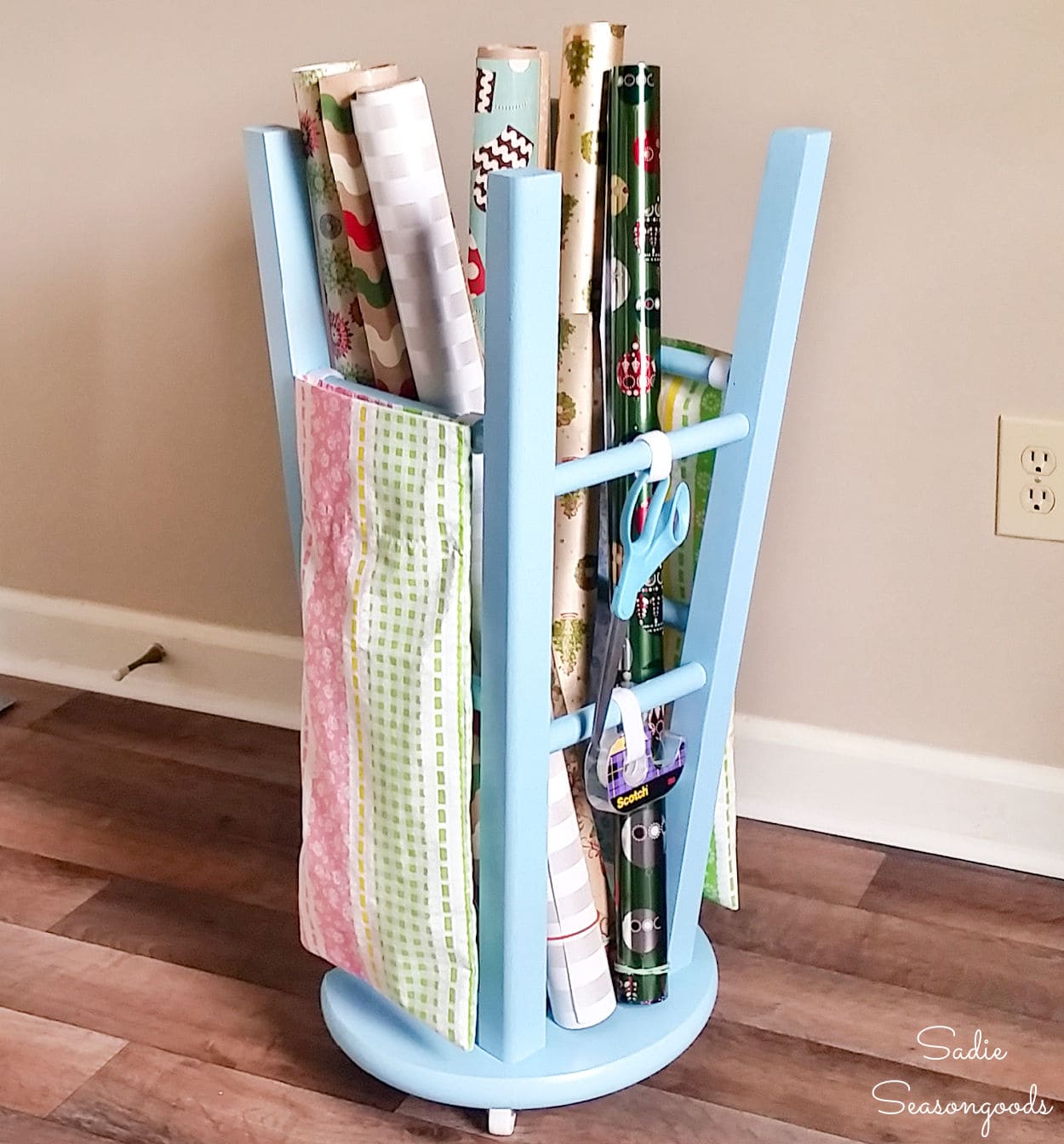 And if you enjoyed this upcycling idea for gift wrap storage, then you'll also love this DIY ribbon holder that I upcycled, as well!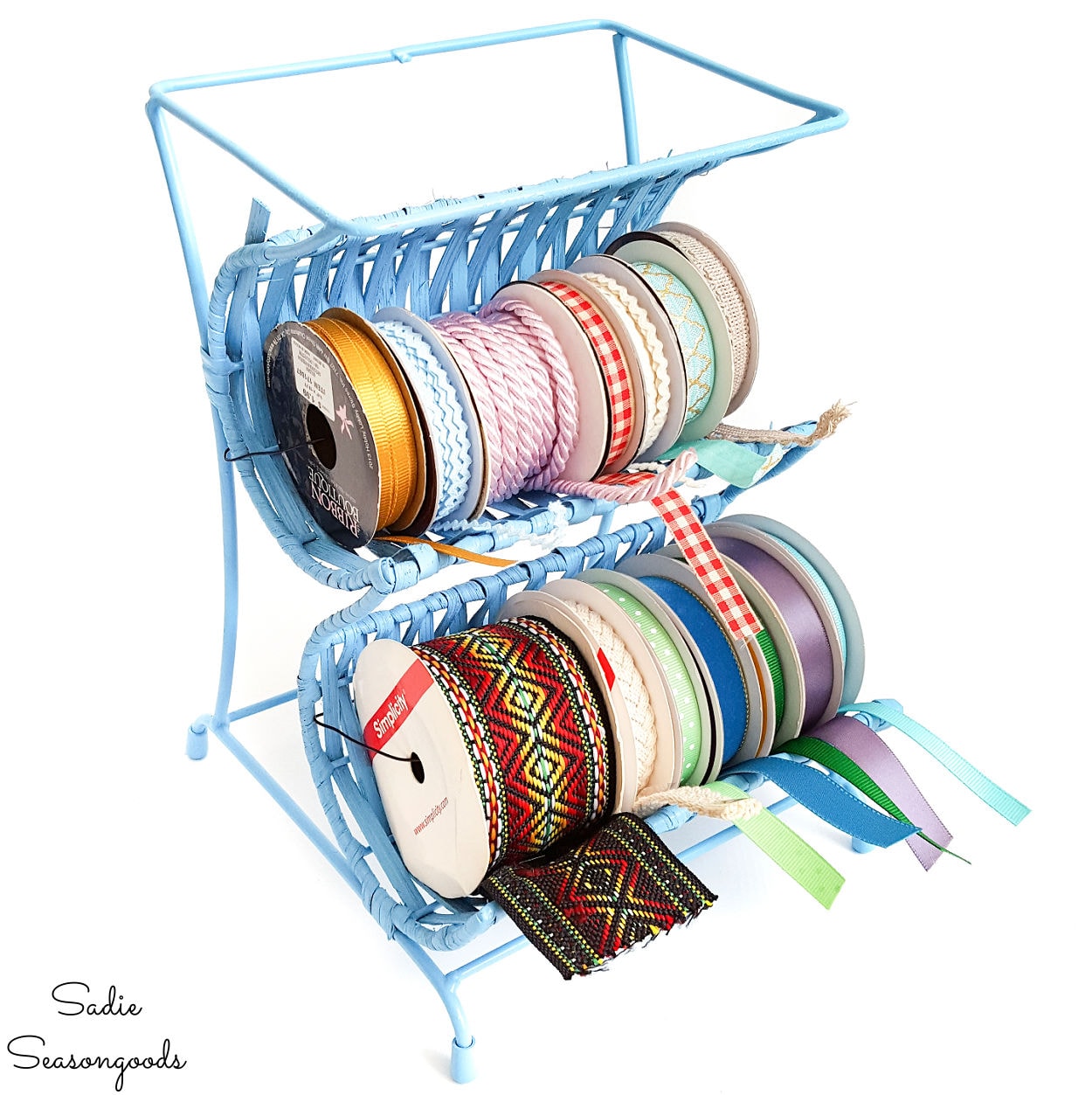 Craft on!
S
Want to be notified when I publish my next upcycling project tutorial?
Subscribe to Blog via Email
Join me on Social Media:



PIN ME!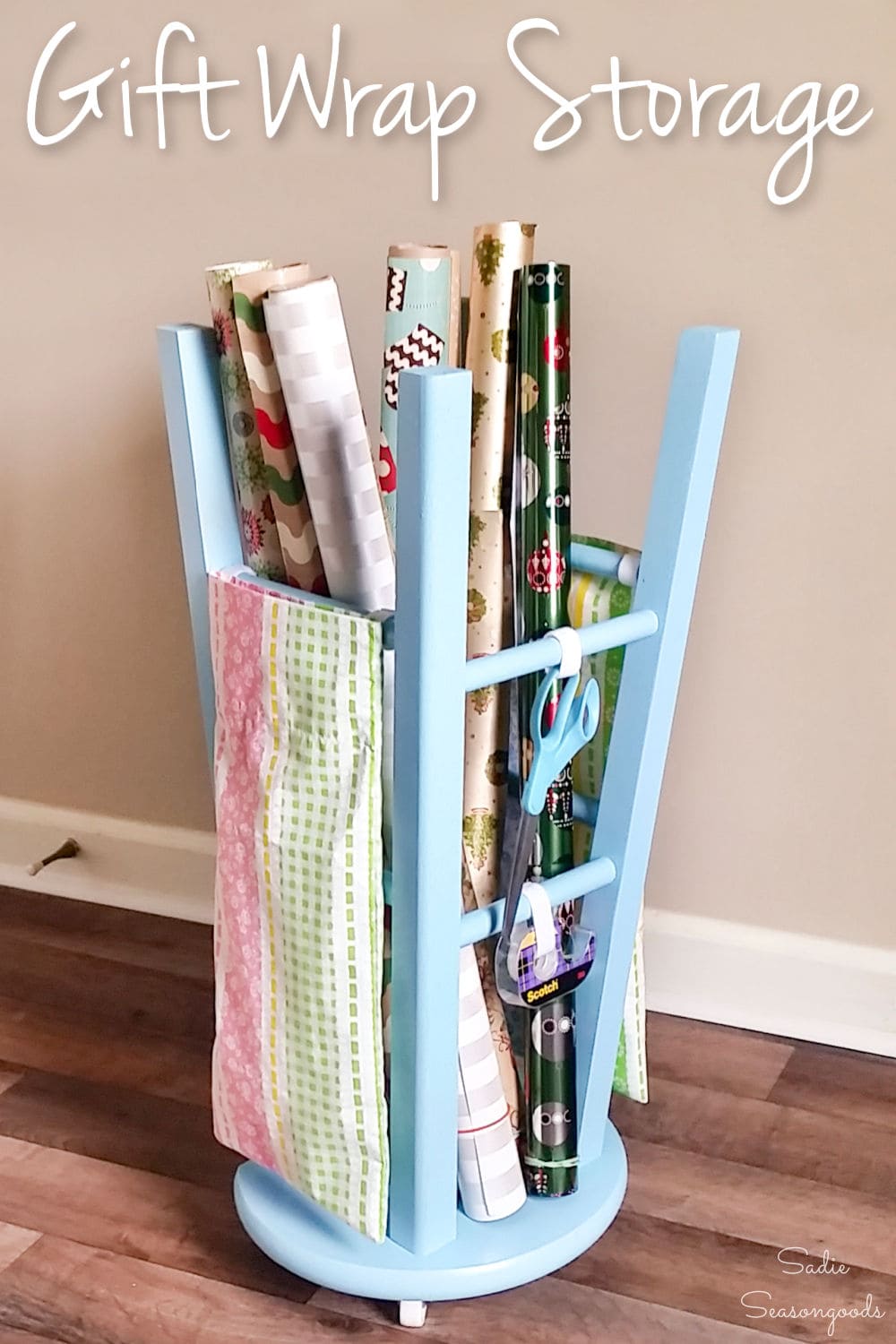 Sarah Ramberg is the owner of Sadie Seasongoods, a website that celebrates all things secondhand. From upcycling ideas and thrifted decor to vintage-centric travel itineraries, Sadie Seasongoods is a one-stop shop for anyone who loves thrifting and approachable repurposing ideas. Sarah is also the author of "Crafting with Flannel" and has been featured in numerous media outlets and magazines.