This Kleenex box cover was one of the last things I snapped up at a favorite thrift store before it closed. It was sturdy and well-made, but I didn't have a project idea right away. After a while, though, I wondered if I could tweak it and use it as a wren bird house for the backyard.
Now, bear with me as I work through this upcycling idea. Imagine this wood tissue box cover turned 90 degrees…so that the bottom becomes the back.
Ok, maybe it's hard to visualize now, but trust me. I think this Kleenex box cover will become an adorable bird house! I just need to add a few things to it.
This post contains affiliate links for your crafting convenience. As an Amazon Affiliate, I earn from qualifying purchases.
Turning a Kleenex Box Cover into a Bird House
First, I took the wood tissue box cover apart. Or, rather, I removed the plastic insert and the sliding bottom to give it a good cleaning.
Then, I knew I needed to create a smaller bird house "entrance" hole. The existing oval-shaped hole for facial tissues was way too big for a wren house.
If you remember this project, I discussed the smallest recommended hole size (per Audubon) for wrens and chickadees (which always nest in our yard).
So, just like before, I used a hole cutting bit on a square of thin plywood to effectively reduce the existing hole size.
After it was cut and sanded down, I glued it to the inside of the tissue box cover, clamping it down overnight.
Because the back panel of the tissue box cover had a large finger hole (for sliding in and out easily), I also glue a strip of thin wood over it.
Once the wood glue had dried, I could put the finishing touches on the wren bird house!
Finishing Touches on a Chickadee Bird House / Wren House
Next, I painted everything white and distressed ever so slightly before sealing with top coat (inside and out).
This was an important step since it's going to be a bird house living outside!
Now for a fun little embellishment that also serves an important function!
I didn't want to seal the box cover "flap" closed for ease of cleaning out the wren bird house. But I needed to ensure that it wouldn't open randomly once it was outside.
So, I used some picture frame turn buttons that can be turned to either keep it closed or allow it to open!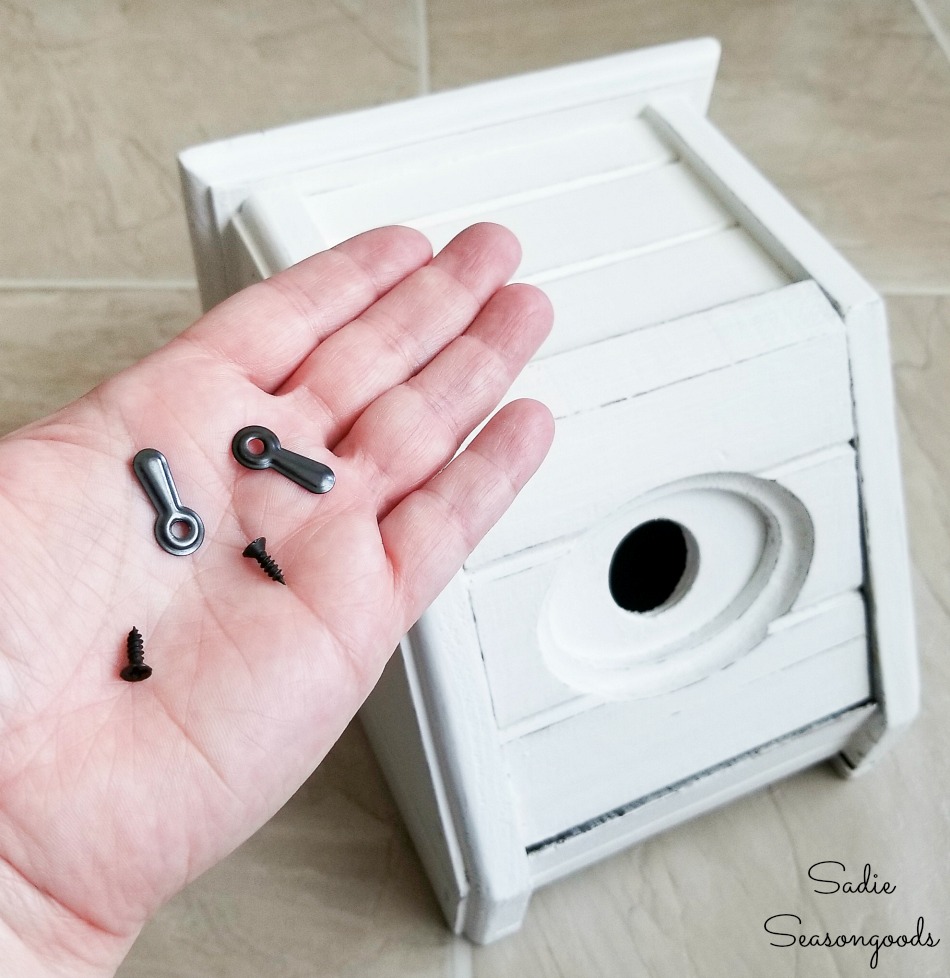 With my drill, I simply screwed them into the frame of the Kleenex box cover, right next to the "door".
Not shown but other steps- I glued the back panel (now bottom panel) in place. I also drilled a couple of small holes in the bottom for drainage and air flow (important for bird houses to keep mold/mildew from building up inside).
To finish up the wren bird house, I bent an old license plate in the center. Can you tell that it'll be the roof for my wren bird house?
Lastly, I secured it to the top of the bird house with washers and screws. Now the wren nest box was ready to hang outside!
Upcycling a Kleenex Box Cover as a Wren Bird House
And there it is! My wren bird house is hung and ready to be discovered by house wrens or chickadees.
Can you tell I wanted to emulate a white farmhouse with a red tin roof?
And guess what? IT WORKED! A house wren is currently building a nest inside.
And if you enjoyed this upcycling idea for a wren bird house, then you may also be interested in getting your yard officially designated as Certified Wildlife Habitat!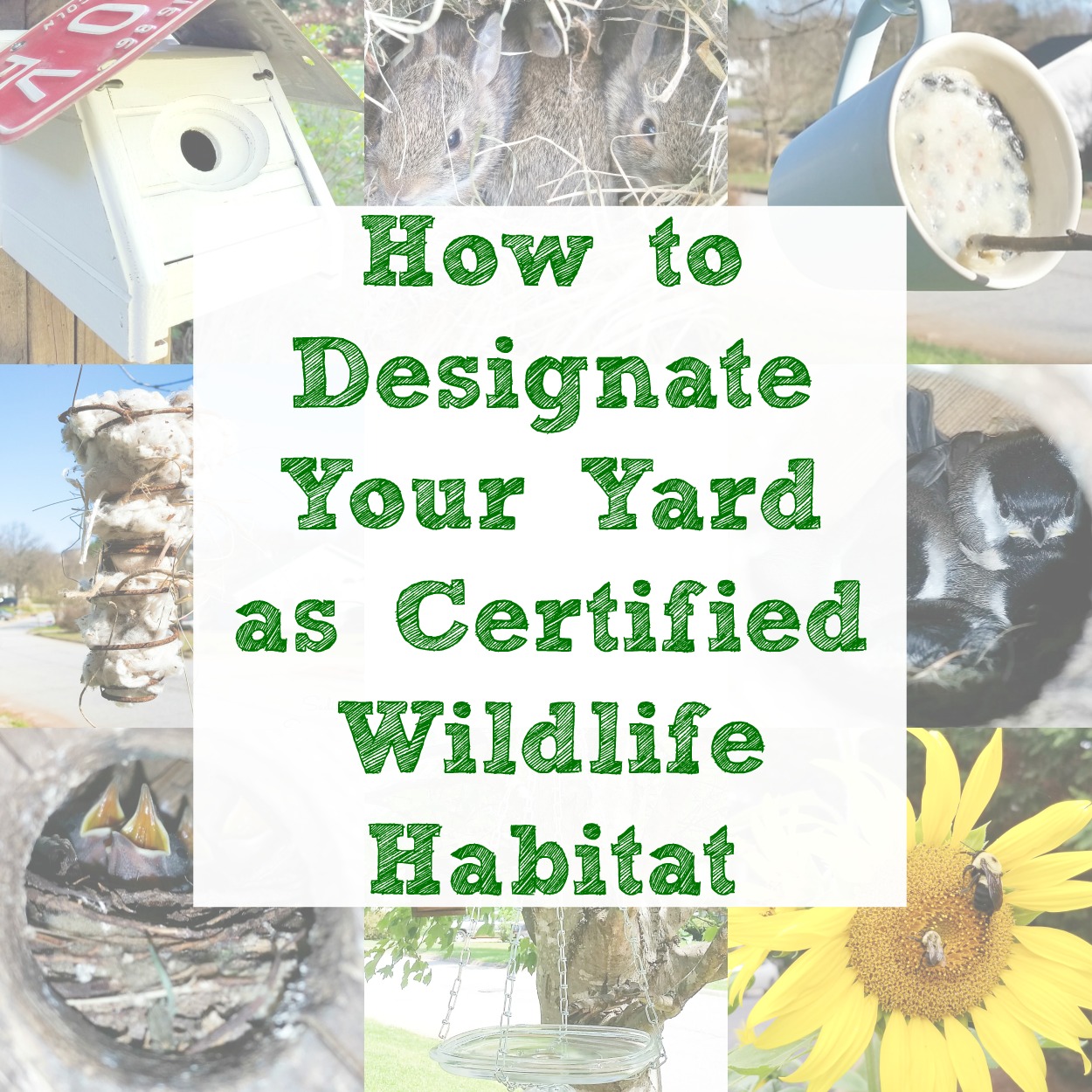 Craft on!
S
Want to be notified when I publish my next upcycling project tutorial?
Subscribe to Blog via Email
Join me on Social Media:



PIN ME!