Even though I've already made waterless snow globes before, I wanted to make a NEW version. You see, I found these jelly jar light fixtures at my Habitat ReStore and thought they'd be wonderfully upcycled into snow globes. But instead of making Christmas ones, I thought they'd be perfect for winter snow globes instead.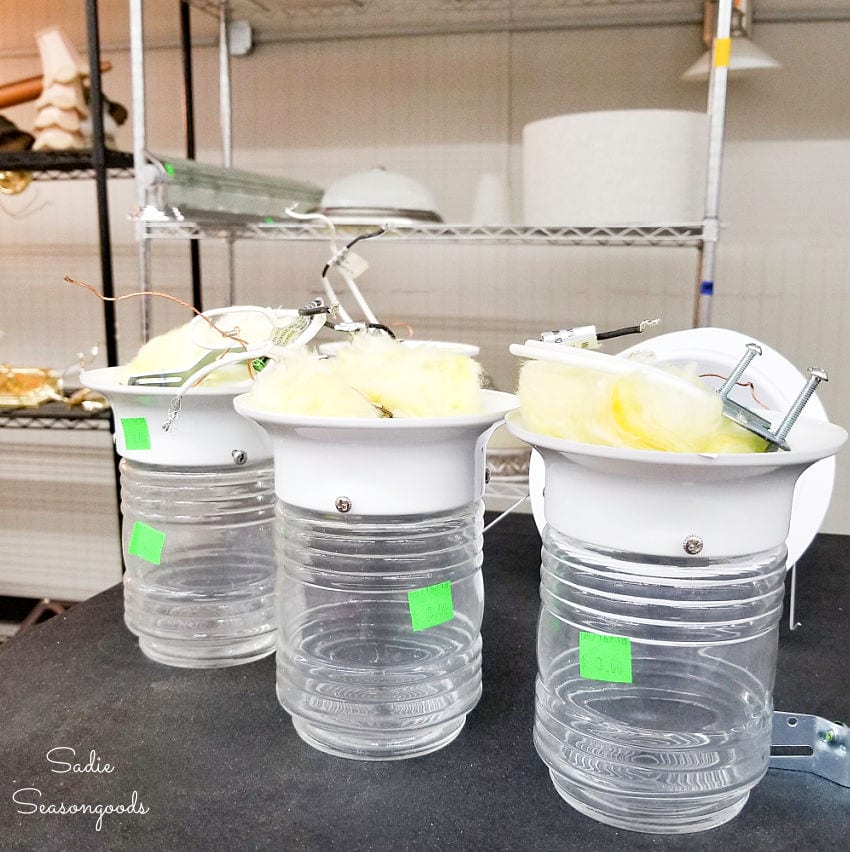 See what I mean? Definite snow globe potential!
And since I'm always short on good winter decor, I think that's the route to go with. There are a few extra steps involved because these are light fixtures and not jars (with a sealing lid), but I thought it would be worth it!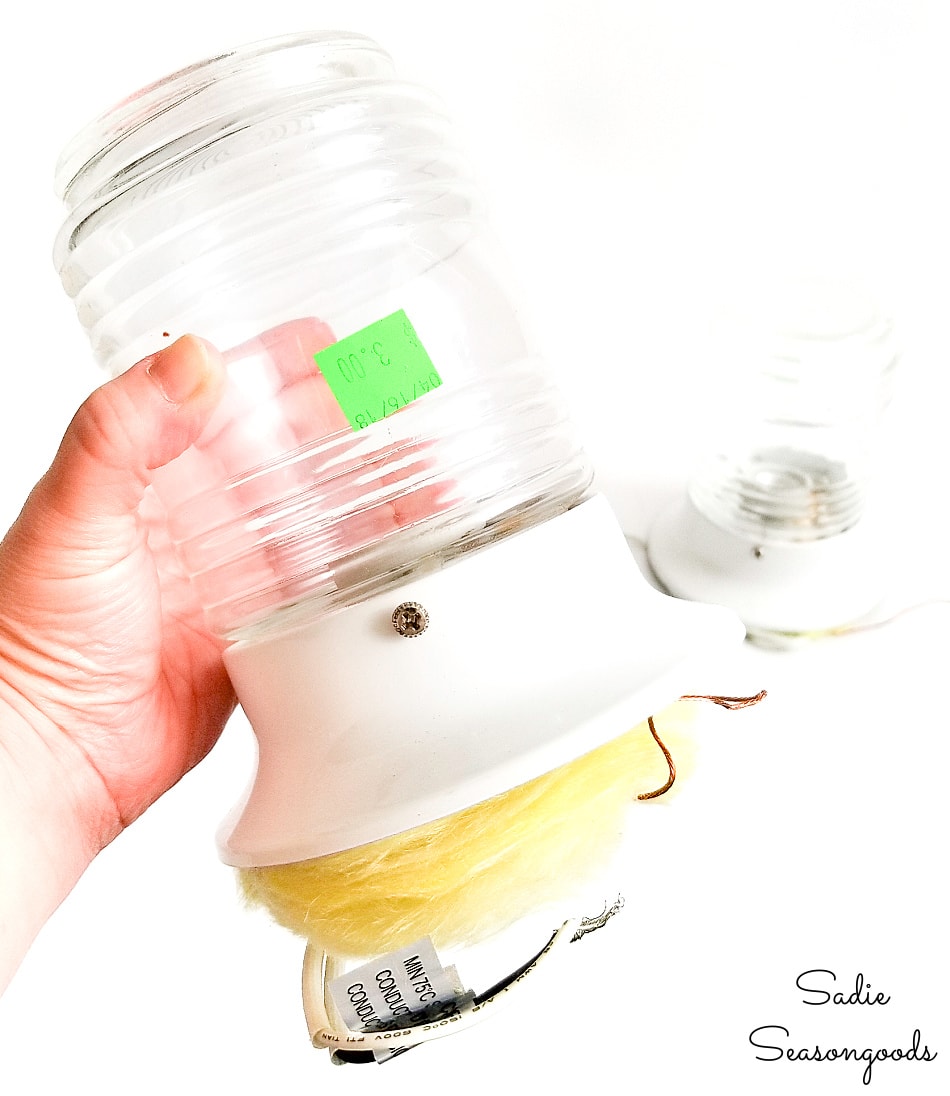 This post contains affiliate links for your crafting convenience. As an Amazon Affiliate, I earn from qualifying purchases. All blue, bold, and underlined text is a clickable link, either to a product or to a related post.
Preparing the Jelly Jar Lights for a Winter Craft Idea
First things first, I removed all the wires and insulation using needle nose pliers and wire cutters.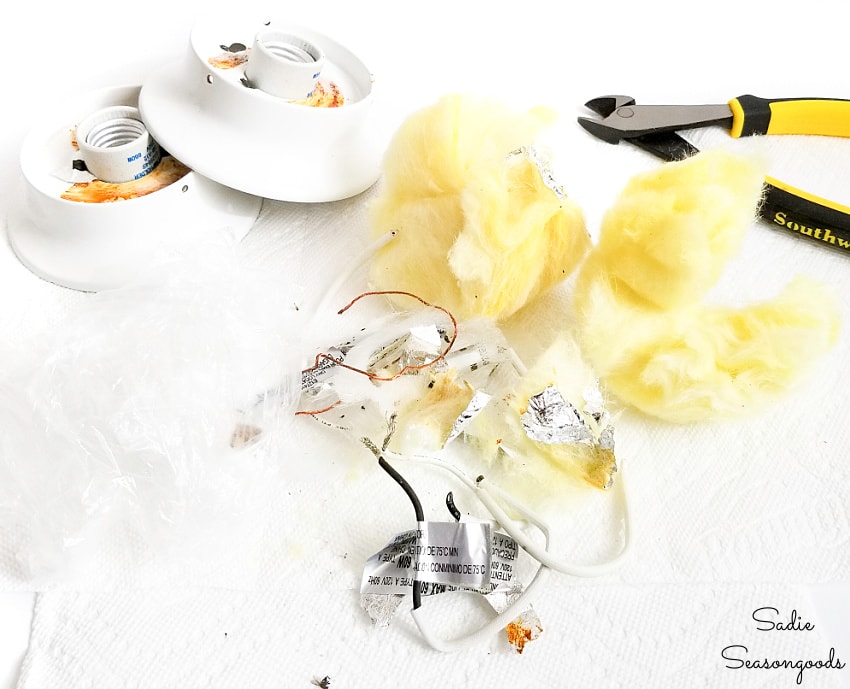 And while I could have left the bases white, I wanted a little bit of contrasting color.
Between the clear glass and the artificial snow I'd be using, that would be a LOT of white/paleness.
So, I used my favorite "galvanized" spray paint to do the job.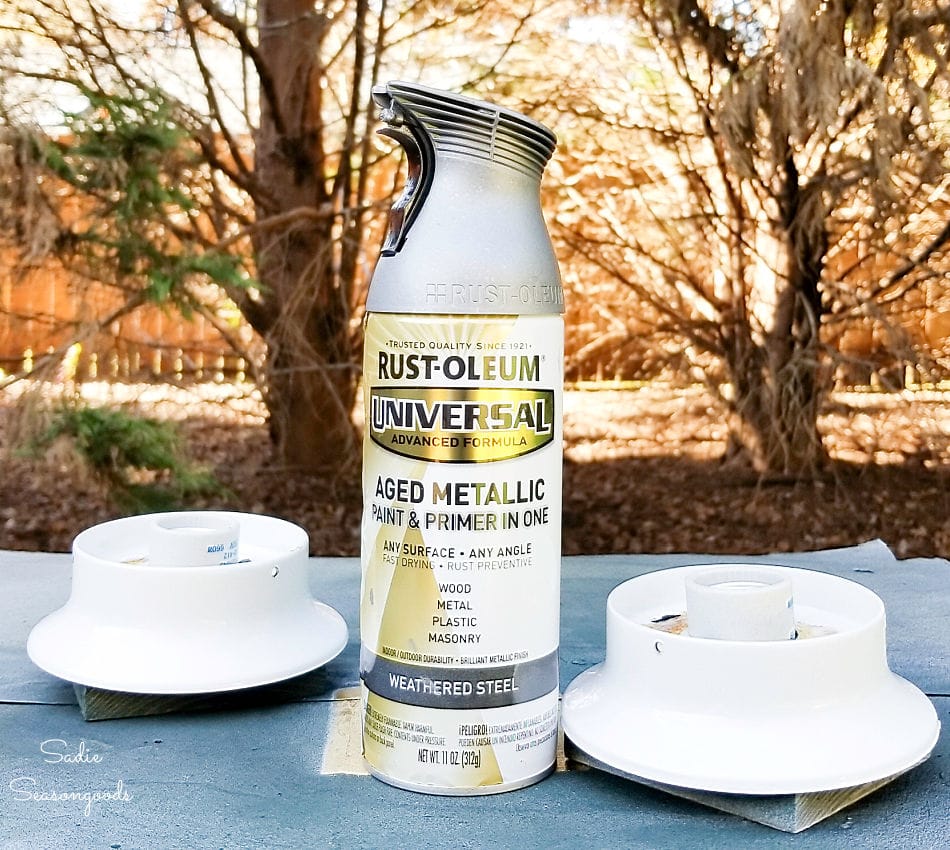 Next, I brushed on my favorite matte top coat for protection after the spray paint had dried.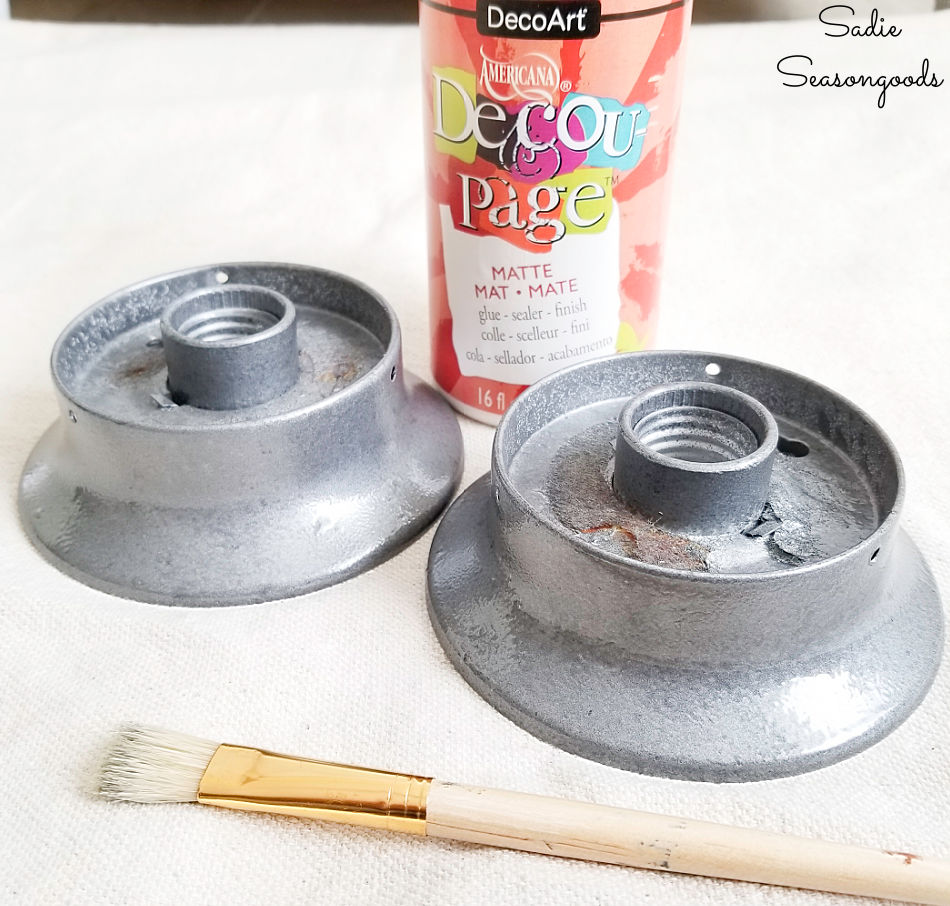 Then, I needed to seal off any spaces/openings in the base so that my artificial snow couldn't leak out.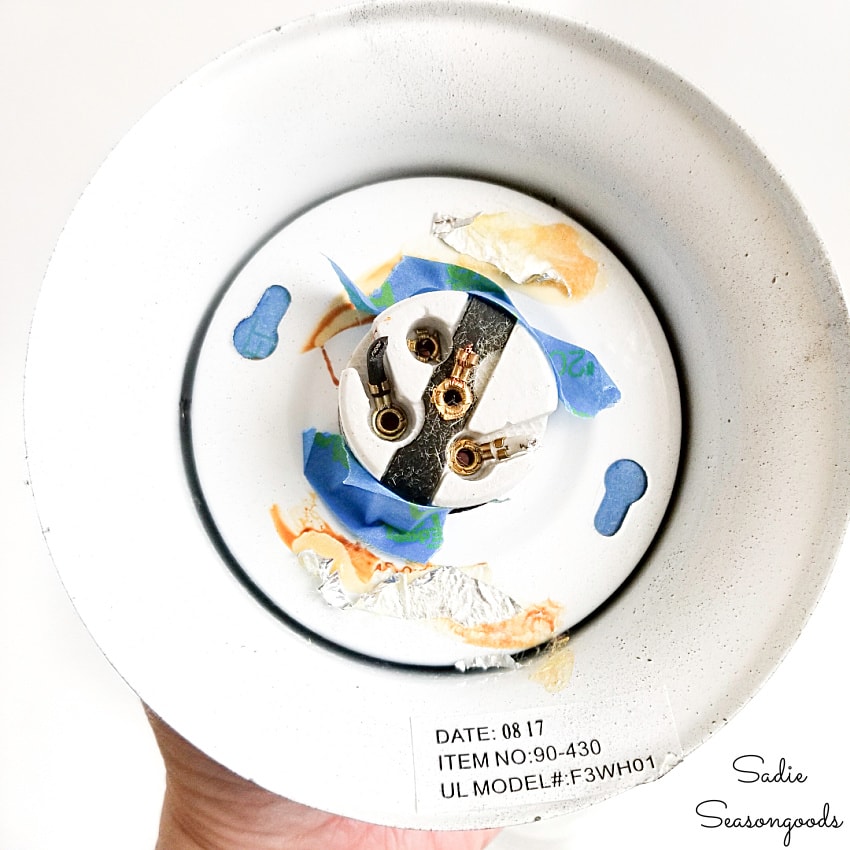 So, I applied painter's tape to the openings, and used hot glue like "caulk" to seal the holes. When the glue had cooled and hardened, I simply removed and discarded the tape.
Nature Scenes for Winter Snow Globes
For my first winter snow globe, I wanted to go "all natural" with just a tree and some mini pine cones.
First, I needed a wine cork that fit snugly in the light fixture socket. Once I found one, I cut it in half.
Next, I jabbed a small tree inside the center of the cork.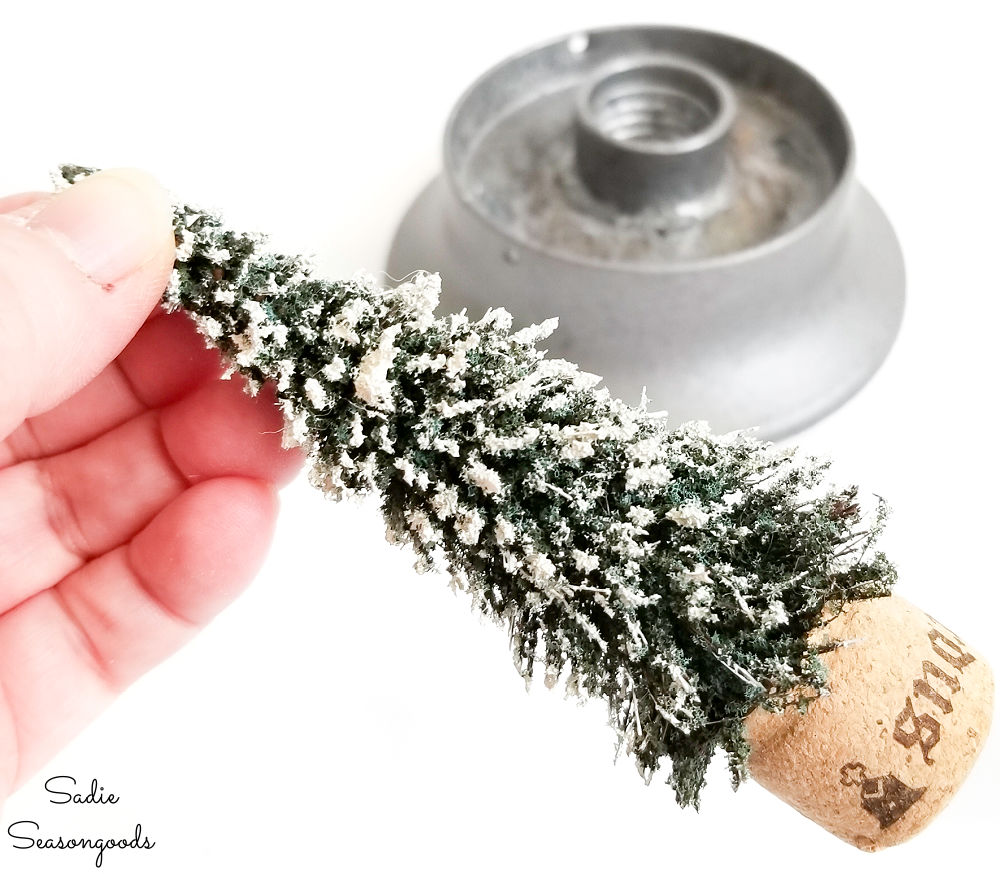 You may recall that this was I've done something similar with wine corks before!
Then, I simply hot glued the cork inside the light socket- that was it!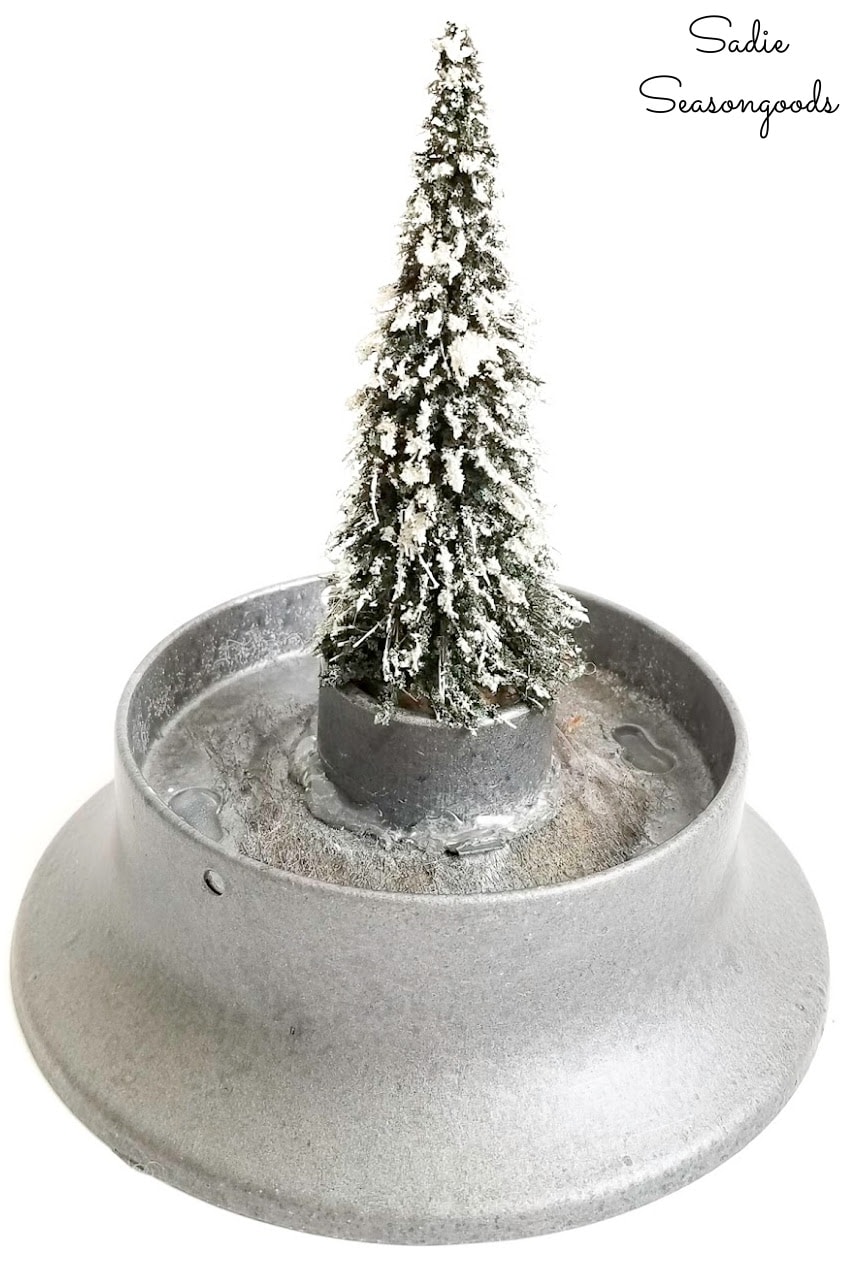 Now it was time to assemble my winter snow globe! Inside the jelly jar light, I added a handful of teeny tiny pine cones (like these, but mine were gold).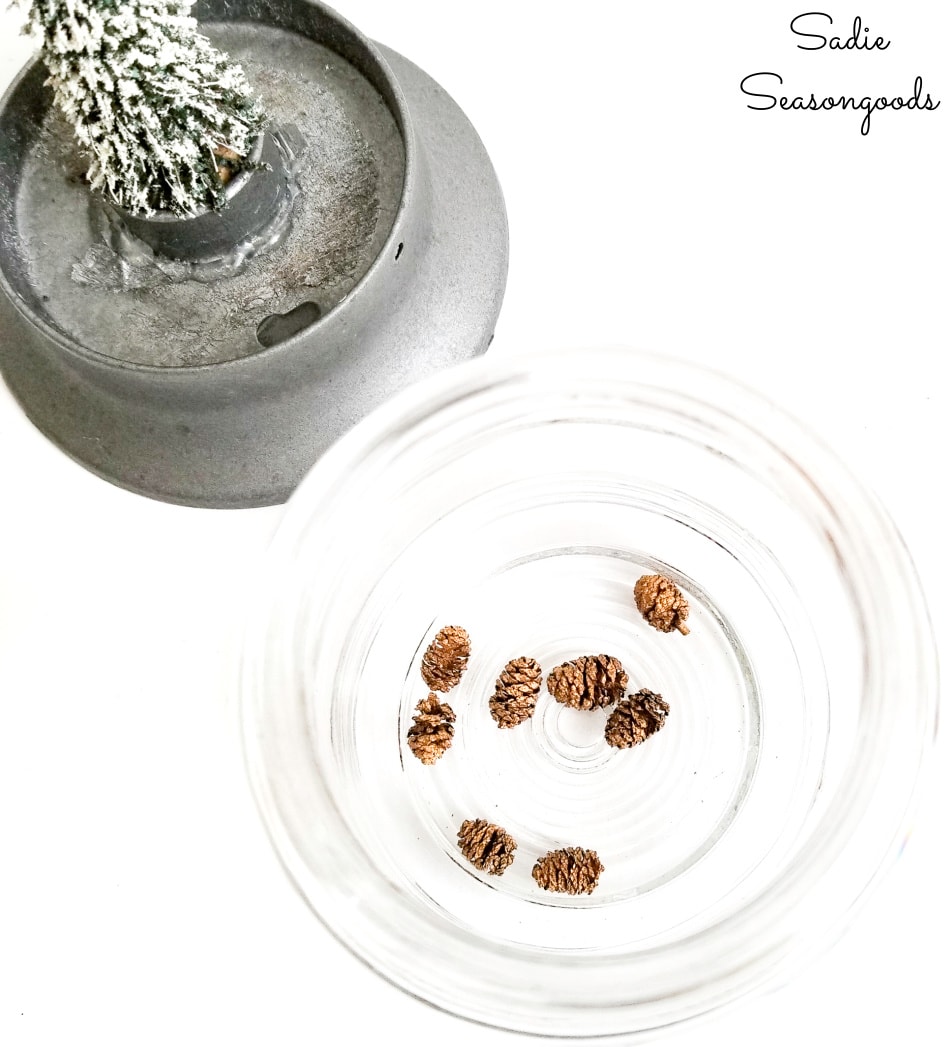 Then, I measured out some artificial snow. This was a total guessing game, admittedly, but I *DID* get to use my adorable science-y measuring cups.
Next, I poured the snow over the pine cones.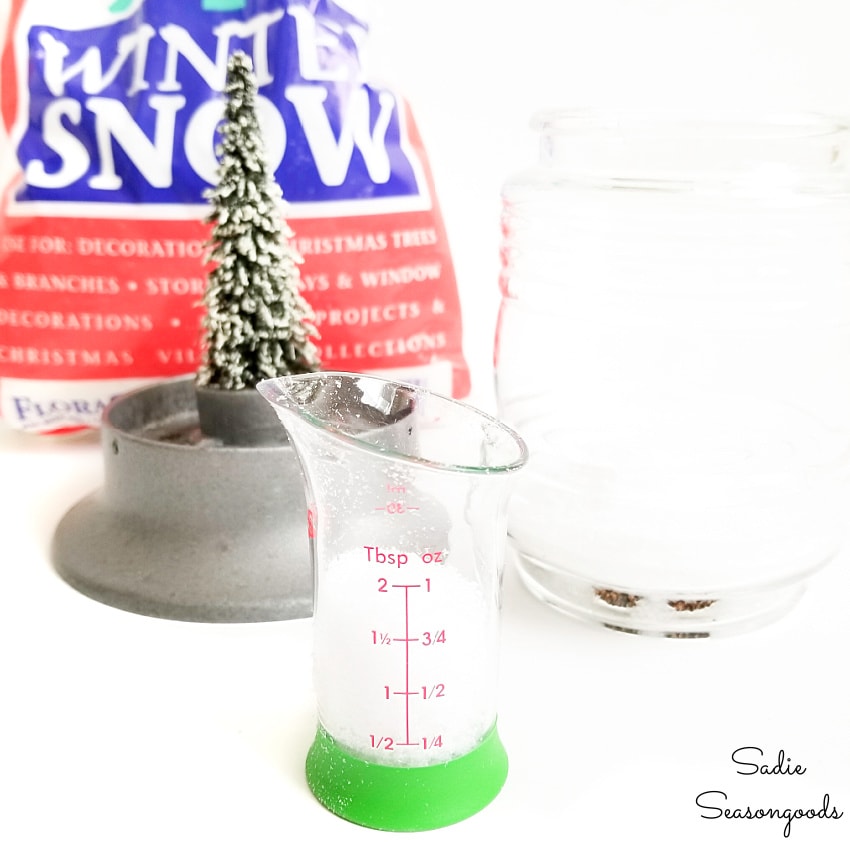 Finally, it was the moment of truth.
I turned over the base, complete with the tree in the socket, and reattached it to the jelly jar light fixture using the original screws.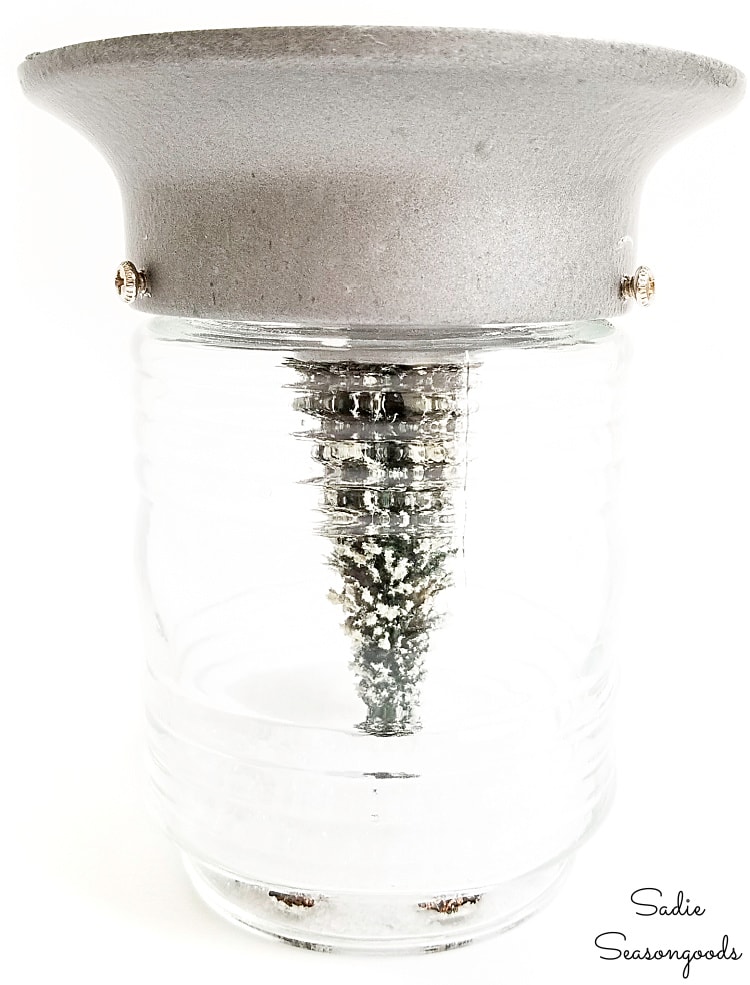 A Vintage Putz House for a Winter Snow Globe
But before I show you how my first winter snow globe turned out, I should warn you. I made a second one and it might be a wee bit controversial.
Why?
I painted an vintage putz house. I know- go ahead and gasp. Get it out of your system, I can handle it.
This is what it originally looked like. Cute, yes, but a little plain.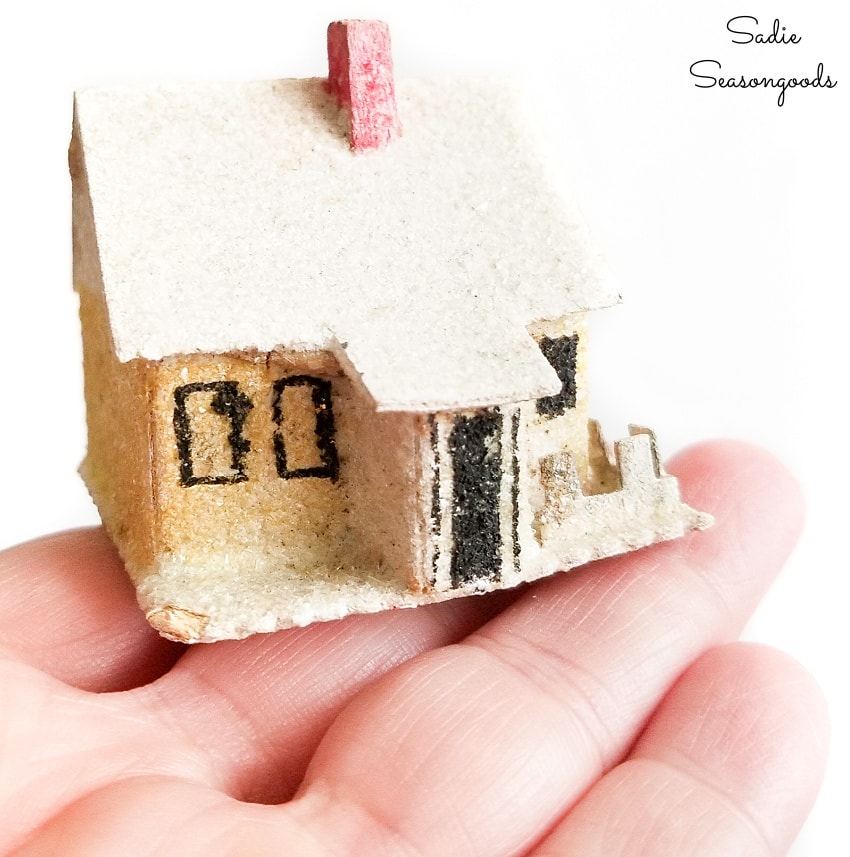 Our first house was pale blue with a dark grey roof and a bright red door. It was small and quirky, as many first homes are.
Anyway, I decided to paint the vintage Putz house to look like our old house!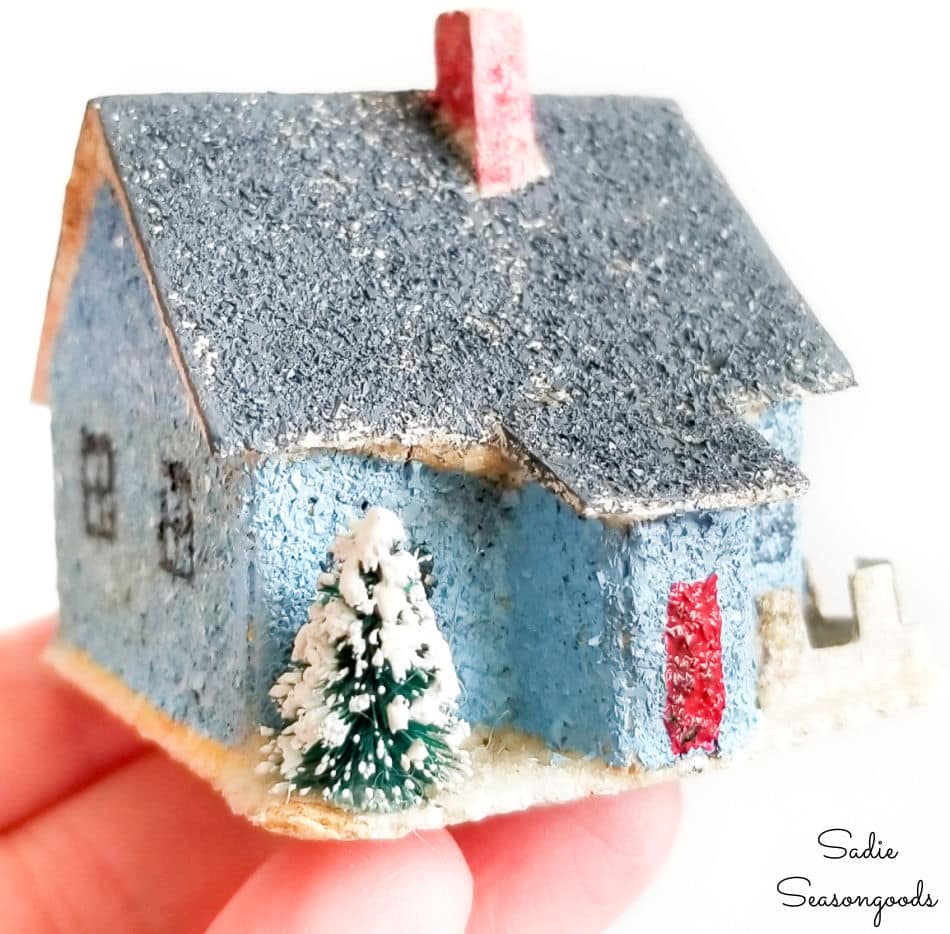 I also snipped off the top of a new bottle brush tree and glued it to the base of the Putz house, too.
Now that you've seen how cute it is, can you forgive me?
After that, I simply hot glued the Putz house on top of the light socket inside one of my jelly jar light fixtures.
I did the same thing to this one- poured my favorite craft snow inside the jelly jar light, reattached the base, and turned it over.
And, oh, here's how the serene nature scene version turned out!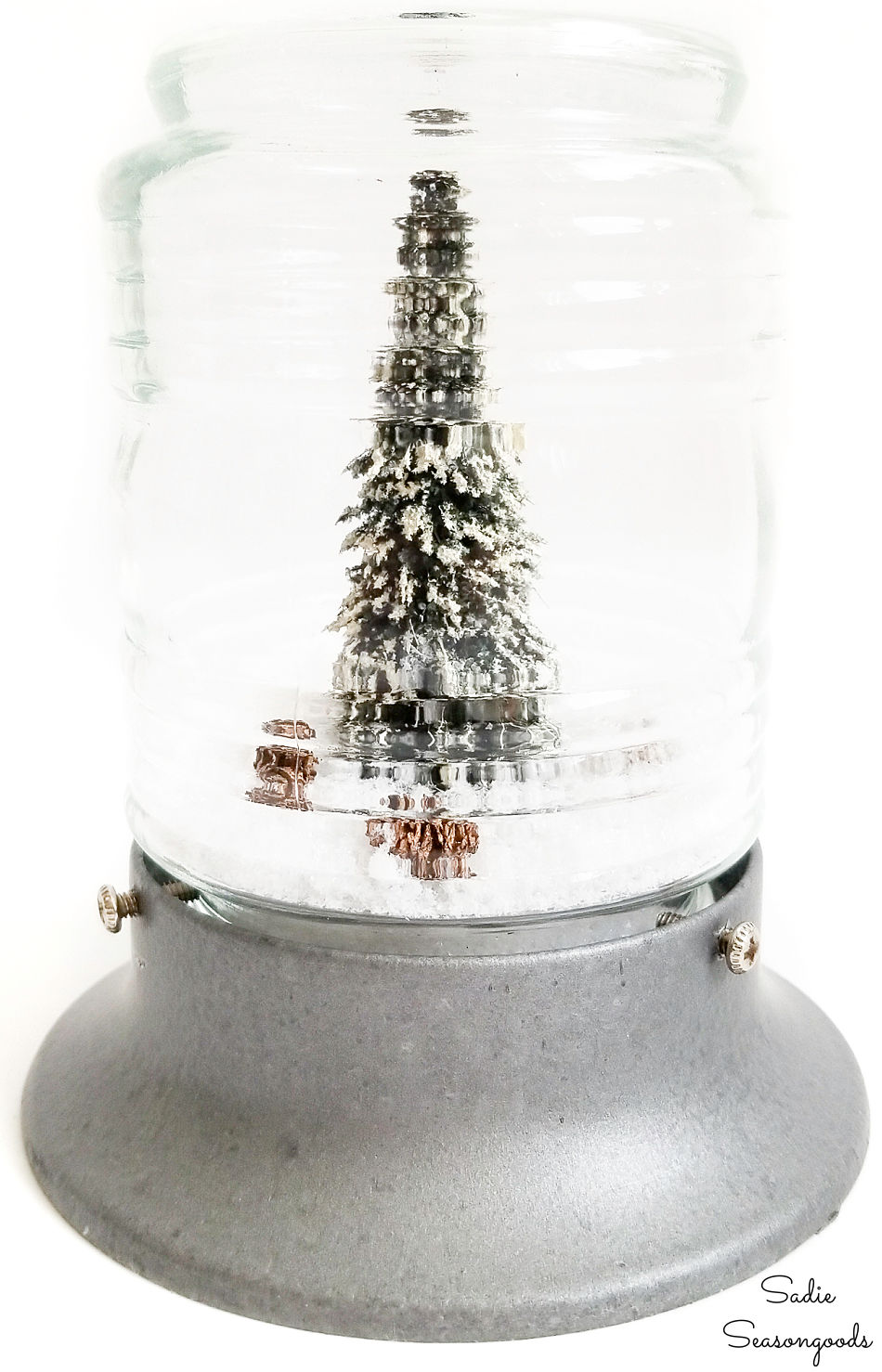 Winter Snow Globes in Jelly Jar Light Fixtures
Aren't they the sweetest things ever? The jelly jar light fixtures worked PERFECTLY as snow globes.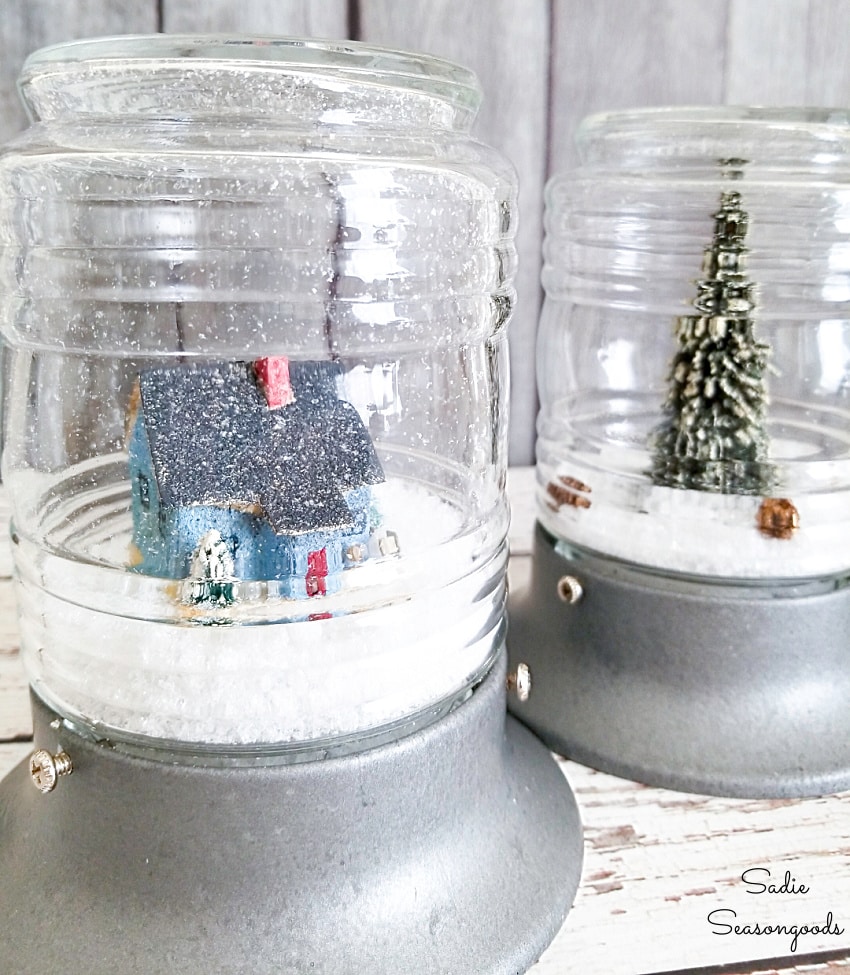 And that was it- my winter snow globes were done and as cute as can be. See? Snow globes aren't just for Christmas after all!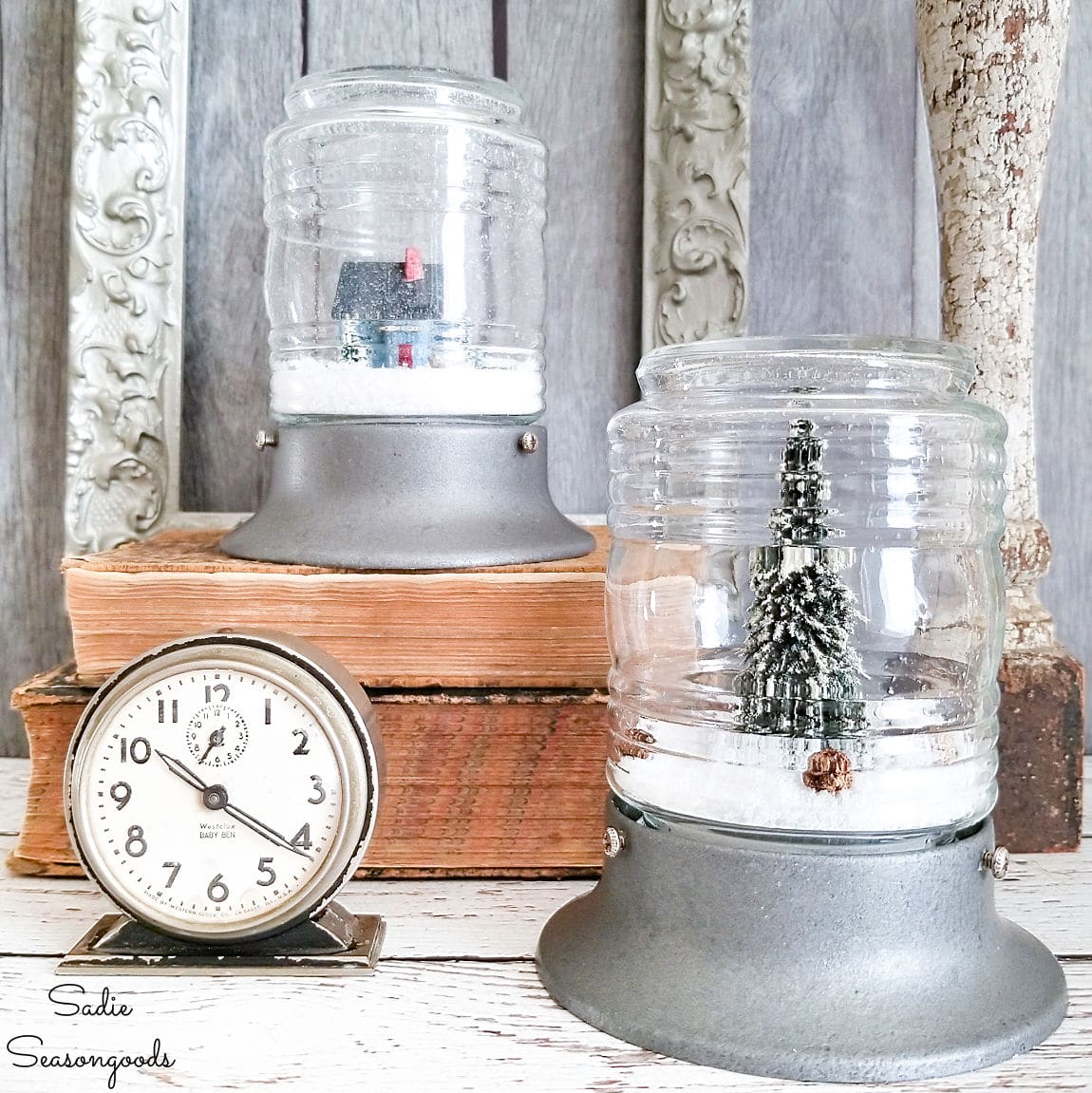 I'll leave these out through February until it's time to think Spring. But what do you think- do industrial light fixtures work for waterless snow globes, or what?
Speaking of winter and snowy weather, I hope you'll check out my first book, "Crafting with Flannel". It's full of craft ideas that are perfect for this time of year!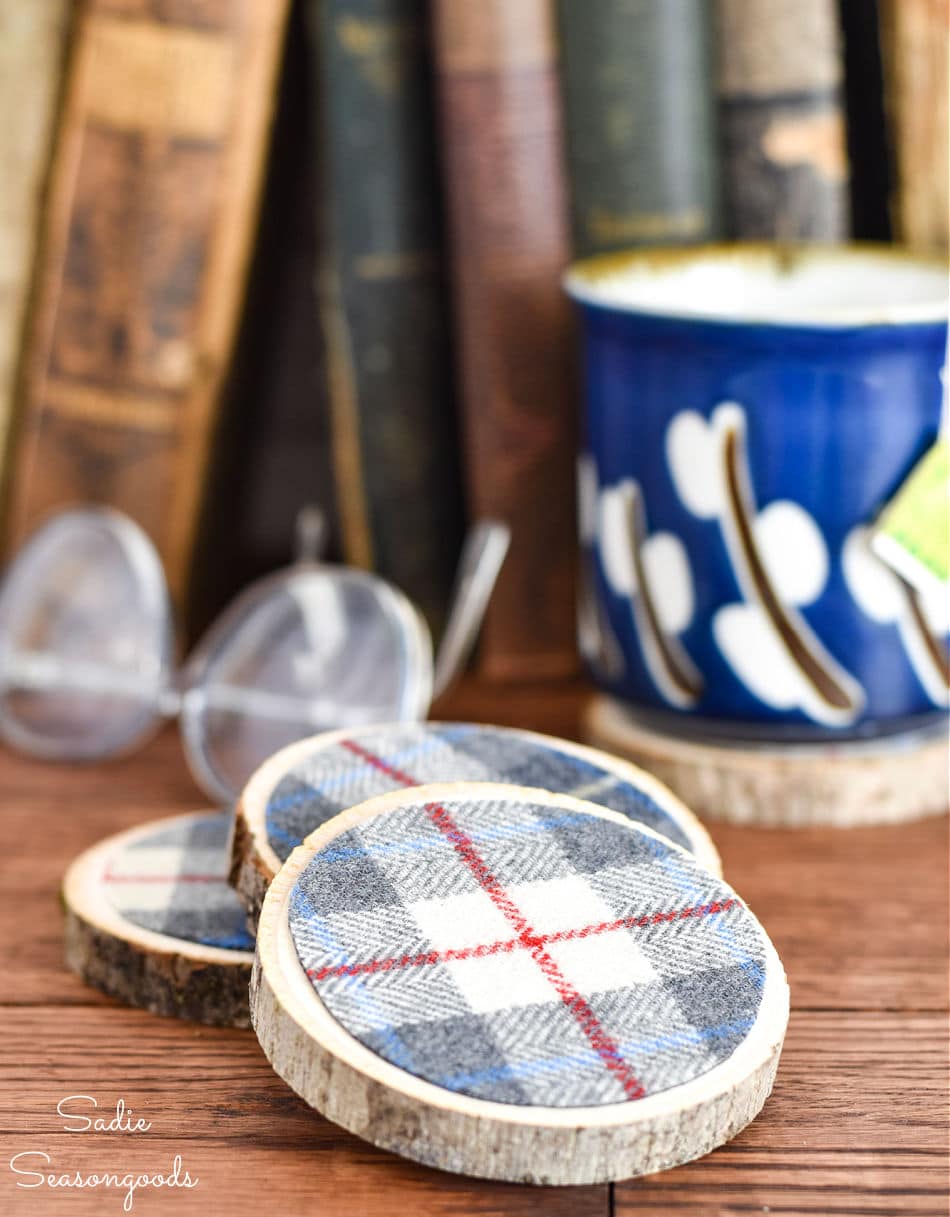 Looking for more winter decorating ideas? Perhaps my hutch display of thrifted treasures will inspire you!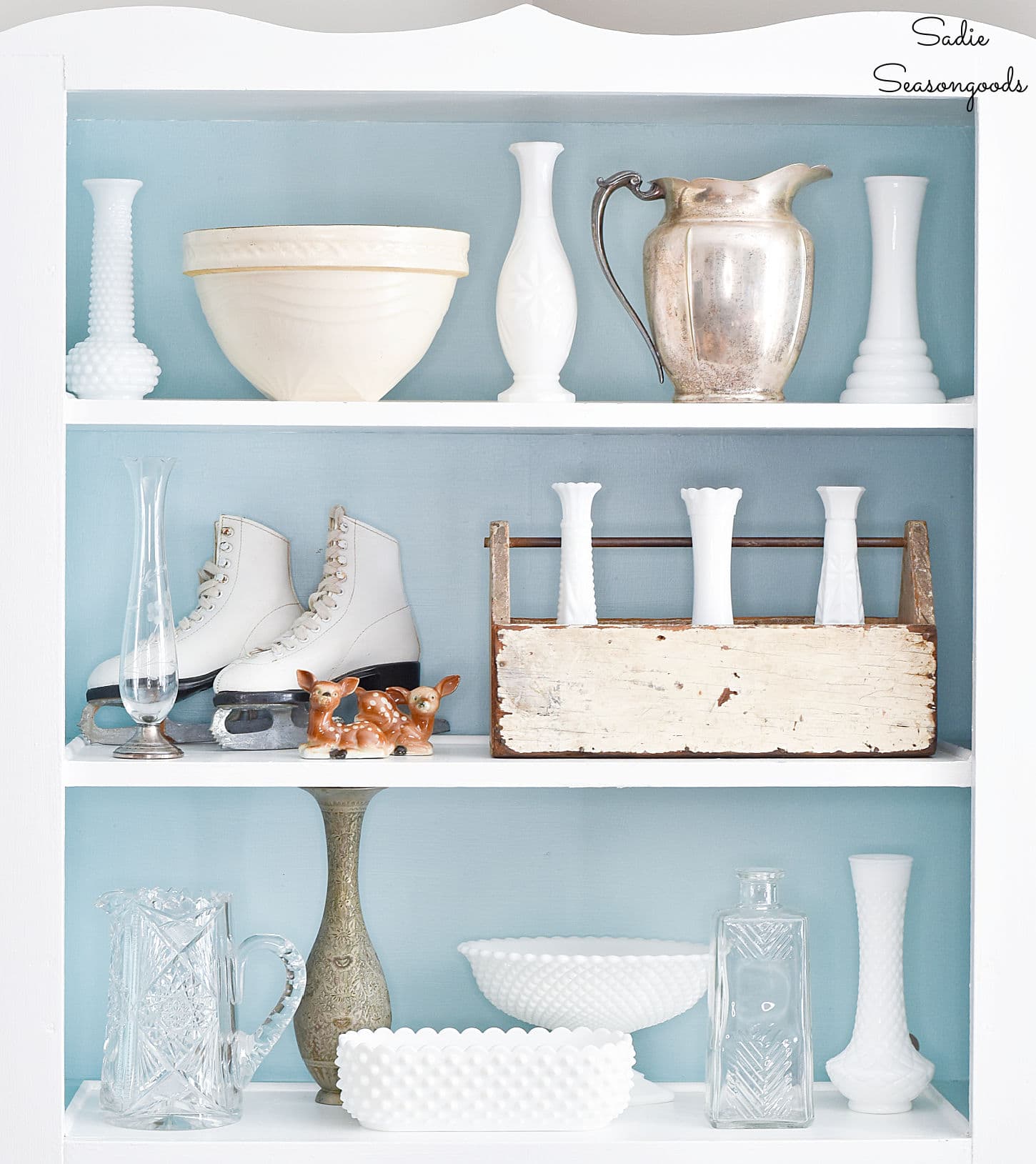 Craft on!
S
Want to be notified when I publish my next upcycling project tutorial?
Subscribe to Blog via Email
Join me on Social Media:

PIN ME!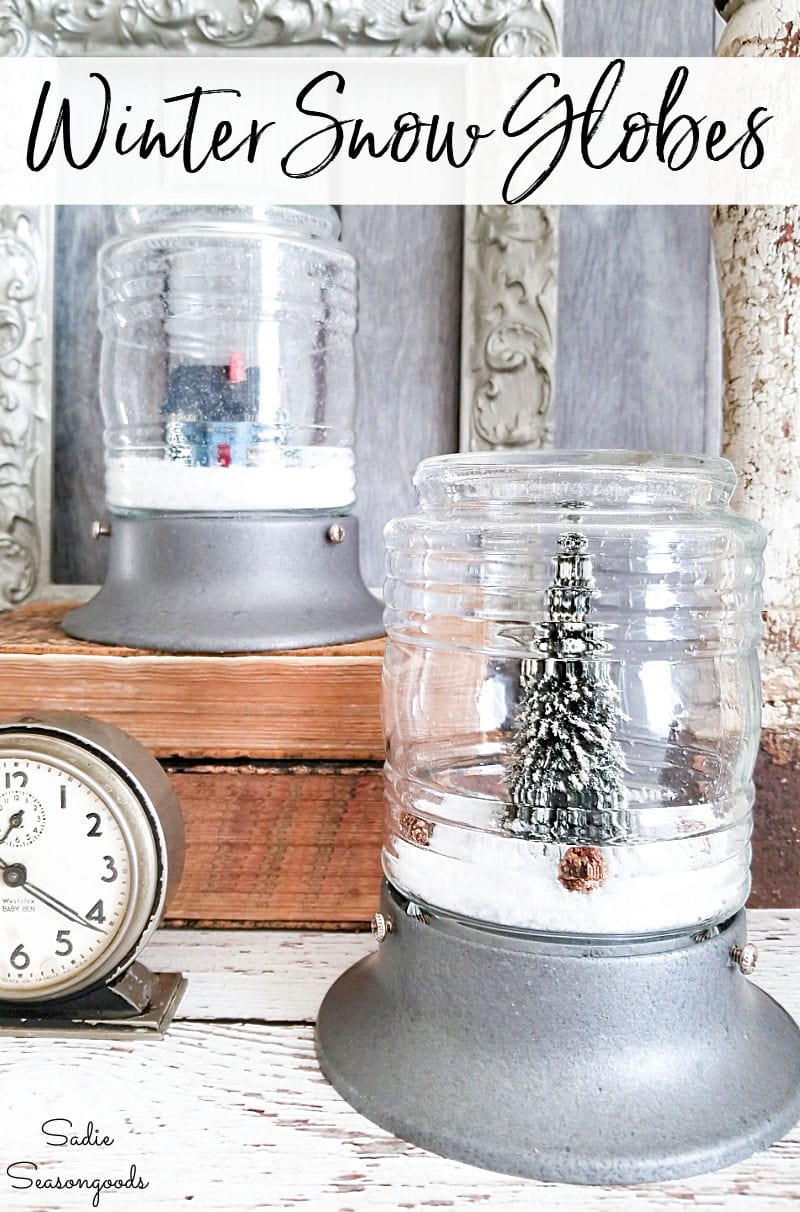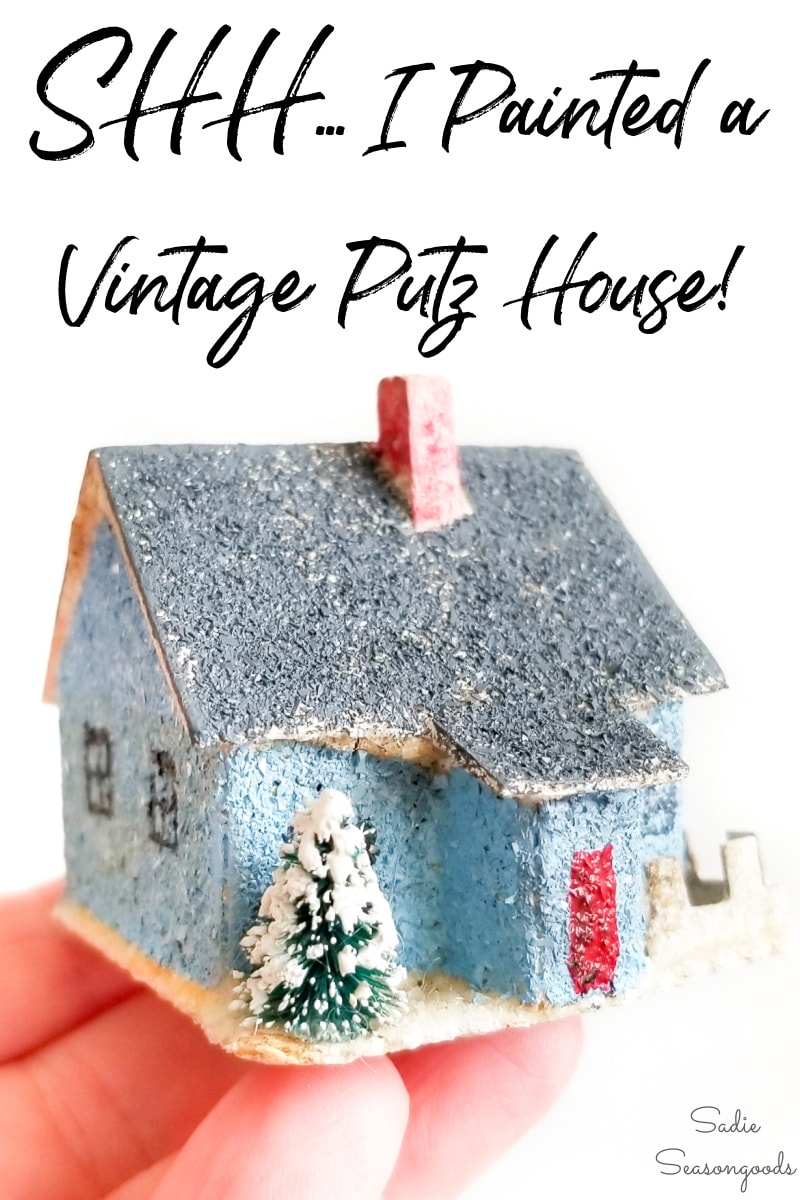 Sarah Ramberg is the owner of Sadie Seasongoods, a website that celebrates all things secondhand. From upcycling ideas and thrifted decor to vintage-centric travel itineraries, Sadie Seasongoods is a one-stop shop for anyone who loves thrifting and approachable repurposing ideas. Sarah is also the author of "Crafting with Flannel" and has been featured in numerous media outlets and magazines.