Somewhere in my Pinterest meanderings, I stumbled across a trinket box that had been made by upcycling a pair of round bowls to look like Earth. I knew I wanted to do something similar to create decorative pumpkins, but I just needed the right set of wooden salad bowls. And then, there they were, staring me in the face from the Goodwill shelf.
They were solid, in seriously good shape, and they even had ridges on the sides. It was like they were MEANT to be pumpkins…
I picked out two that worked well together (I know! I should have bought all of them) and brought them home. Then, I gave them a quick wipe down before setting up shop to see if my upcycling idea would work. This post contains affiliate links for your crafting convenience.
Upcycling Wooden Salad Bowls into a Trinket Box / Pumpkin Decor
For this project, I needed to paint them orange. I chose an autumn-y shade of orange paint and a basic crafting sponge brush.
I had originally planned on distressing them a little, but as it turned out, I didn't need to! A relatively dry (i.e., very little paint) sponge gave me a rustic paint job that didn't look forced.
Oh, and guess what- plastic cupcake box liners make excellent paint mixing bowls. What a fun way to repurpose them before tossing in the recycling bin!
Once the interior of the wooden salad bowls dried (which was super quick), I worked on the outside of each bowl, ending up with a pair like this.
Once they were painted, I could start assembling them into pumpkin decor AND a little trinket box….
See? It's looking like a little pumpkin and the rustic paint job has a farmhouse fall decor or country decor look to it…
Now to finish up my trinket box / pumpkin decor with some hardware! First, I needed to add a tiny hinge inside the pumpkin.
And for the perfect finishing touch, I needed to add a pumpkin stem on top of my trinket box. At first, I thought I would buy a salvaged knob from Habitat ReStore (or similar thrift store). But then…I found the perfect thing instead.
A swag hook! A vintage swag hook turned upside down has a VERY pumpkin stem quality to it, doesn't it?
I drilled a hole in the center of the trinket box top, screwed in the swag hook, and that was it!
Farmhouse Fall Decor / Country Decor with a Trinket Box and Decorative Pumpkin
And just like that, I had a trinket box that doubled as farmhouse fall decor. All from a pair of wooden salad bowls from the thrift store!
Have you ever seen a cuter trinket box? Perfect for tucking away little treasures and no one would ever know.
I know I say this all the time, but can you stand it? The cuteness, I mean?
What can I say – there are just SO many upcycling ideas and possibilities for decorative pumpkins. I just can't seem to stop making them…
If you enjoyed this upcycling idea for a trinket box and pumpkin decor, then you'll love these decorative gourds made with glass jars and bottles!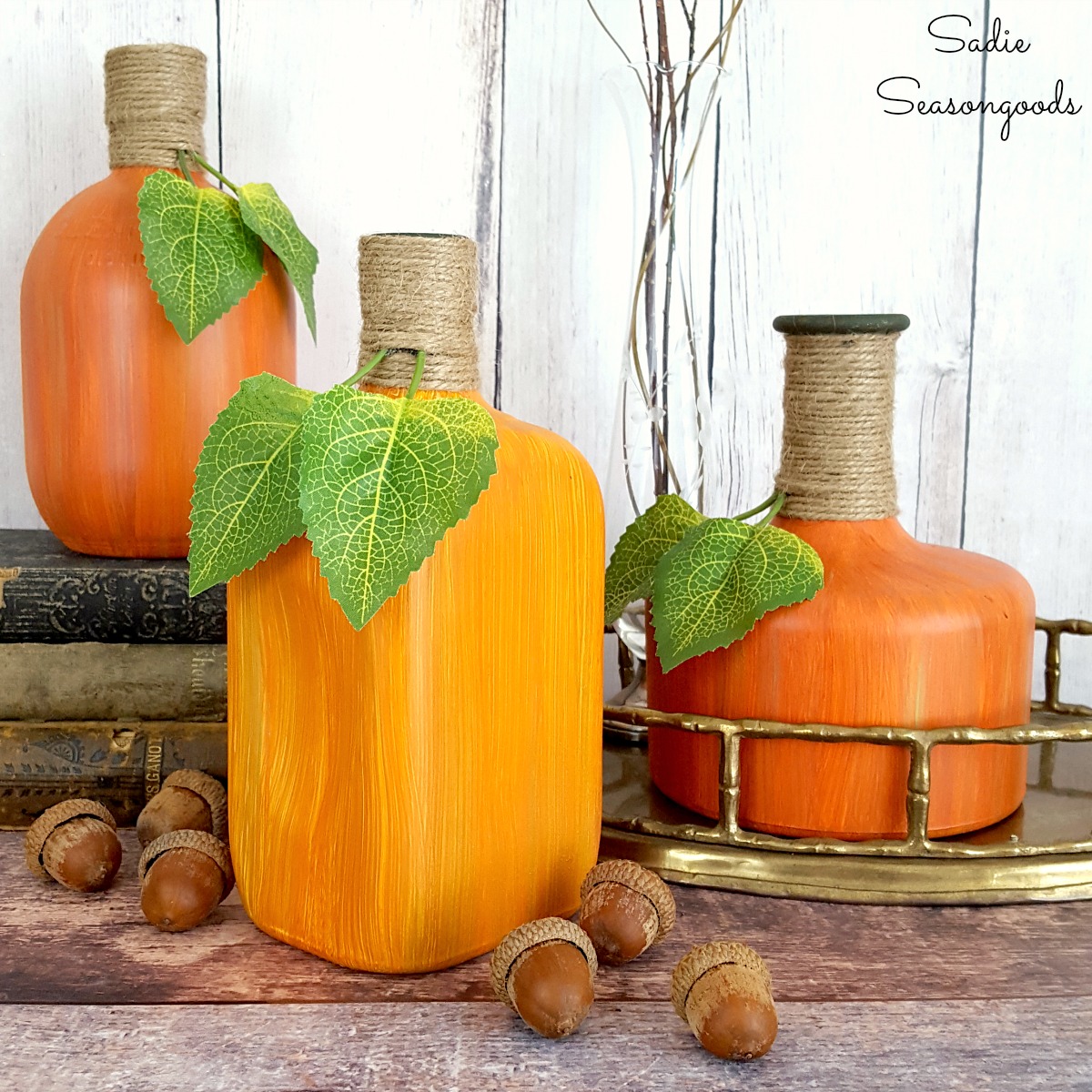 Craft on!
S
Want to be notified when I publish my next upcycling project tutorial?
Subscribe to Blog via Email
Join me on Social Media: