Every now and then, I am so inspired by another blogger's project idea that I can't help but try a version of it myself. I just thought these spindle carrots were SO adorable as farmhouse Easter decor that I really wanted to make some myself. And when I found these wooden bobbins / large wooden spools, I knew right away that they were meant to become faux carrots.
The area where I live used to be a textile mill mecca in the mid-20th Century. So, I have made several upcycling projects using vintage bobbins, spools, and thread cones that are relics from that era.
And now with these wooden bobbins, I'll be adding a new one to the list!
This post contains affiliate links for your crafting convenience. As an Amazon Affiliate, I earn from qualifying purchases.
Making Faux Carrots from Wooden Bobbins for Easter Decor
The first step to making some faux carrots from the wooden bobbins was, of course, to paint them orange. I had plenty of orange craft paints to play around with, but I wasn't sure how to go about painting them…
That's when it dawned on me…
An accordion peg rack would be PERFECT for holding up the wooden bobbins!
I ended up using this paint color for my faux carrots and it was an excellent choice. I gave each bobbin two quick coats and stood them on the accordion peg rack to dry.
After the chalk paint had dried, I lightly sanded the wooden bobbins to smooth out the paint and to bring out the ribbed nature of the bobbins.
Looking more and more carrot-y by the minute!
Farmhouse Easter Decor – The Finishing Touches
Once I wiped down the wooden bobbins to remove sanding dust (with a damp paper towel), I buffed on clear furniture wax. I HATE how chalk paint feels alone, so waxing was required…even on silly Easter projects like this!
And of course, carrots (even faux carrots) aren't complete without green tops! I found some plastic greens that had just the look I was going for.
I snipped them to size with wire cutters and used hot glue to hold them inside the wooden bobbins. And just like that, I had farmhouse Easter decor in the form of wooden carrots!
Faux Carrots from Wooden Bobbins for Farmhouse Easter Decor
Oh, and I hear you loud and clear – Who needs carrots to decorate for Easter?
But I couldn't help myself…and they're just plain cute! If I had kids, I would totally make these so they could play make-believe Grocery Store or Farmer's Market, too. So, maybe there's a year-round use for these after all!
Either way, they were a quick and easy Easter craft that I could make before the holiday came and went! And I really do love using items from the closer-down textile and fiber mills that are found in Greenville, SC and the surrounding areas.
Here's another upcycling idea for Easter decor, and it only takes a few minutes to put together!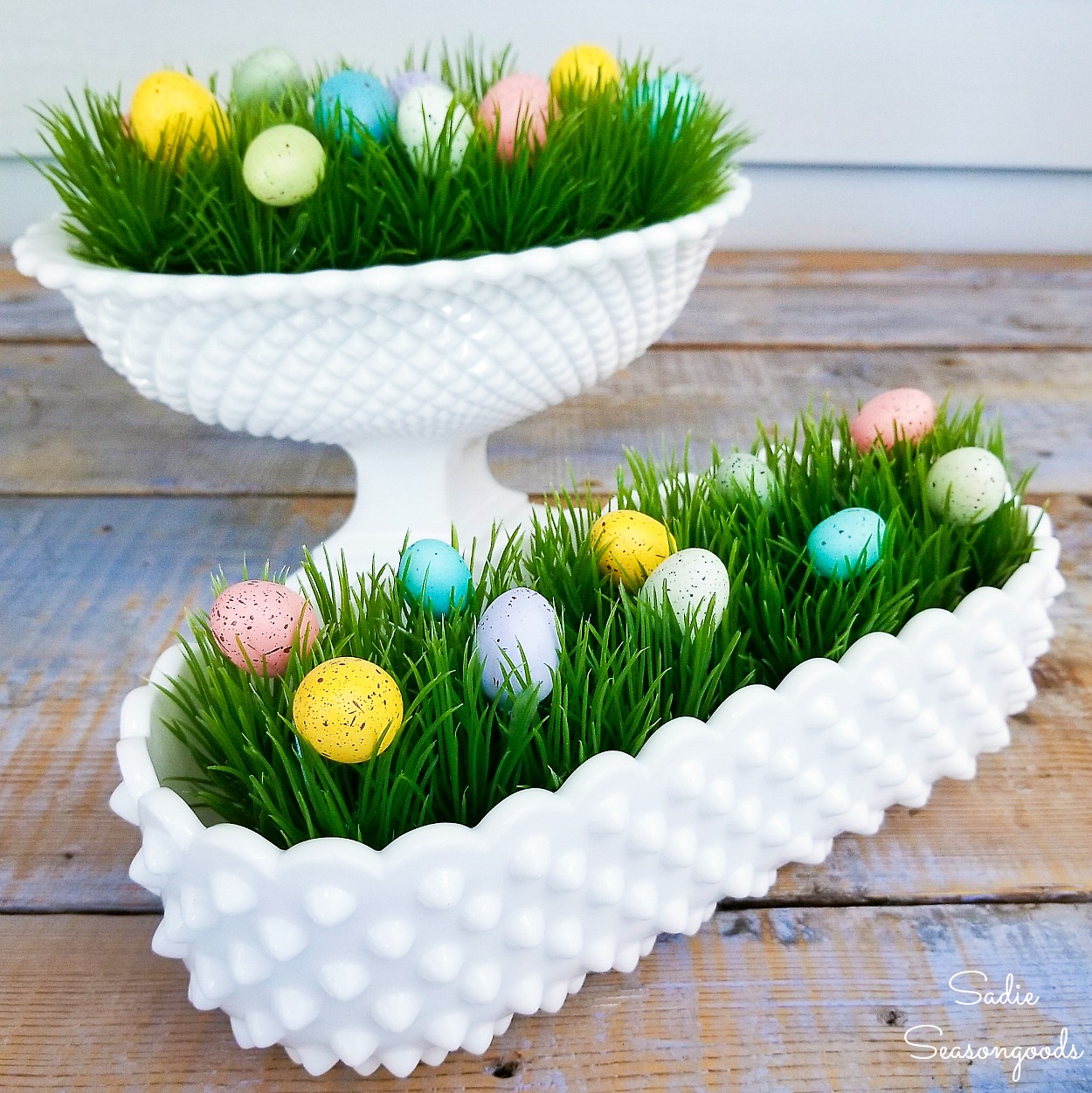 Craft on!
S
Want to be notified when I publish my next upcycling project tutorial?
Subscribe to Blog via Email
Join me on Social Media:


PIN ME!