This, my friends, is what I like to call a "Post-Christmas Christmas Project", if that makes any sense. It all started with this vintage picnic basket that I found on a thrift store shelf. I thought it had the cutest shape (like a small suitcase) and I chuckled over how dainty it seemed- compared to normal picnic baskets. It was, in fact, not much larger than a magazine (length- and width-wise, not depth-wise). And that's when I decided it would be PERFECT for my endless collection of Christmas magazines.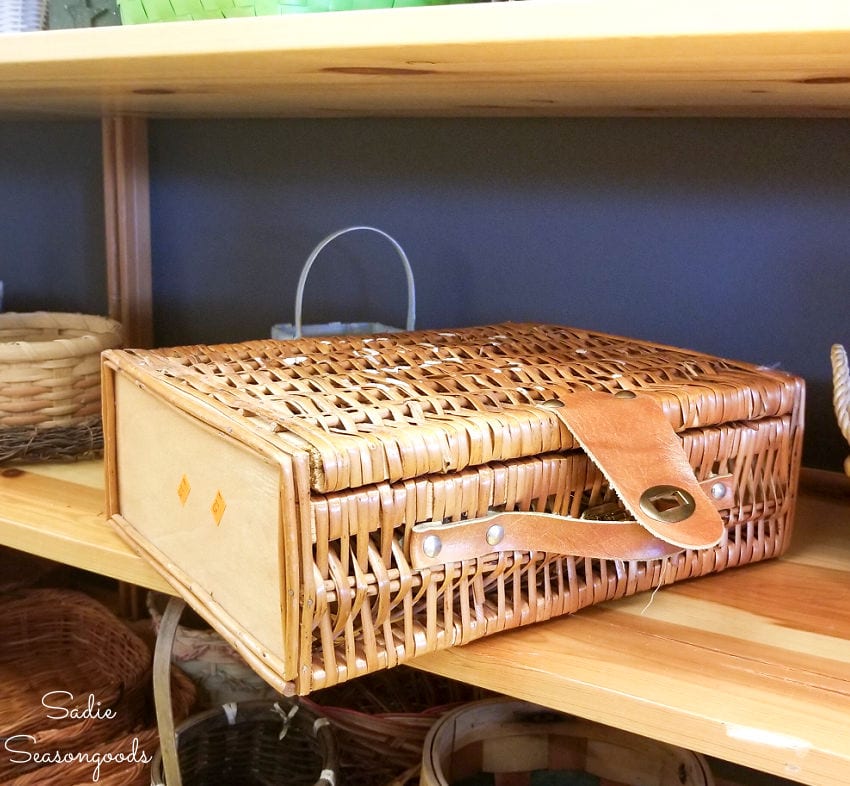 It was in decent shape, structure-wise, with the only real blemish being bits of glued-on paper on one side. It was as if packaging had once been glued on and then ripped off hastily.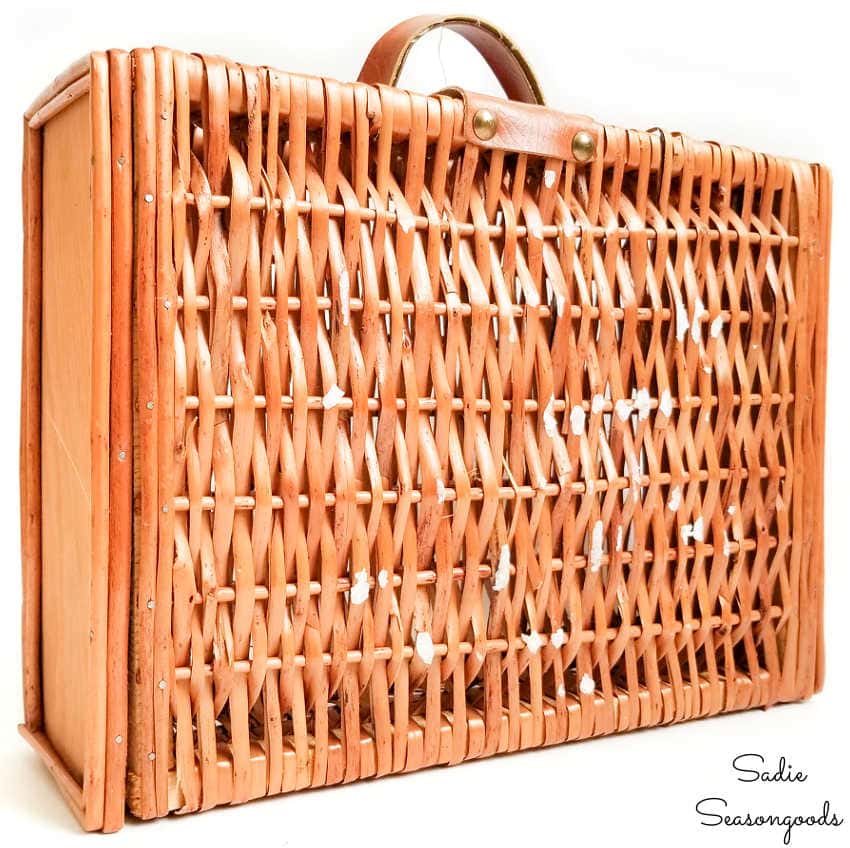 I knew I wanted to use it as a Christmas storage container for Christmas magazines. Which meant I didn't really need to give it a makeover.
But, who am I kidding? OF COURSE I'M GOING TO GIVE IT A MAKEOVER.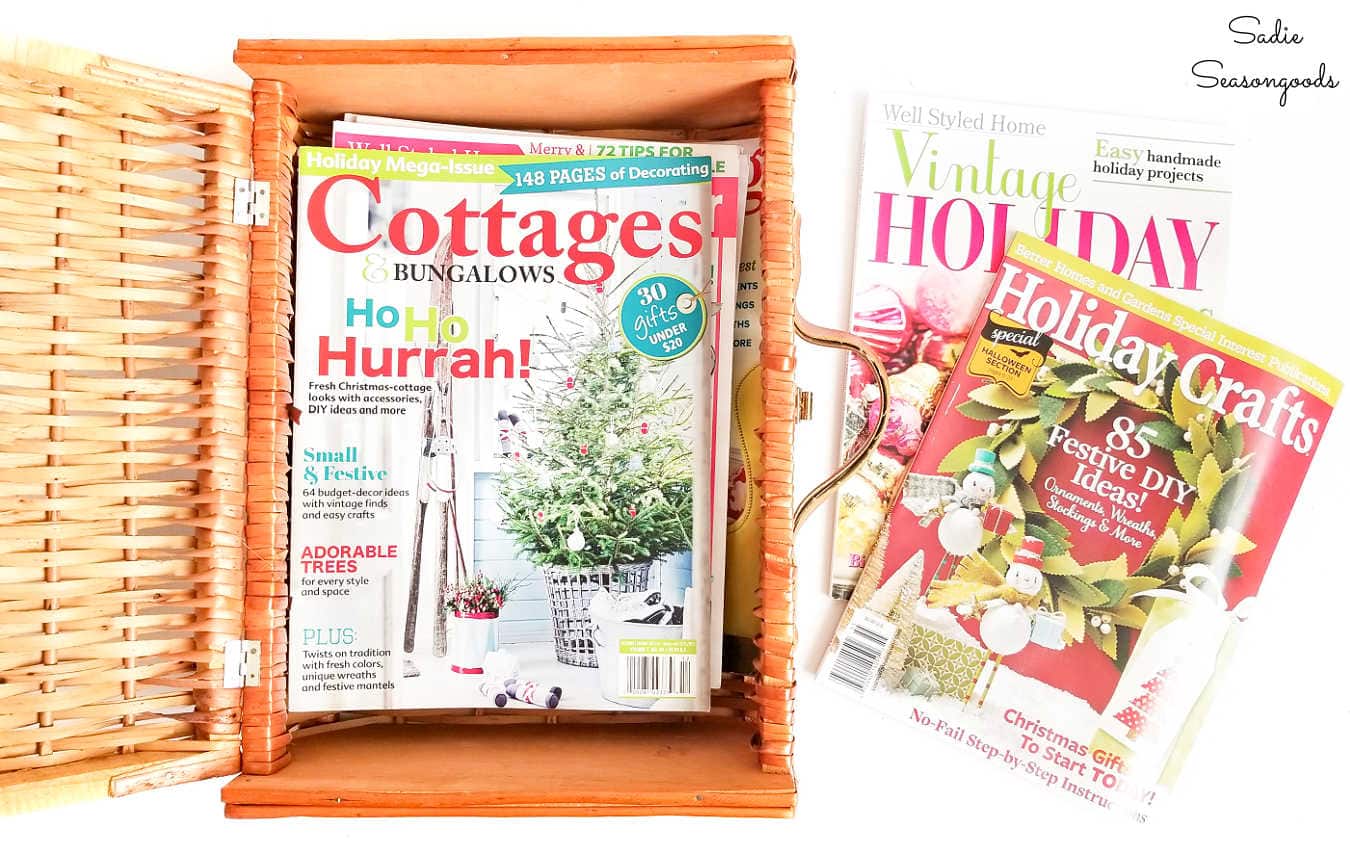 Since I had thought that this wicker picnic basket looked like a little suitcase from the start, that's the makeover direction I took. With a little paint and some Christmas ribbon, I would transform him into vintage luggage!
This post contains affiliate links for your crafting convenience. As an Amazon Affiliate, I earn from qualifying purchases. All blue, bold, and underlined text is a clickable link, either to a product or to a related post.
Creating a Storage Container for Christmas Magazines
First, I decided to paint the vintage picnic basket, inside and out, white for a fresh, clean look.
I tried to pick off as much as the glued on paper as I could before painting. It wasn't perfectly clean, but my patience had worn thin!
I used painter's tape to cover the existing handle, hardware, and locking flap so that the faux leather popped against the white paint.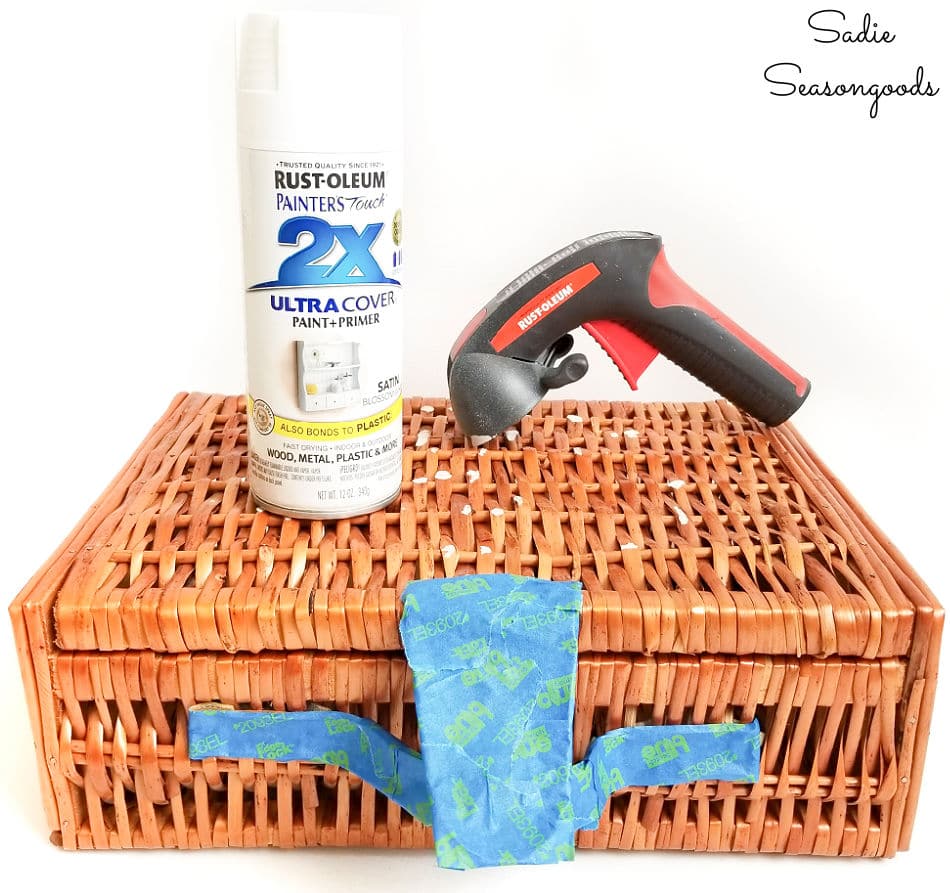 I painted it a satin white, allowed the paint to dry, then then removed the painter's tape.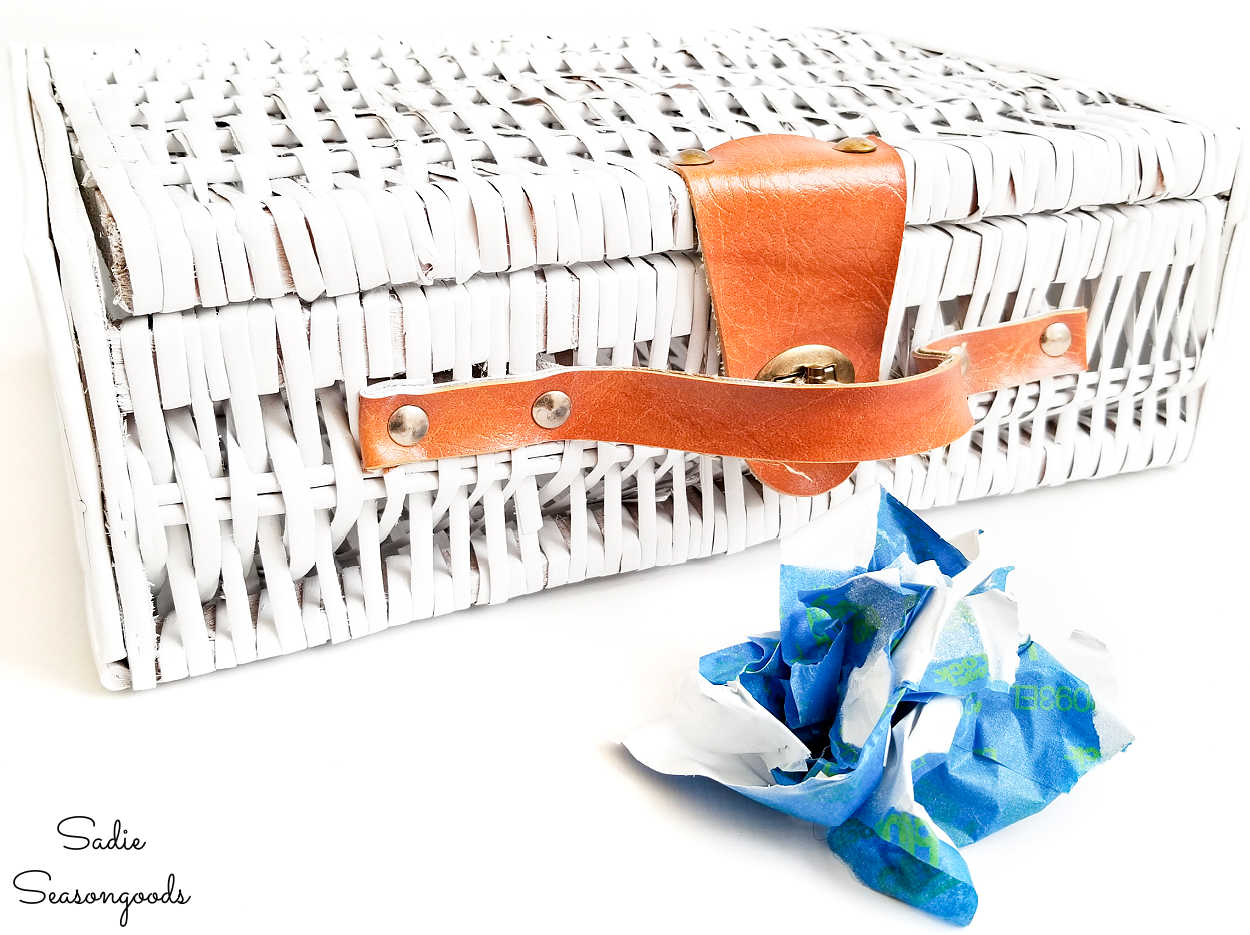 Despite my efforts, some of the paint had gotten onto the underside of the handle. Spray paint can be sneaky like that! Oh, well.
Next, I gathered some Christmas ribbon that I would use as suitcase straps on the wicker picnic basket. And Christmas ribbon seemed fitting since this would be used as Christmas storage, right?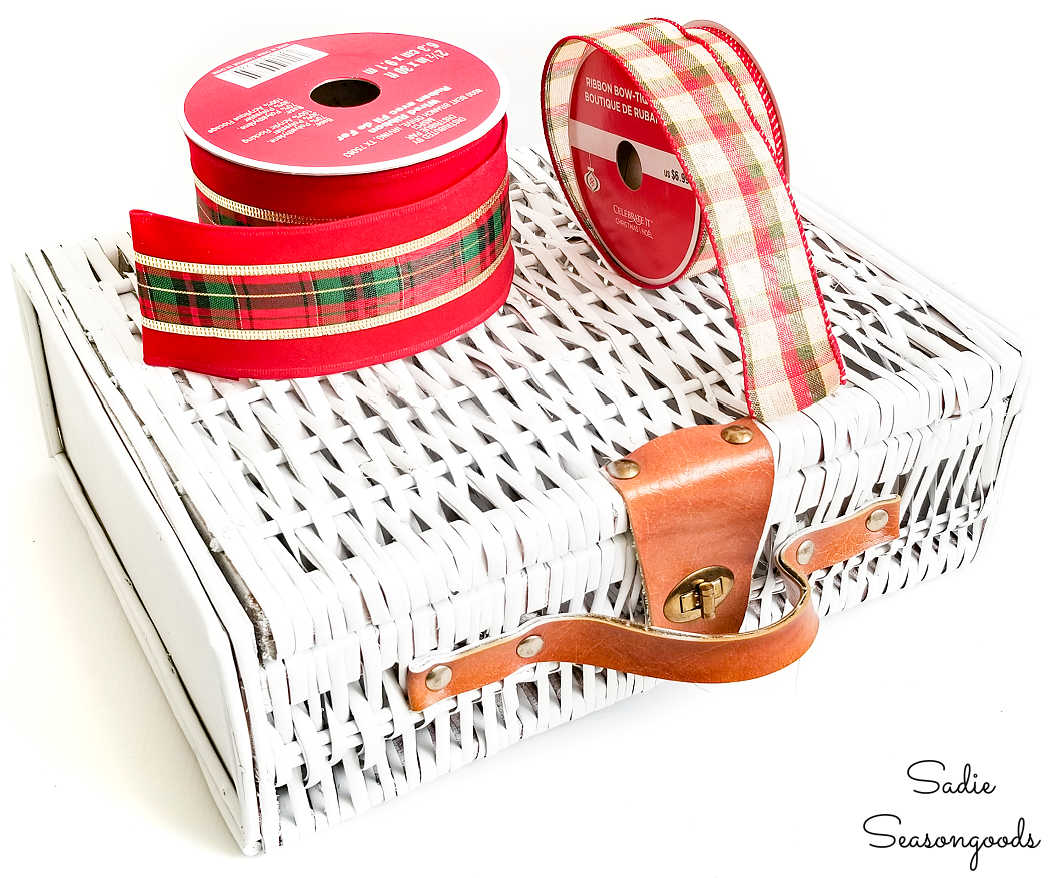 While both looked great against the white, the plaid/velvet ribbon was a touch too wide. So, I chose the muted plaid ribbon to create my vintage luggage straps instead.
Making a Small Picnic Basket Look Like a Vintage Suitcase
Using my favorite mixed media shears, I snipped off a length of ribbon, folded over one end, and slipped it between the front and back of the picnic basket. After lining it up against the now-white hinge, I hot-glued it inside the front of the basket.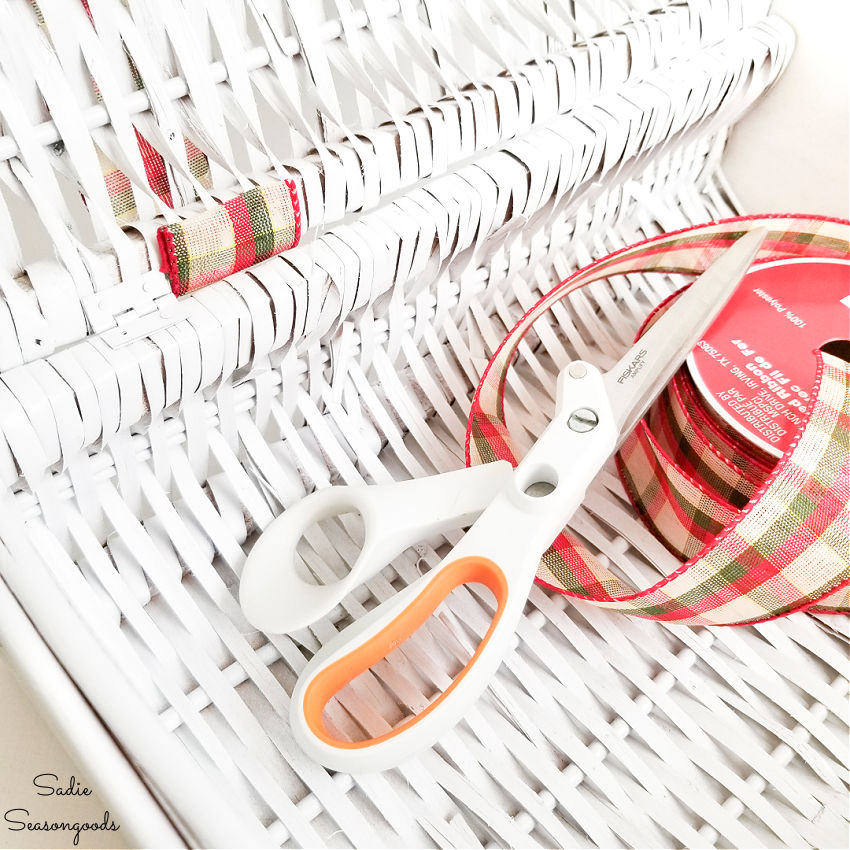 Then, I repeated the process at the other end of the ribbon, again hot-gluing it in place.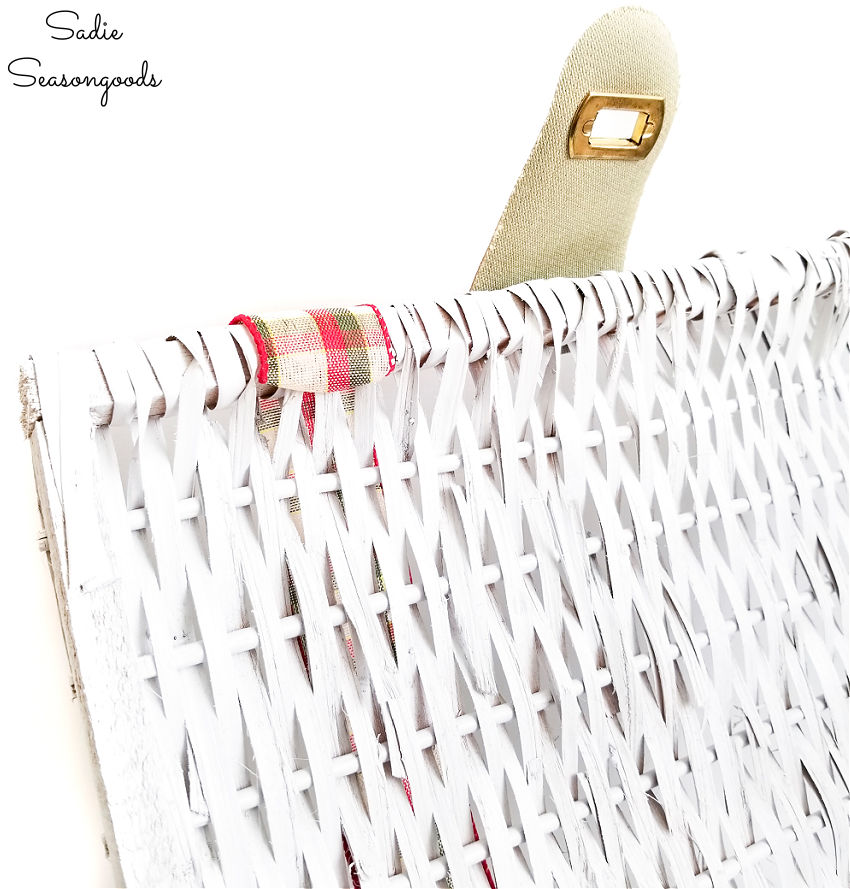 I also added a few beads of glue underneath the suitcase straps along the front cover to keep it in place.
Doesn't that look great? Just like vintage luggage. AND it'll be the most darling storage box for my collection of Christmas magazines!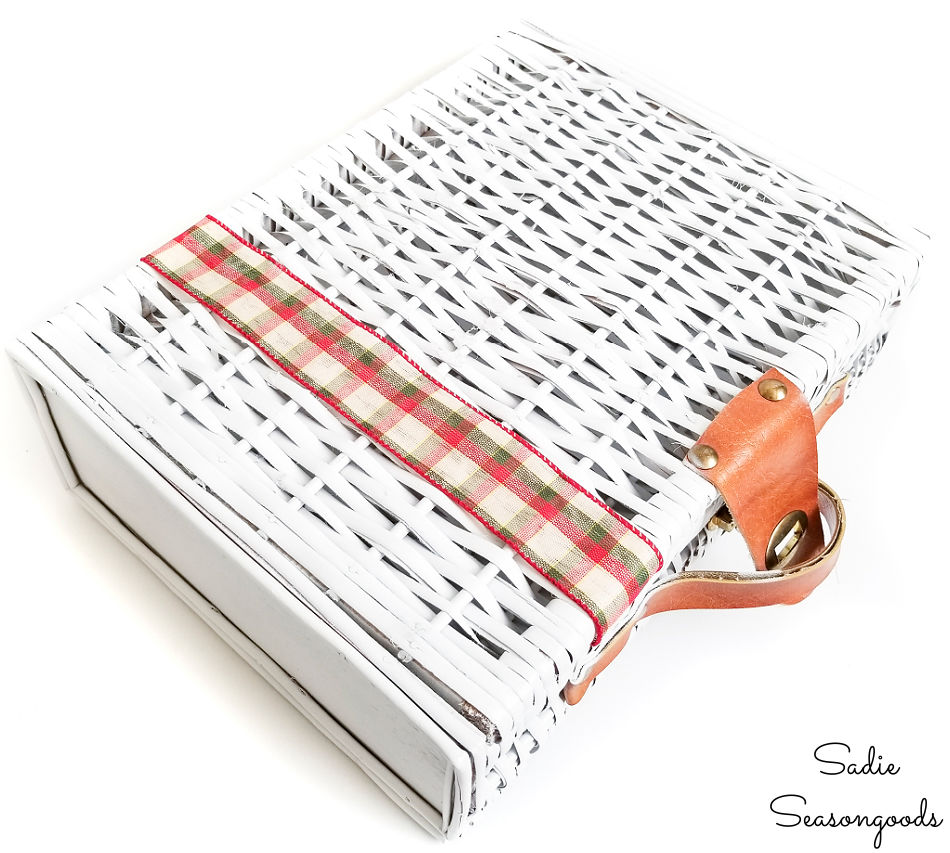 After doing the exact same thing to the other side, it was done! My vintage picnic basket was a Christmas storage container for all of my holiday magazines.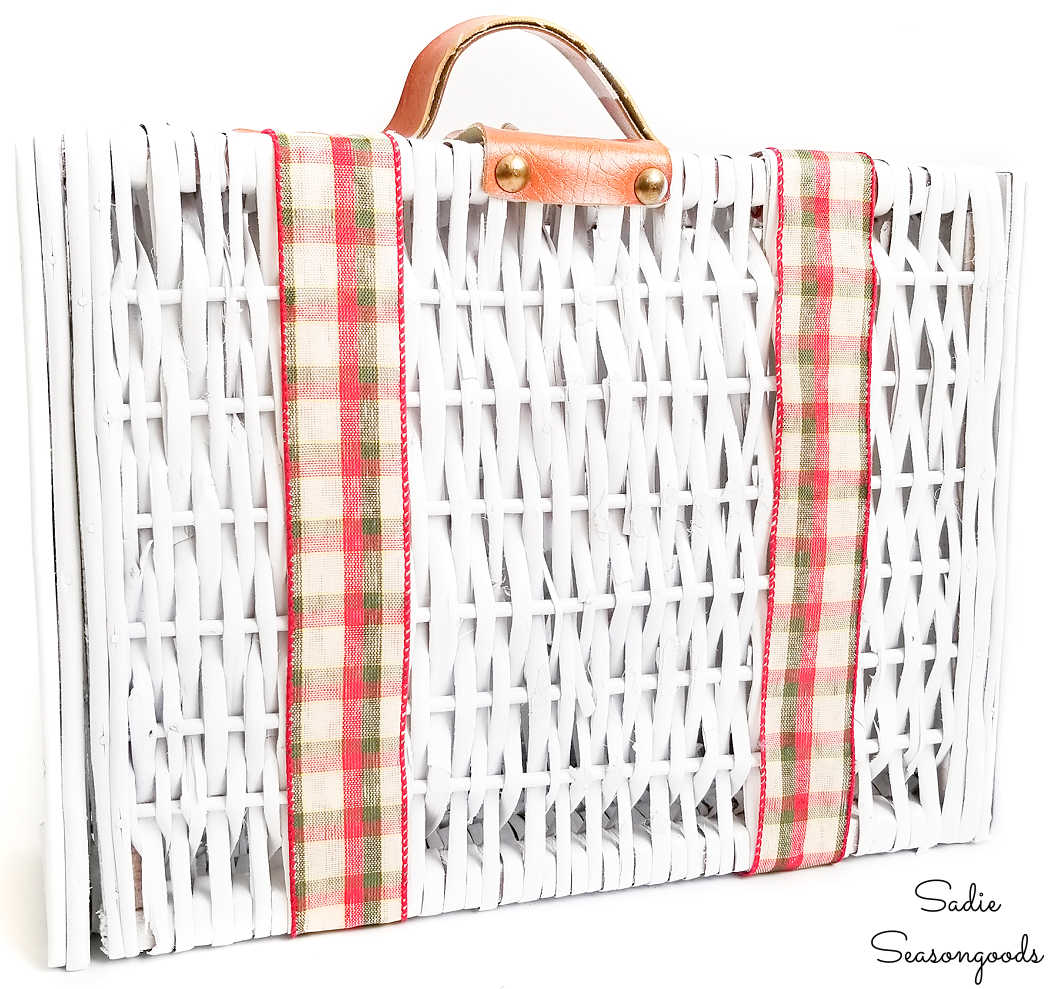 I loved the idea of keeping them all together with the rest of my Christmas storage.
Vintage Picnic Basket as Storage for Christmas Magazines
How fabulous is that? An easy upcycling idea with wonderfully functional results.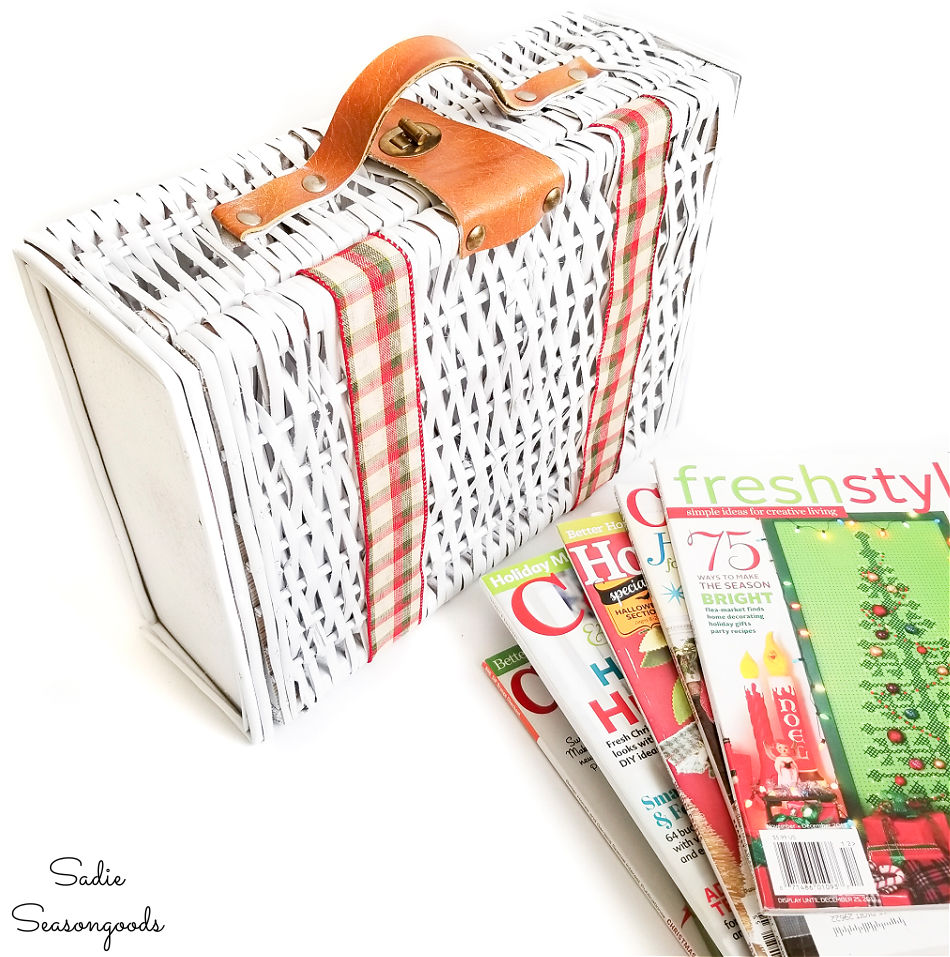 It's hard to believe that Christmas is over…but at least I have a fantastic new storage container for my Christmas magazines.
And I'll definitely smile next year when we go into the loft to retrieve all our Christmas decor. And there it'll be, like a little vintage suitcase. Just the perfect magazine box or storage basket that is as cute as can be.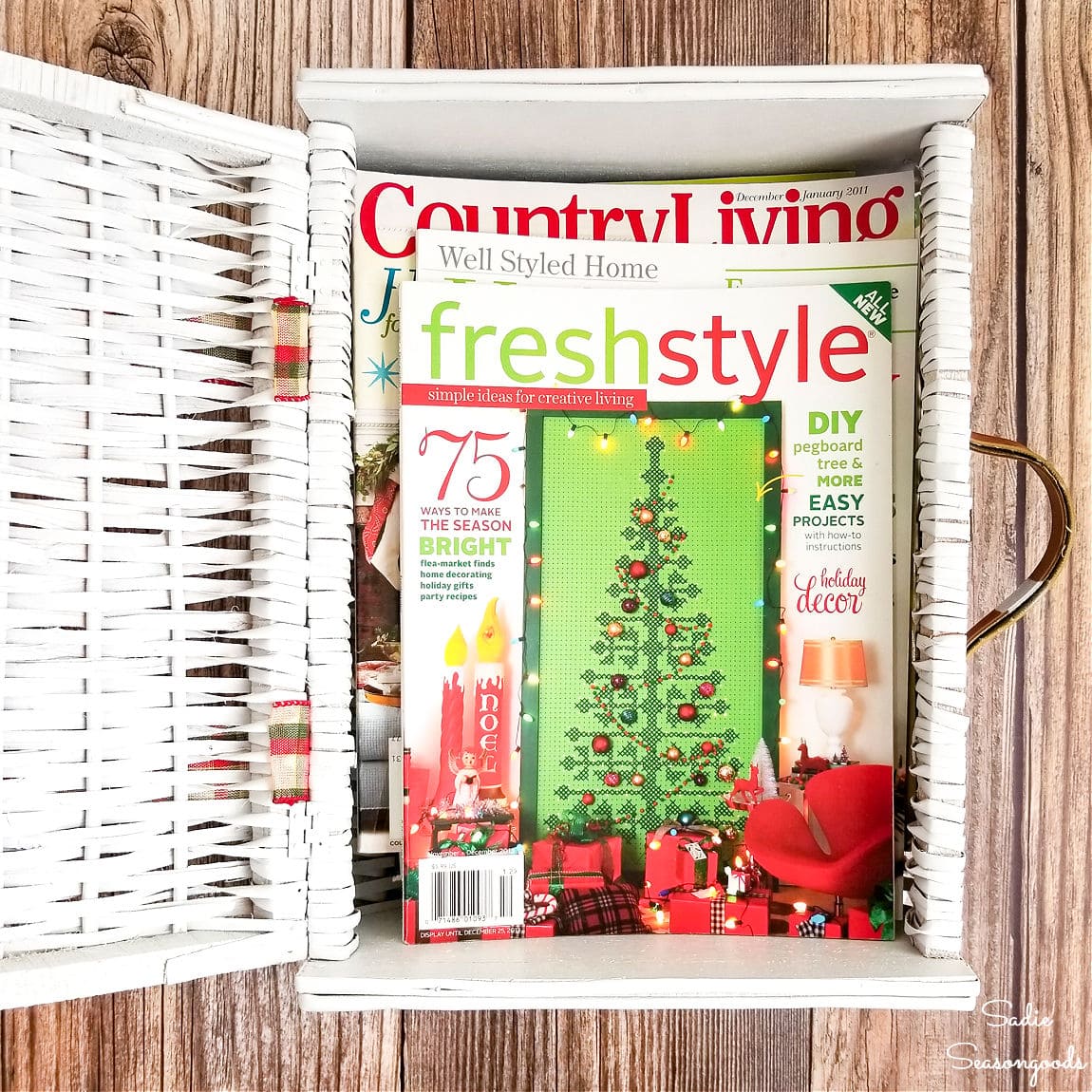 Plus, there is room for more mags! So I think I'll be adding a new Christmas magazine or two for next year.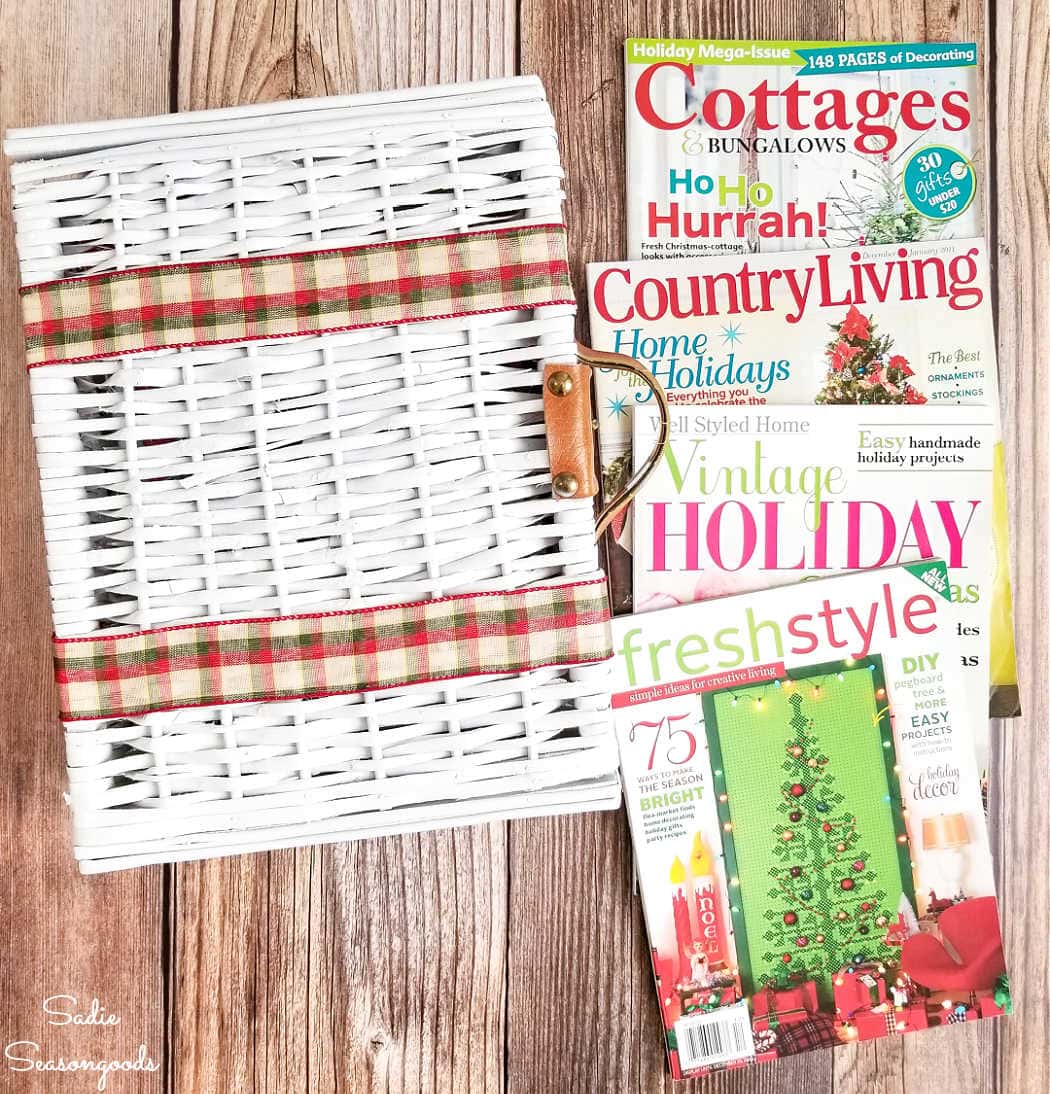 If you enjoyed this upcycling idea for Christmas magazines, then you'll also love this eco-friendly idea for Christmas gift wrap using vintage sewing patterns, too.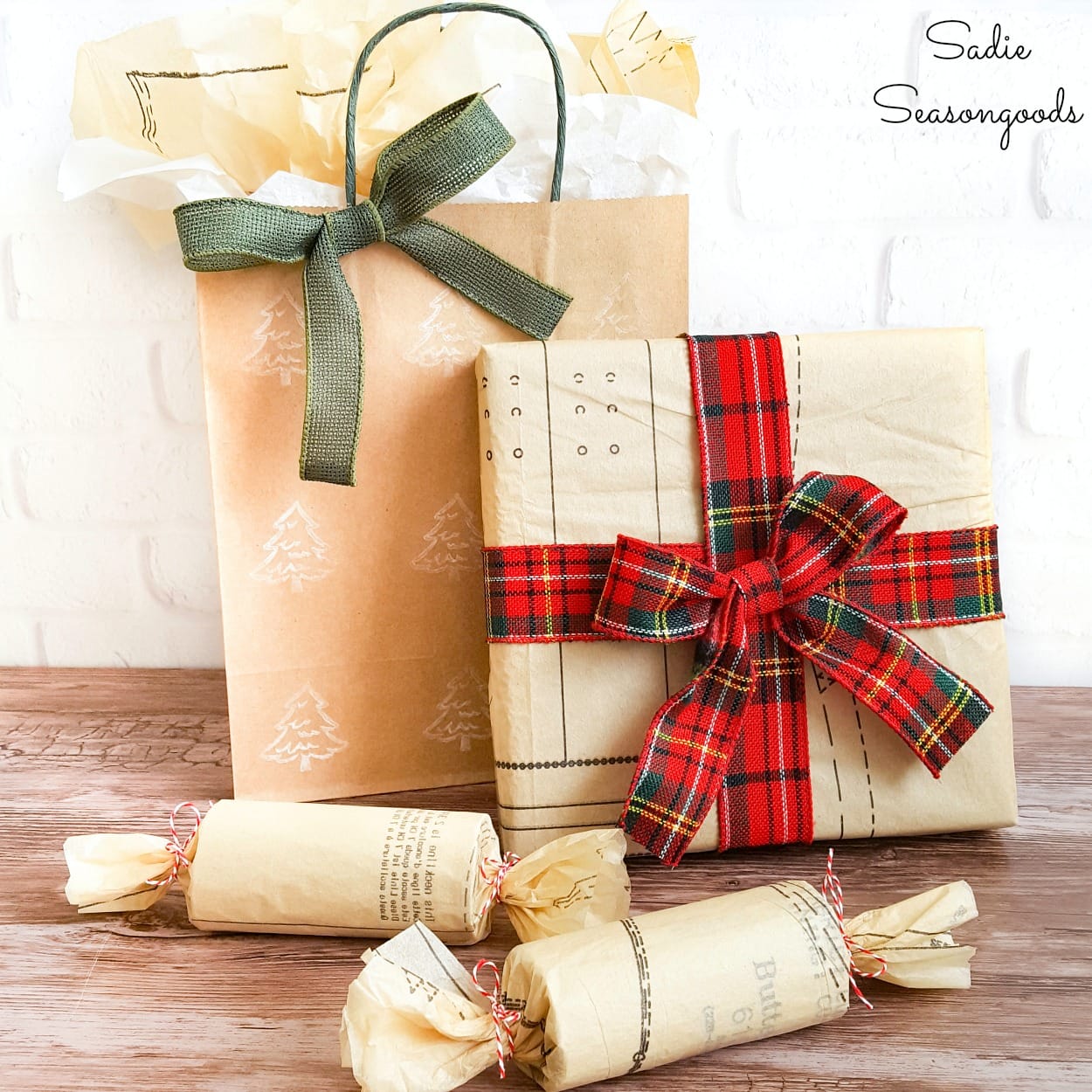 Plus, don't forget- my first book, "Crafting with Flannel", has an entire chapter dedicated to Christmas projects! You can purchase it online from Amazon, Target, Barnes & Noble, and Walmart.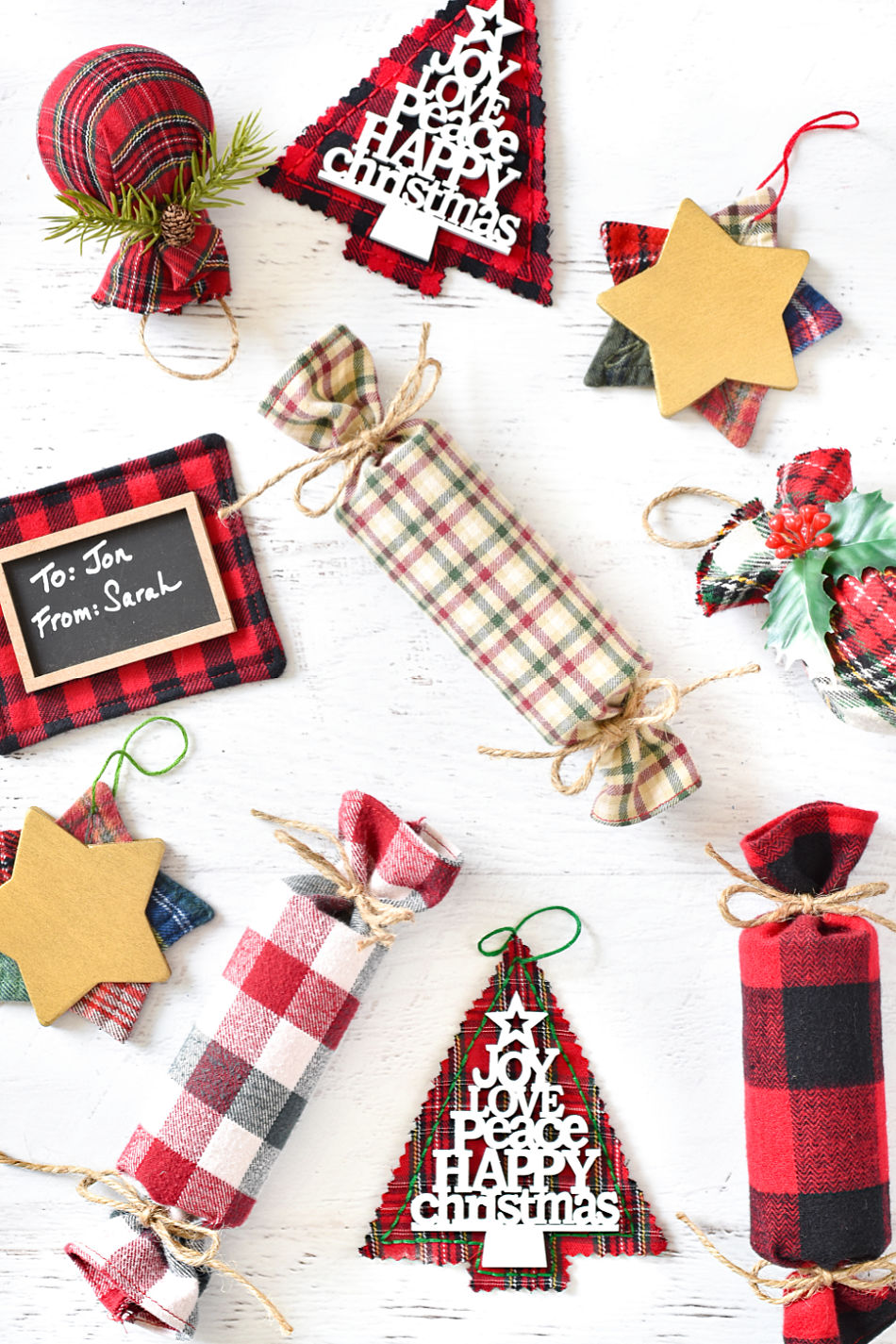 Craft on!
S
Want to be notified when I publish my next upcycling project tutorial?
Subscribe to Blog via Email
Join me on Social Media:
PIN ME!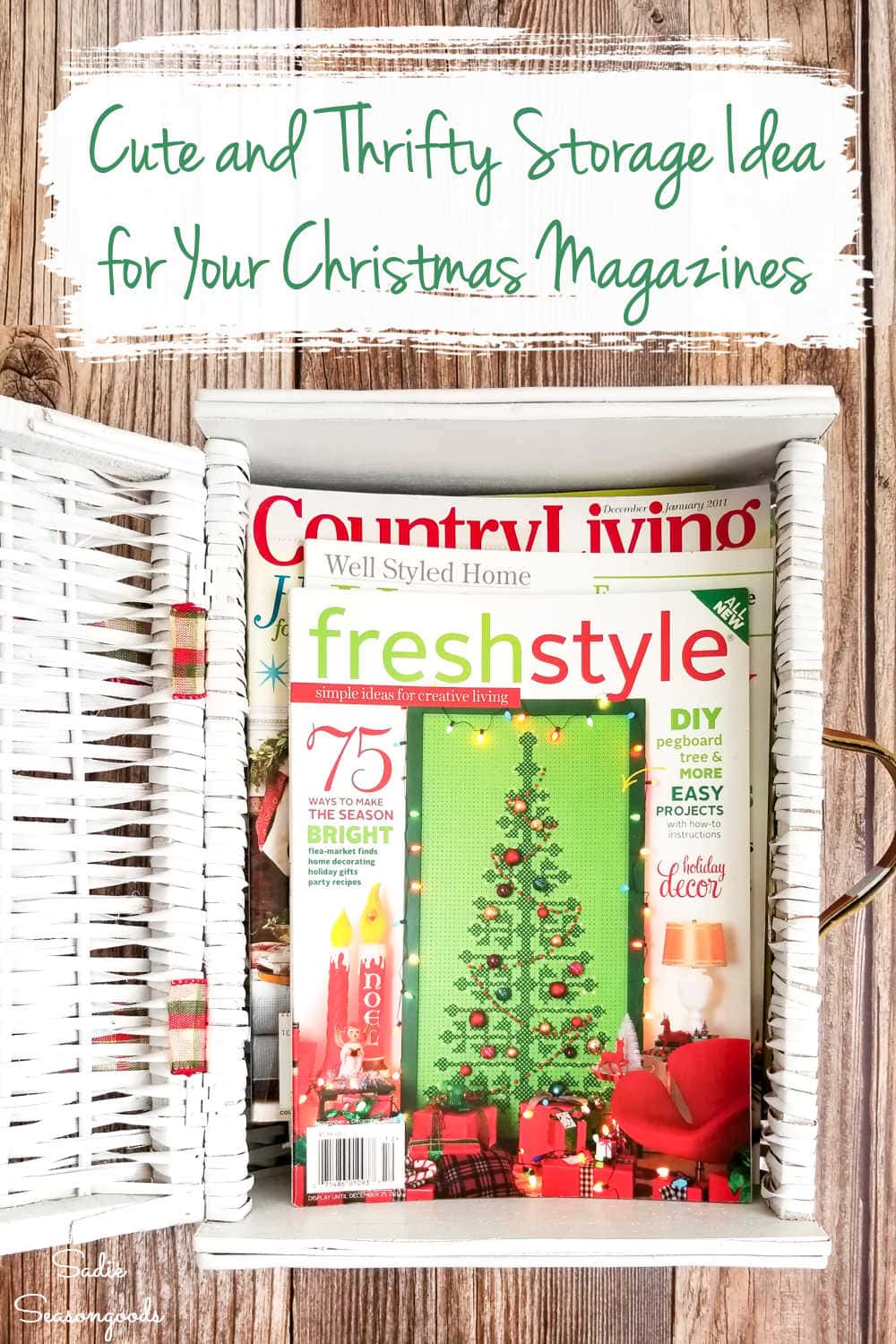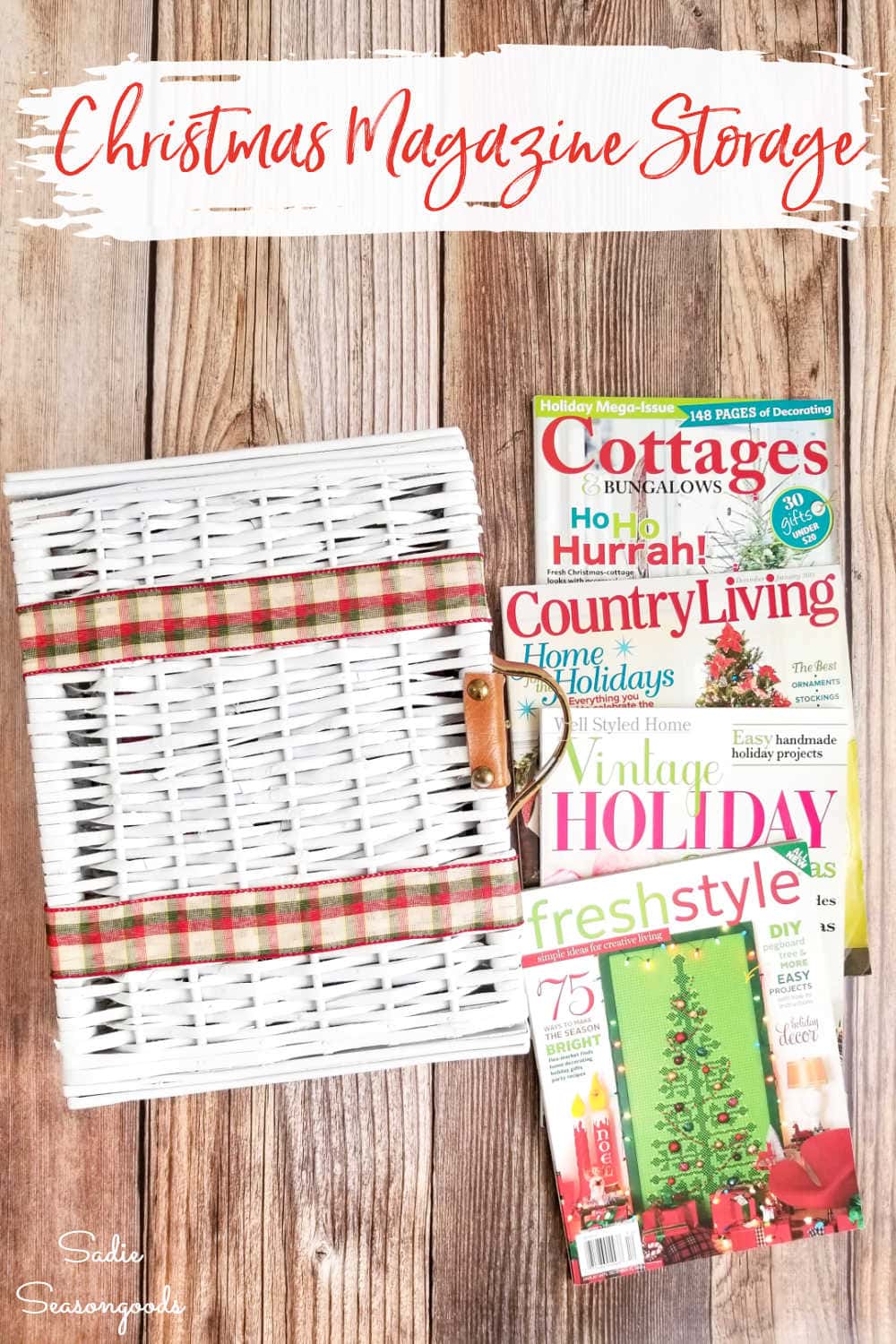 Sarah Ramberg is the owner of Sadie Seasongoods, a website that celebrates all things secondhand. From upcycling ideas and thrifted decor to vintage-centric travel itineraries, Sadie Seasongoods is a one-stop shop for anyone who loves thrifting and approachable repurposing ideas. Sarah is also the author of "Crafting with Flannel" and has been featured in numerous media outlets and magazines.