I had been on the hunt for a vintage sled for a long time. But every time I found one, the price was just a little too high for me to pull the trigger. Finally, FINALLY I found one in rural Georgia that would work perfectly as wooden sled decor, and I knew exactly how I wanted to achieve that.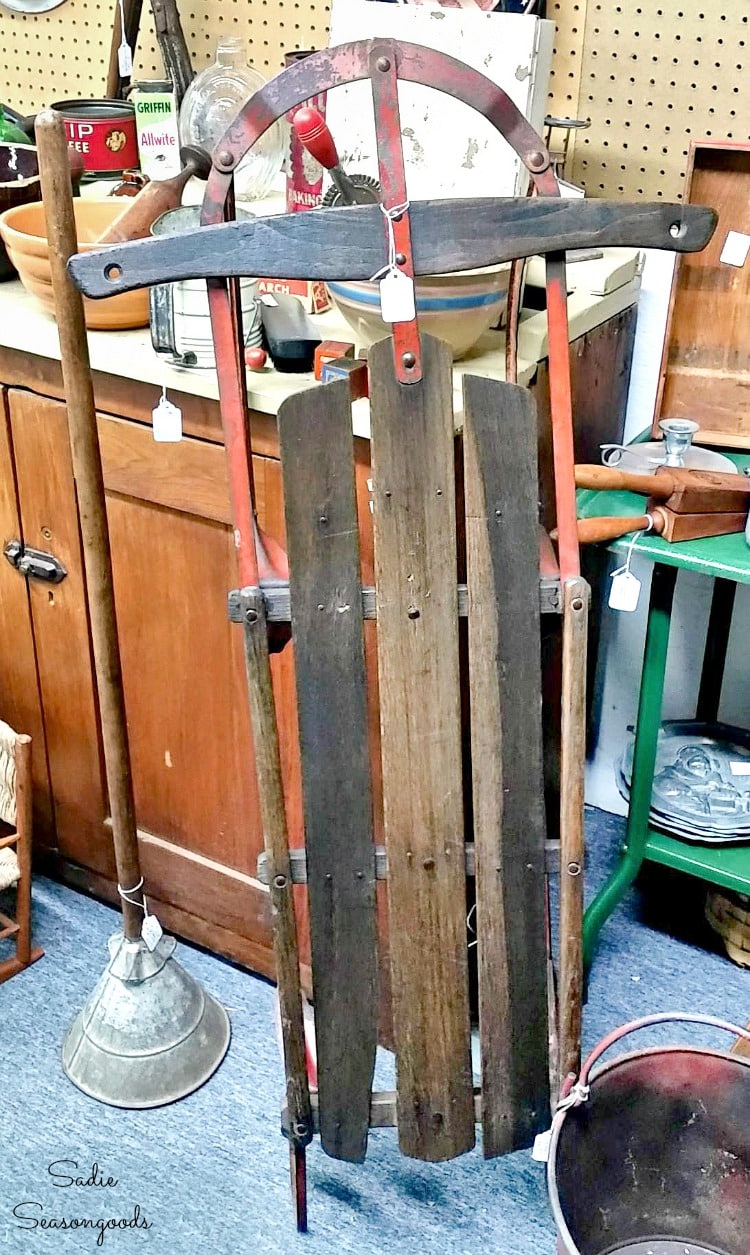 I loved the idea of incorporating these antique sleds into porch decor for Christmas. And many of them are decorated with traditional wreathes or a pair of vintage ice skates.
Like this "wreath" I recently made…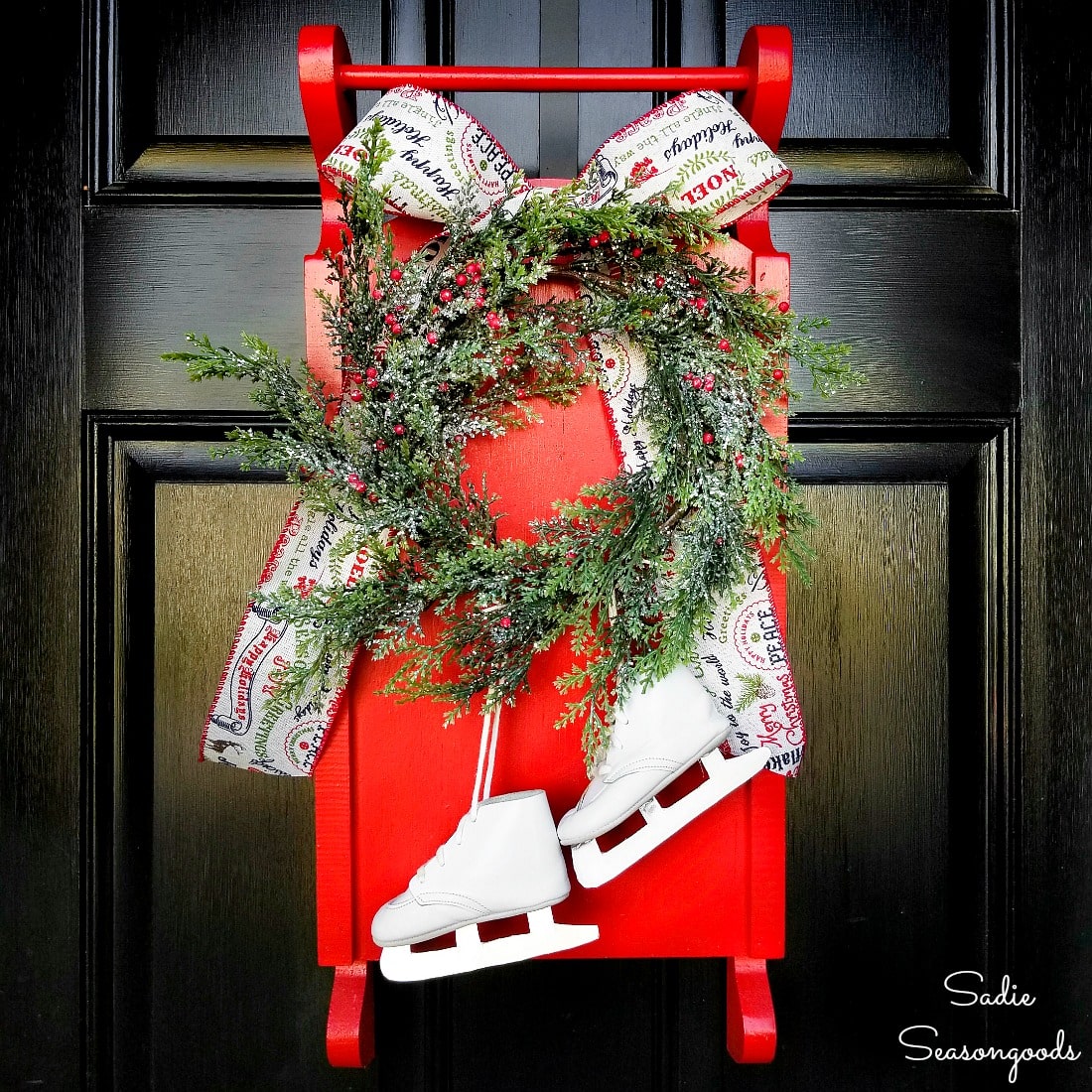 But surely I could make my wooden sled decor a little different, right?
So, I reminisced about my sledding days and thought about where I went sledding, who I went sledding with, and what I wore (snowsuit or snow pants, hat, mittens).
Mittens. Red mittens. Red mittens with a string connecting them.
I wasn't about to go hunt down some vintage red mittens- and I definitely didn't want to purchase new ones. But I had just thrifted a red sweater recently…hmm…
This post contains affiliate links for your crafting convenience. As an Amazon Affiliate, I earn from qualifying purchases. All blue, bold, and underlined text is a clickable link, either to a product or to a related post.
Sweater Mittens to Hang on a Vintage Sled
The sweater I had thrifted wasn't all that special. A very basic cable knit sweater by Tommy Hilfiger.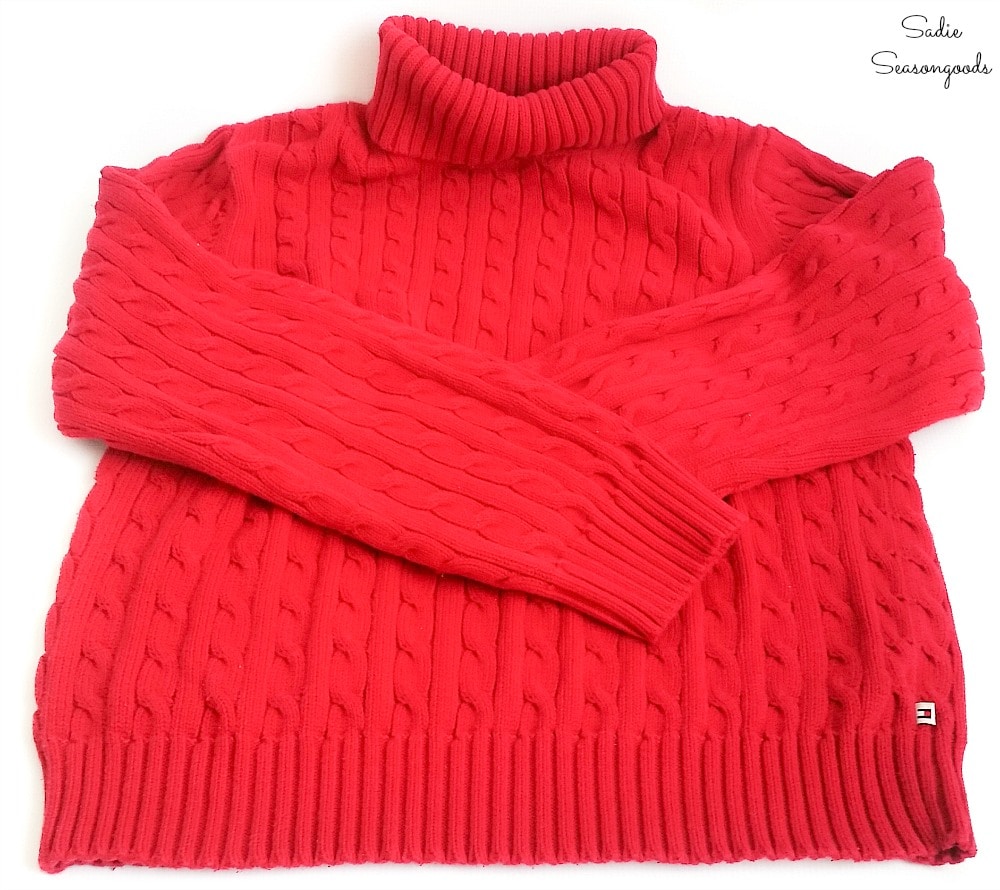 But it was red and ripe for repurposing, as far as I was concerned!
First, I turned the sweater inside-out and grabbed a Sharpie. Surprise, surprise, Cottonball insisted on helping.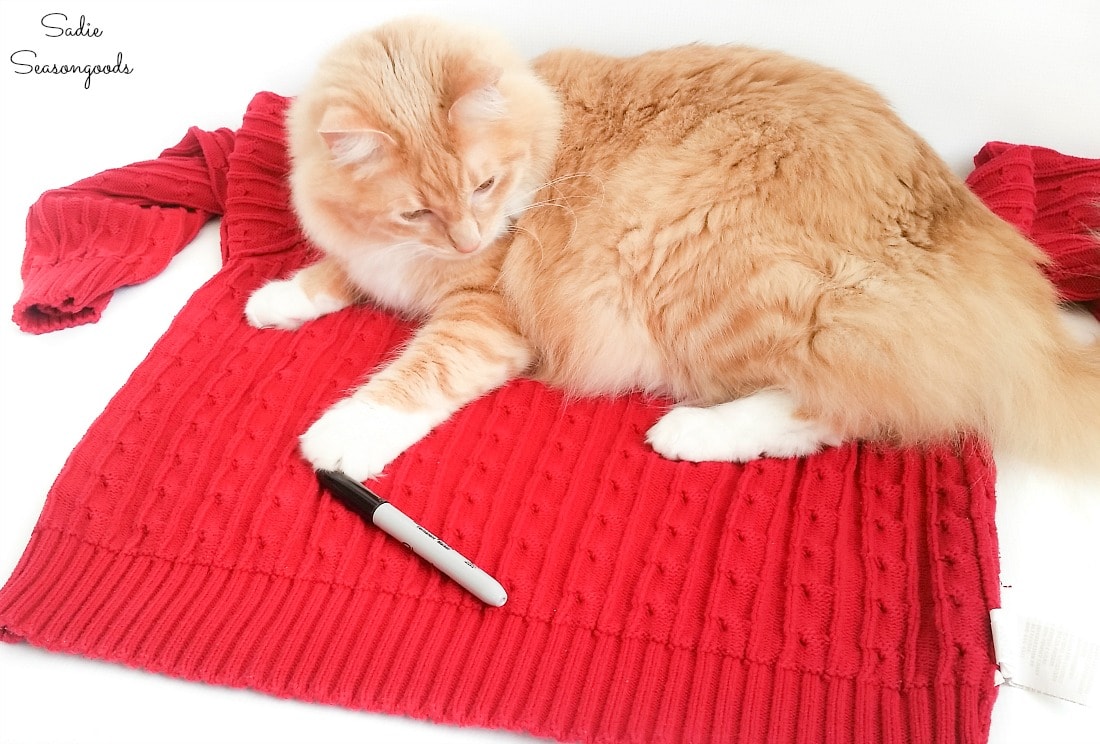 Then, I placed my hand at the lower edge of the sweater, lining up my wrist with the bottom sweater banding. Using the Sharpie, I traced along my hand in a mitten shape.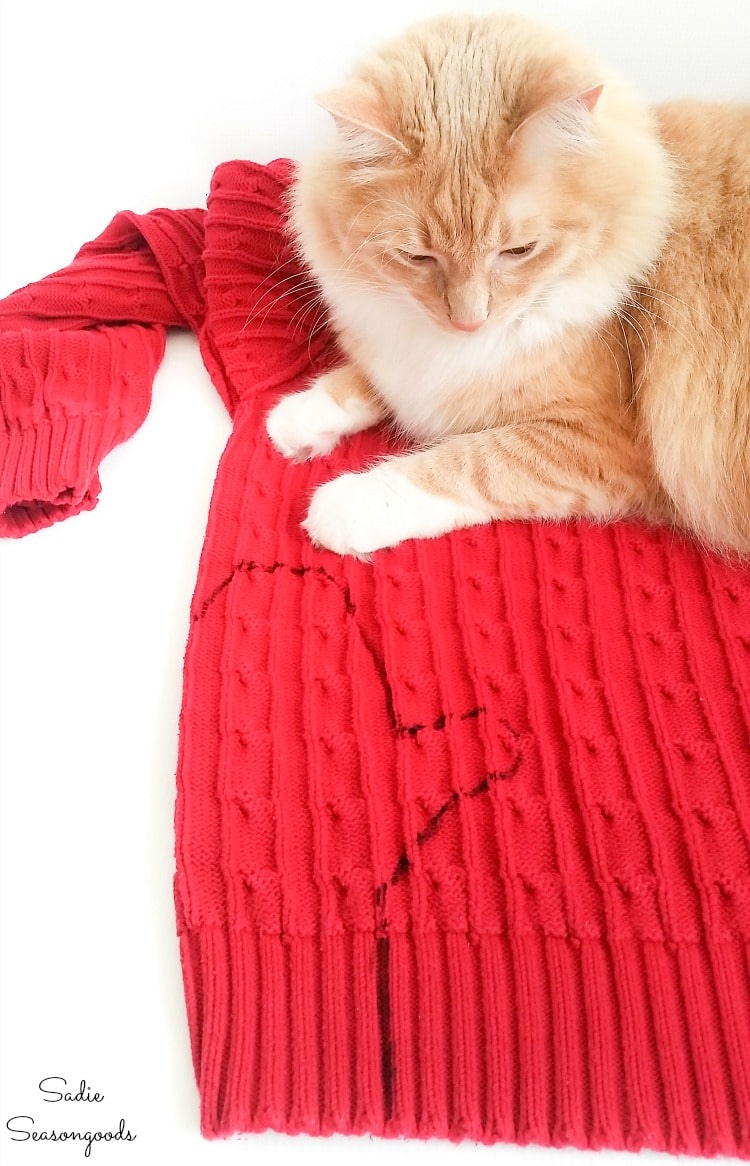 On the other bottom corner of the sweater, I did the same thing with my right hand. Then, I cut out my "mittens", still with the right sides facing each other, and pinned the raw edges closed.
Next, I lined the cut edges with specialty glue, and set them aside to dry.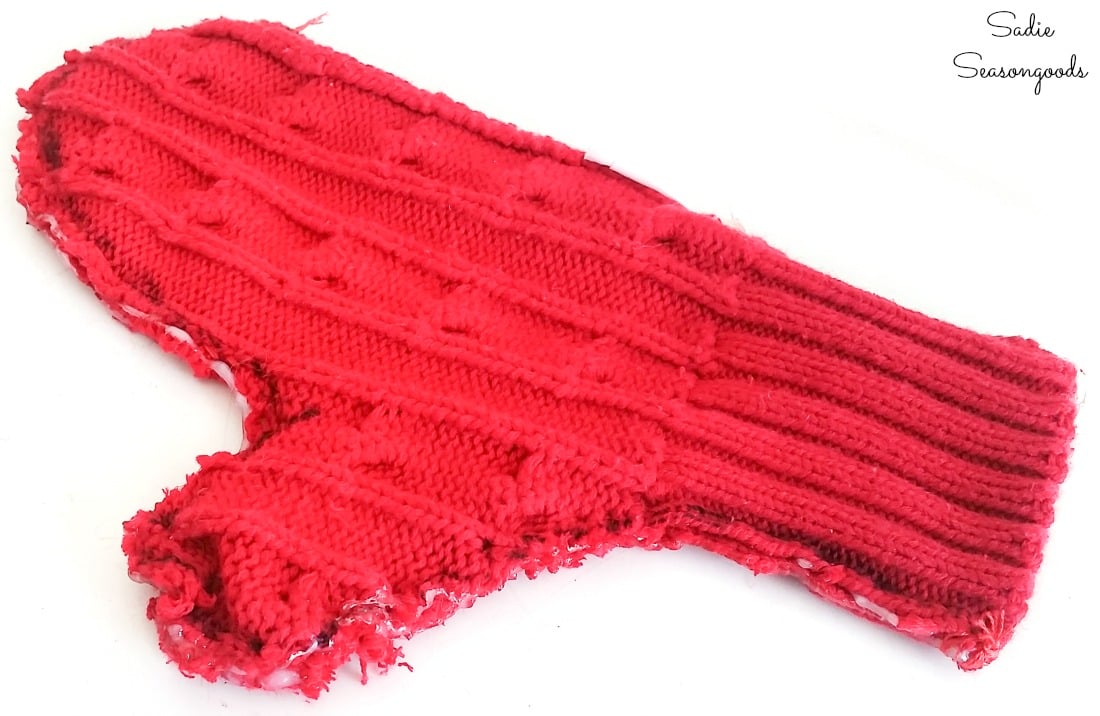 Lastly, I quickly (i.e., not perfectly) hand-stitched the sweater mittens closed with embroidery floss.
Decorating the Wooden Sled Decor
When all was said and done, I turned them right-side-out, and ta-da! Red mittens that were just perfect.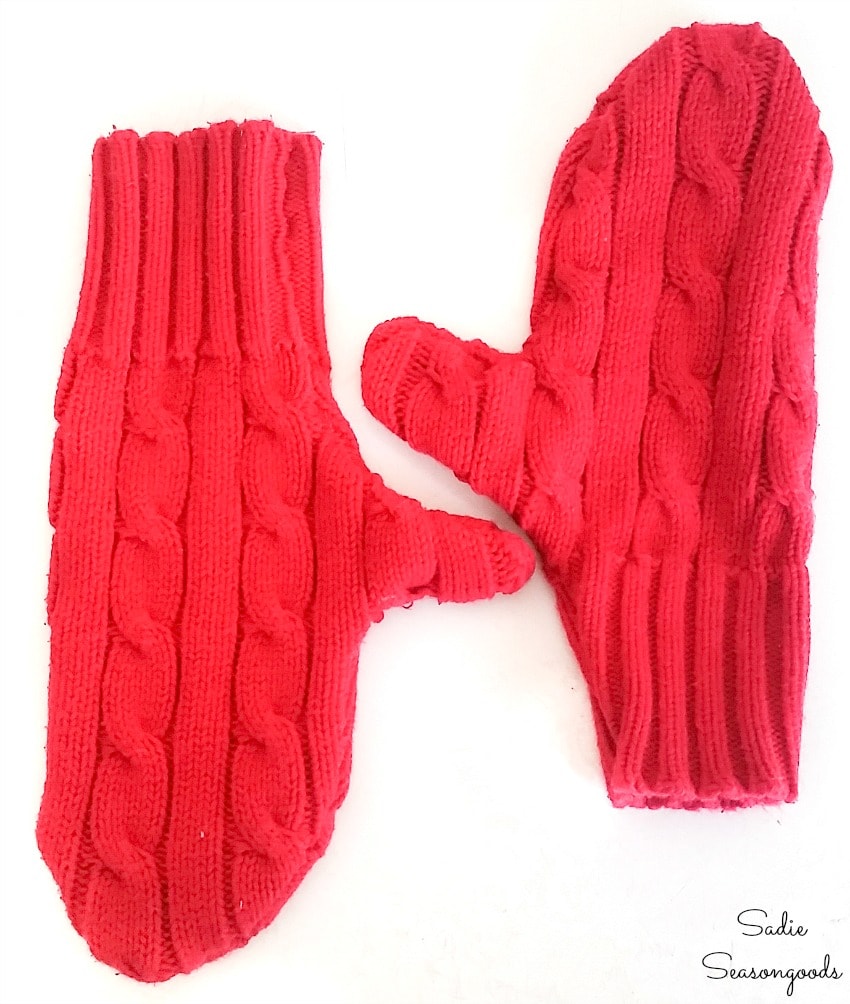 Maybe not perfect enough to wear, but certainly good enough to use on the wooden sled!
First, I propped up the vintage sled in the corner of our porch and snipped some nice branches from our plethora of cypress trees. Next, I tied them to the sled with some jute twine.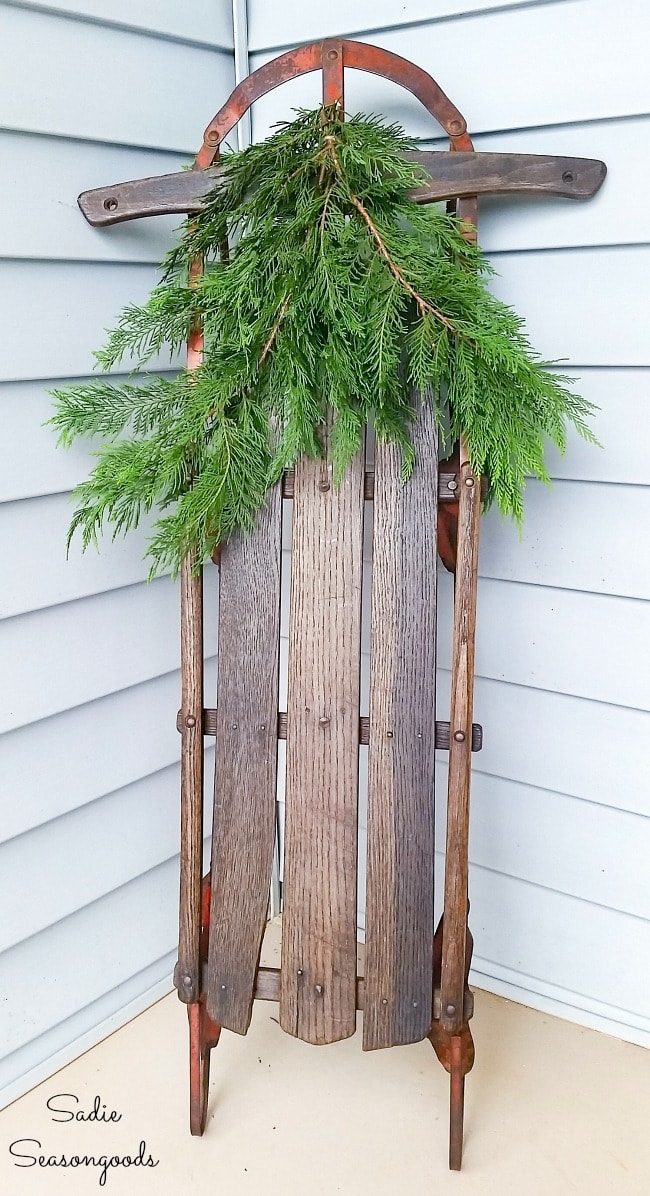 Look at that! I even did a little yard work with some tree trimming – ha, ha!
Over the branches, I hung some large bells. I've had these suckers for years but never knew what to do with them.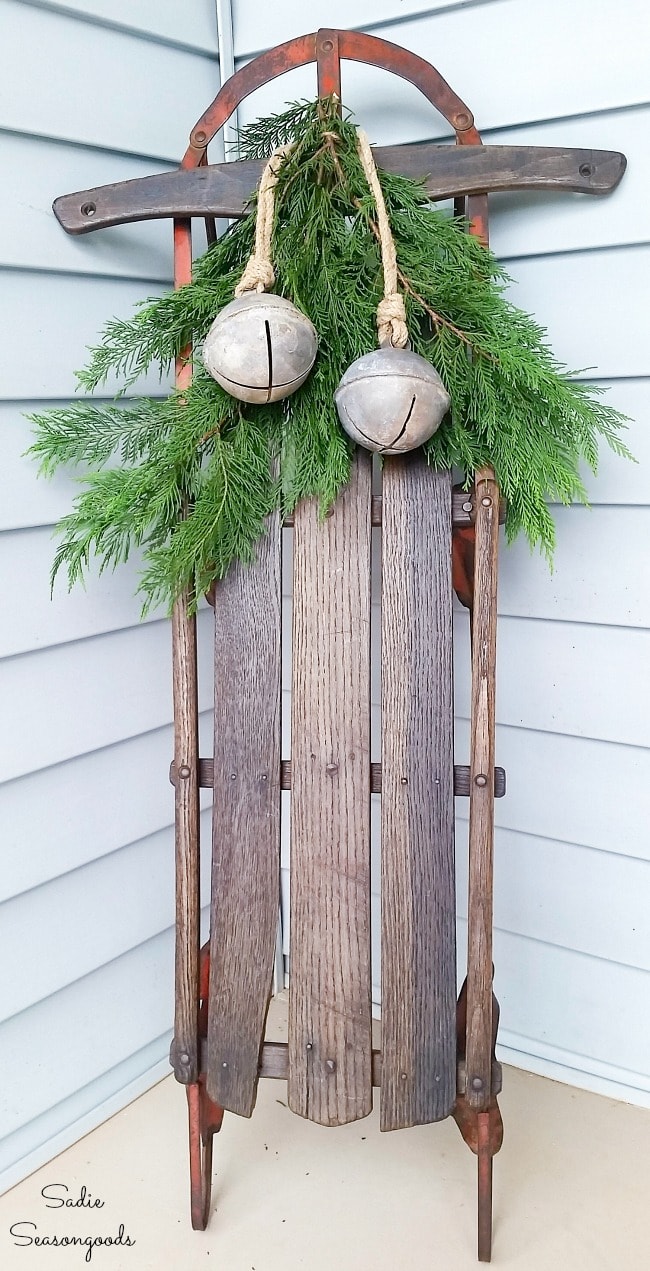 They FINALLY had a purpose on my wooden sled decor!
Then, I wrapped the sweater mittens around the wooden sled.
Since I didn't have any red yarn, I simply safety-pinned a short red ribbon to each knit mitten to "connect" them, which also held them in place around the antique sled.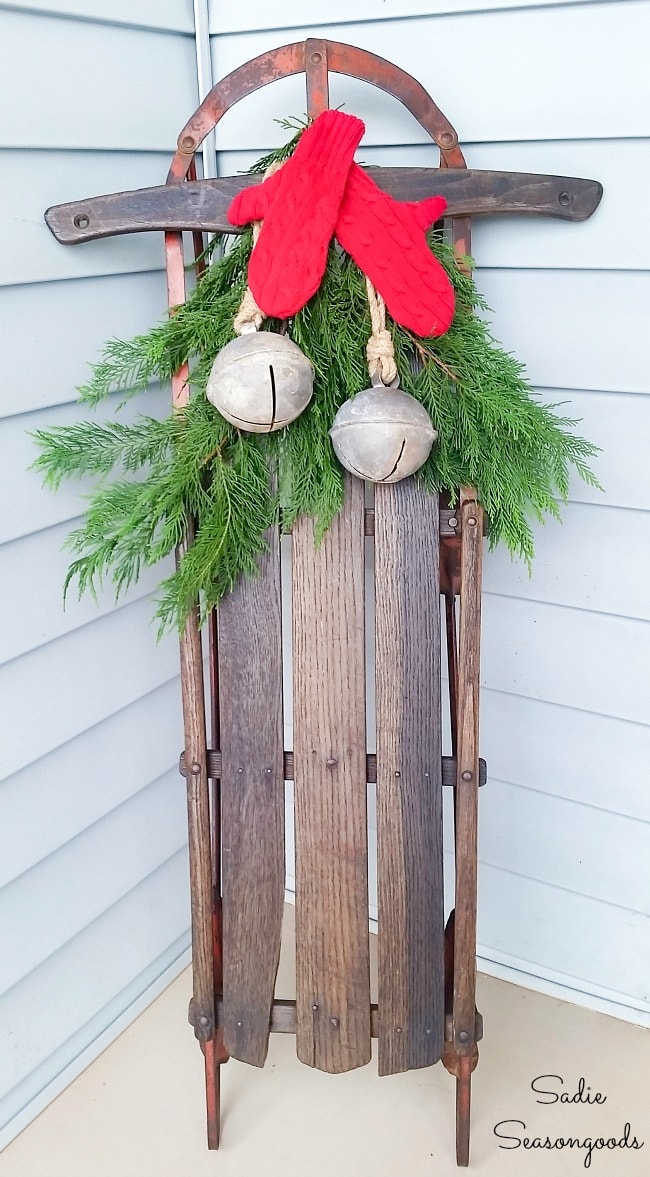 One final touch and my wooden sled decor would be complete!
Wooden Sled Decor with Sweater Mittens
Finally, I added a large bow at the top of the vintage sled. I'm not much of a bow person and I'm certainly not skilled in bow-tying, but I was happy with how it turned out.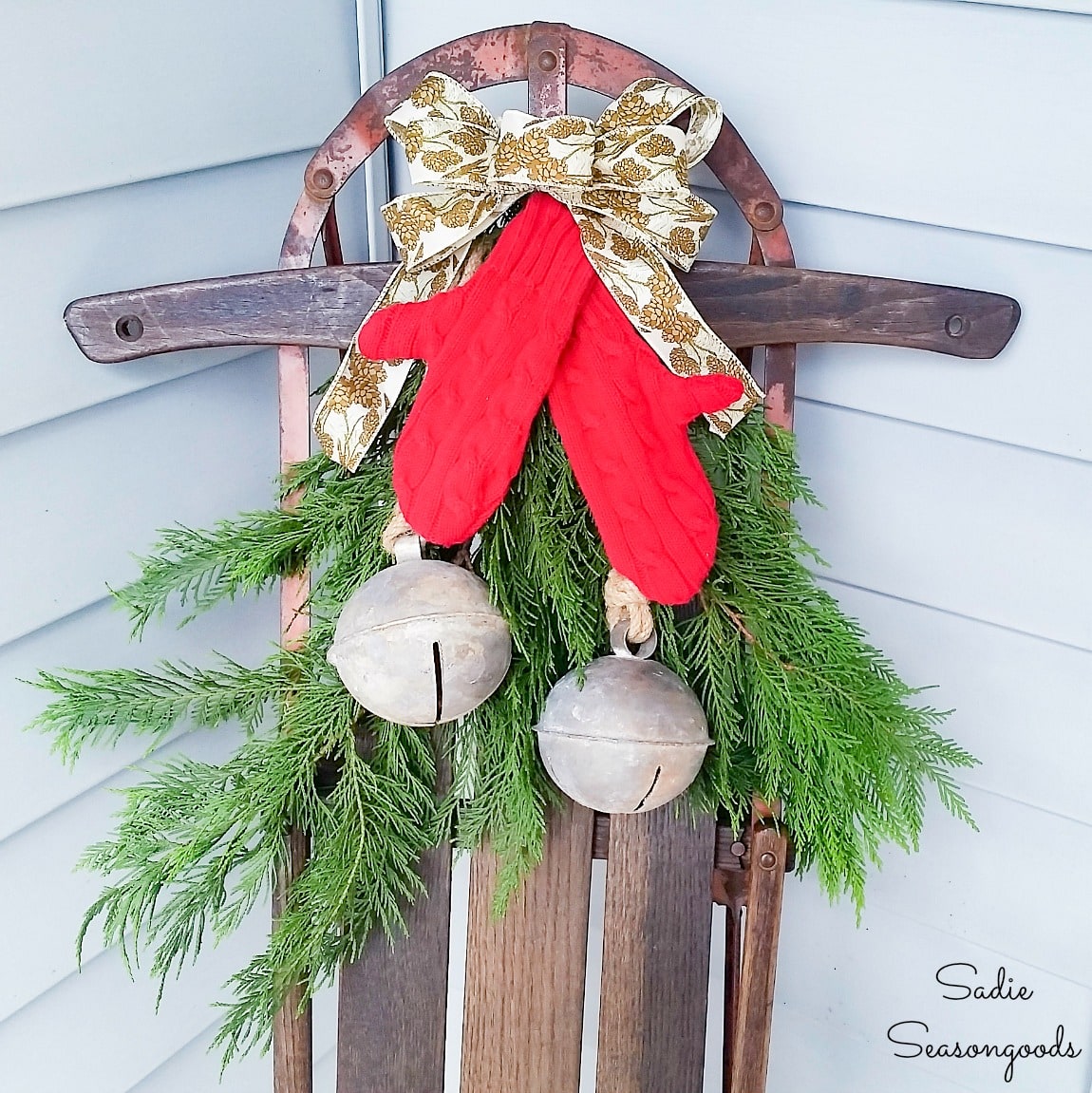 And I am telling you what- I LOVE HOW EVERYTHING TURNED OUT! It is just so darn cute, and I love that I upcycled the sweater mittens, too.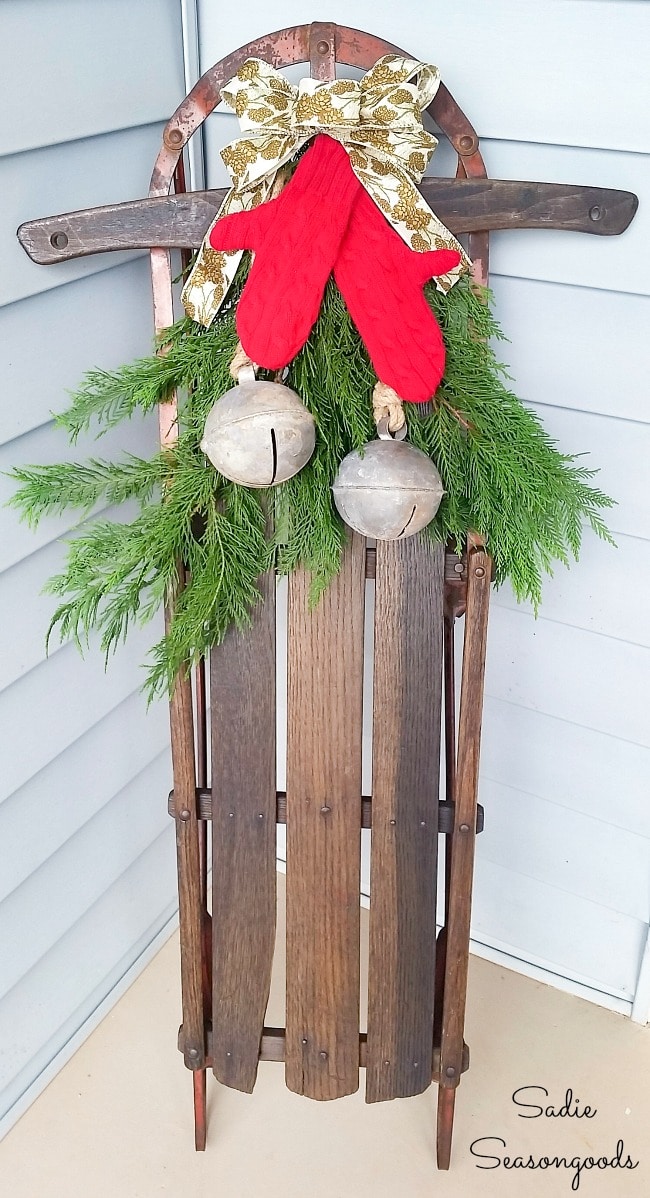 Hurray for finally finding a wooden sled, too! So tell me, what will your front porch Christmas decorations look like this year?
If you enjoyed this upcycling idea for front porch Christmas decor, then you'll love these candy candy decorations, too!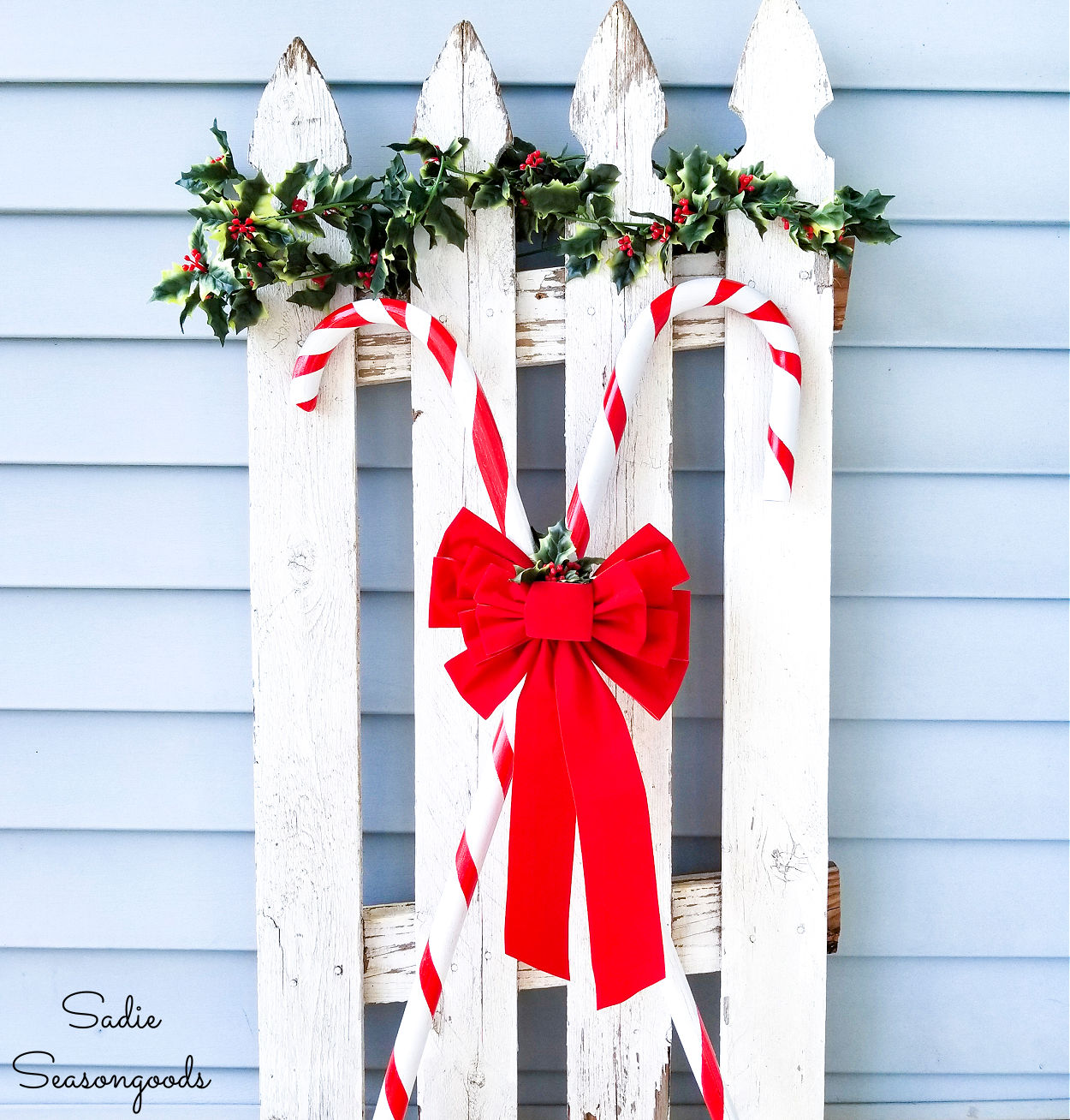 And, don't forget that my first book, "Crafting with Flannel", has an entire chapter dedicated to Christmas projects, as well.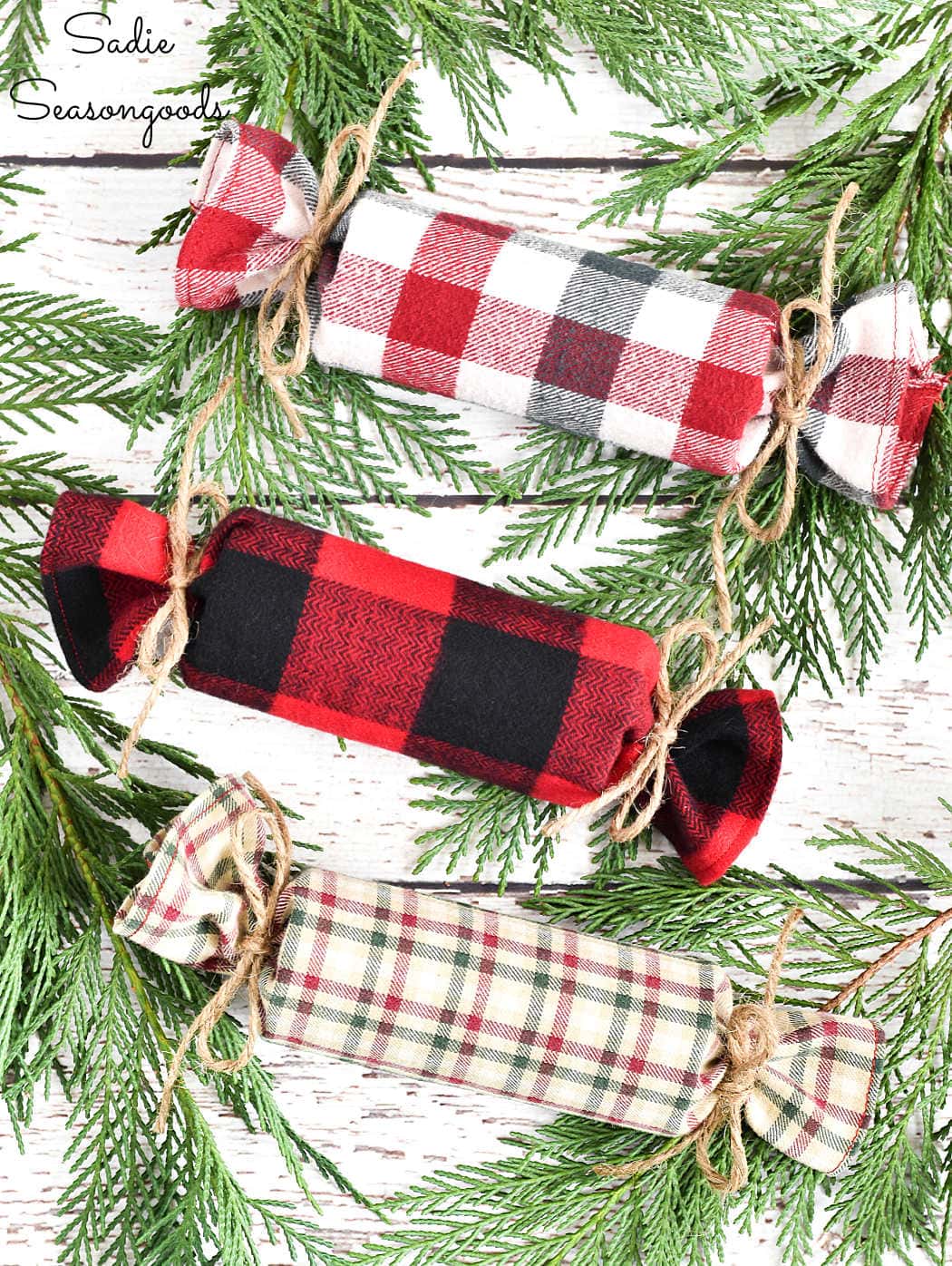 Craft on!
S
Want to be notified when I publish my next upcycling project tutorial?
Subscribe to Blog via Email
Join me on Social Media:



PIN ME!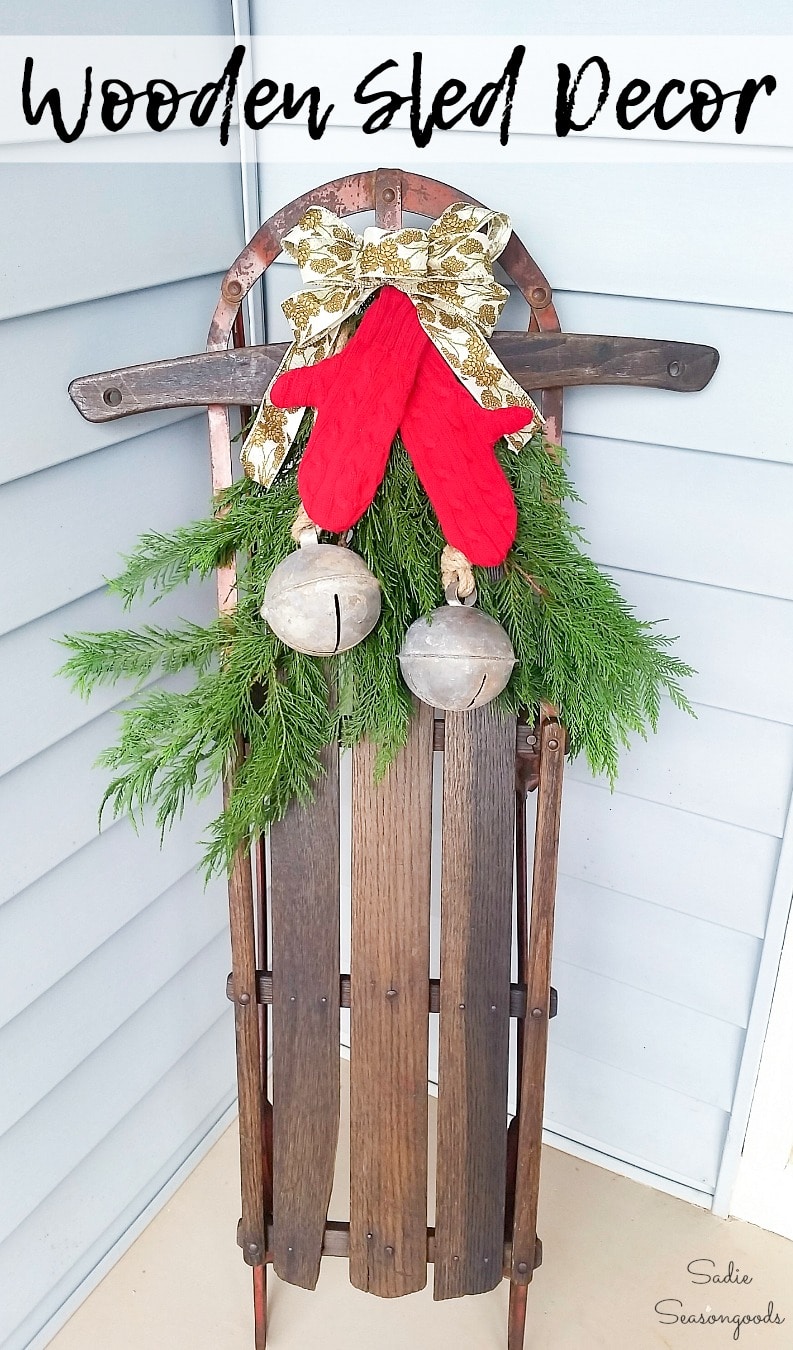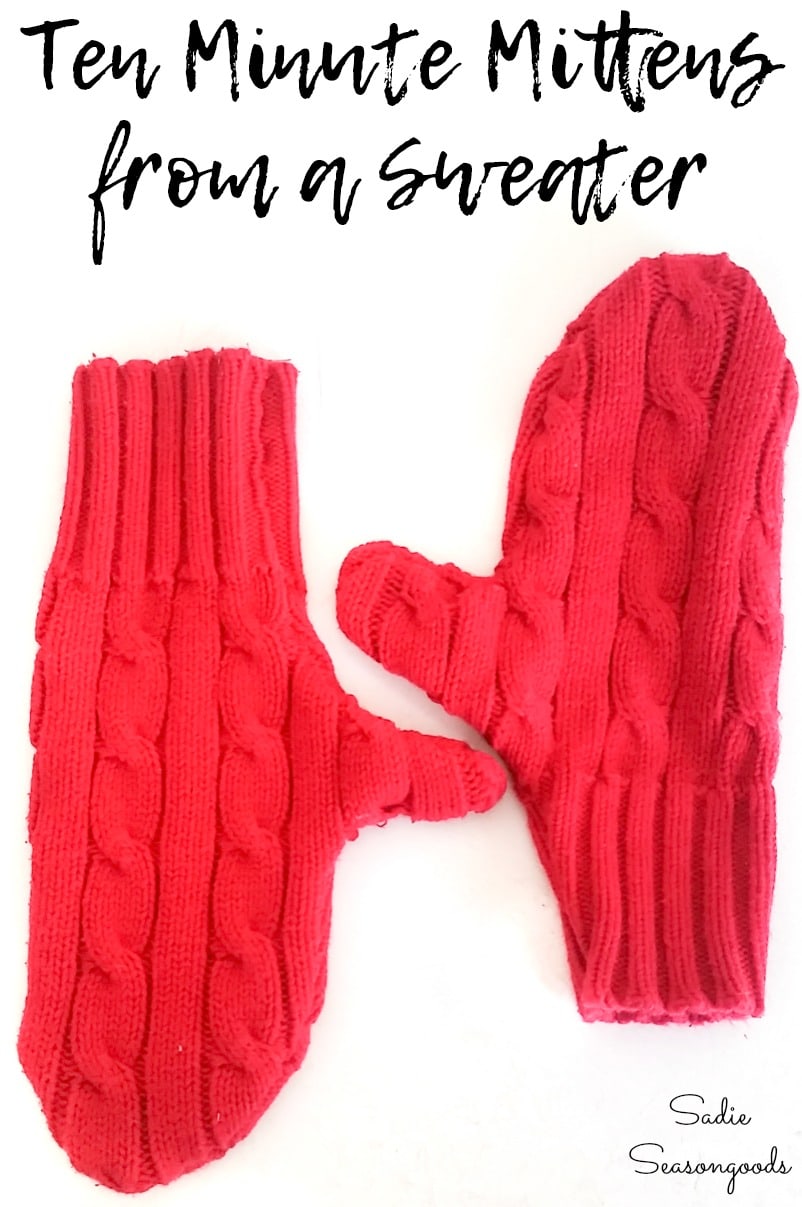 Sarah Ramberg is the owner of Sadie Seasongoods, a website that celebrates all things secondhand. From upcycling ideas and thrifted decor to vintage-centric travel itineraries, Sadie Seasongoods is a one-stop shop for anyone who loves thrifting and approachable repurposing ideas. Sarah is also the author of "Crafting with Flannel" and has been featured in numerous media outlets and magazines.