It's no secret that I love capturing the essence of holidays and season in jars. I've done it for Christmas (twice, if you count this project), Summer, Spring, and Winter. But, up until today, I hadn't done one for Halloween. So, I'm rectifying that by making a Halloween terrarium this time!
Instead of jars, however, I decided to use decorative lanterns. Mostly because I found some recently and figured they'd be perfect for the job!
First, I found this metal-and-glass lantern…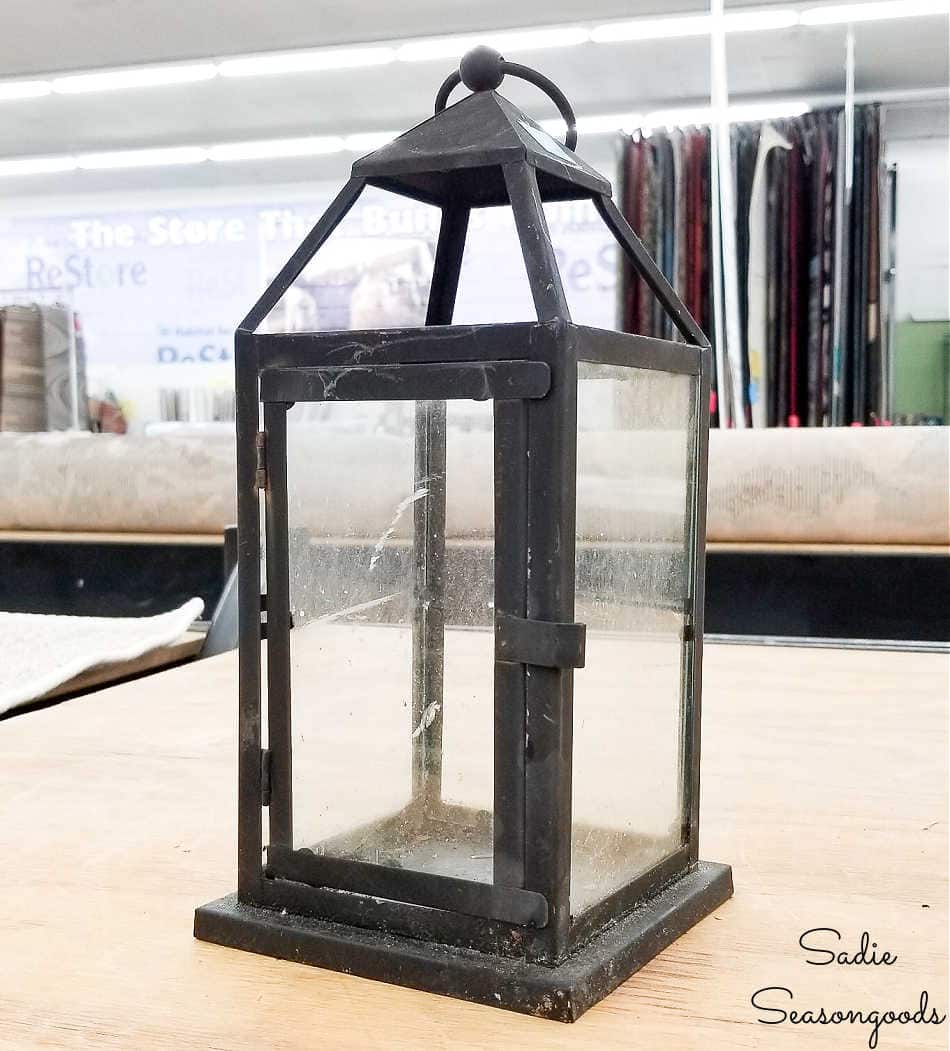 And then I found a wood-and-glass version.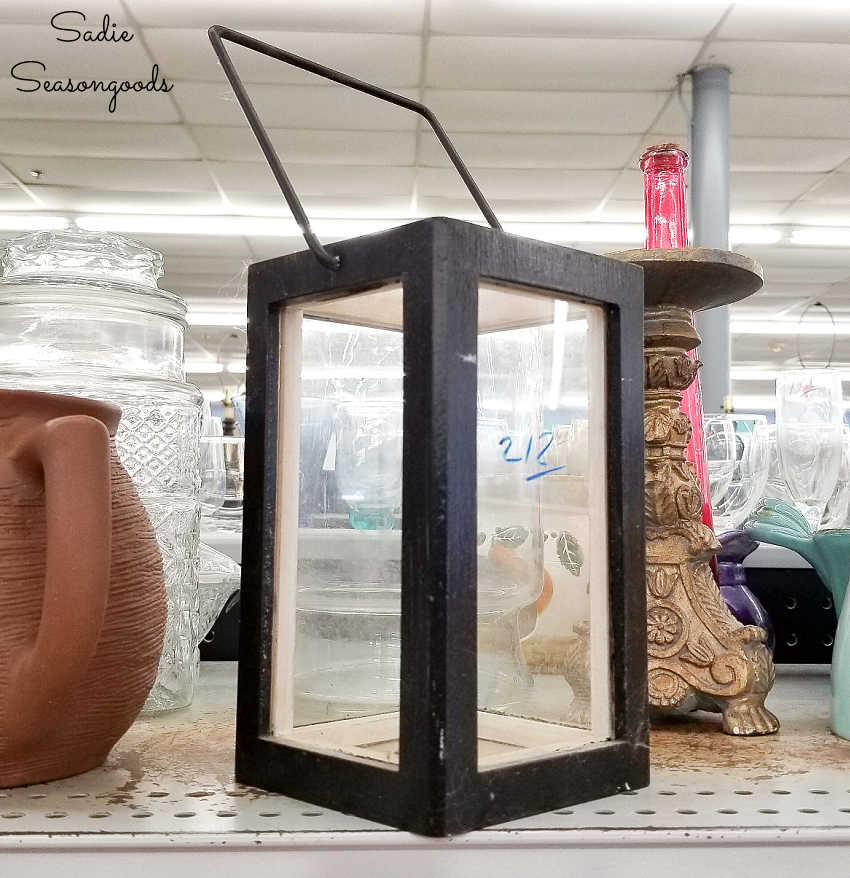 They reminded me of this other lantern that I had upcycled for Halloween in the past…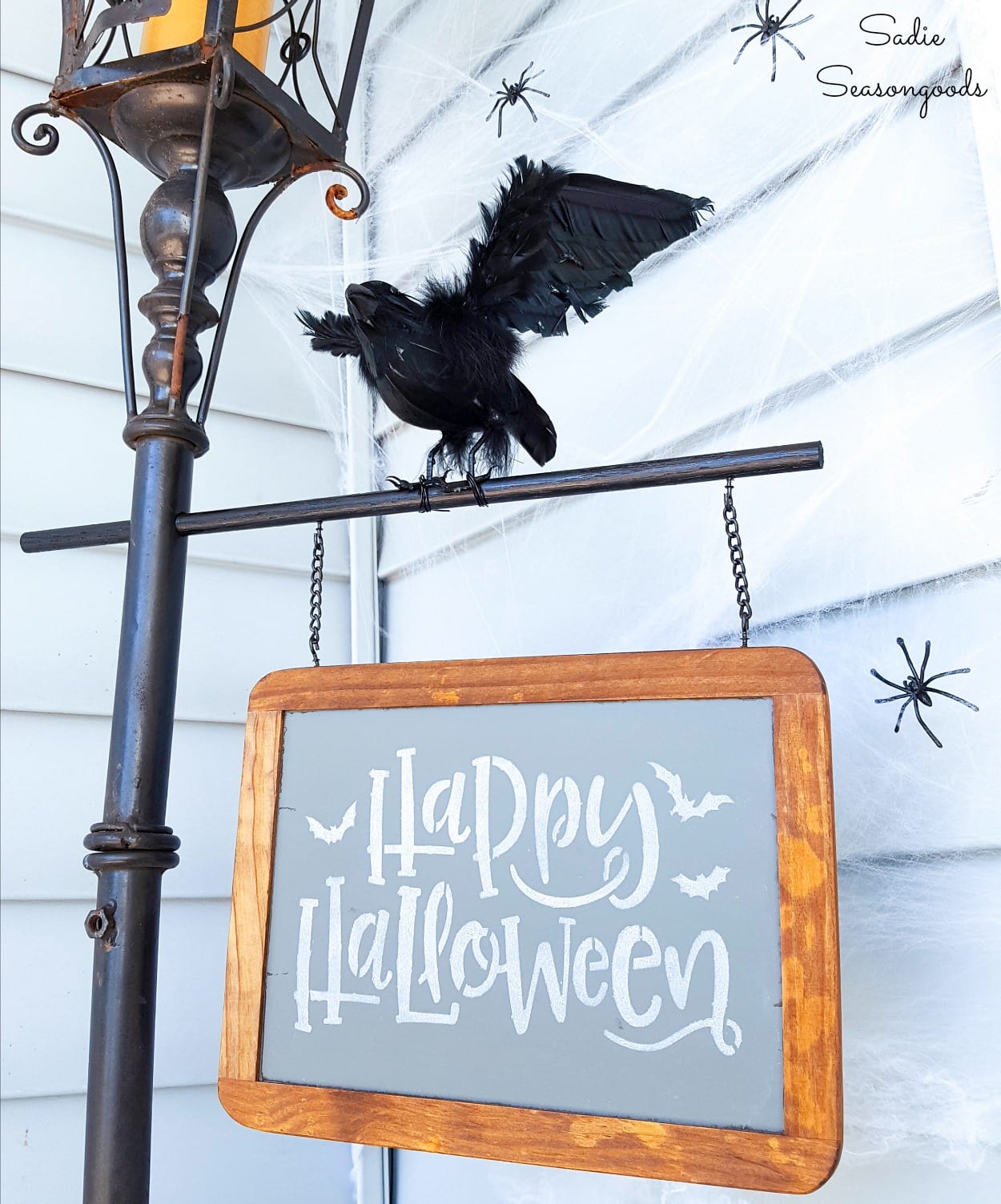 But, anyway- both had black frames and were in various states of "yikes". In other words, dirty, beat-up, and ideal for Halloween decor!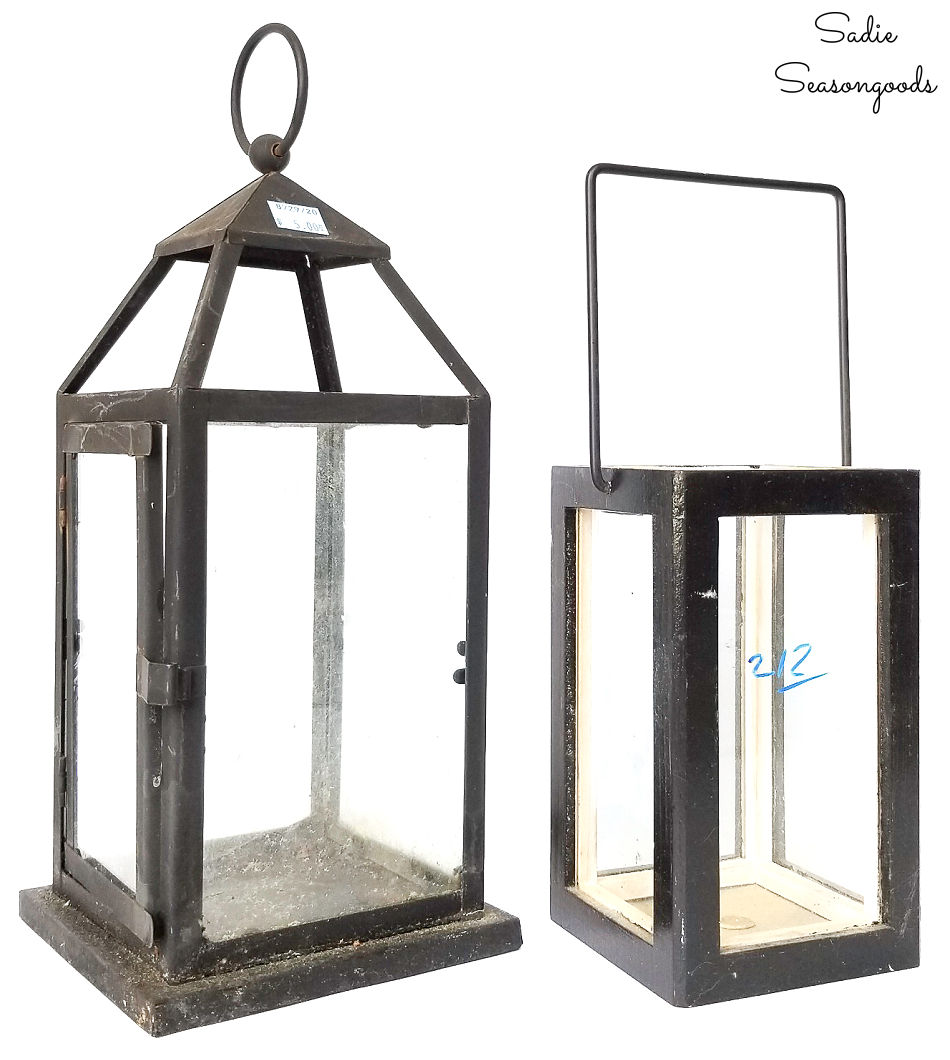 Now I just needed to transform each one into a Halloween terrarium.
This post contains affiliate links for your crafting convenience. As an Amazon Affiliate, I earn from qualifying purchases. All blue, bold, and underlined text is a clickable link, either to a product or to a related post.
Upcycling Candle Lanterns into Halloween Decor
Not only did I find the perfect lanterns for these Halloween terrariums, but I also found some fake Venus fly trap plants at a craft store! This link to the artificial fly trap stems may work if in season.
I figured they would work brilliantly for the look I was going for. I also gathered a piece of floral foam, aquarium gravel, and some plastic skulls, as well.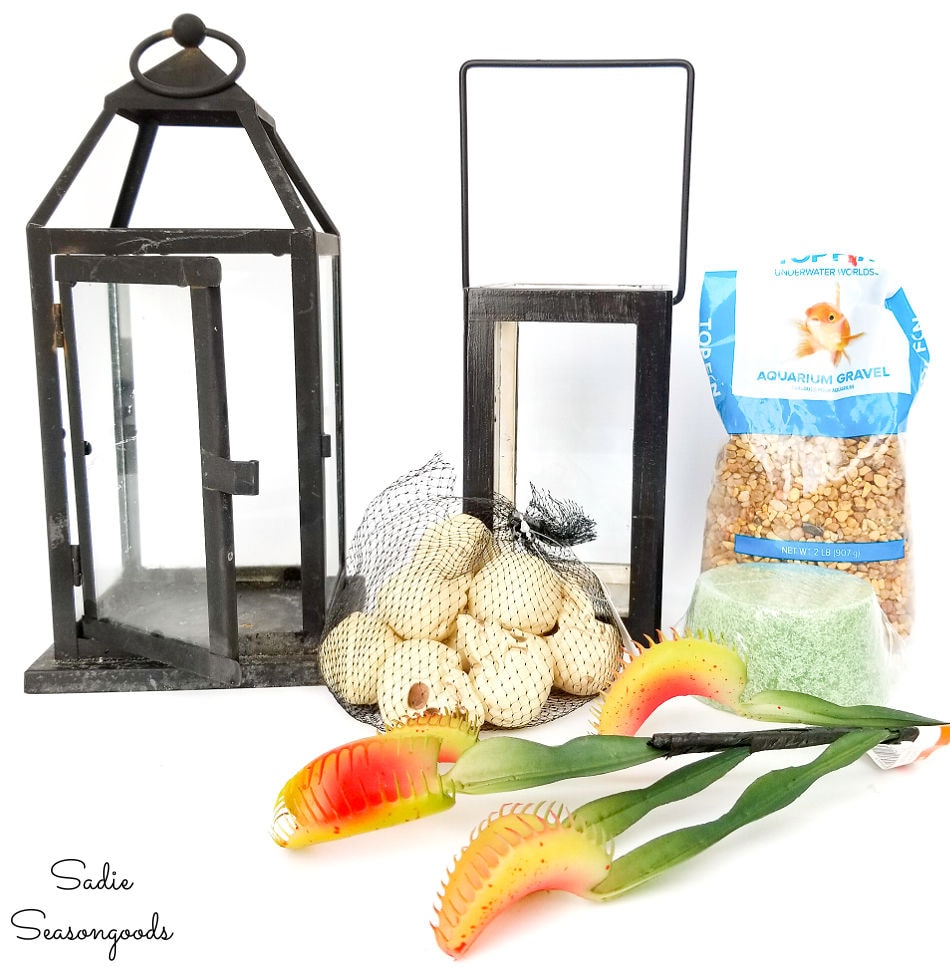 First, I sliced the floral foam in two, one for each lantern. I didn't do it evenly because of the size difference between the lanterns.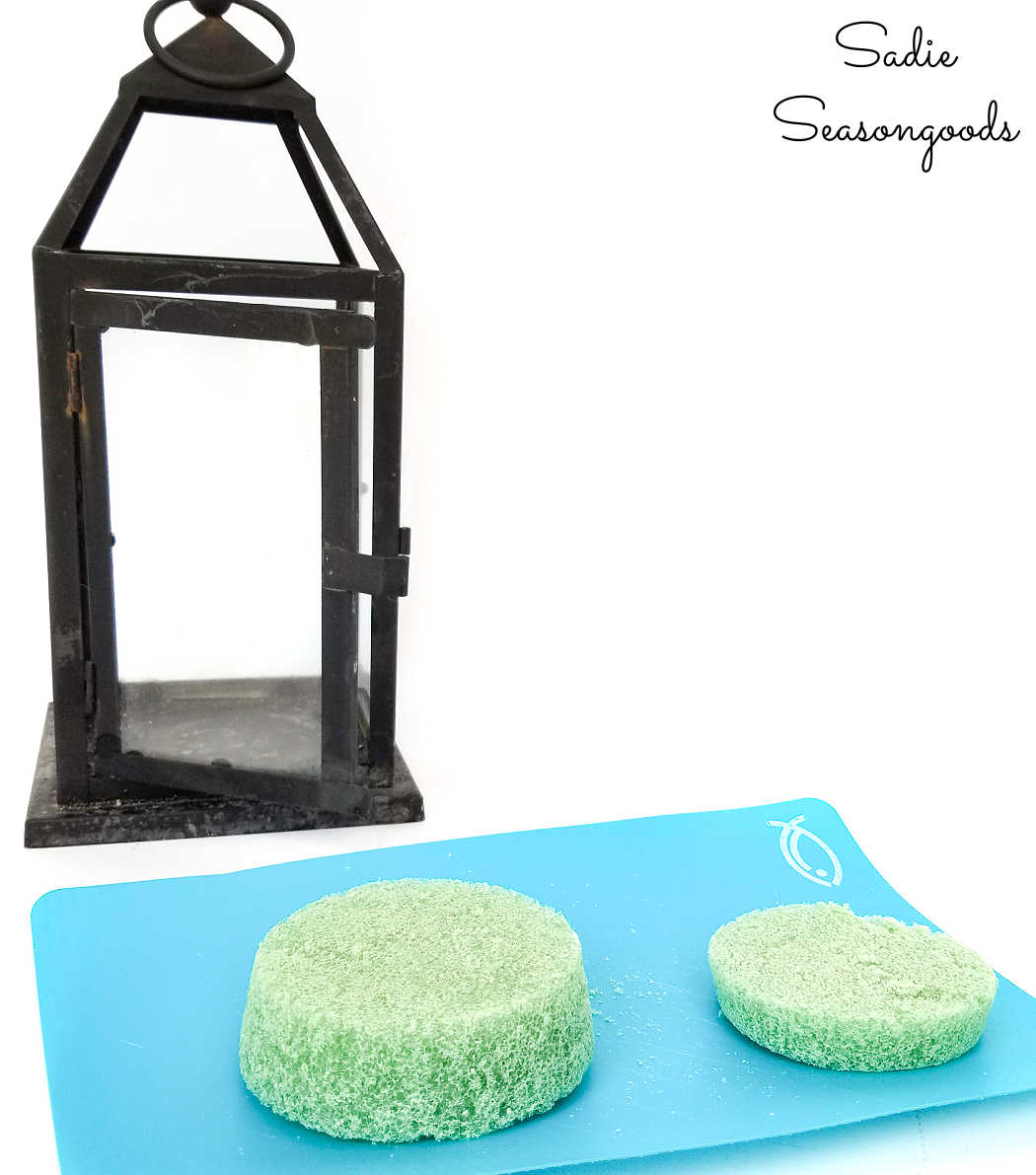 Then, using my wire cutters, I snipped off pieces of the Venus fly trap and stuck them in the foam. No glue needed; I just pressed the stems into the foam.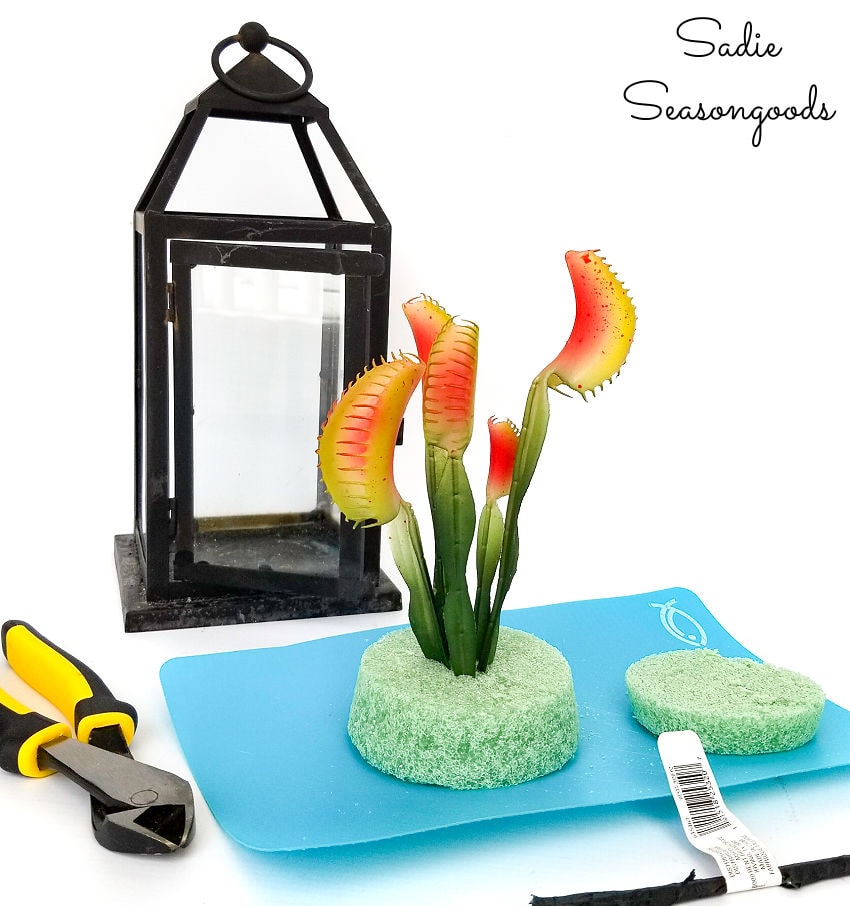 Next, I placed the Venus fly trap inside the lantern to check size and even-ness.
It was a good thing I did because it seemed a little cockeyed at first! So I carefully shaved off a hair on one side to even it out.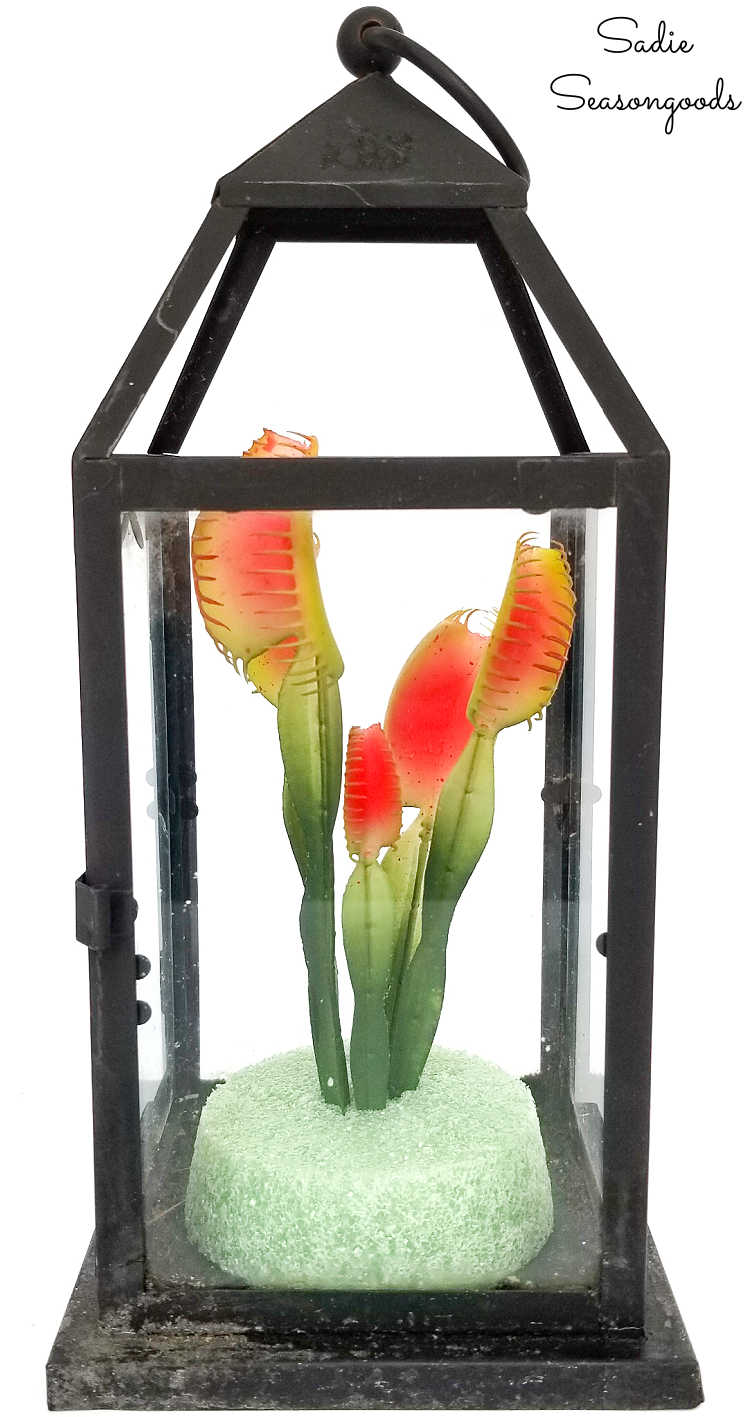 I didn't glue down the foam, either. This way, nothing is permanent, and I can break down my Halloween terrarium and use the lantern for another project during the year!
Anyway, I then carefully poured in some aquarium gravel until the floral foam was completely hidden. Sure, you could use terrarium filler from a craft store but pet store aquarium gravel is super cheap!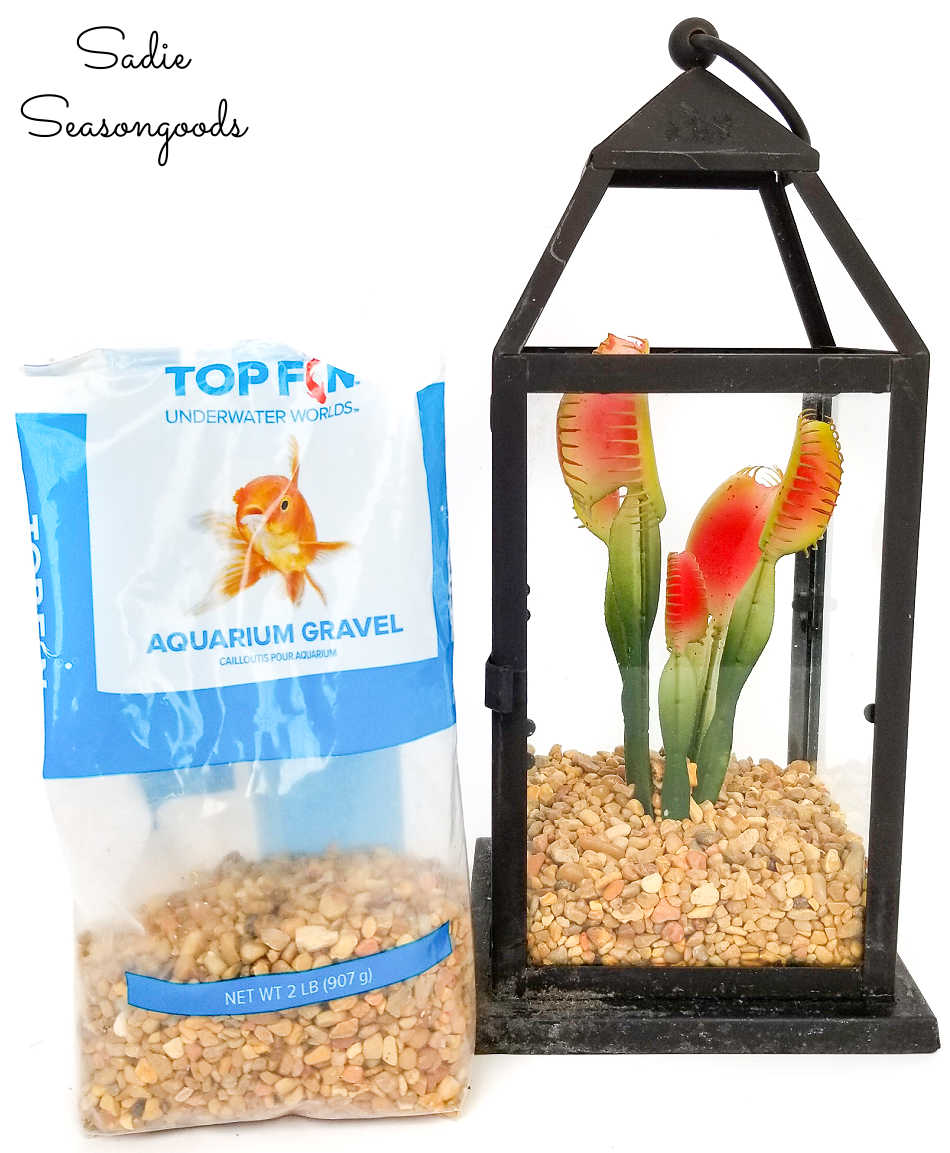 Now my Halloween terrarium just needed one final (spooky) touch!
Halloween Terrarium in a Candle Lantern
Lastly, I added a Halloween skull and my Halloween terrarium was done!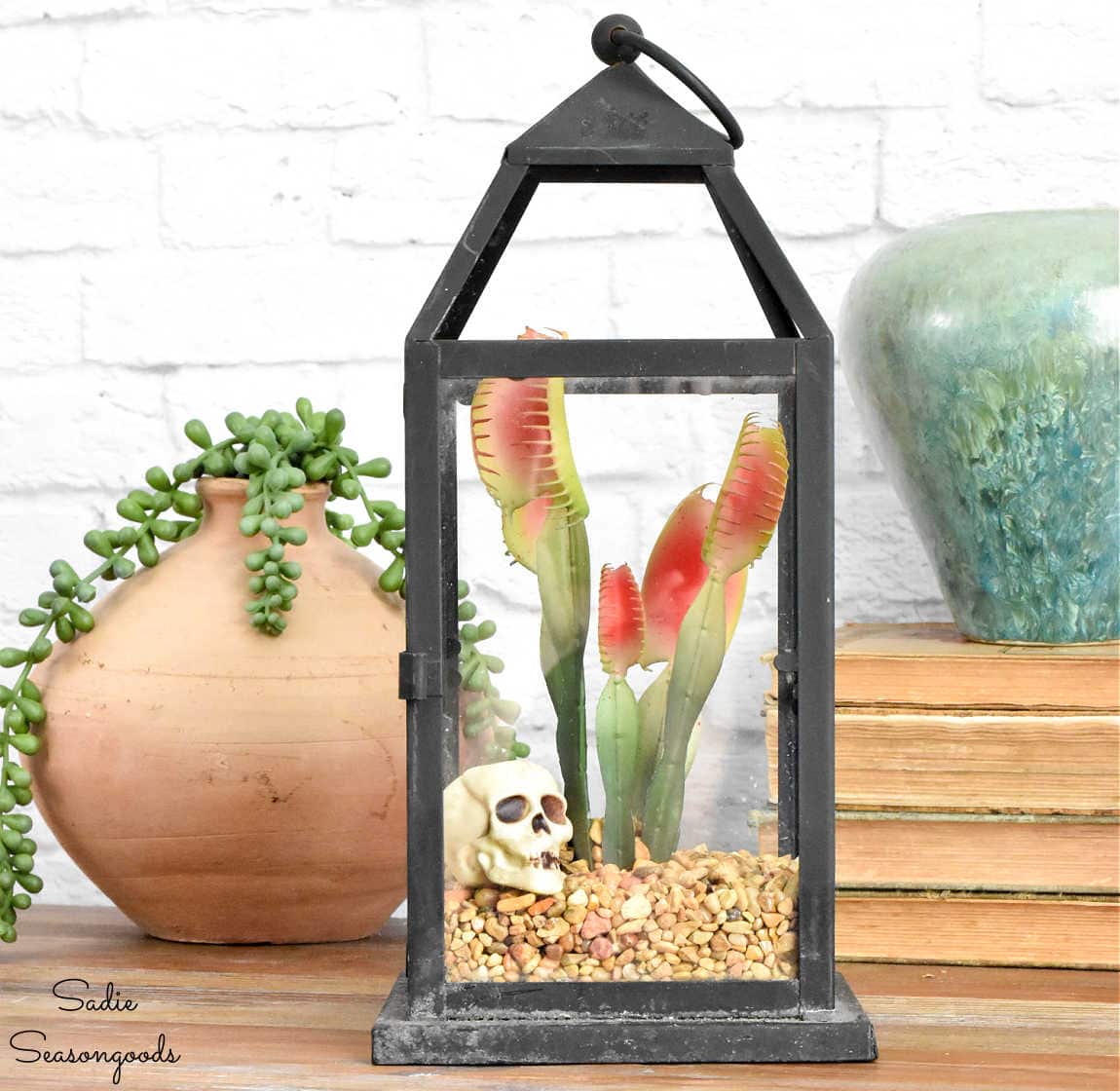 What do you think? Do they put the "eek" in sleek? WINK-WINK!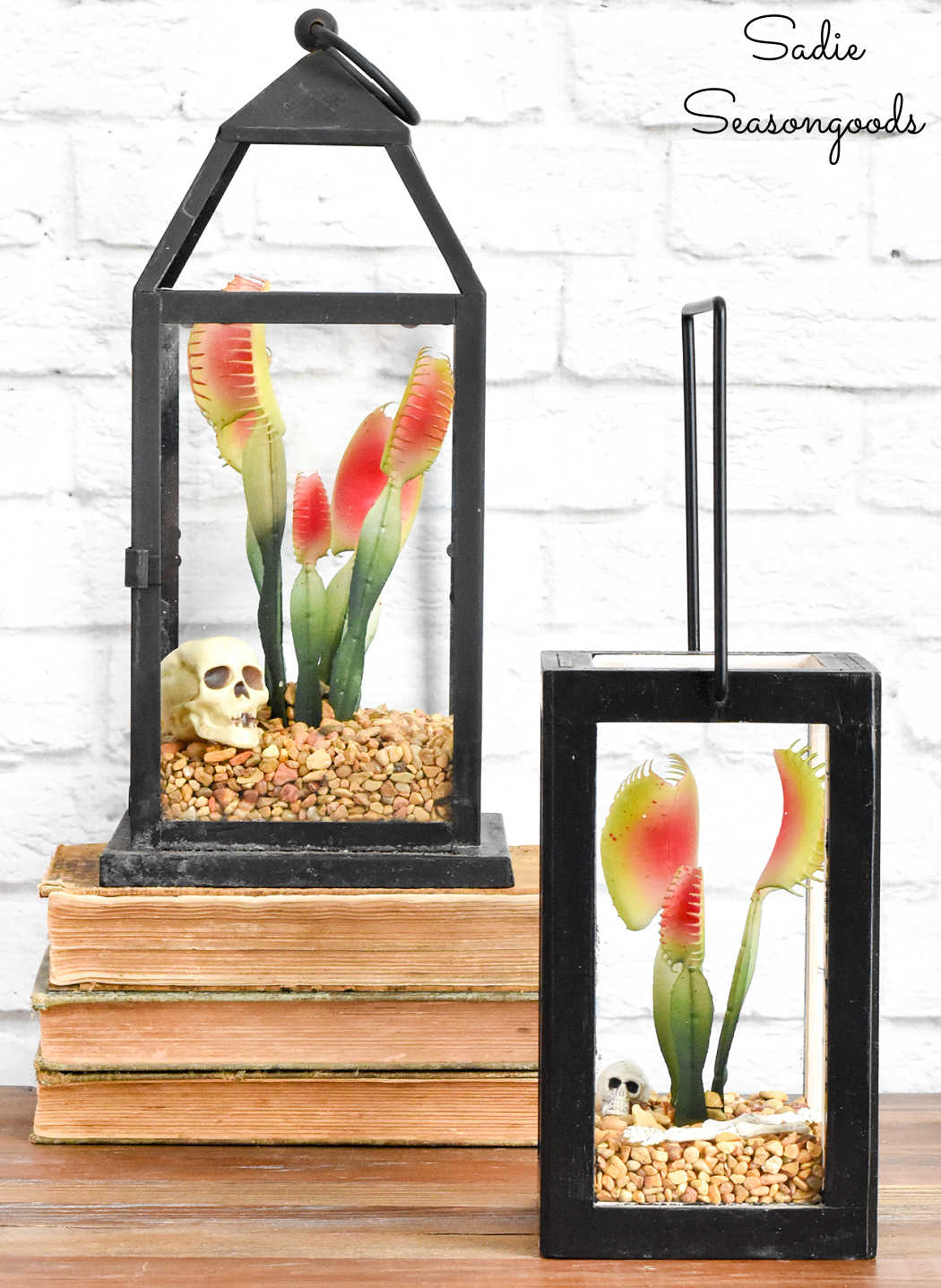 I thought I'd be super cool and call them "Terror-iums" (being for Halloween AND my well-documented love of puns), but there's already a shop with that name!
So, maybe I'll call them…SCARE-ARIUMS instead! Halloween scare-ariums! I think that works just fine.
Either way, though, I'm digging these Halloween terrariums as a sleek, modern alternative to traditional Halloween decor.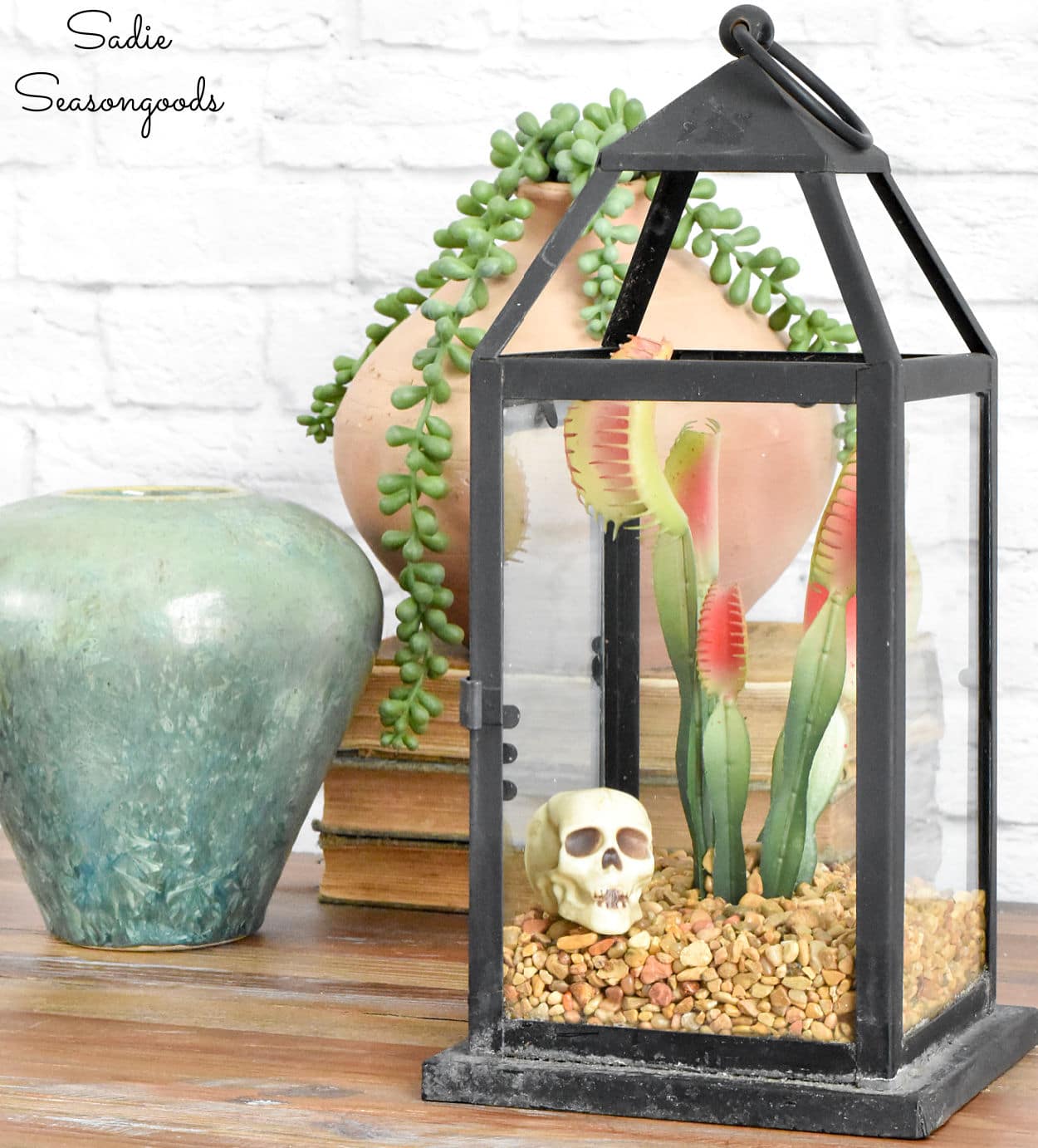 And, since no glues or paints were involved, everything can be broken down (if I even want to!) so that I can use the lanterns again.
If you enjoyed this idea for easy, unusual Halloween decor, then you may also be interested in these Halloween silhouettes, as well!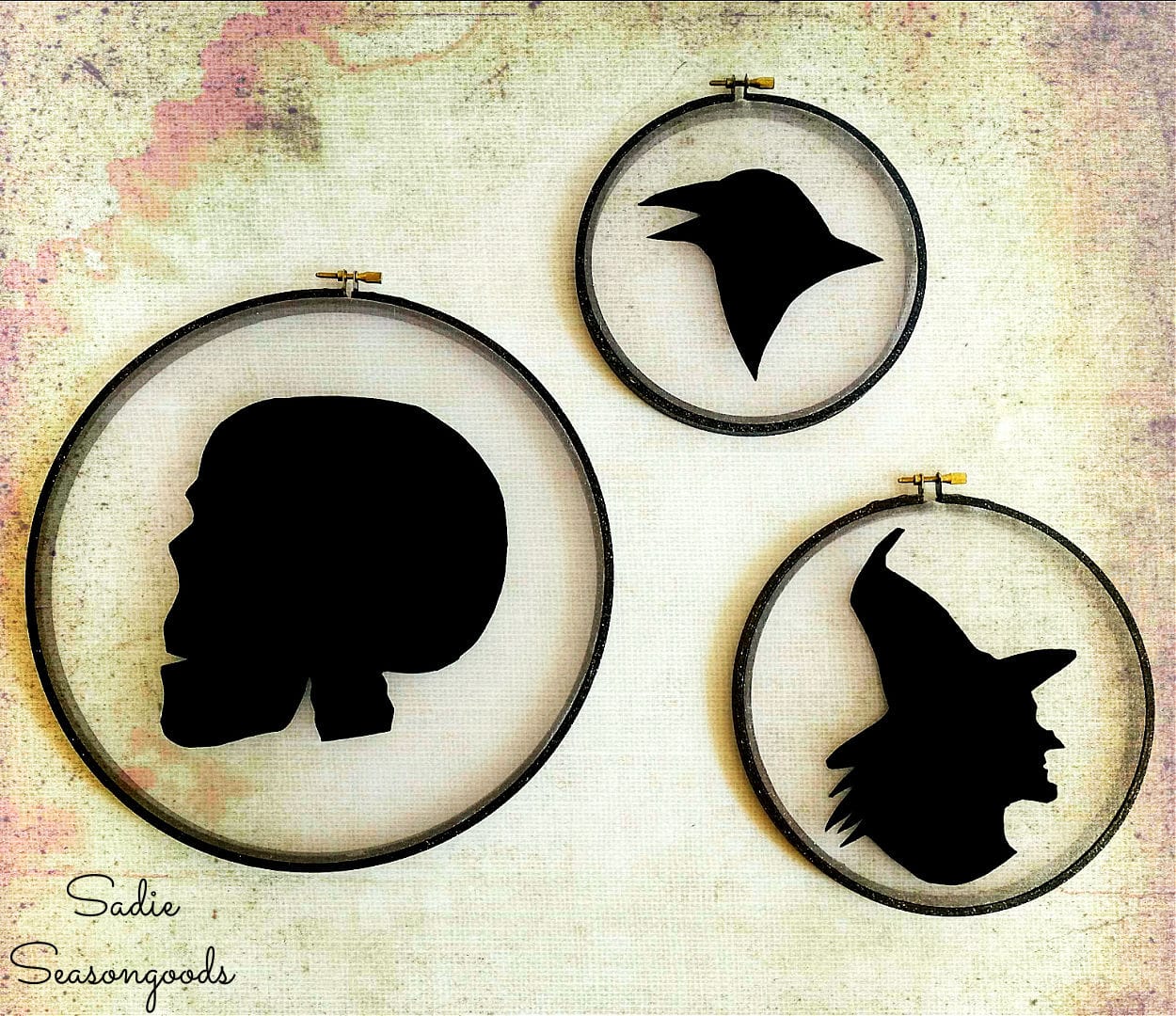 Craft on!
S
Want to be notified when I publish my next upcycling project tutorial?
Subscribe to Blog via Email
Join me on Social Media:

PIN ME!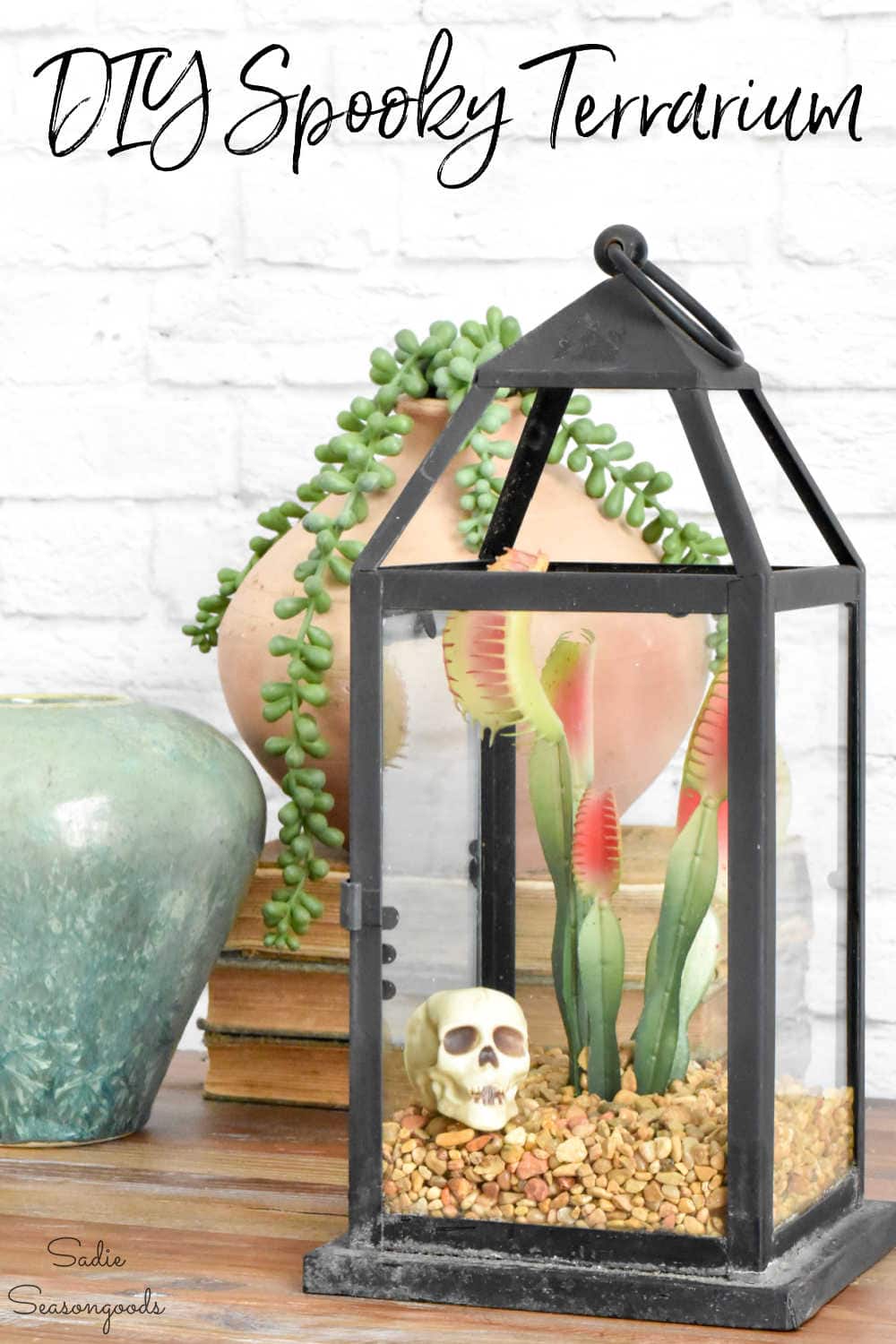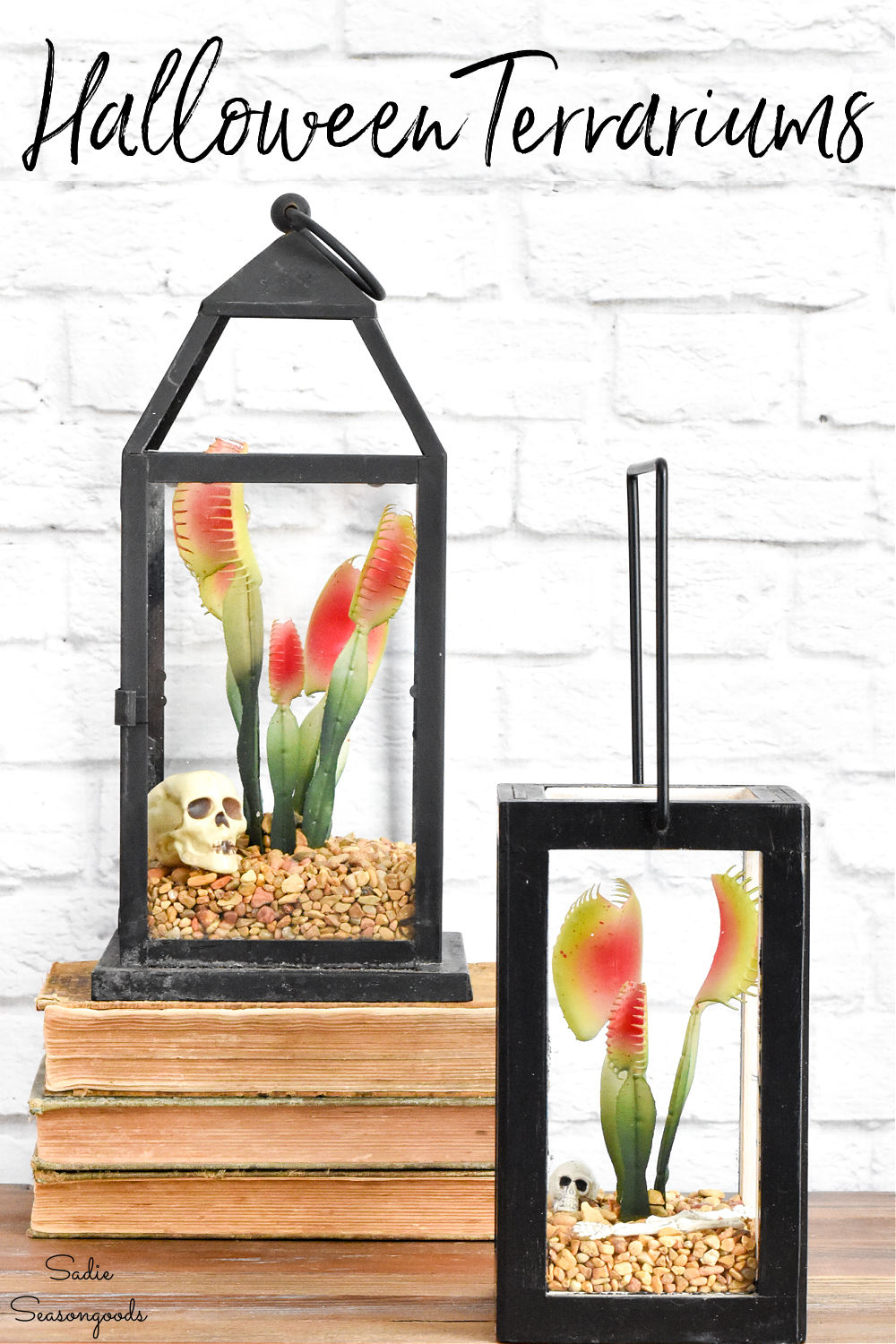 Sarah Ramberg is the owner of Sadie Seasongoods, a website that celebrates all things secondhand. From upcycling ideas and thrifted decor to vintage-centric travel itineraries, Sadie Seasongoods is a one-stop shop for anyone who loves thrifting and approachable repurposing ideas. Sarah is also the author of "Crafting with Flannel" and has been featured in numerous media outlets and magazines.