If there's anything I've learned in my years as a blogger, it would be that (A) just about everyone loves Christmas home decor projects, and (B) ESPECIALLY if they're upcycled or repurposed! And since I've already put together collections of upcycled Christmas ornaments and repurposed Christmas wreaths already, this time I'm focused on upcycled Christmas decor. 
Putting together this collection of upcycled Christmas home decor projects was particularly fun- and I've certainly made a few of these myself. Whether you need Christmas table decorations…items for your Christmas mantle…or just Christmas decor craft projects to make during the colder months, I think you'll find all sorts of inspiration here.
From snowglobes to Advent calendars…toy trucks to skis…and unique Christmas decor that is one-of-a-kind, I've got all the repurposed Christmas home decor project ideas you'll ever need.
*****
You are invited to the Inlinkz link party!
*****
Well, see anything that catches your fancy? I am REALLY loving the red skis- vintage wooden skis have been on my thrifting bucket list for ages and I've always come up short. But painting otherwise "blah" thrift store skis is DEFINITELY something I can get behind, because I see those at thrift stores all the time.
Here are a few more ideas from around my home using vintage Christmas items!
After you hang your vintage ornaments on your Christmas tree, stack the boxes together to show off their FABULOUS vintage graphics!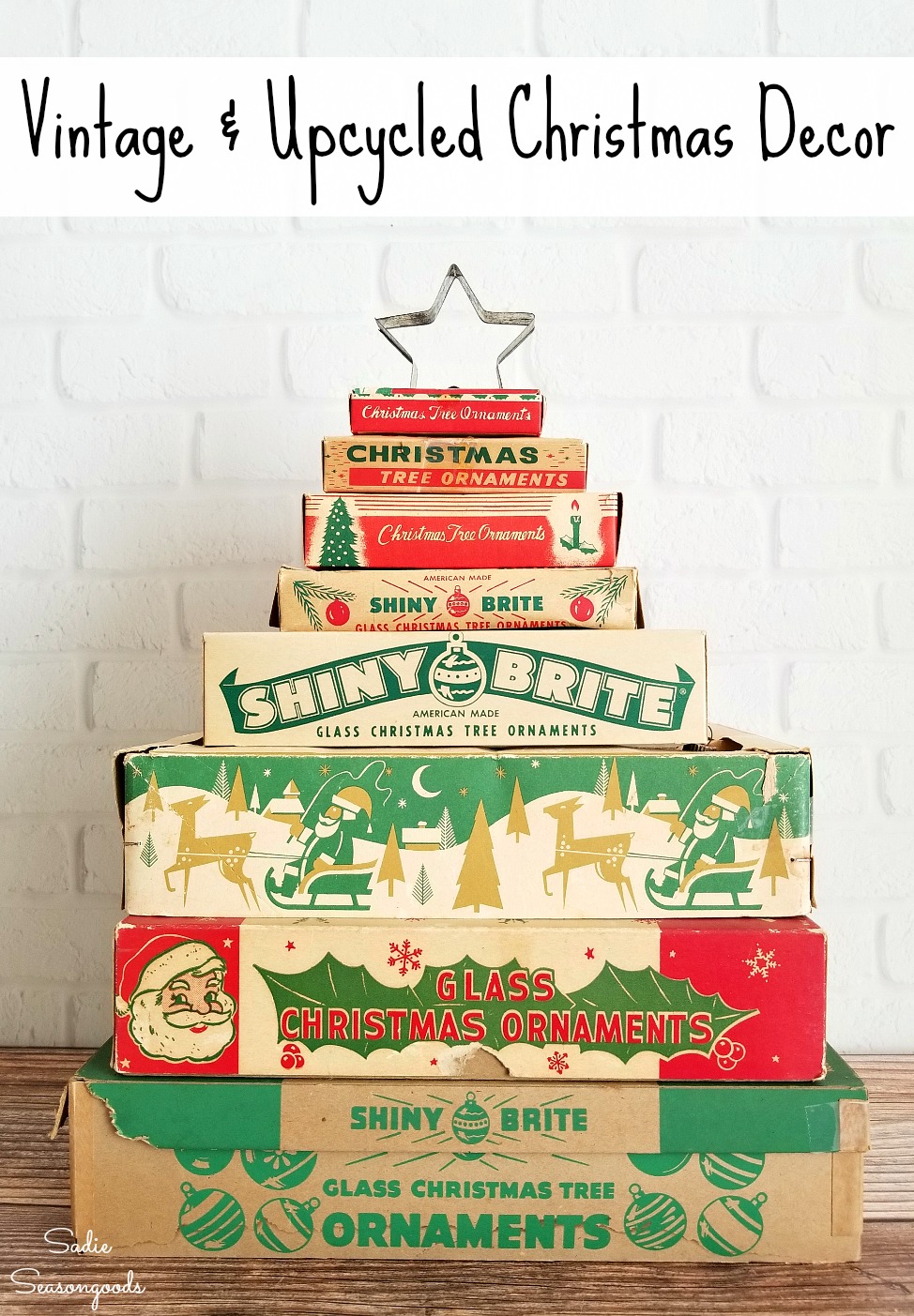 Or, pair up extra vintage ornaments with your collection of vintage glass bottles to create a magical Christmas vignette like this!
And you know I've got some fun new upcycled Christmas home decor project ideas up my sleeves this year, too- can't wait to share those with you! Plus, if you need any repurposed Christmas craft project ideas in the meantime, you can check out my full collection of projects here for even more inspiration.
What kind of upcycled Christmas home decor projects will you be making this year?
Craft on!
S
Want to be notified when I publish my next upcycling project tutorial?
Subscribe to Blog via Email
Join me on Social Media: